The NBA is booting up again, and we're looking ahead to how the remainder of the 2019-20 season will play out in the Disney World bubble. This week, we're exploring the most interesting teams playing in Orlando. Up next: Intriguing subplots to monitor for the league's top three teams.
Milwaukee's supporting cast
As dominant as the Bucks have been this season, they're actually more vulnerable from a tactical perspective than most teams on pace for 66 wins would be.
That's not to say beating Milwaukee four times in seven games will be easy, but there exists a path for rival contenders to do so. If you can somewhat contain Giannis Antetokounmpo (like Kawhi Leonard, LeBron James, Bam Adebayo, or Toronto's team-oriented scheme can) and also competently guard the 3-point line (the way the Raptors, Clippers, Celtics, Lakers, and Heat do), you can neutralize a team that looks like a historic juggernaut most nights.
Not many teams can check both boxes in that equation, but the Heat, Raptors, and both L.A. teams appear capable, which should mildly concern Bucks fans - Miami, Toronto, and Los Angeles are the three teams Milwaukee will likely face during the Eastern Conference semifinals, finals, and NBA Finals.
One way for the Bucks to protect themselves from implosion: the supporting cast must step up to support the Greek Freak.
Khris Middleton's an outstanding player who's had his share of playoff moments, usually against Boston. Eric Bledsoe remains an elite perimeter defender. Brook Lopez is one of the game's best rim-protectors and has become one of the league's most dangerous big men behind the arc (despite his struggles from deep this season). But still: The Bucks possess less star talent in the aggregate than most past 60-win contenders, and guys like Middleton and Bledsoe haven't been consistent enough during the postseason.
The Bucks need Middleton to be a dependable, go-to scorer when defenses load up against Giannis. With Leonard and Marc Gasol neutralizing Antetokounmpo in last spring's East finals, Middleton - who has a career effective field-goal percentage of 52.5, and is up to a sizzling 57.7 this season - posted an eFG% of 49.3 against Toronto.
The team needs Bledsoe to at least be a threat to shoot the ball when it's in his hands, but also needs him to get to the rim. Remember, the Bucks went from second overall in restricted-area shot attempts last season to 12th this season, thanks in part to the loss of Malcolm Brogdon. If Giannis is being shadowed by a Leonard or James, and no one else is capable of penetrating a defense, who's creating looks for shooters like Lopez, George Hill, Kyle Korver, Wesley Matthews, Donte DiVincenzo, and others?
Lopez also needs to rediscover his shooting touch. The center shot 35.4% on seven 3-point attempts per game over a three-year sample between the 2016-17 and 2018-19 regular seasons, but shot 29.3% in last year's playoffs and is at 29.6% so far this season.
Antetokounmpo's evolving, more diversified playmaking and his growing confidence in his own jumper could help Milwaukee be a little tougher to eliminate this year. But his supporting cast will need to perform the way championship supporting casts usually do.
Lakers' depleted depth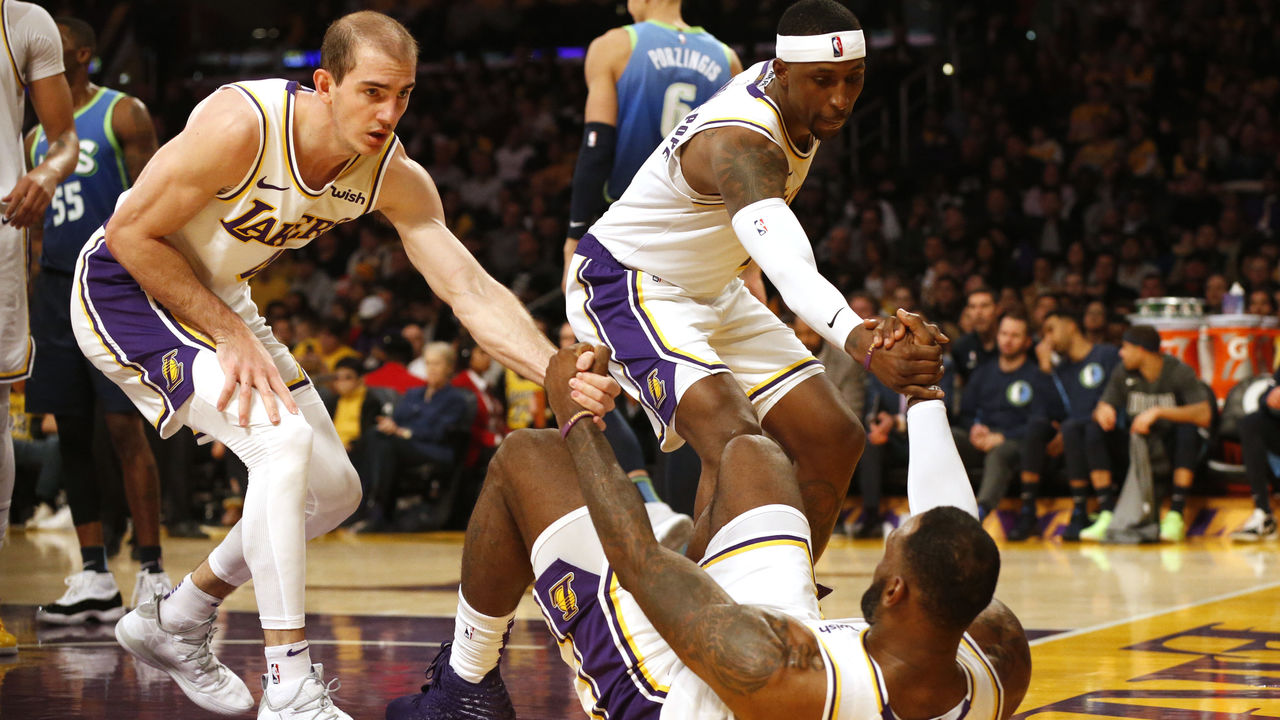 Losing Avery Bradley may not seem like a significant blow to a contender led by LeBron James and Anthony Davis, but the Lakers' depth will be tested. Head coach Frank Vogel's management of a thinner rotation will be worth monitoring, too.
It's not just that Bradley was a starter averaging more than 24 minutes per game. It's that his defensive ability and his comfort guarding the opposing team's top perimeter threat made James' job easier on defense. Between Bradley and Danny Green in the backcourt, and Davis' versatility making the Lakers' matchup-proof in the frontcourt, LeBron had an almost perfect defensive force field around him.
A bigger burden will now fall on Alex Caruso and Kentavious Caldwell-Pope, especially with Rajon Rondo likely out until the second round of the playoffs.
Caruso's become an impact player on defense and moves wisely off the ball on offense. Caldwell-Pope, meanwhile, bounced back from a wretched start to the season to establish himself as a solid 3-and-D option for the Lakers, even if his defense remains slightly overrated.
The duo should be able to mitigate the loss of Bradley, but it'll be interesting to see how each performs as his minutes ramp up, and also to see who earns starting and finishing duties. Caruso's the front-runner and is slowly becoming a James favourite, but KCP is a well-liked Klutch Sports client.
Equally fascinating will be what kind of opportunity Vogel gives JR Smith and Dion Waiters to earn legitimate rotation minutes. On the surface, it might seem like a far-fetched Disney creation for our own amusement, but there are backcourt minutes to be had with Bradley and Rondo out. Even five minutes with one of Smith or Waiters on the court in a crucial playoff contest would be a high-wire act. In a battle as evenly matched as Lakers-Clippers appears to be, those minutes - and the tiniest of improvements or depletions along the margins - add up.
Playoff P and Sweet Lou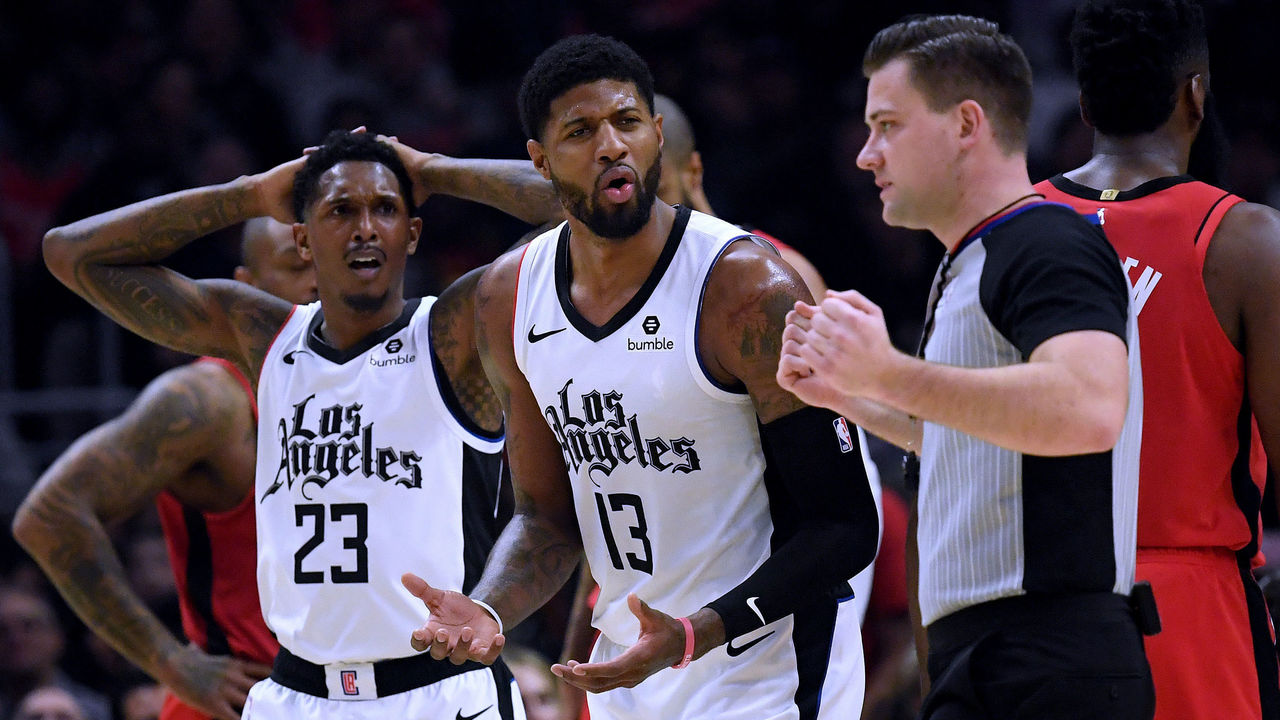 If the Clippers truly want to win a championship, they're going to need a better version of Paul George than the one who's shown up the last few postseasons. Period.
George's playoff struggles may be overblown, but his efficiency and overall postseason impact have tailed off over his last three playoff appearances, and he hasn't played in a second-round series since 2014, which is going to fuel a haterade-fueled fire when you refer to yourself as Playoff P.
It's worth noting that George admitted feeling insecure about his surgically repaired shoulders at times this season, but he looked really good over the Clippers' final few games in March, particularly in a thrilling loss to the Lakers on March 8. Perhaps a fresher, healthier PG is just what the doctor ordered with the 2020 playoffs now a month away.
One thing the Clippers will need more of is George attacking. The All-Star forward's shooting has remained mostly exquisite as he's upped his long-range attempts in recent years, but L.A. didn't acquire him - mortgaging the team's future - to be merely a star spot-up threat.
| Paul George | 2017-18 | 2018-19 | 2019-20 |
| --- | --- | --- | --- |
| Percentage of FGA in paint | 31.8 | 33.8 | 29.4 |
| Percentage of FGA from three | 45.4 | 46.9 | 49.4 |
| Drives per game | 8.9 | 10.0 | 7.8 |
George's shooting is great, but Leonard and the Clippers will need him to put the ball on the floor and put some more pressure on opposing defenses, especially when Lou Williams isn't on the court to do it.
How head coach Doc Rivers handles Williams also should be of great interest.
Sweet Lou's one of the best bench scorers in NBA history. He can score and attack in a variety of ways, and has become a much-improved playmaker in L.A., where he and big man Montrezl Harrell have become integral components of the Clippers' overwhelming reserve units. But while Williams' individual creation, shot-making, and playmaking were desperately needed on scrappy, star-less Clippers teams recently, this one led by Leonard and George no longer lives and dies with Williams' offense.
That means Rivers should be more willing to keep defensively inept Williams off the court in clutch minutes. The Lakers mercilessly targeted Williams in pick-and-roll actions to great effect during their last matchup in March, and rival contenders like the Lakers, Bucks, and Raptors don't have those kinds of defensive black holes to pick on in their best lineups.
With the amount of offensive star power Leonard and George possess, Rivers and the Clippers can rely more on their defensive depth when trying to craft crunch-time and closing lineups in the playoffs, and those lineups won't include Williams. George harnessing more of his own offensive powers would make that decision a lot easier, too.
Joseph Casciaro is theScore's senior basketball writer.
Part 1: The Rockets and Sixers, a pair of fringe contenders with unique styles and potentially damning flaws.