The greatest rookie seasons in NBA history share a number of qualities, starting with individual statistical dominance. However, you can't overlook the context beyond the box score; initial expectations, team success, and overall legacy all matter.
While we wait for the 2019-20 season to resume, theScore's NBA editors have dusted off the record books to determine the top 25 rookie seasons in league history.
No. 16 in our series is Houston Rockets legend Hakeem Olajuwon. Catch up on previous posts here.
Before the Association
Olajuwon was far from a highly touted college recruit. He enrolled at Houston in 1980 after leaving his native Nigeria, but the big man had to redshirt his freshman year. Olajuwon's first season with the Cougars in 1981-82 wasn't remarkable, as he put up 8.3 points and 6.2 rebounds while playing just over 18 minutes per contest.
However, after working out with then-NBA star Moses Malone the following summer, Olajuwon transformed into a college phenom. In his next two seasons, he averaged 15.4 points, 12.5 rebounds, and 5.4 blocks, all while popularizing the Cougars' "Phi Slama Jama" nickname alongside Clyde Drexler.
He also helped take the school to back-to-back national finals. Houston lost both, but Olajuwon was named the 1983 tournament's Most Outstanding Player.
Draft day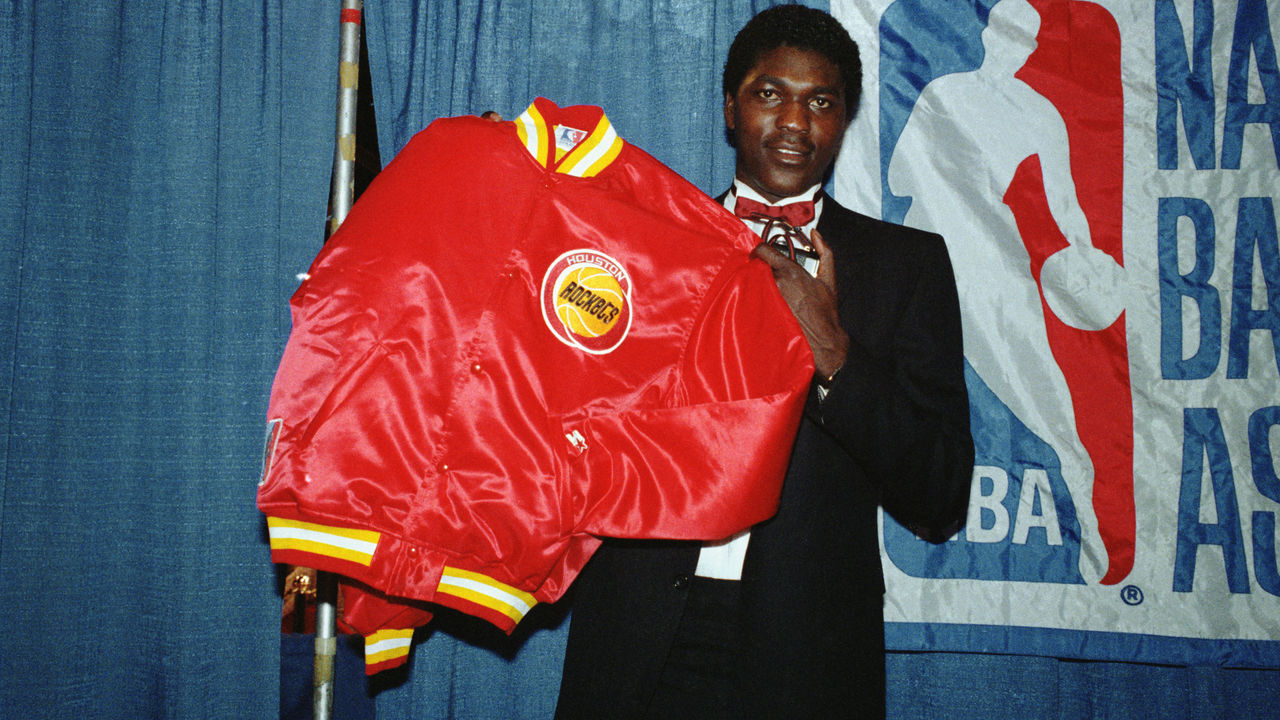 Olajuwon wanted to stay in Houston as a professional, so he declared for the 1984 draft, citing an intuition that the Rockets were going to win a coin flip and land the No. 1 spot (the NBA hadn't implemented a lottery system yet). The Rockets did get the top selection and, as widely expected, took Olajuwon.
If it's still difficult to fathom just how well-regarded Olajuwon was coming out of college, then consider this: The 1984 draft also gave us future Hall of Famers Charles Barkley, John Stockton, and yes, Michael Jordan. Yet there's never been a single complaint about Olajuwon going first overall.
Individual success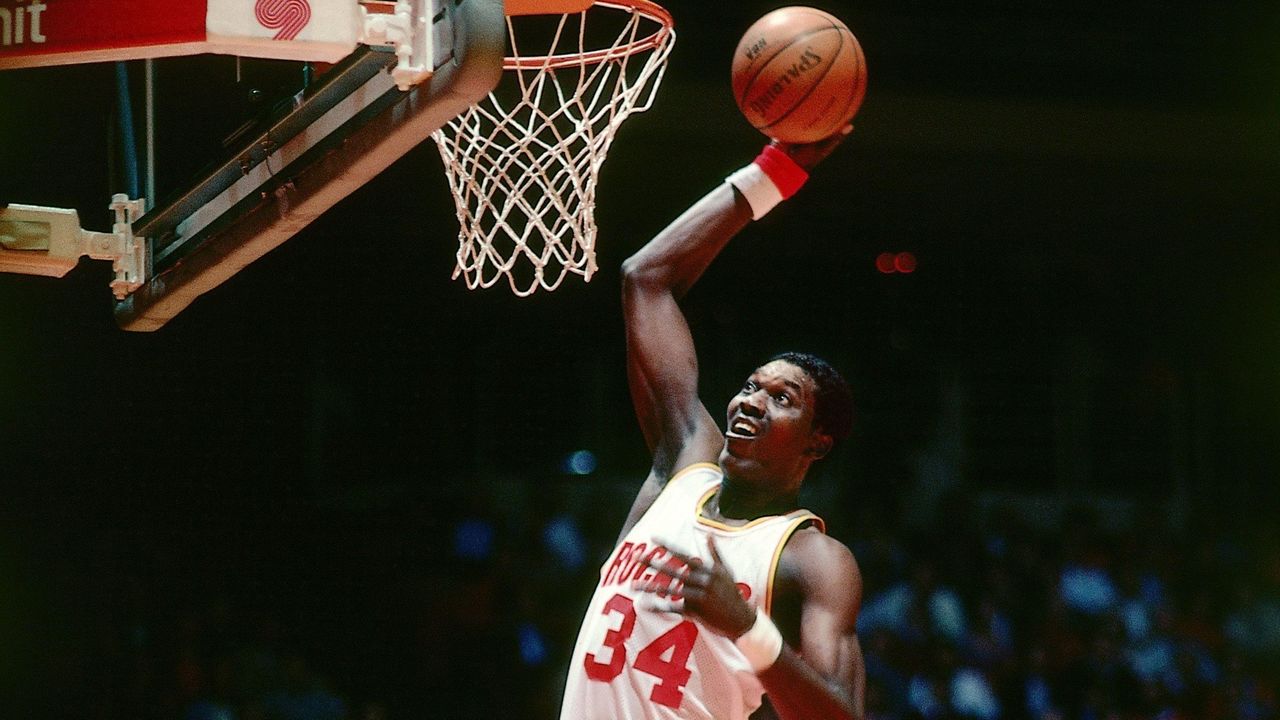 Olajuwon burst onto the scene in style and was the perfect complement to Ralph Sampson in Houston's frontcourt. He put up 24 points and nine rebounds against the Dallas Mavericks in his first NBA game and went on to average 20.6 points, 11.9 boards, and 2.7 blocks as a rookie - a better output than any of his years in college. His best performance came in December against the Golden State Warriors, when he recorded 42 points, 13 rebounds, and five blocks in 45 minutes.
Though he came second to Jordan in Rookie of the Year voting, Olajuwon put forward a strong case. He earned his first of 12 All-Star nods that season, made the All-Rookie first team, and was voted to the All-Defensive second team.
Team success
After finishing 29-53 the season prior, the Rockets looked like an entirely different squad with Olajuwon. Houston improved by 19 wins and finished with the third-best record in the Western Conference.
The 41-41 Utah Jazz upset the Rockets in the first round, but Olajuwon recorded 21.2 points, 13 rebounds, and 2.6 blocks per contest over the five-game series.
Enduring legacy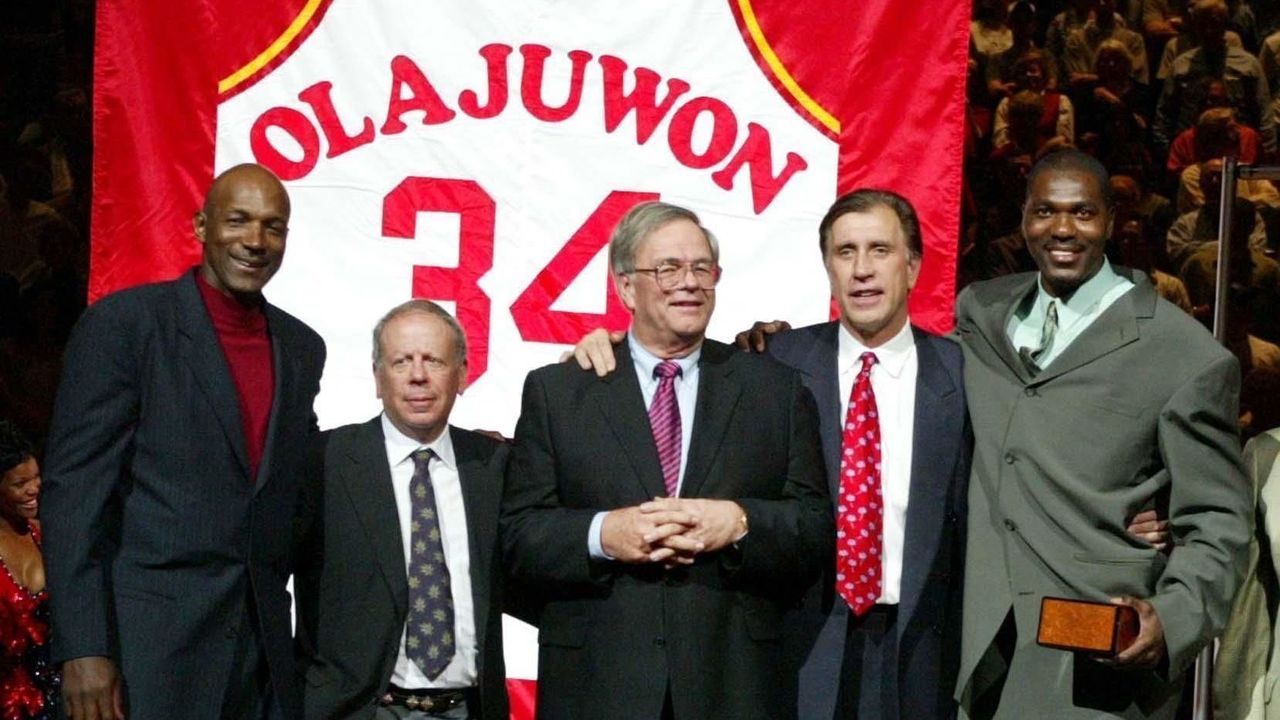 Olajuwon went on to become one of the greatest players ever.
The center spent all but one of his 18 career seasons in Houston, registering 22.5 points, 11.4 rebounds, and 3.2 blocks per game across 1,117 appearances. A decade after his debut, he reached the pinnacle of his career, helping the Rockets win the 1994 title while also becoming the only player to win regular-season MVP, Finals MVP, and Defensive Player of the Year in the same campaign. He was named Finals MVP again in 1995 after the Rockets won back-to-back championships.
Following his retirement in 2002, the Rockets wasted little time before raising Olajuwon's No. 34 to the rafters. In 2008, he was inducted into the Basketball Hall of Fame.
Come back Sunday to see who came in at No. 15 in theScore's Top 25 Rookie Seasons series.