As the NBA forges ahead with its plan to resume the season at Walt Disney World in late July, the front offices and players of the 22 teams involved in the restart have been facing some tough decisions.
The league is currently in the midst of a weeklong transaction window, during which teams are free to sign players for the remainder of the season and playoffs, convert two-way contracts, and place players on waivers.
For players, Wednesday was initially pegged as the deadline to decide whether or not they'll travel to Orlando and participate in the remainder of the season. That turned out to be more of a "soft target date," according to ESPN's Adrian Wojnarowski. The hard deadline will reportedly come on July 1, the same day the transaction window ends and rosters are set to be finalized. That said, several players have already signaled their intention to stay home rather than join their teams in the bubble, citing a variety of reasons.
Here are some takeaways from the signings and opt-outs that have been reported thus far:
Avery Bradley out for Lakers
According to Wojnarowski, Bradley's oldest son has a history of slow recoveries from respiratory illnesses; it was unclear whether the six-year-old would be able to enter the bubble along with other family members around the time the conference semifinals tip off.
If there's a possibility an immediate family member will be unable to enter the bubble, it's too much to ask of players to expect them to leave home. The Lakers are expected to be title contenders, which means Bradley would be facing approximately 12-14 weeks away from his son.
Remember, too, that Bradley has been a leading voice among players who feel the onus should be on others - like team owners - to support players' efforts in fighting for social justice.
On the court, though, this is a big loss for a top-tier contender.
Bradley is a dependable shooter who can somewhat handle the ball on offense, but it's at the defensive end where his absence will be most noticeable. The defensive combination of Bradley and Danny Green in the backcourt was a key ingredient in the Lakers' surprisingly stoic defense this season, and the duo's ability to guard a wide variety of perimeter threats also eased the defensive burden on LeBron James.
Losing a starter and key defensive contributor like Bradley could catch up to the Lakers during the grind of the postseason. Though it's possible a free agent like J.R. Smith could match Bradley's shooting, the Lakers will need Alex Caruso or perhaps a resurrected "Playoff Rondo" to fill the gap on defense.
Davis Bertans out for Wizards
The Wizards sharpshooter was in the midst of a breakout season before the NBA suspended play in March. Even in what figures to be a depressed free-agent market, he should be in line for a hefty payday when his contract expires in October. Bertans is simply one of the best long-range marksmen in the world - he hit 42.4% from 3-point range on 8.7 attempts per game this season. At 6-foot-10, he's a stretch-four who'd be welcome on just about any team, even if he gives a bit back at the defensive end.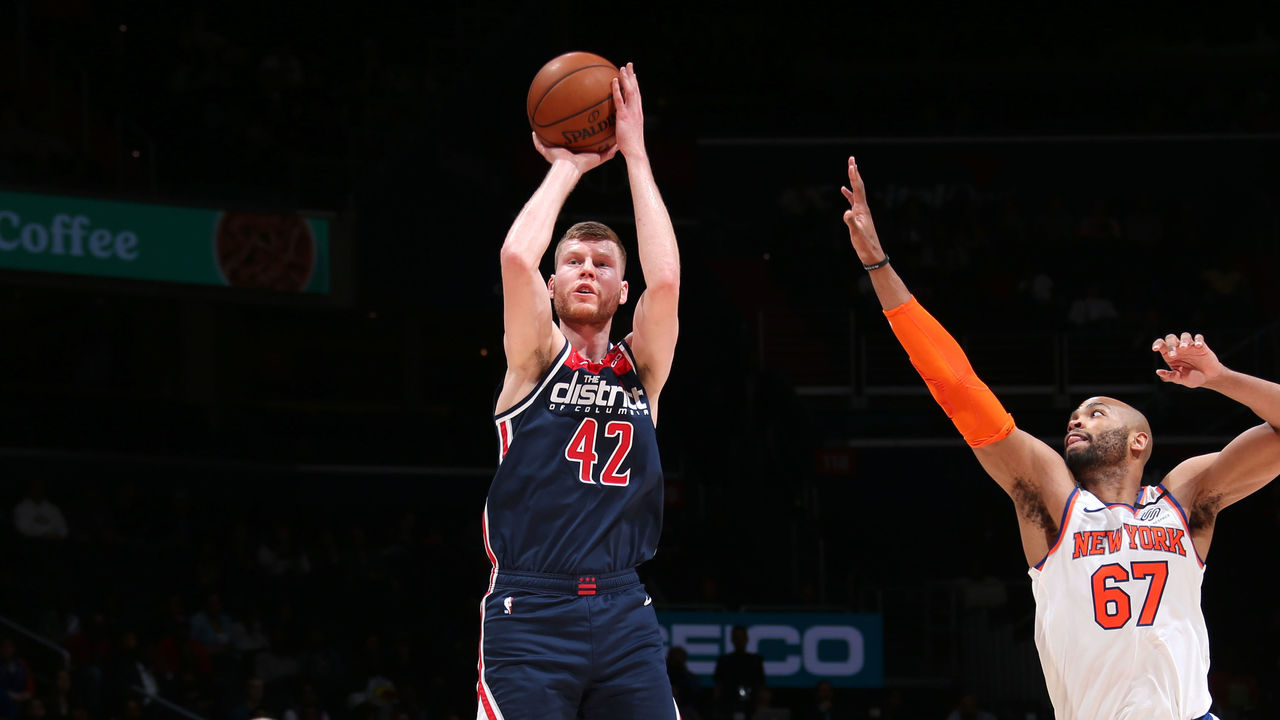 The Wizards, meanwhile, need to make up two games in the standings over the course of eight "seeding games" just to have a shot at the play-in. If they manage that, they'd have to beat either the Nets or Magic twice in a row to earn the right to be summarily dispatched by the Bucks in the first round of the playoffs. If we're being honest, Washington probably shouldn't even be included in the league's restart plan. Bertans justifiably sees no reason to jeopardize his next contract by putting himself at risk of injury or infection (and the potential long-term effects therein) for what would ultimately be a fruitless endeavor.
The risk for players in Bertans' position may be mitigated to some extent by the "enhanced insurance plan" agreed upon by the NBA and NBPA. The policy for Orlando-bound teams will cover players who suffer career-ending injuries or lasting damage due to COVID-19. But even the "several million dollars" the plan will reportedly provide in coverage may pale in comparison to what Bertans can fetch on the open market. Playing just isn't worth it for him.
As for the Wizards, Bertans' absence makes it that much less likely that they actually manage to reach the playoffs. Their offense was the only reason they were halfway decent this season, and they scored at a bottom-five rate with Bertans on the bench - 7.1 fewer points per 100 possessions than they scored with him on the floor.
Trevor Ariza out for Blazers
Ariza has opted not to enter the bubble with his Trail Blazers teammates for family reasons.
Ariza was largely ineffectual in a brief stint with the Kings after signing with them last summer, but he became a crucial contributor for Portland after Sacramento dealt him there shortly before the trade deadline. The biggest issue for the Blazers this season - besides their cavalcade of devastating injuries - was their lack of big wings. They let both Al-Farouq Aminu and Moe Harkless go in the offseason, leaving themselves devoid of any options to credibly guard opposing 3s and 4s. They signed Carmelo Anthony, who was mostly fine, but he didn't address that defensive issue or move the needle much overall.
So they acquired Ariza - a 6-foot-8, multi-positional defender - to plug that hole, and he made an instant impact. He soaked up the toughest perimeter assignments while putting up a blistering 64.3% true shooting mark, and the Blazers performed 8 points per 100 possessions better with him on the floor than off it. If he wasn't going to maintain his hot shooting, he still filled a need nobody else on the team can, even if Zach Collins is back and ready to reclaim his spot as Portland's starting 4.
Like Bertans, Ariza would've been playing for a team on the playoff bubble. But the Blazers have a far more realistic path to the postseason than the Wizards do, making Ariza's absence a bit more significant on the whole.
Mavericks lose Courtney Lee to injury
Lee reportedly suffered a significant calf injury in a "freak accident" at some point during the shutdown. It's a tough break for both the veteran swingman and the young Mavericks.
Though he bounced in and out of the rotation for much of the year, Lee established himself as a stabilizing veteran force over the final month or so before the March 11 shutdown. Over his final 14 games dating back to early February, Lee averaged just under 19 minutes and shot 40% from deep while making one 3-pointer per game. He also started each of Dallas' final four games.
Already dealing with pre-lockdown injuries to Jalen Brunson and Dwight Powell, the Mavericks will likely be active in the signing period ahead of next Wednesday's roster deadline.
Nets sign Tyler Johnson
The Nets finally got their man.
Back in the free-spending summer of 2016, new Nets GM Sean Marks tried to make a splash by lavishing Johnson with a four-year, $50-million offer sheet. The Heat matched it, keeping the undrafted guard in Miami and saving Marks from what would've been an overpay.
The Nets have set their free-agent sights higher since then. But with Kyrie Irving out for the remainder of the season, they decided to try to bolster their backcourt by waiving Theo Pinson in order to sign Johnson, who's now in the last year of his deal and was himself waived by Phoenix in February.
Offensively, Johnson's game has cratered over the past two years. His release from the Suns came after he posted a true shooting percentage of 48.1 across 31 games. But he remains a pesky on-ball defender, long and physical with a knack for funneling ball-handlers where he wants them to go. That's the kind of point-of-attack presence the Nets need in their conservative, drop-back scheme.
Signing Johnson isn't going to help the Nets win a first-round series, of course, but it's the kind of marginal upgrade that could be the difference between a direct entry into the playoffs and getting embroiled in a play-in scenario.
Kings sign Corey Brewer
Brewer hasn't played since finishing last season with the Kings, but the 34-year-old veteran is worth a flier for a Sacramento team only 3.5 games out of the West's eighth and final playoff spot.
Brewer is a solid guy for a young team to have in the locker room. He can fill some minutes at multiple guard and forward positions, and he can handle the ball in a pinch if necessary.
If nothing else, the entertainment value he provides with his unpredictable, high-wire fast breaks - which have earned him the nickname "The Drunken Dribbler" - is worth admission into the bubble.
Rockets sign David Nwaba to 2-year deal
This quiet piece of business by Daryl Morey and the Rockets might be the most underrated move of the pre-bubble transaction period, even though it won't affect what's left of the 2019-20 season.
Brooklyn waived Nwaba after he suffered a torn Achilles in December, so the Rockets won't see any payoff until next season. But this is a worthy investment for the not-so-distant future.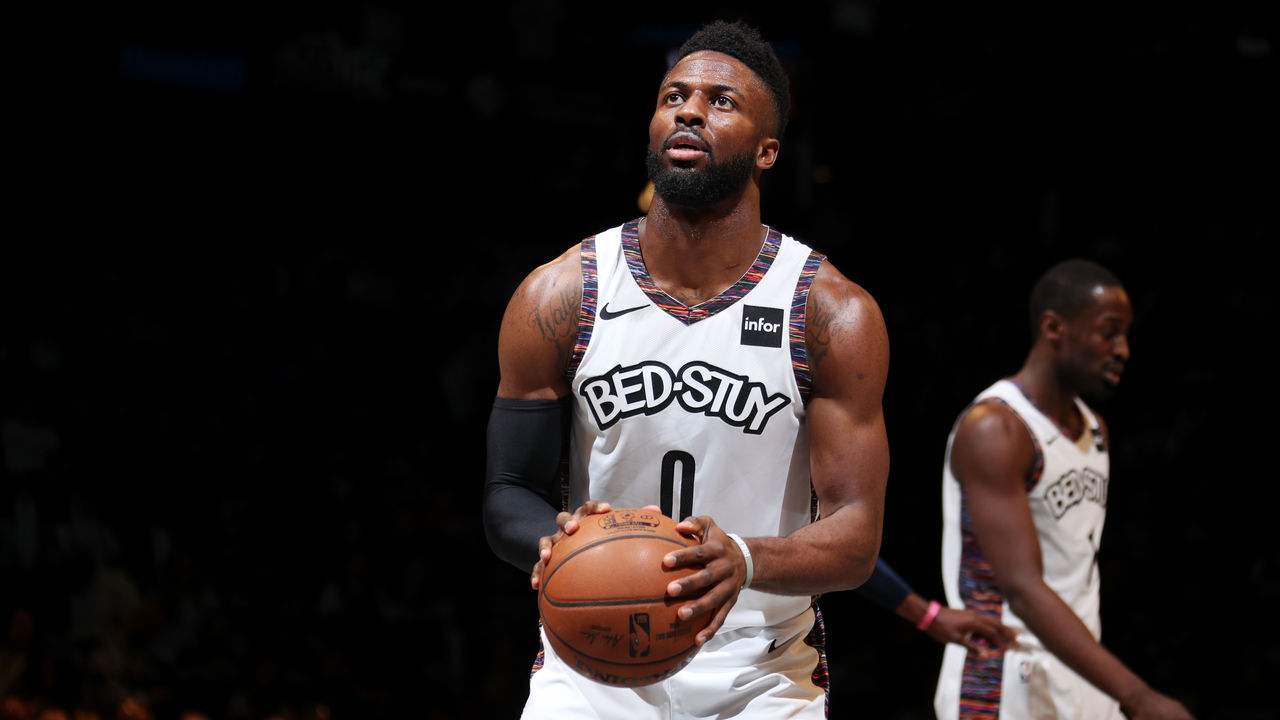 In stints with the Lakers, Bulls, Cavaliers, and Nets over the last four years, Nwaba has flashed glimpses of intriguing potential as the type of energetic, two-way forward who could eventually carve out a role as a solid reserve on a contending team.
Don't be surprised when Nwaba's energy helps prop up Houston's bench next season.
Grizzlies sign Anthony Tolliver
Tolliver was just wrapping up a 10-day deal with the Grizzlies when the league suspended the season. The journeyman stretch-four gave Memphis some decent minutes to help fill the void left by the deadline-day departures of Jae Crowder and Solomon Hill, and he's now signed with the team for the remainder of the campaign.
It's unclear what kind of role he'll have if the Grizzlies enter the bubble with a full complement of healthy players. Jonas Valanciunas, Jaren Jackson Jr., Brandon Clarke, Gorgui Dieng, Kyle Anderson, and Justise Winslow will all be ahead of him on the frontcourt depth chart.
Still, there's never any harm in having a vet like Tolliver around, and he can provide floor spacing and decent defense in a pinch. As they look to hold off a cadre of challengers for the No. 8 seed, the Grizzlies will take all the help they can get.
Spurs add Tyler Zeller
The Spurs desperately needed frontcourt depth any way they could get it. They were so depleted up front that they'd resorted to playing Rudy Gay at center before the shutdown.
We know LaMarcus Aldridge won't be returning after he underwent season-ending shoulder surgery earlier in June. Jakob Poeltl sprained his MCL shortly before the shutdown and is still something of a question mark. He'll likely be available to play, but in what capacity is unclear.
"On the one hand, I would be happy to be able to play basketball again after the knee injury, if only for a few games," Poeltl said in May. "On the other hand, I also wonder how useful it would be to train up just for a few games after the injury."
Signed by San Antonio for the rest of the campaign, Zeller should be able to provide a few minutes of competent big-man play per game, but not much more than that. He hasn't played in the NBA this season after the Nuggets cut him at the end of his training-camp deal, and he played just six games in 2018-19. The Spurs will be hard-pressed to emerge triumphant from the five-team dogpile for the eighth and final playoff spot in the West. This deal, which reportedly includes a non-guaranteed second year for 2020-21, isn't the addition that will pull them out of that logjam. But, again, they needed the frontcourt depth and their options were limited.