The greatest rookie seasons in NBA history share a number of qualities, starting with individual statistical dominance. However, you can't overlook the context beyond the box score; initial expectations, team success, and overall legacy all matter.
While we wait for the 2019-20 season to resume, theScore's NBA editors have dusted off the record books to determine the top 25 rookie seasons in league history.
No. 15 in our series is Golden State Warriors legend Rick Barry. Catch up on previous posts in the series here.
Before the Association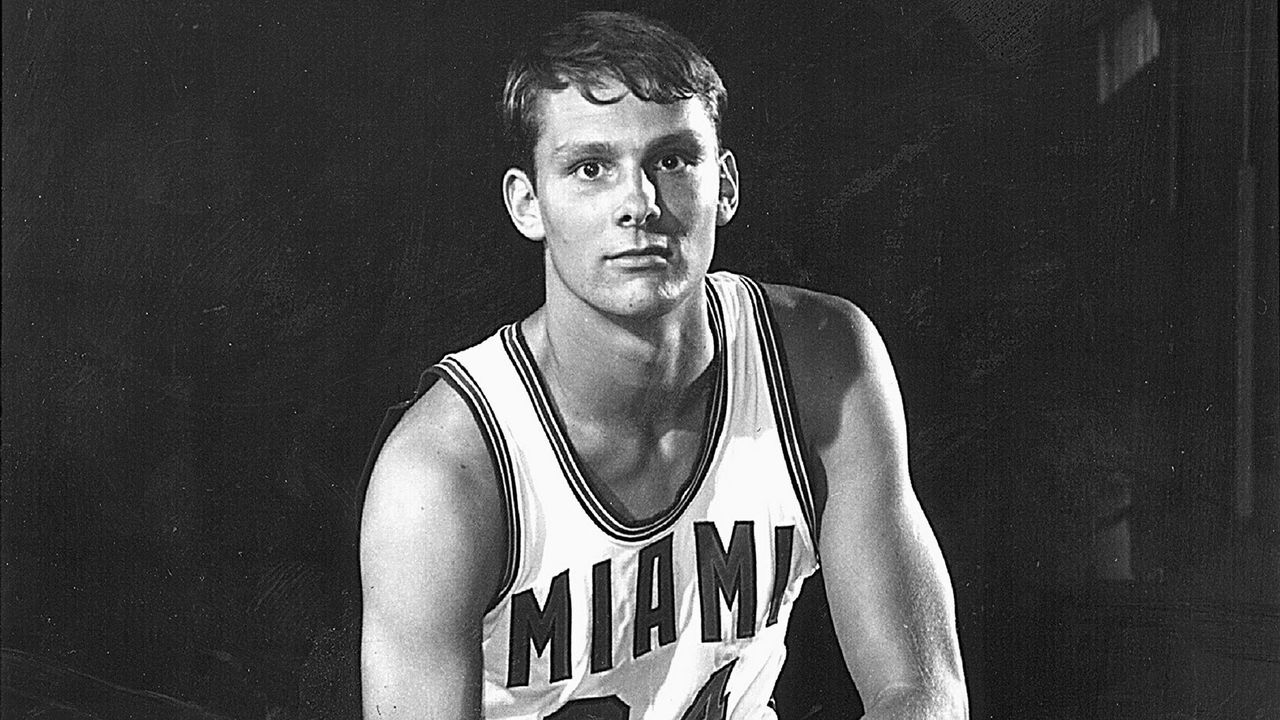 The Miami Hurricanes' basketball program isn't rich in history, but for three seasons, one of the sport's most explosive scorers called the school home. From 1962-65, Barry averaged 29.8 points on 52.2% shooting while also grabbing 16.5 boards per contest. The 6-foot-7 forward capped his collegiate career with an NCAA-leading 37.4 points per game en route to earning first-team All-American honors.
Behind Barry's dominant play, Miami registered three straight 20-win seasons for the first time in school history. In 1976, he became the first Hurricane to have his number retired and remains the program's all-time leader in points and rebounds.
Draft day
The then-San Francisco Warriors owned the first two selections in the 1965 NBA Draft and chose Fred Hetzel and Barry first and second overall, respectively. The notable players selected afterward include the late Jerry Sloan and four-time All-Star Billy Cunningham.
Future Hall of Famers Bill Bradley and Gail Goodrich were also in Barry's draft class and each were taken with territorial draft picks. San Francisco lost its lead horse when they traded Wilt Chamberlain midway through the 1964-65 campaign and needed a perimeter threat to complement the bruising interior play of Nate Thurmond.
Individual success
Barry's offensive onslaught continued at the next level, where he poured in 25.7 points per game to finish fourth in the Association during his 1965-66 Rookie of the Year campaign. The New Jersey native torched opponents with his outside shooting and slashing drives, which often resulted in a trip to the free-throw line.
Using his trademark underhanded shooting technique, Barry concluded his inaugural NBA season with the fifth-most attempts from the charity stripe (660) and placed second in free-throw percentage (86.2%). He also earned an All-Star nod, All-NBA first-team honors, and ranked 10th in rebounding (10.6 boards per game).
Team success
With Barry in the fold, the Warriors won 18 more games than the year prior and emerged from the league's cellar. San Francisco's scoring was up nearly 10 points per contest as six different players averaged at least double digits. Veteran guard Guy Rodgers dished out 10.7 assists per game to finish second in the Association. Meanwhile, Thurmond was fourth among his peers with an average of 18 boards.
The Warriors nearly rode their high-octane offense into the 1965-66 postseason, but were ultimately outdone by their subpar play on the opposite end. The club's 35-45 mark left them one game back of the Western Division's final playoff spot.
Enduring legacy
Barry had arguably his best season a year later, dropping a career-high 35.6 points per contest to capture his only NBA scoring title. He was the MVP of the 1967 All-Star Game and later led San Francisco to The Finals, where they pushed Chamberlain's dominant 76ers to six games.
Barry's 55-point effort against Philadelphia in Game 3 remains the second-highest single-game output in Finals history, while his 40.8 points per contest were a championship series record until Michael Jordan topped him 26 years later.
The six-time All-NBA selection left the Warriors following the 1966-67 campaign due to a salary dispute, but returned to the organization in 1972 after a successful venture in the ABA. Three years later, Barry was named Finals MVP as he led the franchise to its first NBA title in the Bay Area. He's the only player to lead the NCAA, NBA, and ABA in scoring. In 1996, the eight-time All-Star was chosen as one of the 50 greatest players in NBA history.
Come back on Tuesday to see who came in at No. 14 in theScore's Top 25 rookie seasons series.