What would a Nets trade for Bradley Beal look like?
Andrew D. Bernstein / NBA / Getty
Last offseason, the Brooklyn Nets traded years of incremental, grassroots internal growth for the chance to land a bonanza of win-now talent. The moment Kevin Durant and Kyrie Irving made it known they wanted to sign, the Nets became about the business of catering to superstars. Which often means trying to acquire more of them.
You may recall Irving making a public plea for another star during the season. "It's out there. It's glaring, in terms of the pieces that we need in order to be at that next level," he said. "Collectively, I feel like we have great pieces, but it's pretty glaring we need one more piece or two more pieces."
It's no surprise then that Brooklyn's front office has reportedly discussed ways to acquire Bradley Beal from the Wizards to partner with Durant and Irving. Such a deal would mean parting with more of their homegrown players, depleting their depth, and tilting towards a stars-and-scrubs approach. All of which raises two questions: Do the Nets actually have the juice to get a Beal trade done this coming offseason? And how good will they really be if they manage to pull it off?
Let's start with the former. The fact is, there are a handful of teams that could put together more compelling trade packages than Brooklyn can (like the Nuggets and Pelicans). Whether those teams have the will to do so is another matter. If no rival outfit swoops in to beat their offer, there's a reasonable chance the Nets could put enough on the table to get the Wizards to bite.
The trade from Brooklyn's side would almost certainly have to start with Caris LeVert and Jarrett Allen, the team's most promising young players. Part of the appeal of those players is that they'd come with long-term team control and optionality. LeVert's three-year, $52-million extension will kick in next season. Allen will be eligible for an extension this offseason, and if he doesn't sign one will become a restricted free agent in 2021. But is that enough, even as a starting point, to get the Wizards interested?
LeVert is an intriguing player with an arrhythmic dribble-drive game, and he had some monster games down the stretch this season. On the whole, though, he didn't make the kind of leap many expected after a tremendous playoff showing last spring. He scored inefficiently (50.9% true shooting) on high volume (28.8% usage). Throw in his extremely worrying injury history, and it's unclear if Washington would even view his contract as a positive-value deal. Fit would be another concern. If the Wizards still harbor hopes of John Wall being a significant contributor when he returns from his Achilles tear, slotting him next to another dribble-happy guard with a shaky jumper wouldn't appear conducive to his success.
Fitting Allen in would be a lot less complicated. His role as a rim-runner and vertical spacer on offense wouldn't displace anyone (Thomas Bryant is better suited to a bench role, anyway), and he'd be a welcome addition to a defense that rated as the second-worst in NBA history this season. Allen would make it more viable to play offensively gifted but defensively limited forwards like Davis Bertans and Rui Hachimura. He's the kind of backline anchor who could help erase mistakes on the perimeter while allowing the Wizards to simplify their scheme and everyone else's role within it.
The Nets weren't exactly bursting with perimeter defensive talent this year, either, but they managed to paper over it by instituting an extremely conservative drop-back scheme that let their on-ball defenders focus on fighting over screens and chasing opponents off the 3-point line while their bigs focused on protecting the rim and cleaning the glass. The result was a wholly surprising top-10 defensive rating.
There would have to be more in the deal, if only because those two alone wouldn't be enough to match Beal's salary. The Nets could get there by adding Taurean Prince, but Prince just had a hugely disappointing season, and the Wizards would likely demand Spencer Dinwiddie instead. At that point, they might be able to convince themselves they were replacing Beal's playmaking and overall production in the aggregate, even if they weren't getting a future franchise player in return. Dinwiddie has grown into a very nice scoring guard who gets to the rim and shoots bundles of free throws, and he's still only 27.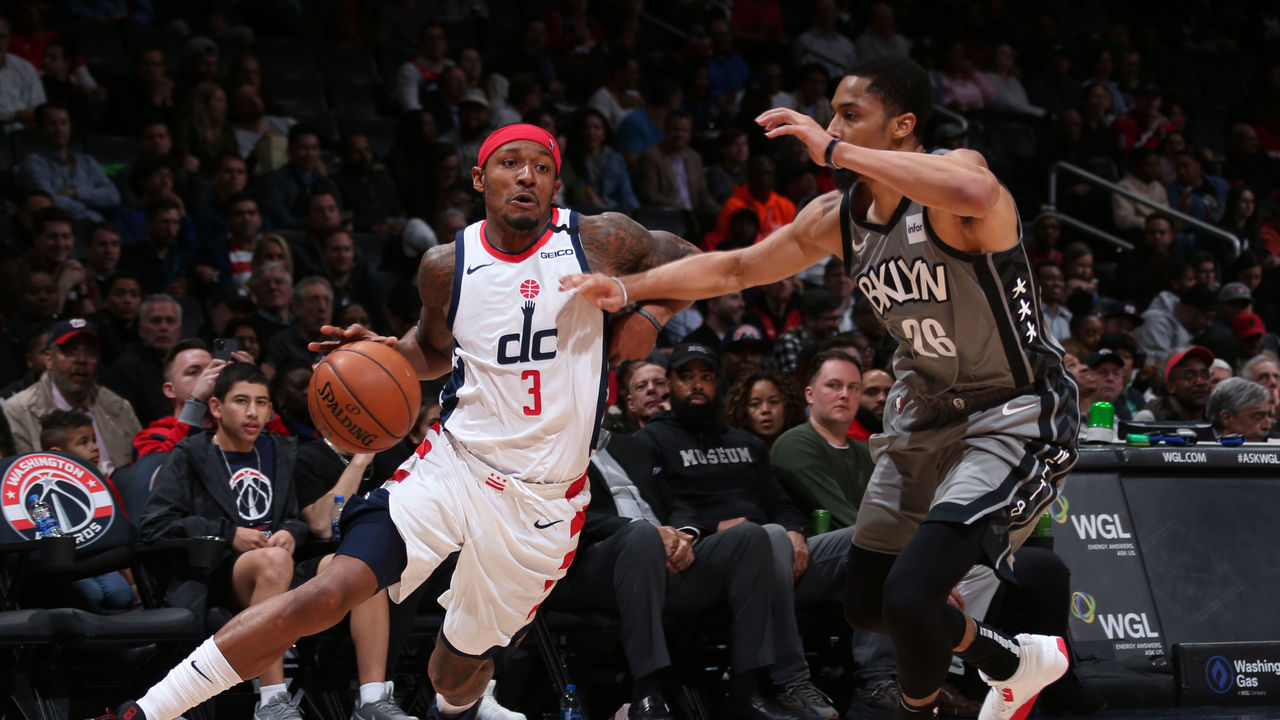 Even then, Washington would ask for at least one first-round pick, likely more. Brooklyn isn't out any future first-rounders, so the question might just come down to how hard a bargain the Wizards would drive, and how far the Nets would be willing to go. This is what makes it so difficult for deals involving stars of Beal's ilk to get done. The Wizards have to justify parting with a 27-year-old All-NBA-caliber talent who plays a premium position and has two guaranteed years left on his contract. And the cost required to make it worth Washington's while is going to be too difficult for almost every team to stomach. The Nets, because of their window with Durant and Irving, may be the only team with both the means and the impetus to do so.
The Wizards also have to know at this point that they aren't in position to take advantage of what's left of Beal's prime. They have no complementary veterans on similar timelines, no blue-chip prospects, and no means to add via trades or free agency. All they really have is the promise of Wall's return, but Wall's game was trending downward even before he suffered an injury that routinely destroys careers. He still has three years and $133 million left on his deal. This may be their best chance to cash in on Beal's trade value.
So, let's assume both sides agreed to a framework that sent LeVert, Allen, Dinwiddie, and picks to Washington for Beal. Would it work out for the Nets?
The trade would leave them with close to zero depth, though having three of the league's top 20 players would arguably render that moot. Teams with that kind of star power always attract a ring-chaser or two. Capable role players might be willing to take less money to join a contender. Brooklyn could re-sign Joe Harris using his Bird rights. Losing Allen would leave a big hole in the middle, but non-shooting centers might be the most replaceable commodity in the league. The Lakers got Dwight Howard for the veteran's minimum this year. And while there are often diminishing returns and awkward overlaps when multiple stars - especially those who predominantly play with the ball - team up, Beal's skill set makes him pretty plug-and-play.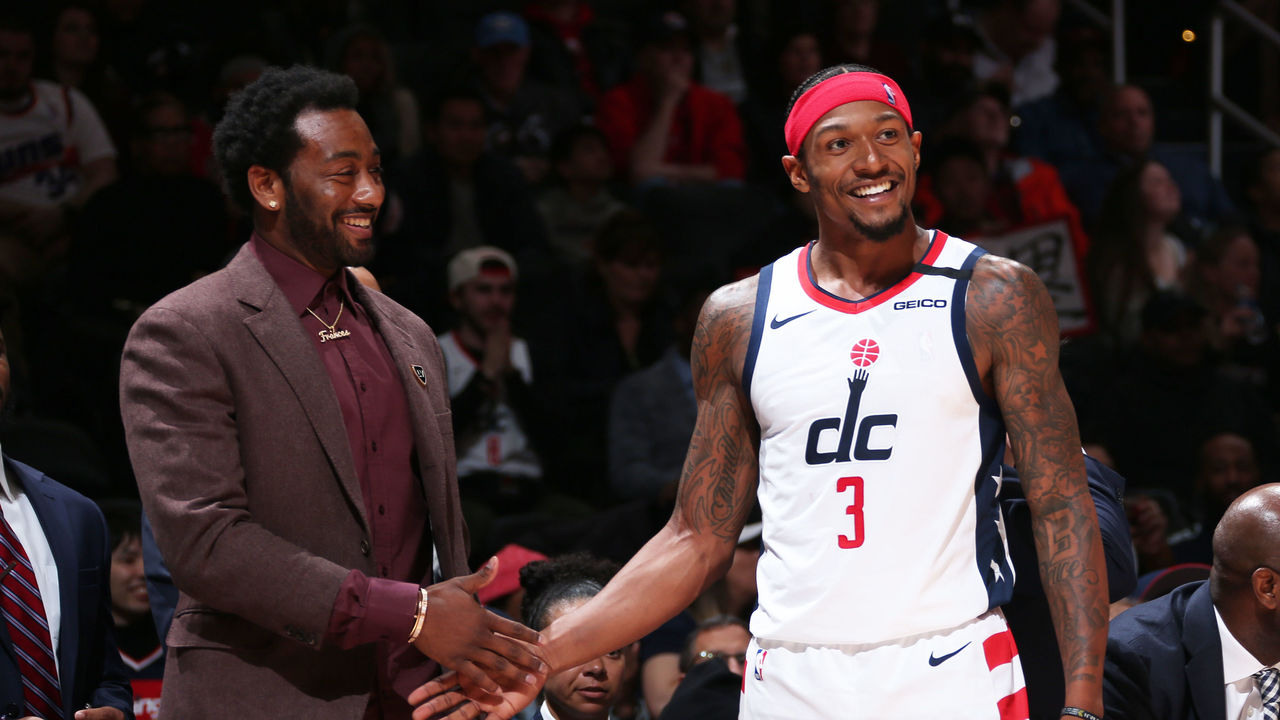 With Wall out, and the rest of the Wizards roster lacking in off-the-dribble creation, Beal's become a high-usage, ball-dominant player out of necessity. He's done a mighty fine job of it, too, averaging 30.5 points and 6.1 assists while establishing himself as a dynamic pick-and-roll operator and carrying Washington to the league's 12th-best offensive rating. That doesn't mean he couldn't thrive in a scaled-down role, as a secondary or tertiary creator who uses his off-ball gravity to open things up for Irving and Durant. Beal hasn't exactly applied himself on defense the past couple of seasons, but having less on his shoulders at the offensive end, and having something real to play for, would certainly help. When he makes the effort, he can capably defend either guard spot.
That said, the Nets' defense on the whole would be a concern in this scenario. Between Irving, Beal, a post-Achilles-tear Durant, an aging DeAndre Jordan, and not much in between, it would be hard to see them cobbling together an above-average unit on that end of the floor. The bet would be that having three players who can all handle and shoot and playmake at an elite level would give the Nets a good chance to outscore opponents no matter how many points they surrendered. If Durant were to return at even 85% of the level he was at before his injury, they'd be a virtual lock to finish with a top-five offensive rating.
As for how Beal himself would feel about a trade, he didn't exactly quell the noise this week when he told ESPN's Jackie MacMullan, "When you hear that Kyrie and KD want you, s---, that's amazing."
He also reaffirmed his commitment to the Wizards and said he was looking forward to playing with Wall again, but added, "I'd be naive to say that I don't think about (playing for another team) when these stories come up."
And he should think about it. He's been a Wizard his whole career, and right now he's spending prime years trying to drag a talent-strapped team to respectability, while missing out on individual accolades in part because of the lack of team success. There's a scenario in which a trade to Brooklyn works out for all parties involved.
Comments
✕
What would a Nets trade for Bradley Beal look like?
  Got something to say? Leave a comment below!