Shaq's career was defined by his legendary sidekicks
Andrew D. Bernstein / NBA / Getty Images
After "The Last Dance" reminded fans of the greatness of Scottie Pippen existing in the shadow of Michael Jordan, theScore's feature writers decided to examine some of the most compelling second bananas in other sports. Previous entries in the series came from college football, MLB, NHL, and NBA (Pippen and Tex Winter).
The life of a two-star system in the NBA is a fragile thing. It relies in large part on coequal commitment to harmony and role definition, self-awareness and deference. The responsibilities and temperament of the second star can say as much about the primary star as it does the wingman himself. Few players exemplified that delicate balance better than Shaquille O'Neal.
Shaq's career is fascinating not just for how he changed the game and what he accomplished, but for who he did it with. On top of being one of the 10 best players ever, Shaq played with some of the greatest second bananas in league history. He was blessed with a trio of complementary stars who became legends in their own right. All told, Shaq played in six NBA Finals with three different co-stars - each of them a flashy, transcendently talented guard: Anfernee "Penny" Hardaway with the Magic, the late Kobe Bryant with the Lakers, and Dwyane Wade with the Heat.
As much as those three benefited from playing with him, Shaq benefited from having them by his side, even as the partnerships tended to end acrimoniously, with Shaq leaving on less-than-stellar terms (and it was always Shaq who wound up leaving, for one reason or another). When we talk about Shaq, we rarely talk about Shaq alone. We talk about Shaq and Penny, Shaq and Kobe, Shaq and Wade.
You can argue whether those guys should really be considered second bananas. Kobe and Wade, in particular, were alphas who just happened to play alongside apex Shaq. Both ultimately wound up being the best players on championship teams, and Wade overtook Shaq as the Heat's most important player by O'Neal's second season in Miami. Hardaway was well on his way to being a Hall of Famer before injuries wrecked his career. He proved he had it in him to be a franchise player in 1996-97, his first season without Shaq, when he carried a depleted and demoralized Magic squad to 45 wins and a near upset of the 61-win Heat in the first round. (Seriously, check his numbers from that series.) But the following year, Penny was forced to undergo the first of five surgeries on his left knee, and was never the same.
The baggage that came with being Shaq's sidekick was a subject of endless fascination throughout his prime: the constant vacillation between on-court symbiosis and off-court friction; the power struggles over everything from control of the offense to whose voice should ring loudest in the locker room. The turmoil and internecine squabbles of Shaq's teams often threatened to overshadow their on-court success, to the point that it's impossible to tell the story of the latter without the former.
'The best years of my life'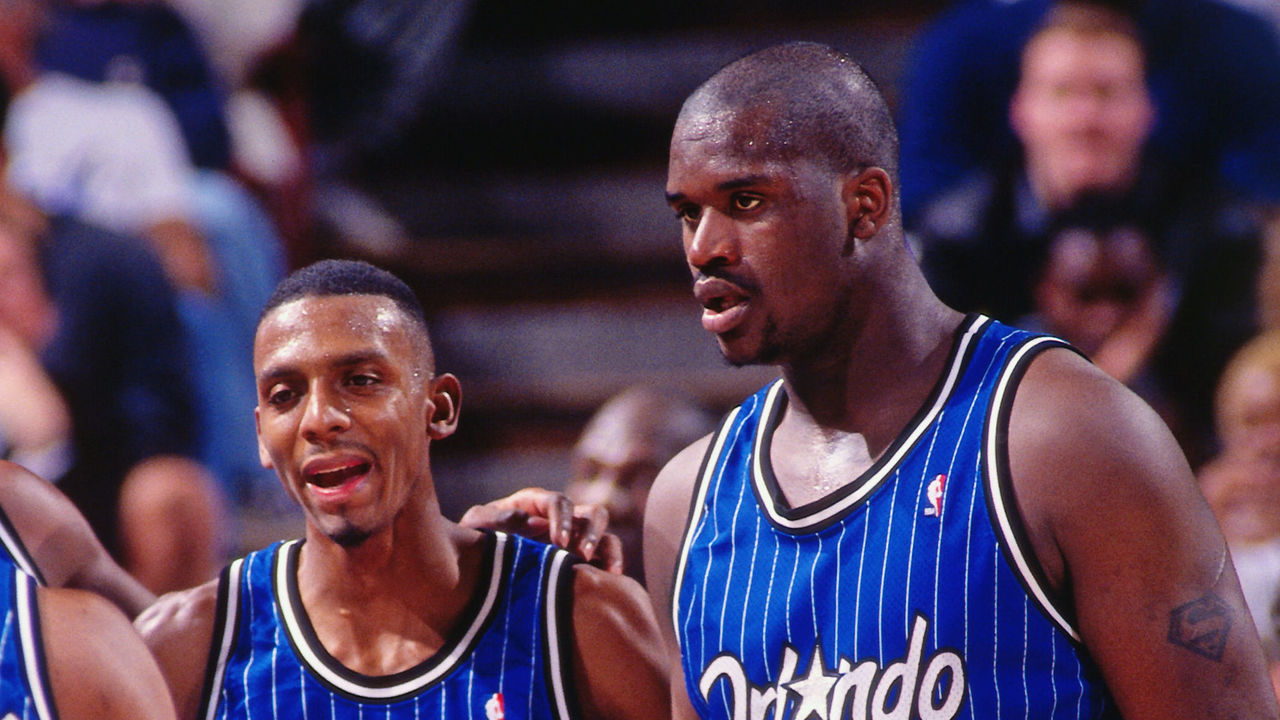 Shaq's first dynamic duo took shape when the Magic won the draft lottery for the second year in a row in 1993, getting the No. 1 pick on a 1.5% shot after going 41-41 in O'Neal's rookie season. The story goes that Hardaway made such an impression on Shaq during their runs while filming the movie "Blue Chips" in the weeks before the draft that Shaq personally lobbied Orlando's front office to spring for Hardaway over consensus top pick Chris Webber.
Whether or not that's how the decision was actually reached, the Magic did as Shaq desired. They leveraged their ability to reroute the player everyone wanted, picked Webber first overall, and promptly flipped him to the Warriors for Hardaway (who went third) and three future first-rounders. Don Nelson apparently preferred the big man to the multi-positional 6-foot-7 dude with point guard skills. Imagine that.
For Orlando, it instantly seemed like a perfect basketball marriage. Penny was a tall, shifty, athletic creator with dazzling passing chops, fancy footwork, and a deep bag of post moves. Young Shaq combined his dangerous power - literally, he almost killed himself multiple times by dunking so hard he pulled down entire basket contraptions on his head - with tremendous speed and agility. He could dominate in the half court, but was also fleet-footed enough as a younger man to run a devastating break with his oversized point guard. They made the game easy for one another. They played only three seasons together, but for that brief stretch, they burned as bright as any tandem in the league.
Hardaway cracked the All-NBA first team in his second season in the league (1994-95), one of a small handful of players in the 3-point era to achieve that feat so early in his career. The only player to do so since then is Tim Duncan in both 1998 and '99 (though Luka Doncic will probably end that drought this season). The following season, Hardaway finished third in MVP voting.
Though Hardaway always publicly attributed his early success and that of those Magic teams to Shaq, jealousy couldn't help burbling up between them. O'Neal's on-court exploits and outsize personality sucked up a lot of oxygen, but Hardaway carved out plenty of cultural clout of his own thanks to his stylish game and Nike's legendary Lil' Penny ad campaign, in which a Chris Rock-voiced doll in Hardaway's likeness talked all manner of trash (which Hardaway himself never did). When Penny's fame - and that of his ventriloquist alter ego - took off, Shaq struggled to share the limelight.
"If you're going to have two stars on a team and you're going to have Shaquille O'Neal with the other star, Shaquille O'Neal is always the main man," Richie Adubato, a Magic assistant at the time, told Grantland's Jonathan Abrams years later.
The Magic made The Finals in 1995, only their sixth year of existence, beating Michael Jordan's Bulls in six games along the way. It was the only series Jordan lost in the '90s. Orlando backed it up by winning 60 games the following year, but got swept by an out-for-blood Jordan and a historically great Bulls team in the East finals.
And that was it. O'Neal left for Los Angeles that summer when the Magic declined to match the Lakers' seven-year, $121-million contract offer (this predated the age of restricted free agency and early rookie-scale extensions), and the Shaq-and-Penny Magic were instantly relegated to the dustbin of unfulfilled potential.
"I hate the business of basketball," Shaq said two decades later, in a 30 for 30 documentary about those Magic teams. "My first four years (in Orlando) were probably the best years of my life."
Alas, he made the business decision and decamped for L.A., where he teamed with an 18-year-old wunderkind who the Lakers acquired in a draft-day trade with the Hornets. It would be by far Shaq's most successful partnership, and also by far his most fraught and dysfunctional.
The golden years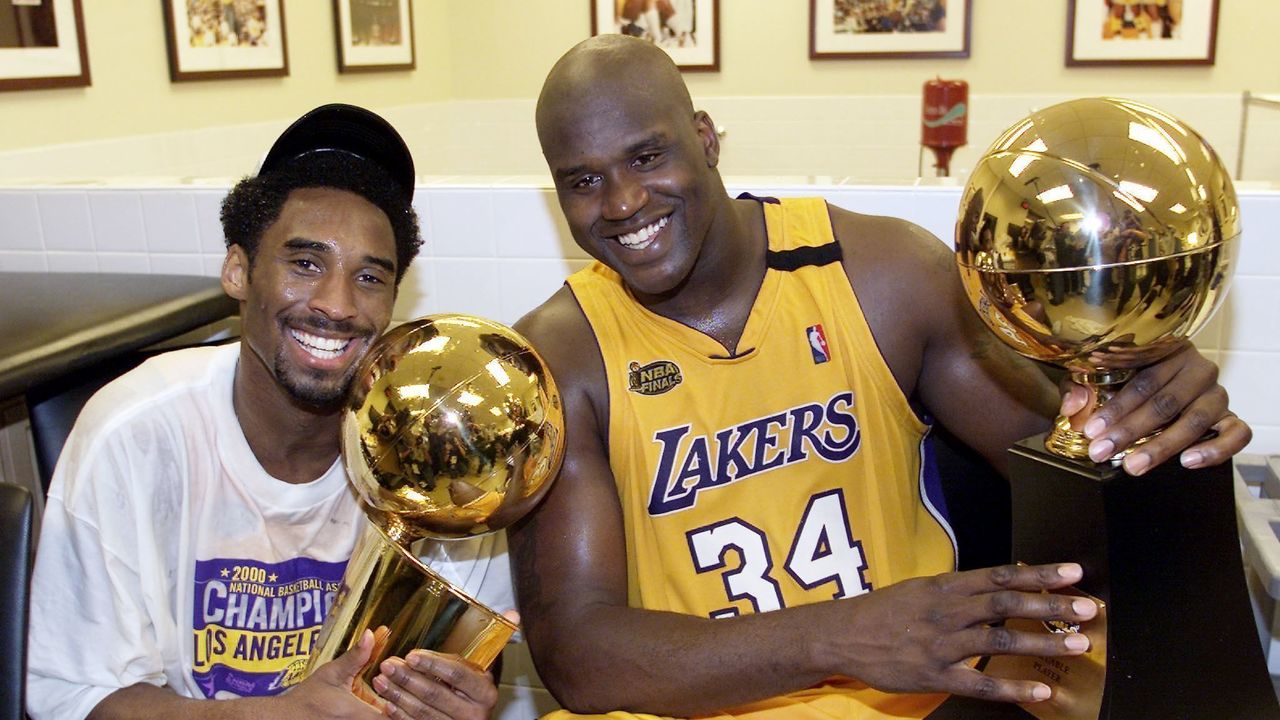 It took a few years for Bryant to come into his own, but when he did, the Lakers became one of the greatest juggernauts in league history, producing three straight championships and four Finals trips in five years beginning in 1999-00. They weren't quite as explosive as those Magic teams had been, but they were more surgical, more precise.
Shaq bulked up and became even more difficult to stop in the post. Kobe dissected defenses, working free for feathery mid-range jumpers and getting to the rim at will. They beat you inside and out. Their 15-1 run in the 2001 postseason, after what was by their standards a humdrum regular season, is maybe the single most dramatic switch-flip the NBA's ever seen.
Of course, it wasn't exactly smooth sailing. There were constant stylistic and personality clashes between the team's two superstars. They fought almost as much as they won. Shaq (and coach Phil Jackson) wanted the offense to run through the big man in the post, and he frequently chafed at Kobe's shot-happy tendencies. They invariably blamed each other for whatever struggles plagued the team. Shaq's go-tos were to question Bryant's shot selection and accuse him of selfishness and arrogance. Bryant would respond by questioning O'Neal's work ethic and conditioning, chiding him for his poor free-throw shooting, and accusing him of malingering.
"There's more to life than whose team this is. But this is his team, so it's time for him to act like it," Bryant told ESPN's Jim Gray in a particularly scathing interview in 2003. "That means no more coming into camp fat and out of shape, when your team is relying on your leadership on and off the court. It also means no more blaming others for our team's failure, or blaming staff members for not overdramatizing your injuries so that you avoid blame for your lack of conditioning."
There were times when Shaq came right out and said he wouldn't play defense if he didn't get enough touches at the offensive end. Jackson and assistant coach Tex Winter believed the triangle offense could soften the relationship between the two stars. They believed the offense was structured and balanced enough that both would get ample opportunity to touch the ball and make plays and neither could rightly complain about their roles. But Shaq was emphasized as the focal point of the triangle, while Kobe occasionally liked to freelance and often felt boxed in by his role within the offense. The two made it work, but neither ever seemed wholly comfortable with the arrangement.
It all culminated in the drama that was the 2003-04 season, which began with notions of L.A. being the greatest team ever and ended with a five-game dismantling at the hands of the underdog Pistons in The Finals.
"I wasn't going to play with Shaq anymore after that," Kobe told Bleacher Report's Ric Bucher of how he felt at the end of that tumultuous season. "That just wasn't going to happen. Things he had said, criticism from the media in saying I can't win without him. Look, I put that individual s--- aside to win championships and now I'm getting criticized for it. Now I'm going to show you f---s what I can do on my own. So that challenge, I was going to answer that challenge no matter what - whether I was going to stay in L.A. or go somewhere else, I was going to answer that challenge."
That sort of captures the irony of the situation. The same things that made Kobe such an incredible second option were what ultimately made him incompatible with Shaq and unsuited to a complementary role. He was, in a sense, too big a star to be confined in a second-banana peel. Kobe was a better player than Pippen, but does that mean he was a better complementary star? Part of the reason Pippen was able to win six championships as the second-best player on the Bulls was that he was willing to accept his role as such the whole way through.
The hierarchy was never as clearly established for those Lakers. Shaq was better than Kobe for the vast majority of their time together, and he deservedly won Finals MVP for all three of their championships, but Kobe had closed the gap significantly, if not entirely, by the end of their run. The slackening of zone defense restrictions in the early aughts (which came about in large part because of Shaq's unstoppable - and aesthetically monotonous - post game) had also begun to tilt the game away from big men and toward guard play. As Kobe began to see himself as Shaq's equal, or perhaps even his better, the tension between the two - on and off the court - came to a head.
Had Shaq been willing to cede some control, or had Kobe felt fine playing second fiddle a while longer, or had the two simply been able to put aside their differences and harmoniously coexist, maybe they win one or two more titles. It's worth noting, though, that Shaq only had two more All-NBA-caliber seasons left in him by the time he left L.A. There's certainly no guarantee that the good times (to the extent they can be called that) would've kept rolling if he and Kobe were able to bury the hatchet.
The two mended fences in later years, but still managed to get some digs in at each other's expense. After Shaq won his fourth title while Kobe stumbled in his early years as the Lakers' top dog, Shaq laid down an infamous freestyle in which he implored Kobe to … well, you know.
When Kobe won his fifth title, and was asked what it meant to him, he responded without hesitation: "Just got one more than Shaq."
In any event, after that 2003-04 season, the Lakers chose to ride with Kobe, who was seven years younger, and shipped Shaq to Miami.
'The godfather hands it over to Michael'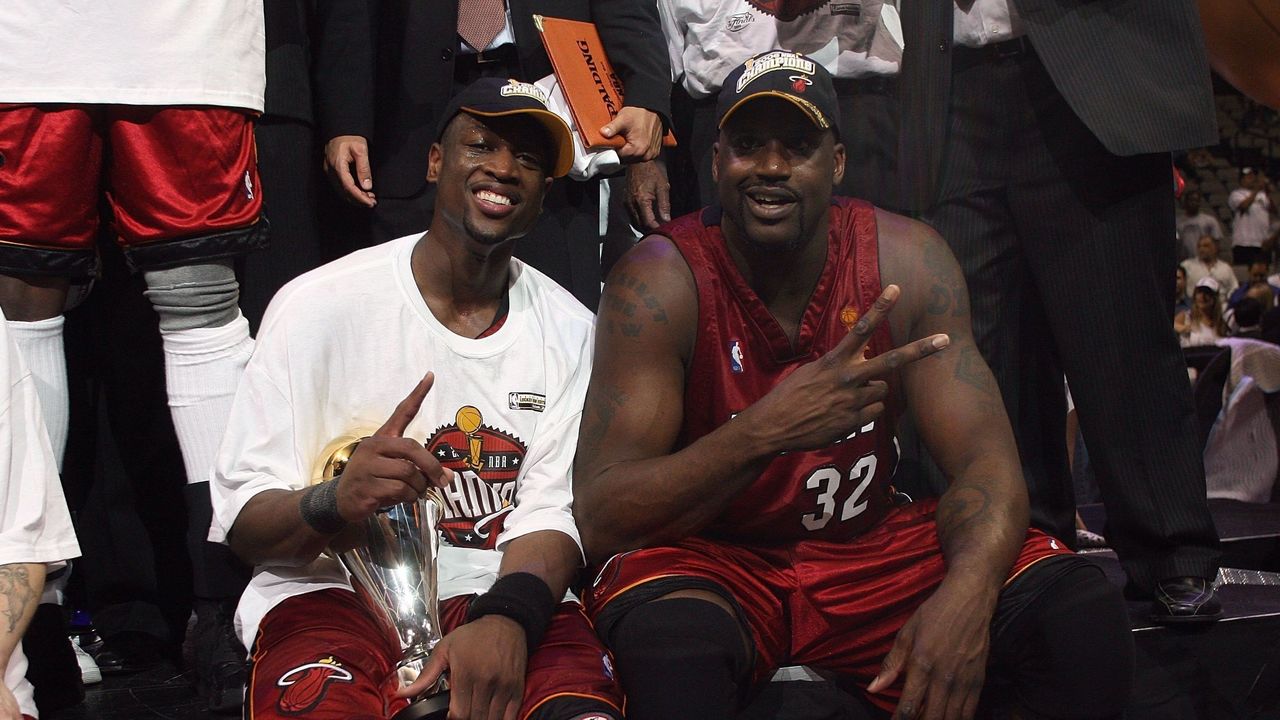 There was never the same tension with Wade, because that partnership took shape when Shaq was at the tail end of his prime (though he still finished second in MVP voting his first year in Miami and made first-team All-NBA the following season). Those two winning one championship together felt about right.
On an interpersonal level, Wade probably had it the easiest, because Shaq could no longer lay claim to being the Heat's best player. A lot of it had to do with timing. Wade got to play with a softer, slightly humbled, more deferential, more self-aware Shaq.
"Me and Penny had a little beef, me and Kobe had beef, maybe I am the asshole," Shaq once said when asked why he changed his approach with Wade, an expression of self-realization that would make Raylan Givens proud.
Wade was entering his sophomore season when the Heat traded for O'Neal, but was already emerging as one of the best guards in the league; lightning-fast, athletic, a devastating at-rim finisher. Miami ran a more perimeter-oriented, pick-and-roll heavy system, and by Year 2 of their partnership, the offense was running entirely through a ball-dominant Wade. In the 2006 Finals, Wade's usage rate was nearly double Shaq's, and he was named Finals MVP unanimously. Shaq was still drawing attention on the block, but he was much more passenger than driver.
He took it in stride. His prime was officially over by then, and he knew it. Those Heat teams never sniffed contention again. (Wade, of course, went on to enjoy a pretty memorable second stint as a second banana, winning two more titles alongside LeBron James.) They could've dominated for longer if they'd teamed up earlier, but the reality is Wade wouldn't have had the space to spread his wings the way he did if Shaq hadn't been on the downswing at the time. Wade's performance in the '06 playoffs remains one of the great individual triumphs in NBA history.
"The difference between those three is 'The Godfather' trilogy," O'Neal once said of his running mates. "One is Fredo, who was never ready for me to hand it over to him. One is Sonny, who will do whatever it takes to be the man, and one is Michael, who if you watch the trilogy, the godfather hands it over to Michael. So I have no problem handing it over to Dwyane."
Even so, the two couldn't avoid a falling out of sorts toward the end of O'Neal's tenure, which ended midway through a dismal 15-67 campaign when he was traded to the Suns for a comparably over-the-hill Shawn Marion.
"As much as neither wanted to admit to even the slightest bit of dislike for each other, there's something between Shaquille O'Neal and Dwyane Wade that has somehow remained trapped in the confines of the locker room they used to share," The Miami Herald's Israel Gutierrez wrote a year after the trade. "The encounters are becoming a little less friendly each time, and they are heading to the verge of just plain chilly."
Though he had some moments in Phoenix, including a rage-against-the-dying-of-the-light season in 2008-09, Shaq's legacy ended with that championship in Miami. Nobody wants to remember him trying to fit into a Suns system that was antithetical to his skill set, or ring-chasing with LeBron's Cavs and the Big Three Celtics.
His career, as successful as it was, still accrued a trail of what-ifs and should-haves. Shaq and Penny should've won big, the thinking went. Shaq and Kobe should've won more. What if he stayed in Orlando? What if he and Kobe got along?
But all that sort of misses the point. Hardaway's injuries would've curtailed the Magic's run as top-shelf contenders, anyway. And for all the hand-wringing about the Shaq-Kobe partnership, they spent eight years together and overcame the animus between them to complete a three-peat. The fact that some still consider those Lakers a disappointment should tell you just how good they were when they were good. With Wade, Shaq was able to give the last of his best years to a burgeoning legend by applying all he learned in his previous two stops.
An amazing career, featuring a legendary collection of co-stars, a trio of iconic tandems, and a boatload of drama, intrigue, accolades, and championships. Shaq was an unforgettable star, but the other stars who found themselves in his orbit shone just as brightly. And he needed them as much as they needed him.
Comments
✕
Shaq's career was defined by his legendary sidekicks
  Got something to say? Leave a comment below!