Q&A: Aces' Hamby on relationship with Laimbeer, prioritizing motherhood
Tim Heitman / National Basketball Association / Getty
There are two sides to Dearica Hamby. On one hand, the reigning Sixth Woman of the Year is the self-described "tough one" on the Las Vegas Aces, the ascendant WNBA franchise coached by Bill Laimbeer, one of basketball's preeminent agitators in his own playing days.
Hamby is up front about not being a win-at-all-costs player, however. For instance, it's unlikely you'll find the 6-foot-3 forward hoisting 10,000 jumpers on her off day. Those are precious moments she could be spending with her three-year-old daughter, Amaya. Hamby is unwilling to compromise on this front, even if it impacts her career.
Nevertheless, the 26-year-old forward finds herself in the middle of one of the league's most fascinating lineups this season. The Aces retain three All-Stars from 2019: guard Kayla McBride, forward A'ja Wilson, and towering 6-foot-8 center Liz Cambage.
Also in the mix are guard Kelsey Plum and wing Jackie Young, who, along with Wilson, represent the WNBA's first overall picks from 2017-19. Furthermore, the Aces added five-time All-Star forward Angel McCoughtry in free agency this winter. The "Full House" puns are practically writing themselves in Vegas.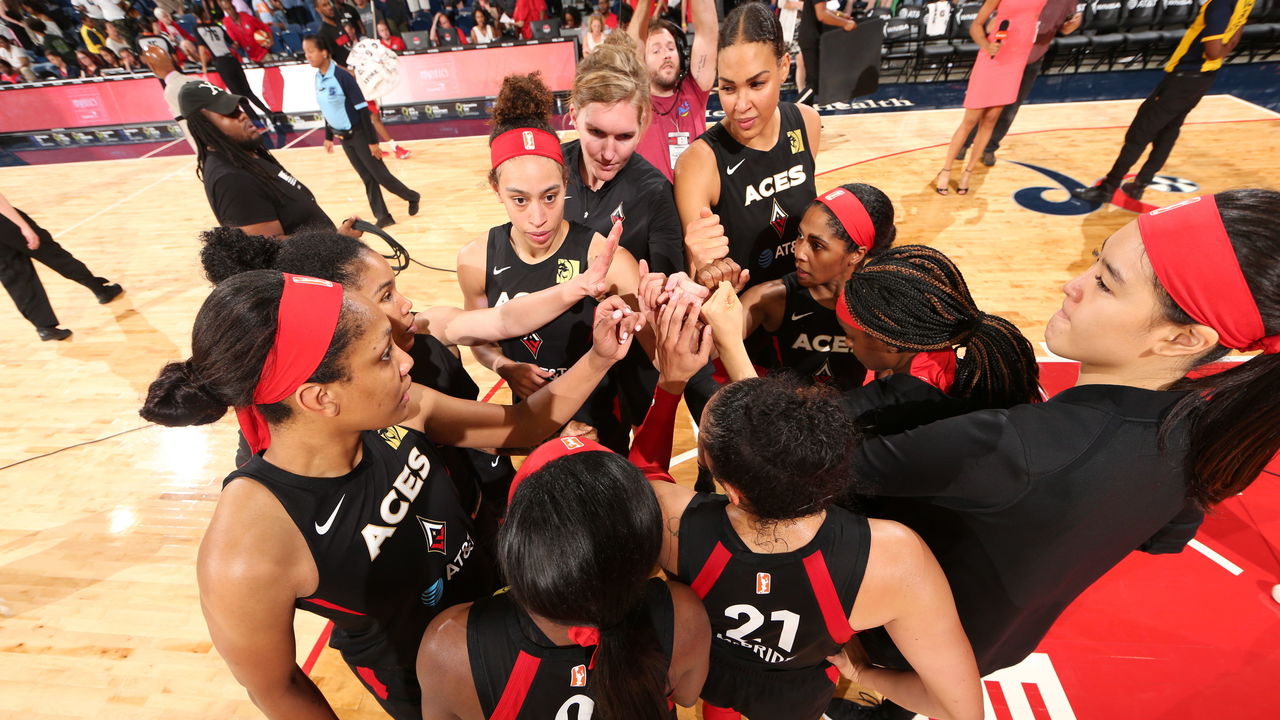 In her breakout 2019 campaign, Hamby averaged 11 points, 7.6 rebounds, 1.9 assists, and a steal per game while defending multiple positions, giving her a well-rounded foundation to build off this season.
That's if there even is a season, of course. According to Hamby, the perception among players right now is that the 2020 campaign is essentially a coin flip.
"A lot of it depends on what the NBA does," Hamby told theScore in a phone interview from Las Vegas. "It's 50-50. You can see why we need to play because our league is so fragile and we did such a good job with the momentum last season.
"I don't know how they're going to get it done, but I think they're really pushing for it. And it's going to take a lot of sacrifices on our end."
Check out our conversation below (answers edited for length and clarity).
You're coming off a career year. Can you take us through the factors that led to your big breakout?
Dearica Hamby: I had a real funny relationship with Bill in our first season here. We joke about it all the time because one of my first conversations with him was like, "You know, I don't think you're going to play much." And I was kind of like, Oh crap. That season was a struggle. I definitely believed I deserved to play more.
He had his way of doing things. If you know anything about Bill Laimbeer, he's very stubborn and prideful; it's his way or the highway, you know? Good guy, though, but our relationship took some time to build.
At the end of last season, before I signed my contract, I didn't think I'd be back in Las Vegas. I honestly had intentions to sign elsewhere. Then, (Laimbeer) called me in free agency and was like, "Nope, you're coming back." I got the max. No one thought he'd match it, and he matched it and told me I'd be here for a long time, too.
Then things just started clicking for me and him. I think Bill understood my value to the team. I don't think there's many people in the league who can contribute the way I do on both ends of the floor, and he realized he needed me to win. And he started playing me more.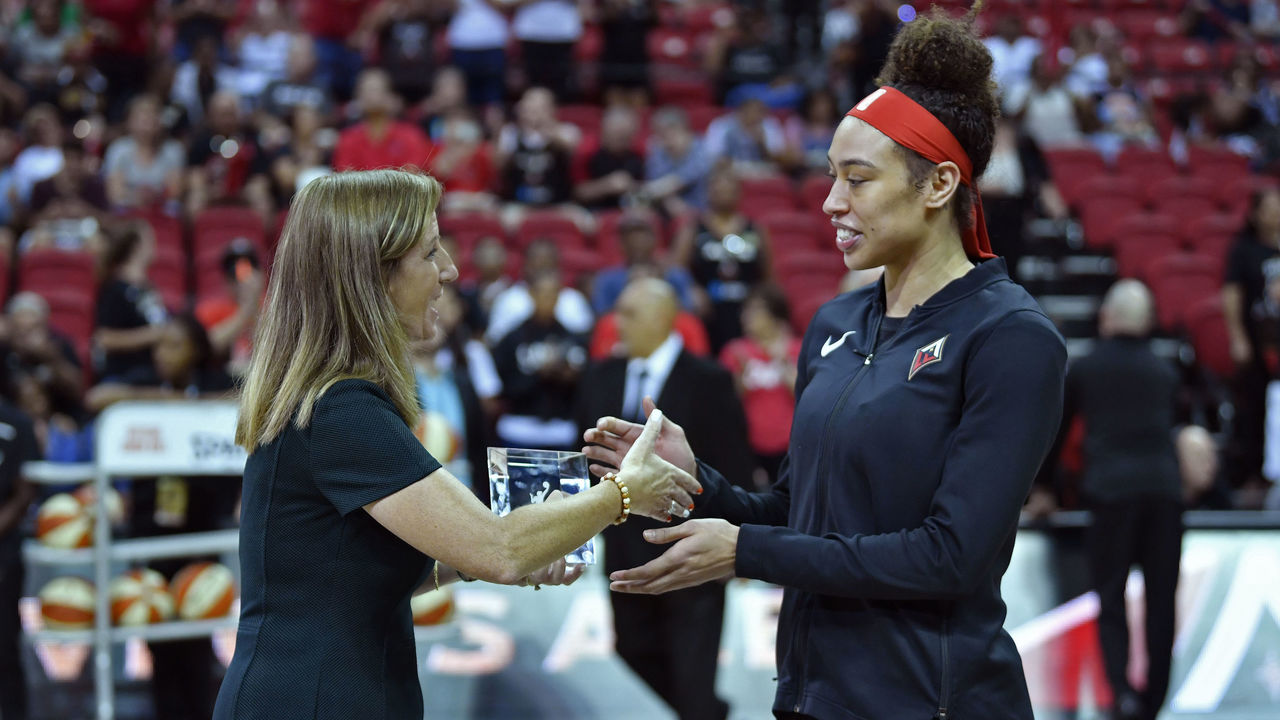 After winning the Sixth Woman of the Year Award, is being part of the Aces' starting lineup something that is important to you?
DH: I play starter minutes, so it's not necessarily a bucket list thing for me. Last season - it's kind of tricky - our team would dig holes, then I'd come in and we'd kind of flip the switch. If I start, do we not dig ourselves into those holes? I don't know. You want somebody who can come off the bench and spark that if you need it, but you also don't want to start games where you're trying to fight back, down 20 at halftime.
In addition to winning Sixth Woman, you authored one of the year's signature plays ...
... Did you have any time to reflect on your accomplishments before moving on to the overseas season?
DH: The shot got a pretty nice reaction around the world, which was cool.
After the season, I think I was home (in Atlanta) within two or three days. Then I had to get ready to travel to Italy. Everything in our life is a quick turnaround.
After the 2019 WNBA season ended, you went overseas to play for Virtus Eirene Ragusa in Sicily. That must have been a different experience this year.
DH: Obviously, this season got cut short because of COVID. I was out there when all of that stuff started going on, and I was in the heart of it.
I was out there with my daughter and my mother, and I just remember (President Donald) Trump making the announcement (restricting travel from most of Europe to the United States), and I got them on the next flight. My team had told me that I couldn't leave at the time. Then they requested that I quarantine because we had played in Milan the previous week and Milan had gone into code red. At the time, they were telling me, "If you leave, you'll go to jail."
My Italian agent said, "You'll be denounced," and I was kind of like, I don't care about that, I want to go home. I have a good reputation, but Italians are very dramatic. Every little thing is times 10. "You'll get denounced and you won't be able to play here again." My agent was saying that, but my coach was like, "If you can leave, Dearica, you should leave."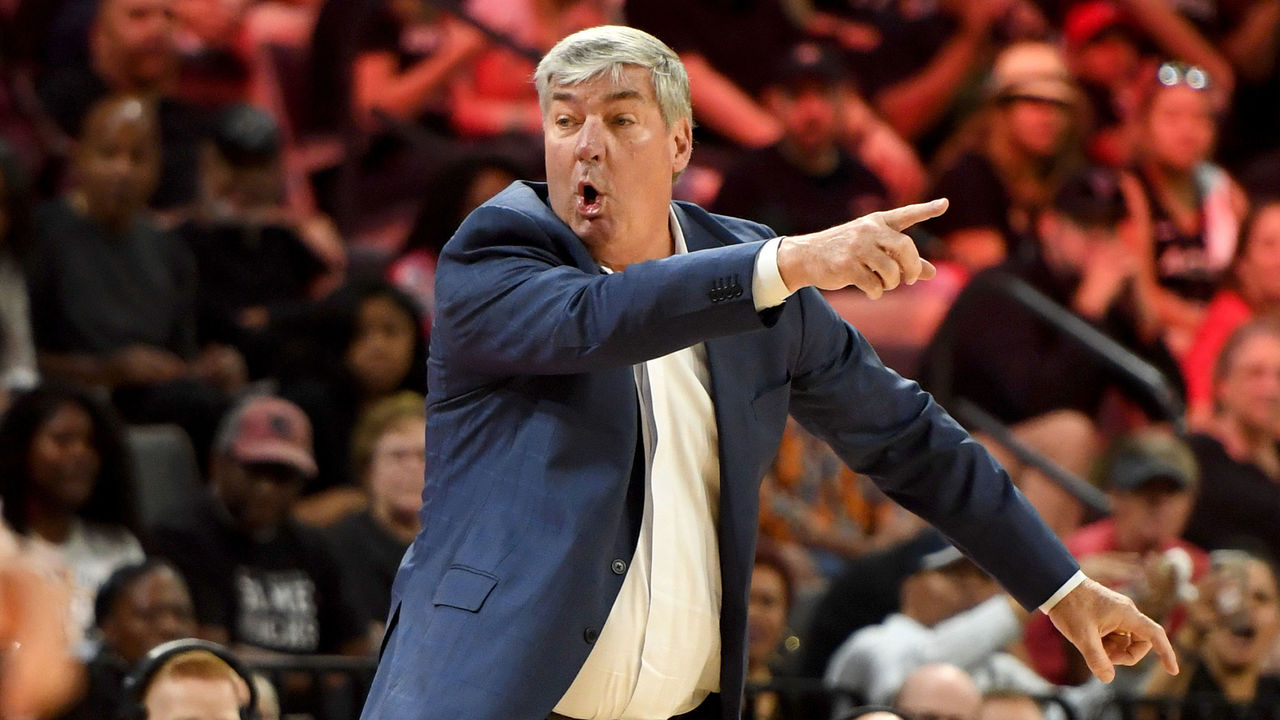 Circling back to your stateside coach, Bill Laimbeer shows up prominently in "The Last Dance" as a key figure in the Pistons-Bulls rivalry. Have you had a chance to watch that?
DH: Yeah, I've been watching it. Obviously, Bill doesn't let us go a day without hearing something about the "Bad Boy" Pistons. Our team even did a game-day segment of watching Bill Laimbeer punch people, so we were already in tune with what was going on.
It seems like he still relishes playing the role of the villain.
DH: He loves it! I think that's why I started to grow on him, because I'm kind of the tough one on the team, and he wants us to have that persona. He doesn't say, 'Beat people up,' but (he wants us to) be tough. It's cool because we're in Vegas - Sin City; we could have that persona, but it takes time.
I like it. Not necessarily as far as he took it, but just being tough and knowing no one's going to come in and kick your ass.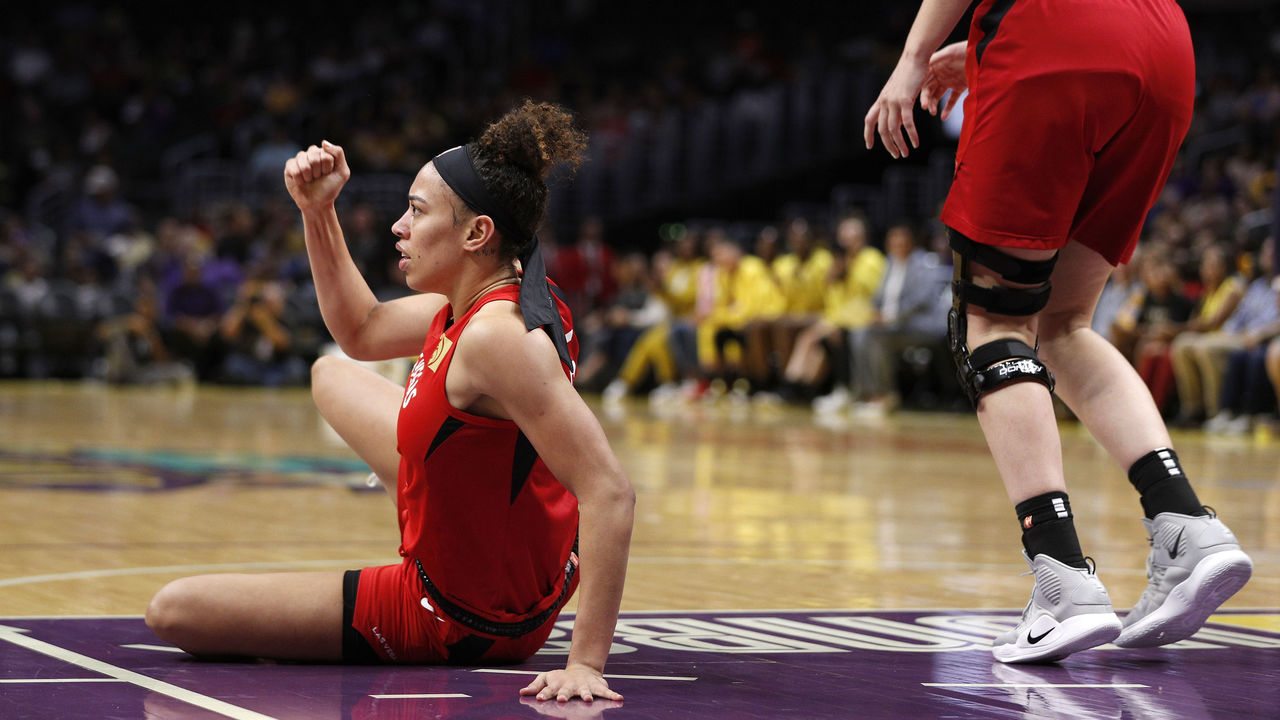 This was a huge offseason for the WNBA with the introduction of a new CBA. What were your impressions of the changes?
DH: Definitely growth. It's obviously going to take time; our league is very young. So we're doing it for the future generations. But it's definitely a start.
They took notice of a lot of things. I'm a parent, so I appreciated the things they did that made a change to that. We're still working toward more things and I'm excited to see where it will be in 20 more years, but it's cool to have been a part of the next step.
How has the league been supporting the players throughout the COVID-19 pandemic?
Honestly, everybody's unsure about a lot of things. The players' association and the league are reaching out. They've been sending us doctors in our areas. I know teams are having weekly Zoom meetings. Players are staying in touch. But there's a lot of uncertainty.
For me, I've been enjoying this off time because it normally wouldn't happen. I don't wish for it under these circumstances, but I've been able to enjoy being a mother. I've literally been able to spend 24 hours a day with my daughter, which I don't normally get.
Anyone who follows you on social media knows that being a parent is a huge part of your identity. How have you balanced preparing for a WNBA season with no set start date with being a full-time mom?
It's just me and her, so one downfall is that I'm not really working out right now. There are places where you can go, but I also have a kid to think about. I'm trying to not put myself in danger for her and my mom's sake. So, I haven't really been able to work out. I'm not going to bring Amaya into a filthy gym. That is not happening.
I've enjoyed it that way. It's been one of the first real breaks I've had. But I know as soon as we hear something about the season, I'll flip a switch and get right into it. I'll have to fly my mom in to get with her so I can go start training.
Is it even fair that the media brings up motherhood so often in relation to WNBA players? I don't think anyone was asking Lou Williams about his kids after he won the NBA's Sixth Man Award last year.
DH: I don't mind it. I think it's part of who we are. You see Candace Parker at the level she performs at and she's a full-time mom. I know, for me, being a parent comes first, even when I go overseas. I've had discussions with Bill about this. I go to work, I give you my three hours, and I go home and I shut it off. My family comes first to me, before basketball. I prioritize raising my daughter.
Who knows, it could be the downfall of my career. I'm not in the gym as extra as some people probably are, because for me, it's important that I get home to be with my daughter.
This upcoming offseason, I've been offered contracts overseas, and I've been turning them down. (My daughter) is about to start school soon and I want to be able to spend as much time with her as possible. I'm willing to sacrifice some money to be home to be able to enjoy these moments with her.