MVPs for all 15 Eastern Conference teams
Stacy Revere / Getty Images Sport / Getty
The 2019-20 NBA season is on hiatus - and might be over - due to the coronavirus pandemic. With the future so uncertain, now is a great time to evaluate the three-quarters-of-a-season we've already banked.
Let's get right into it. Here are the most valuable players for each of the league's 30 teams to this point in the campaign, starting with the Eastern Conference:
Atlanta Hawks
Pick: Trae Young
Trae Young's emergence as an All-Star in his sophomore campaign has made the Hawks watchable on any given night - even if his defense has left much to be desired. Young entered the hiatus putting up 29.6 points and 9.2 dimes a night; LeBron James and Michael Jordan are the only players ever to average at least 25 points and five assists over a full campaign in their age-21 seasons.
Boston Celtics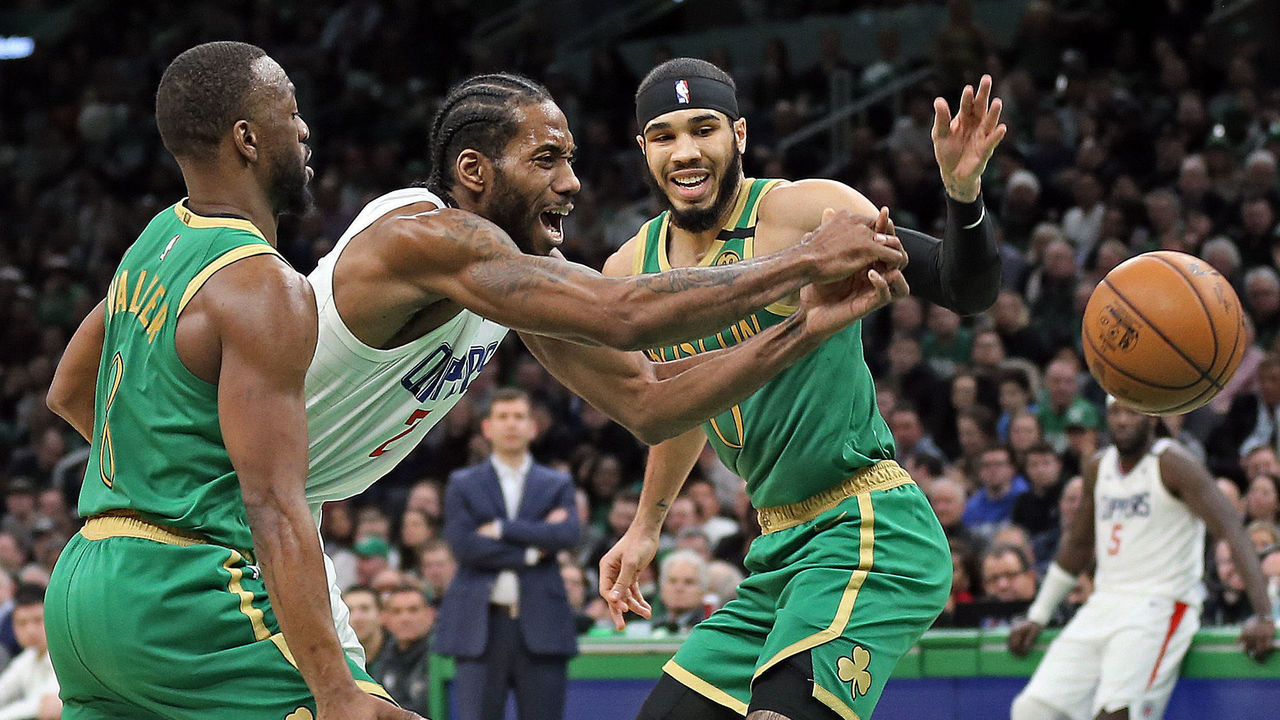 Pick: Jayson Tatum
Even though Kemba Walker, Marcus Smart, Jaylen Brown, Jayson Tatum, and Gordon Hayward have only spent 15 minutes together on the court this season, they are the five fingers of the Celtics' fist. It's not particularly easy to separate one from the group.
But amongst that quintet, Tatum's efficient scoring and improved defense have put him front and center in what Boston hopes to accomplish on both ends of the floor. Kemba is a close second, but the Celtics are Tatum's team for the foreseeable future.
Brooklyn Nets
Pick: Spencer Dinwiddie
The Nets have been a bit of a mess. Kyrie Irving - expected to be their top player with Kevin Durant out long-term - played just 20 games before he too was shut down for the season. Spencer Dinwiddie leads the team in points (20.6) and assists (6.8) per game, but he's hardly a picture of efficiency. Jarrett Allen has continued to grow even as his role has been diminished thanks to the addition of DeAndre Jordan.
Let's give team MVP honors to Dinwiddie. He can be a bit of a chucker, but the Nets' offense would collapse without him.
Charlotte Hornets
Pick: Devonte' Graham
Devonte' Graham has averaged 18.2 points and 7.5 assists per game while shooting 37.3% on a barrage of long-range attempts. The Hornets have had a net rating of minus-4.5 when he's in the game, but an even more atrocious minus-11.5 when he sits. That's all you need to know; Graham has been the difference between a bad team and a downright abominable one.
Chicago Bulls
Pick: Zach LaVine
The Bulls follow the trend shared by a number of Eastern Conference cellar dwellers; Zach LaVine is their version of the Hawks' Young or the Hornets' Graham, putting up 25.5 points, 4.8 rebounds, and 4.2 assists for a 22-43 team. At least Bulls fans had someone to cheer for.
Cleveland Cavaliers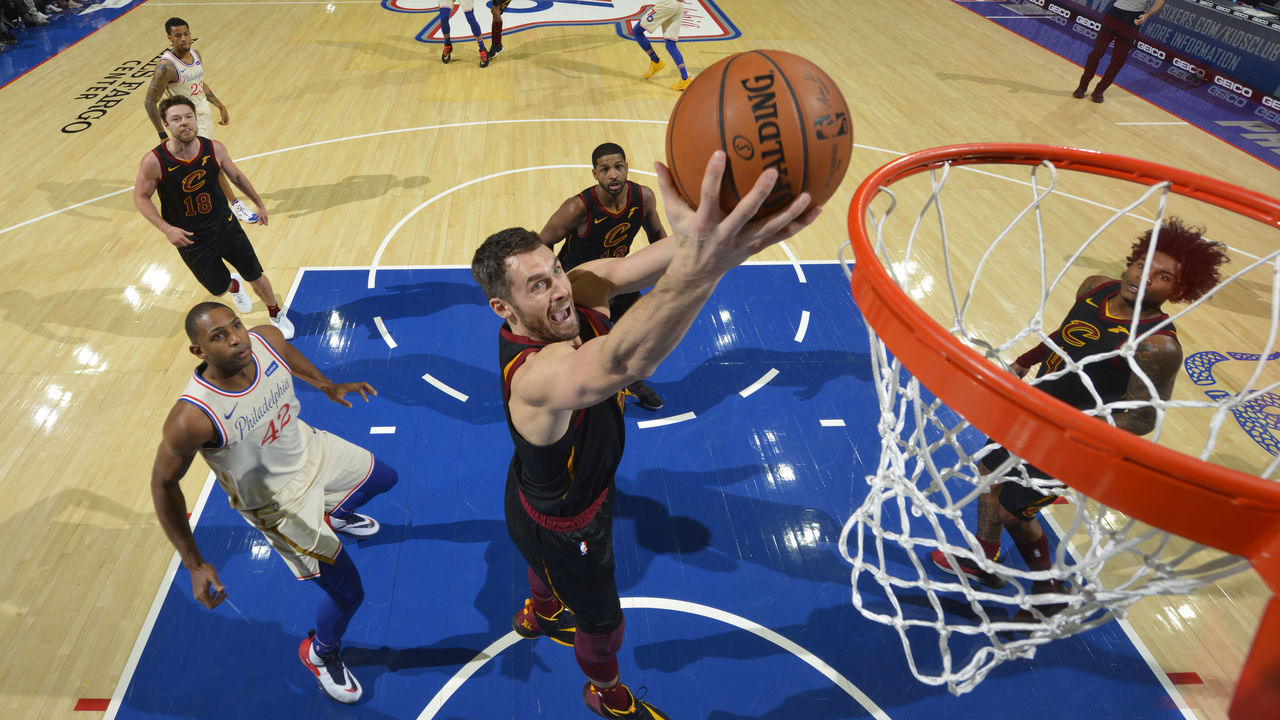 Pick: Kevin Love
Kevin Love is the unsung, tragicomic hero of the Cavaliers' season. Forget that the team should never have brought in John Beilein to oversee its rebuild in the first place; Love's presence - even when he's been demonstrably exasperated with his younger teammates or his now ex-coach - has been invaluable in giving the rotation a semblance of shape.
The brass tacks: Love has averaged 17.6 points, 9.8 rebounds, and 3.2 assists - his most activity as a distributor since his final year in Minnesota - with an effective field-goal percentage of 55. His still-developing teammates are better for having him in the lineup.
Detroit Pistons
Pick: Christian Wood
The Pistons have unearthed a legitimate rotation player in journeyman Christian Wood. Playing over 21 minutes per game in his fourth NBA season, the 24-year-old has averaged 13.1 points and 6.3 rebounds per game while shooting 38.6% on 3-pointers. Amid Blake Griffin's struggles to get healthy and the trade of longtime center Andre Drummond, Wood has been pretty much the only silver lining in Detroit.
Indiana Pacers
Pick: Domantas Sabonis
Malcolm Brogdon has been great when healthy, but the reality is he's mustered nearly 700 minutes fewer than the Pacers' playing-time leader - and lone All-Star - Domantas Sabonis (2,159).
Brogdon's game is a bit of a throwback to an age when big men were more interior-oriented, but Sabonis has made it work for him and the team. Sabonis' 5.6 possessions per game as a roll man and his 7.0 screen assists per game both lead the league, and he also ranks highly in post-ups.
Miami Heat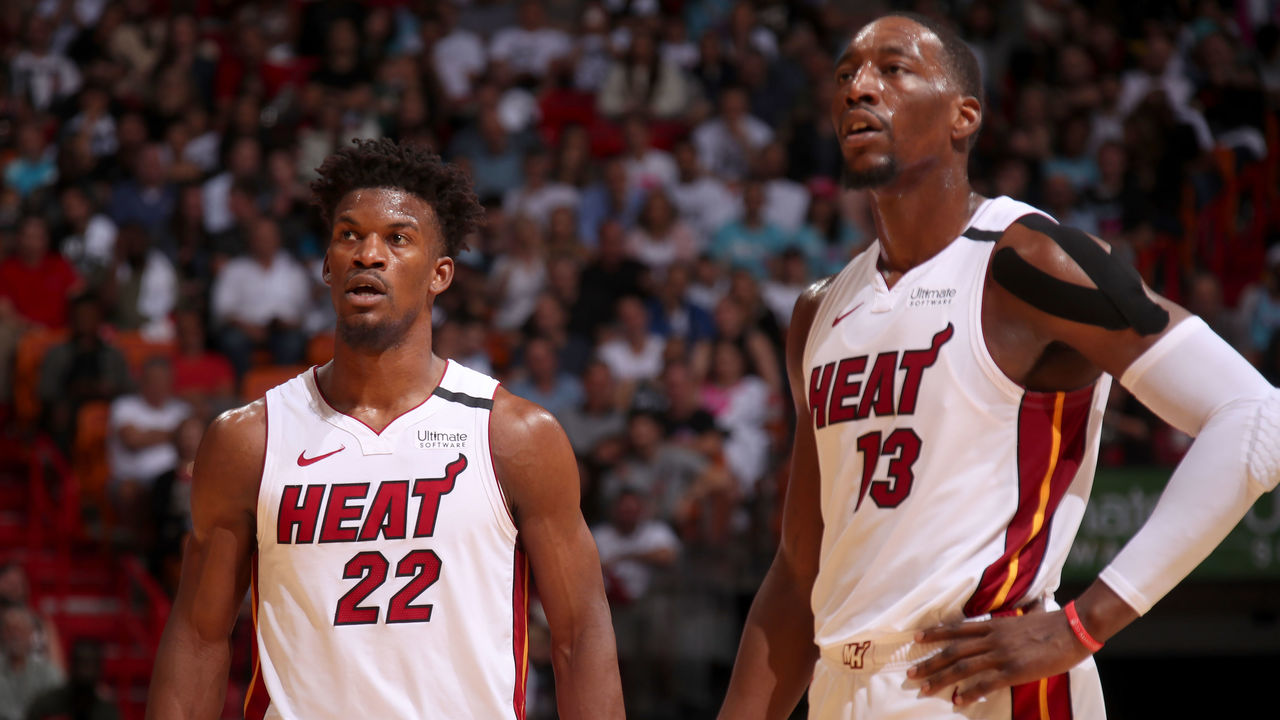 Pick: Jimmy Butler
The gap between Jimmy Butler and Bam Adebayo is slim, but "Jimmy Buckets" has the edge across the board, topping his fellow Heat All-Star in each of the four catch-all advanced statistics: player efficiency rating, win shares, box plus/minus, and value over replacement player.
| STAT | J. Butler | B. Adebayo |
| --- | --- | --- |
| PER | 23.4 | 20.6 |
| WS | 8.5 | 8.1 |
| BPM | 5.2 | 3.6 |
| VORP | 3.4 | 3.2 |
Butler has appeared in 11 fewer games so far in 2019-20, but the Heat went just 5-6 in those games - outings in which Bam was Miami's top dog. Butler's addition has been more valuable this season than Adebayo's breakout, though there's presumably some cause-and-effect at play here.
Milwaukee Bucks
Pick: Giannis Antetokounmpo
What needs to be said? With respect to LeBron and his late-season push, Giannis Antetokounmpo was the front-runner for league MVP before the NBA calendar was thrown out the window. Not only has he been the Association's most athletically dominant player on offense, but he's often doubled as the best defensive player as well.
Antetokounmpo will likely earn his second straight MVP selection whenever the league puts a pin on the season. The question now is whether the Bucks superstar will win Defensive Player of the Year too.
New York Knicks
Pick: The fans
Most of the advanced stats indicate Mitchell Robinson has been the Knicks' most valuable player, largely because he's made a league-best 74.1% of his attempts from the floor. It turns out dunking the ball is a very efficient way to score. Who knew?
That said, Julius Randle has been the team's most prolific producer, averaging close to 20-10-3 per game.
Robinson might be the Knicks' analytics MVP, and Randle might be their fantasy basketball MVP, but it's the fans who have continued to put up with this wayward organization who are the real MVPs.
Orlando Magic
Pick: Nikola Vucevic
In addition to putting up 19.5 points and 11 boards a night for the Magic, Nikola Vucevic has done so many little things that barely register in the boxscore but can have a big impact over the course of a game.
Vooch, according to Cleaning the Glass, is in the 96th percentile among bigs in assist rate (18.6%) and 94th percentile in turnover rate (7.9%). He's also in the 88th percentile among big men in defensive foul rate (2.8%).
There are worse things to have than a center who takes care of the ball, rarely gets into in foul trouble, and is a walking double-double.
Philadelphia 76ers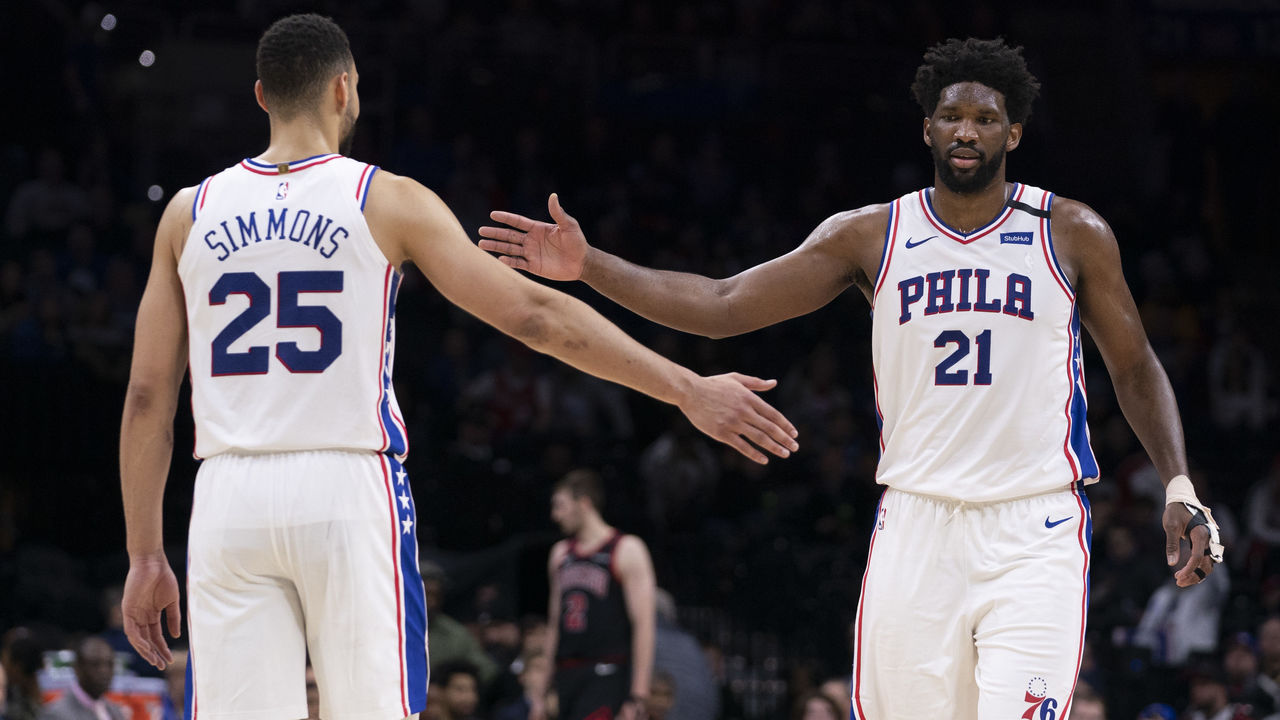 Pick: Joel Embiid
It's fitting that the season's most talked-about team (this side of Los Angeles, anyway) has produced the most fascinating team MVP debate. How does one compare Joel Embiid's 44 appearances to Ben Simmons' 54? Or, for that matter, to Tobias Harris' 65 outings?
Let's take a page from the Miami Heat section and see how the catch-all stats stack up (games played in brackets):
| STAT | J. Embiid (44) | B.Simmons (54) | T. Harris (65) |
| --- | --- | --- | --- |
| PER | 26.0 | 20.8 | 16.8 |
| WS | 5.6 | 7.0 | 5.6 |
| BPM | 5.2 | 3.9 | 0.6 |
| VORP | 2.4 | 2.9 | 1.5 |
That pretty much takes Harris out of the equation. So is a 10-game difference enough to give Simmons the edge over Embiid?
Here's something to consider: With Embiid on the floor this season, the 76ers have outscored opponents by 4.8 points per 100 possessions. They've had an almost neutral net rating of 0.3 points per 100 possessions when he's sat. It's not surprising to see an adverse impact like that whenever a star is removed from a lineup. It turns out, however, that the opposite is true for Simmons in 2019-20: Philadelphia's net rating has improved from 2.2 per 100 possessions to 3.4 when the point forward's taken a seat on the bench.
Lineup stats require a lot of context to fully understand, but it's hard to look at this any other way. Embiid, when healthy, has been the more impactful player. "The Process" has averaged 23.4 points, 11.8 rebounds, 3.1 assists, and 1.3 blocks per game this season.
Toronto Raptors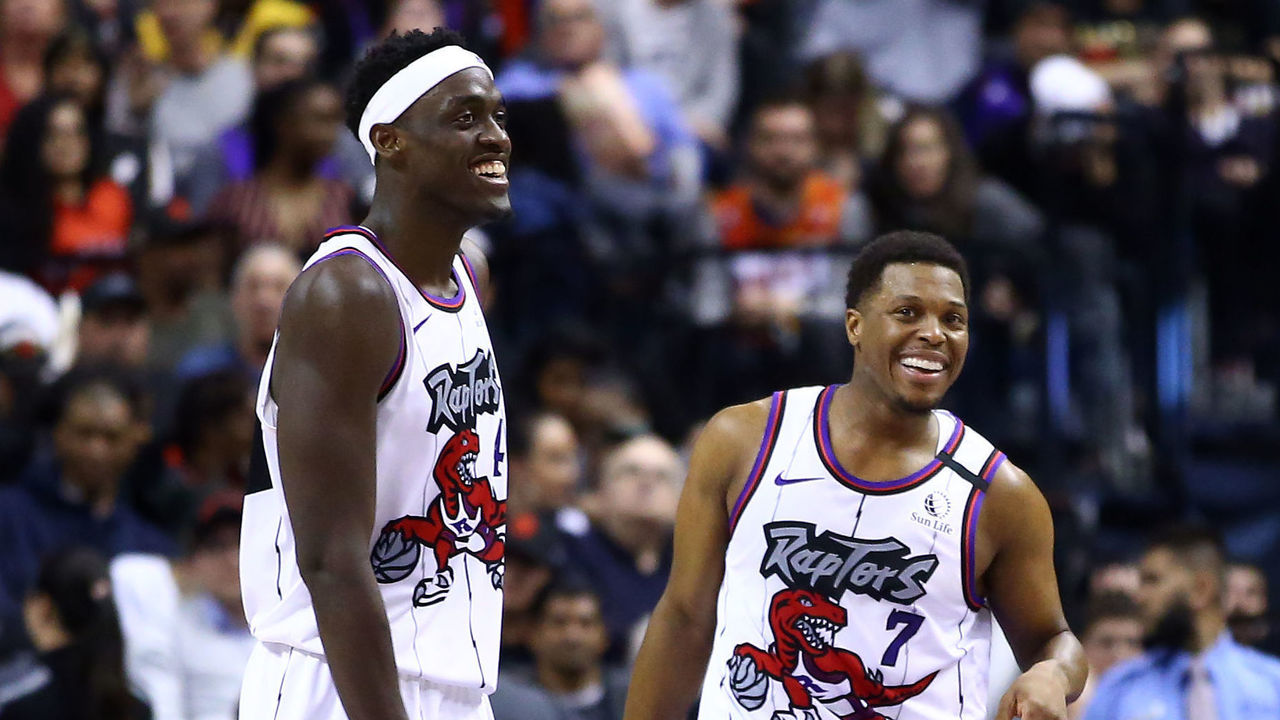 Pick: Kyle Lowry
A lot of the advanced numbers favor Kyle Lowry, who's done yeoman's work not only steadying the ship in the wake of Kawhi Leonard's offseason departure, but also in helping the Raptors survive the long list of injuries they faced early in the 2019-20 season.
The case for All-Star teammate Pascal Siakam is also compelling. "Spicy P" leads the defending champs with 23.6 points per game, thanks in large part to his consistently improving ability to create his own shot all over the floor. Only 48% of Siakam's buckets have been assisted, according to Cleaning the Glass, putting him in the 94th percentile among NBA forwards.
The tie goes to the veteran. Lowry is the soul of this Raptors team. Siakam's talents will surpass those of his teammate within the next year, but for now, Lowry's veteran savvy and still-potent ability to set the tone at both ends make him Toronto's MVP.
Washington Wizards
Pick: Bradley Beal
It's going to be weird to look back in 20 years and see that Bradley Beal failed to make the 2020 All-Star Game despite averaging 30.5 points and 6.1 assists per game. It's not his fault the Wizards' cash is tied up in John Wall, whose unfortunate injury history has prevented the organization from ever truly elevating itself to contender status.