The Unanswered: Would the Sixers have figured it out?
Oscar Baldizon / NBA / Getty Images
The NBA season is suspended indefinitely due to the COVID-19 outbreak, and while the league has expressed hope that it will eventually be able to resume and conclude the 2019-20 campaign, that's far from a foregone conclusion. With the remainder of the season in limbo, we're asking some big questions that would be left unanswered if play doesn't resume.
Tuesday: Would the 76ers have figured out their roster-construction issues in time to salvage their season?
The Sixers entered 2019-20 as Eastern Conference co-favorites with the Bucks, but preseason concerns related to the offensive makeup of their roster bubbled to the surface almost immediately.
Philadelphia lacked shooting and missed Jimmy Butler's shot-creation in a pinch. Josh Richardson was the only reliable pick-and-roll operator. Al Horford had lost another step. And of course, central to all of Philly's offensive issues, Ben Simmons' and Joel Embiid's games didn't quite mesh.
Sure, Simmons finally made a 3-pointer - two of them, in fact - but he remains turnover-prone and hesitant to shoot, and he's at his best when there's a clear lane to attack in transition.
Embiid remains a physically imposing big man who can punish mismatches inside. The fact that he's shot a more respectable 34.8% from deep (on 3.7 attempts per game) through 44 games played this season is encouraging for those who want to see a more diversified offensive game from the All-Star center. But given his physical gifts, it's not ideal to need Embiid on the perimeter spacing the floor for an inverted point guard.
The imperfect fit leaves the Sixers caught between two distinct identities, and the contrast of those styles is never more visible than when one of Embiid or Simmons sits.
According to stats provided by Cleaning The Glass, the Sixers' starting lineup of Simmons, Embiid, Horford, Richardson, and Tobias Harris runs a half-court offense 79.7% of the time. That group, which has logged 88 more minutes together than any other Sixers lineup, scores a paltry 91.9 points per 100 plays in the half court. The same lineup, except with sophomore shooter Shake Milton in for Simmons, scores 103.3 points per 100 half-court plays, with half court making up 88.4% of its offense.
On the flip side, the Sixers are an obviously faster team with Simmons running Embiid-less units. As a whole, the difference in Philly's pace with Embiid on the court (99.99 possessions per game) compared to on the bench (101.91 possessions per game) is the difference between being the league's ninth-fastest team and its 17th fastest. The Sixers also post a higher 3-point-attempt rate with Embiid off the floor.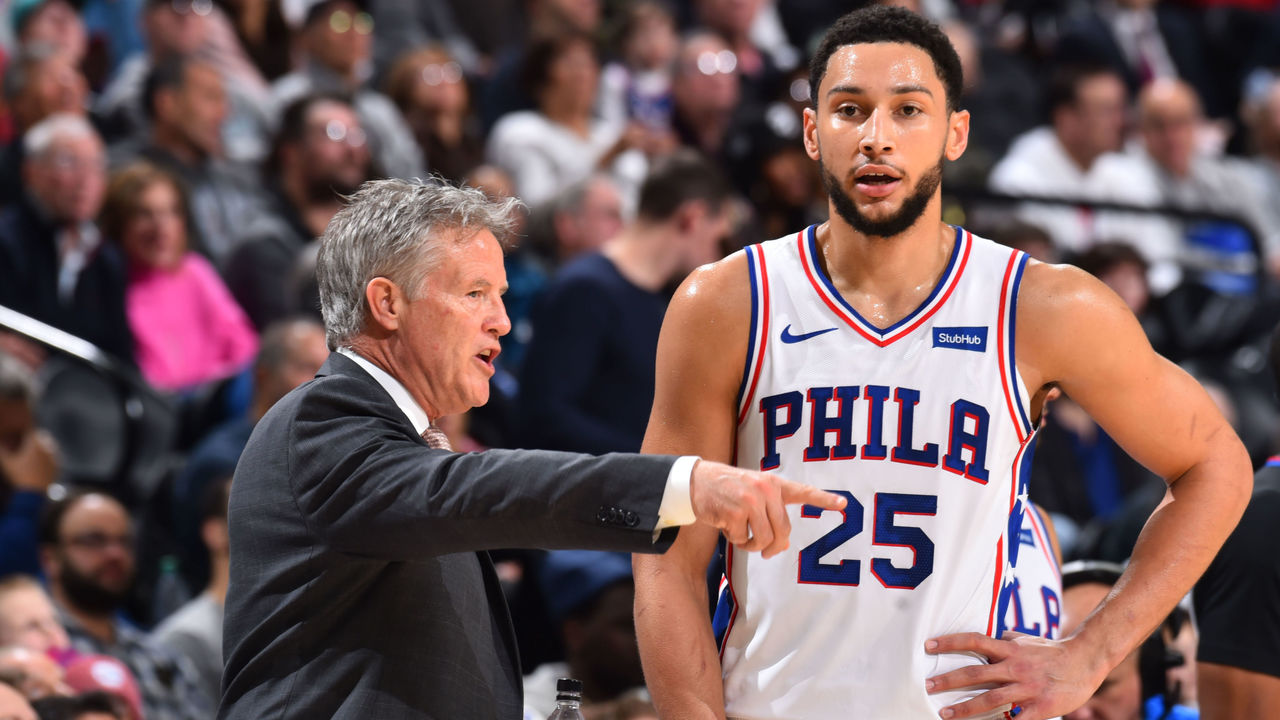 Sixers fans were holding out hope that if Simmons returned from a back injury that had sidelined him since late February - and was expected to keep him out of the lineup until at least early April - the full-strength version of this team could still figure things out.
When healthy, Philly's size and length give the roster a defensive ceiling that few rivals can reach, and nobody wants to meet that version as a 6-seed in the first round of the playoffs. Heck, the league-leading Bucks probably would've liked to avoid Philadelphia as a 5-seed in the second round.
However, there was scant evidence to believe April and May would be any different for this team than October through March were.
When the season was suspended, the Sixers were a confounding, often listless side on pace for a solidly unspectacular 49 wins. They'd proven incapable of winning on the road, compiling a 10-24 record away from home. The issues related to turnovers, offensive droughts, and consistency - which had plagued the franchise in recent years - all remained.
If everything broke right, the ceiling may have been the NBA Finals, but the more likely scenario was a first- or second-round exit that would've brought a fittingly frustrating end to a maddening campaign.
And if the 2019-20 season is over, we've got to consider that this era of 76ers basketball might be as well. Once filled with so much promise, it would end without even a conference finals appearance.
Given the large sample size the Sixers' front office now has to evaluate the trio of Embiid, Simmons, and head coach Brett Brown, it feels unlikely that all three would return next season. You could even make the argument that only one of them should remain if the Sixers want to establish a clear identity.
Beyond the questionable roster fit, accountability for Embiid and Simmons has always seemed like an issue under Brown, and Butler recently seemed to expand on that notion.
But choosing between Embiid and Simmons isn't easy. At his best, Embiid is the more dominant player - Philly's numbers are better with just Embiid than just Simmons - and half-court offense reigns supreme in the playoffs when locked-in defenses take away transition opportunities. Still, Simmons has been healthier over the last three years, and he's less volatile.
It would be a painstaking process if the Sixers decide a choice needs to be made, but an abrupt end to this season may have expedited it.
Joseph Casciaro is theScore's senior basketball writer.
Comments
✕
The Unanswered: Would the Sixers have figured it out?
  Got something to say? Leave a comment below!