After Ben Simmons sustained a non-contact injury against the Washington Wizards on Wednesday, the Philadelphia 76ers confirmed Thursday that the All-Star suffered a subluxation of the left knee cap, putting the rest of his season in jeopardy.
A subluxation is a temporary or partial dislocation. A patellar subluxation like Simmons' comes with a lengthy recovery time, which is important to remember as he and the Sixers weigh various treatment options. The average timeline for the injury appears to be four-to-six weeks, though The Ringer's Kevin O'Connor has reminded us that Andrew Bynum was ruled out for a minimum of eight weeks when he suffered a similar injury 12 years ago. Bynum went down Jan. 31, 2008, and didn't play again that season even though his Los Angeles Lakers went to the NBA Finals.
We don't have a prognosis yet, but given the available information and the fact the Sixers will surely be underdogs in their first-round playoff matchup, it's not a stretch to assume Simmons could be done for the season.
What does it mean for Simmons?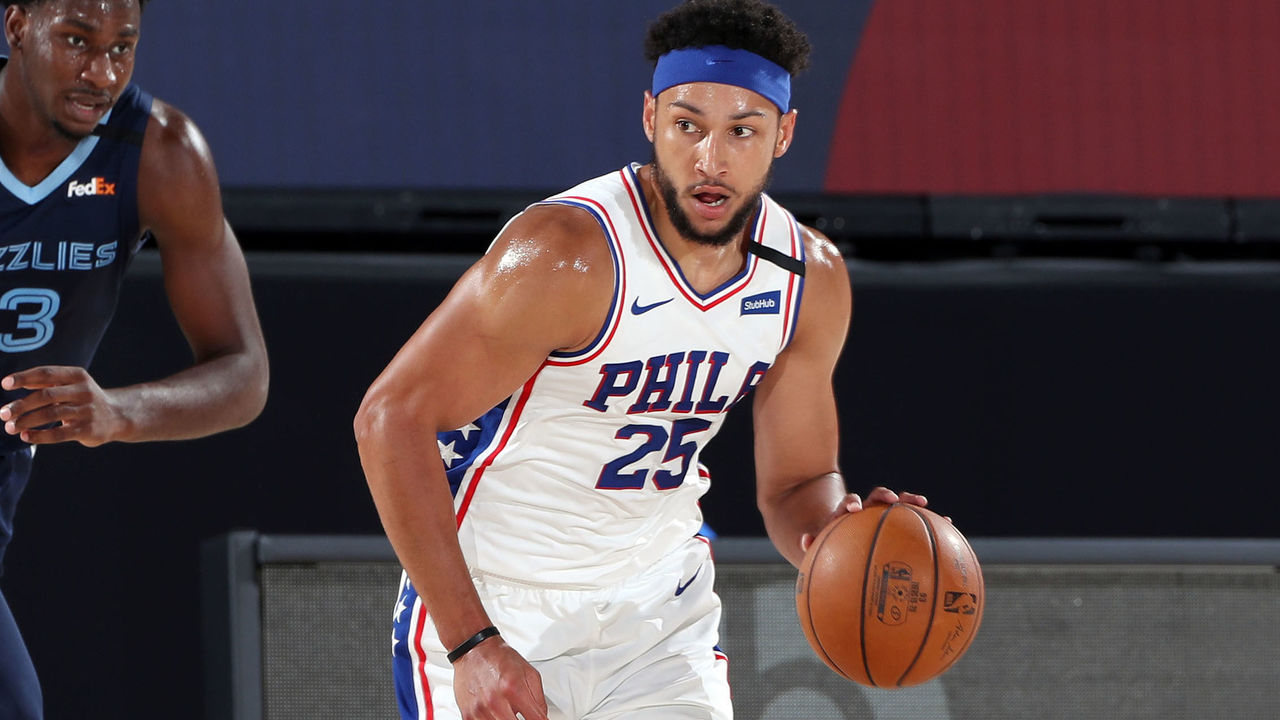 The good news for Simmons: He doesn't have to worry about how this injury might affect his earning potential or contract status. The 24-year-old already signed a max extension worth nearly $170 million, a deal that kicks in next season and runs through 2024-25.
After missing the entirety of what was supposed to be his rookie season because of a foot injury, Simmons proved durable through his first two NBA campaigns, suiting up for 182 of a possible 186 games between the regular season and playoffs. His 2019-20 season, however, was derailed by an assortment of ailments.
Back and shoulder injuries kept him out of the lineup throughout the year, with a pinched nerve in his back threatening to end his season early had the 2019-20 campaign not been interrupted. Simmons' healthy return to the lineup was one reason the Sixers entered the restart bubble as one of the league's most intriguing teams.
So much for that.
Simmons averaged 16.4 points, eight assists, 7.8 rebounds, and a league-leading 2.1 steals in over 35 minutes per game this season, but he remains one of the NBA's most confounding talents.
The Australian is both a breathtaking playmaker who dominates in transition and an efficient scorer who shoots 58% from the field because he can get to the rim at will - even though opponents know it's his only mission. He's also a game-changing defender who can fiercely guard all five positions.
But his oft-memed inability to shoot is a serious problem for a point guard in the modern NBA, and a major detriment to Philadelphia's aspirations. Forget that Simmons is just 2-of-24 from deep over his three-year career; he shot just 36.5% from 3-10 feet this season and 15.4% from 10-16 feet. For a 6-foot-10 ball-handler who can see over the defense, Simmons also remains far too prone to turnovers.
So, three seasons into a career that's earned him two All-Star appearances and a max contract, the Sixers still can't be completely sure what they have in Simmons, or in the Simmons-Joel Embiid duo.
That's why the team's performance in the bubble, and especially in the 2020 playoffs, was important for Philly: It appeared the next couple of months would produce a final judgment on the Sixers' roster construction.
Even before Simmons' injury, the team's bubble strategy wasn't exactly going to plan. The Sixers shifted Simmons to power forward in order to replace Al Horford in the starting lineup with the shooting of sophomore guard Shake Milton. It resulted in a vastly improved offense, but the team's defense fell off a cliff. Through three games in Orlando, the 2-1 Sixers own the kind of net rating - ninth-ranked, plus-2.0 per 100 possessions - that has come to define their disappointing season.
Simmons averaged just 11.7 points, seven rebounds, 4.3 assists, and 1.3 steals with an ugly true shooting percentage of 48.4% in those three games. His playmaking impact was clearly diminished by the position change. The Sixers were vastly superior in that trio of contests when Simmons was on the bench, and their new starting power forward posted the team's worst net rating in the bubble (minus-25.6).
In his 57 total games this season, Simmons saw the Sixers perform 2.4 points per 100 possessions better when he was off the court, marking the second straight season the team was better without him.
A silver lining?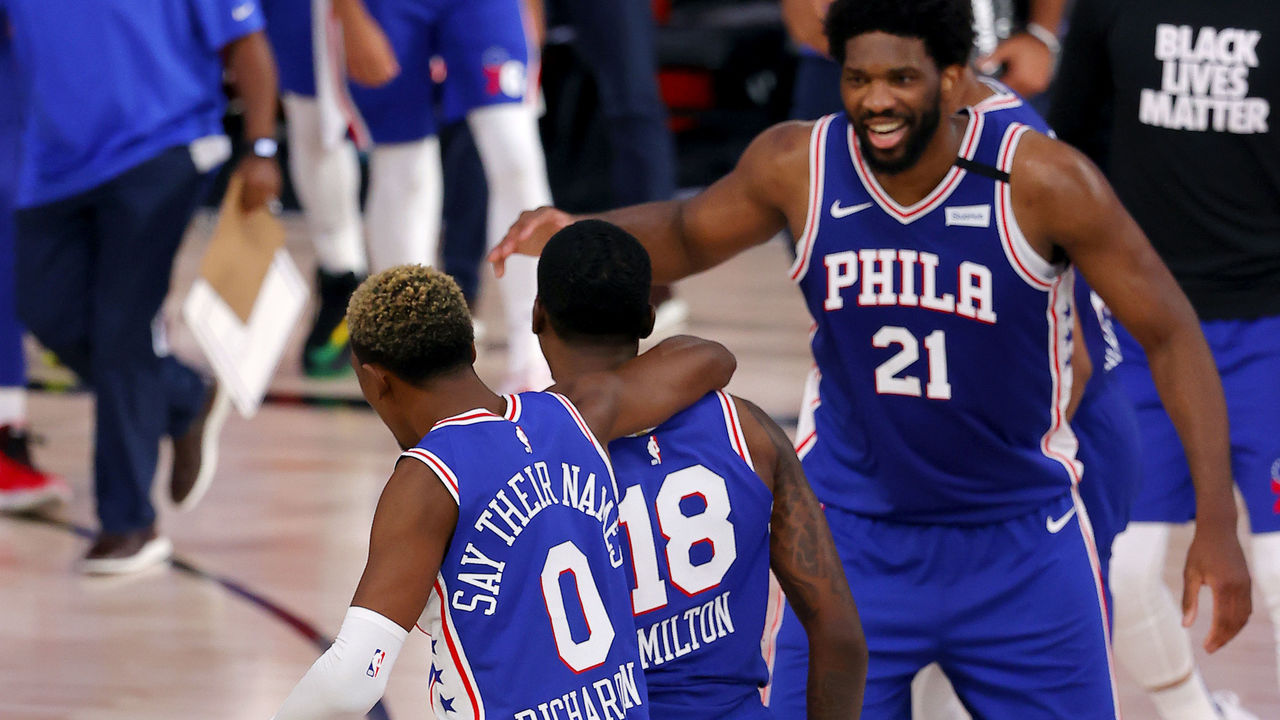 You may no longer consider Philadelphia even a dark horse in Orlando, but don't rule out a Sixers run without Simmons.
It's no secret Philly has often performed better when the Simmons-Embiid duo is split up. There's a lack of spacing on the court when the two stars share the floor, in addition to general issues of offensive fit between them.
What you may not realize, however, is just how good Philadelphia has been when Embiid gets to dominate the court without Simmons:
| 76ers net rating | 2018-19 | 2019-20 |
| --- | --- | --- |
| Simmons AND Embiid ON | +7.6 | +0.6 |
| Simmons ON Embiid OFF | -4.3 | +2.1 |
| Embiid ON Simmons OFF | +7.6 | +12.3 |
In the 586 minutes Embiid has played without Simmons this season, the Sixers own a net rating of plus-12.3 per 100 possessions - more than two full points better than the league-leading Bucks (plus-10.1). That trend has continued in Orlando, where Philly is minus-3.6 with both stars on the court, minus-15 with just Simmons on, and plus-23.7 with Embiid out there sans Simmons.
An explanation isn't all that difficult. Embiid is the most dominant low-post threat in the league, and surrounding that interior force with a bevy of shooting and floor-spacers makes the Sixers tough to stop. Even without Simmons' skill on defense, Philly can still deploy a ton of length in front of Embiid, whose rim protection almost makes him a one-man defense, anyway.
Sixty-six different lineups across the league have logged at least 11 minutes together since the NBA's restart tipped off. The best-performing Eastern Conference quintet among those lineups features Embiid, Milton, Horford, Tobias Harris, and Josh Richardson (a net rating of plus-44.8 in 11 minutes of play).
The big picture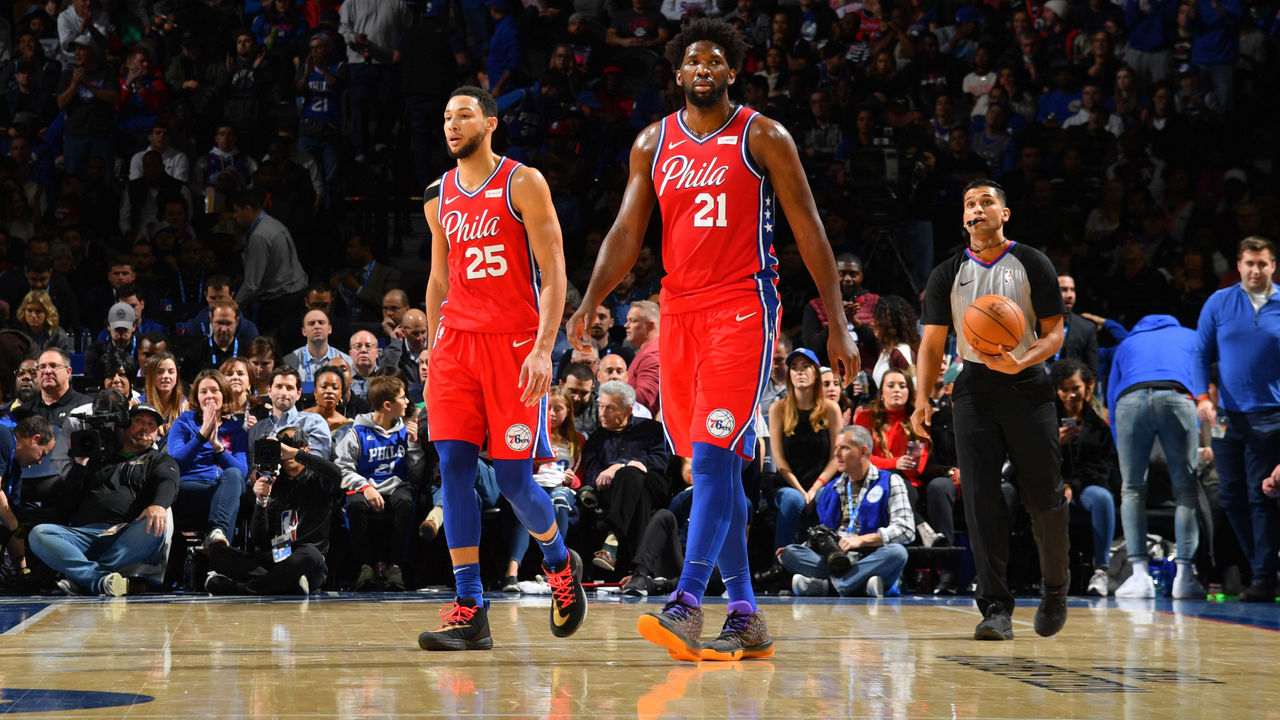 Philly could be a surprise threat in the coming weeks with Simmons out of the lineup, but the Sixers can't reach their championship ceiling - and the overall potential many believe lies within this team - without him. We might have to accept, however, that there is no championship ceiling with a Simmons-Embiid partnership.
Three seasons may not seem like enough time to decide whether two young stars can thrive together, but in a league increasingly defined by shorter contracts and frequent roster turnover, such a time frame is actually pretty considerable.
Both Simmons and Embiid would probably be better off dominating an offense surrounded by shooters. Unless Simmons develops some semblance of a jumper or Embiid abandons his bruising interior game to become an elite floor-spacer, they will remain a mismatch. And with Simmons likely facing a long layoff, they won't be able to prove otherwise this year.
Embiid is under contract through 2023 and has traditionally been the more injury-prone star, but he clearly has a more significant impact when he's on the court. Simmons has generally been more durable and is under contract for two extra years. He's also two years younger.
These are tough, franchise-altering decisions. But as another Sixers season begins to fade without a major accomplishment, the breaking point draws ever closer.
Joseph Casciaro is theScore's senior basketball writer.