Bucks stymie Raptors: 5 takeaways from Milwaukee's 1st visit to Toronto
Mark Blinch / NBA / Getty Images
Tuesday's game between the Milwaukee Bucks and Toronto Raptors was worth the anticipation: The top two teams in the East, on pace for a combined 130 wins, were meeting for the first time since November. It was also the first matchup north of the border since Toronto eliminated Milwaukee in the Eastern Conference finals last May.
Here are five takeaways from the Bucks' 108-97 victory at Scotiabank Arena.
The evolution of Giannis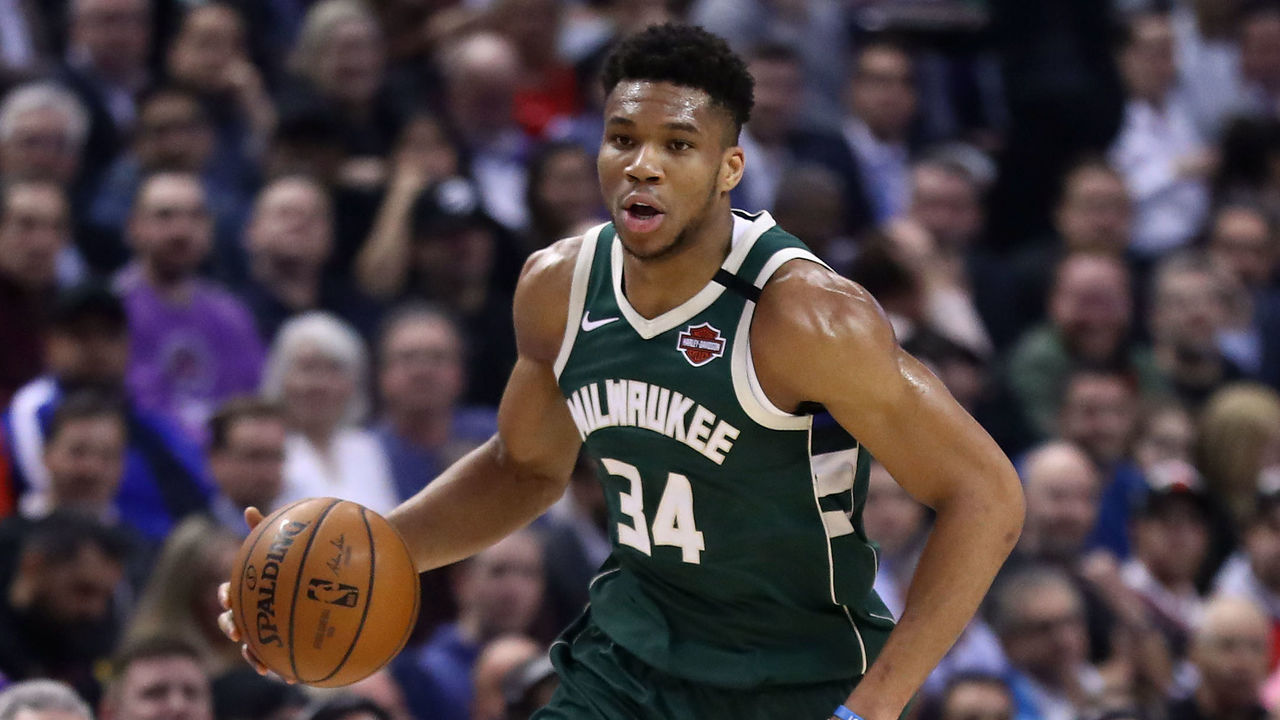 Ever since Giannis Antetokounmpo was bottled up by Kawhi Leonard and the Raptors in last year's playoffs, discussions about his development have often focused on his improving jump shot. Fair enough, but it was another rapidly developing facet of Antetokounmpo's game that helped beat Toronto on Tuesday - his playmaking.
The Greek Freak, who posted 19 points, 19 rebounds, and three blocks, also recorded a game-high eight assists, which translated to 20 Bucks points.
Antetokounmpo coming down the middle of the floor before driving and kicking to the Bucks' plethora of shooters is nothing new. But on Tuesday, the variety in his playmaking, the spots he initiated the offense from, and the rapid decision-making he displayed on the catch were things that didn't come naturally last spring.
"If you just go from the top and attack, attack, attack all the time, the defense knows it, they get set, and they do the same thing over and over again. You've got to make them guess," Antetokounmpo said following Tuesday's win.
"Try to go to the corner a little bit, try to go to the wing, try to go down the baseline and come out. Just keep the defense guessing and make them move, so I can make the right pass and not just be one guy holding the ball for five or seven seconds."
An improved jumper and pull-up game will keep defenses honest. A more diverse role as a facilitator will keep defenses off-balance, especially given the wealth of shooting around Antetokounmpo. It feels like we're getting close to the fully mastered version of the 25-year-old's offensive repertoire, and that makes Milwaukee pretty close to unbeatable.
How the Raptors defended Antetokounmpo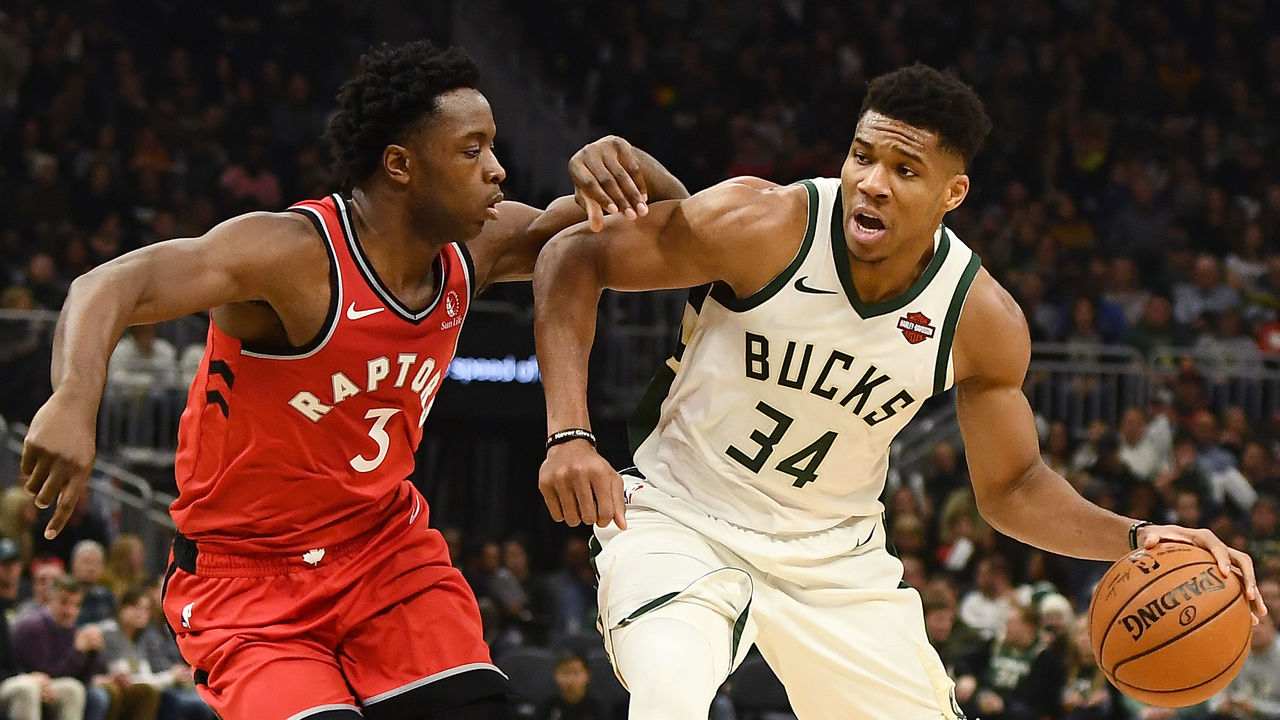 That said, the Raptors might still be the team that's best equipped to stop Giannis and the Bucks, especially when Toronto's at full strength.
Leonard may be a one-of-a-kind defensive talent, but in terms of pure strength, OG Anunoby is one of the few players in Kawhi's stratosphere, and that strength was on display Tuesday night.
The Raptors started the game with Anunoby on Antetokounmpo, and the biggest takeaway from those battles is that OG is strong enough to mostly guard Giannis one-on-one. Sure, either Serge Ibaka or Chris Boucher lurked behind to provide a second layer of insurance - a role the injured Marc Gasol filled behind Leonard last season - but Anunoby held his own.
Rondae Hollis-Jefferson also put in some solid defensive minutes against the reigning MVP, but virtually every time Anunoby wasn't Antetokounmpo's primary defender, the Raptors sent a quick double-team almost immediately on the catch.
I'd expect that to continue in a potential postseason setting, with Anunoby's on-ball defense and Gasol's rim protection behind him still being the best course of action against Antetokounmpo while a solid mix of doubles and quirky coverages are thrown his way throughout the game.
One thing we didn't see much of on Tuesday was Pascal Siakam guarding Antetokounmpo. Siakam possesses the length and quickness to hang in that matchup, but perhaps not the raw strength. Then again, it could be that Nick Nurse wants to keep that card up his sleeve for later.
In any event, between all that length in the frontcourt, the pesky doubles and digs from guards like Fred VanVleet and Kyle Lowry, and Nurse's creativity, it's clear the Raptors can keep Antetokounmpo on his toes like few other teams can. Giannis scored a pedestrian 19 points on 22 individual possessions Tuesday - only the sixth time in 52 games he's been held under 20 points this season.
A whole lotta threes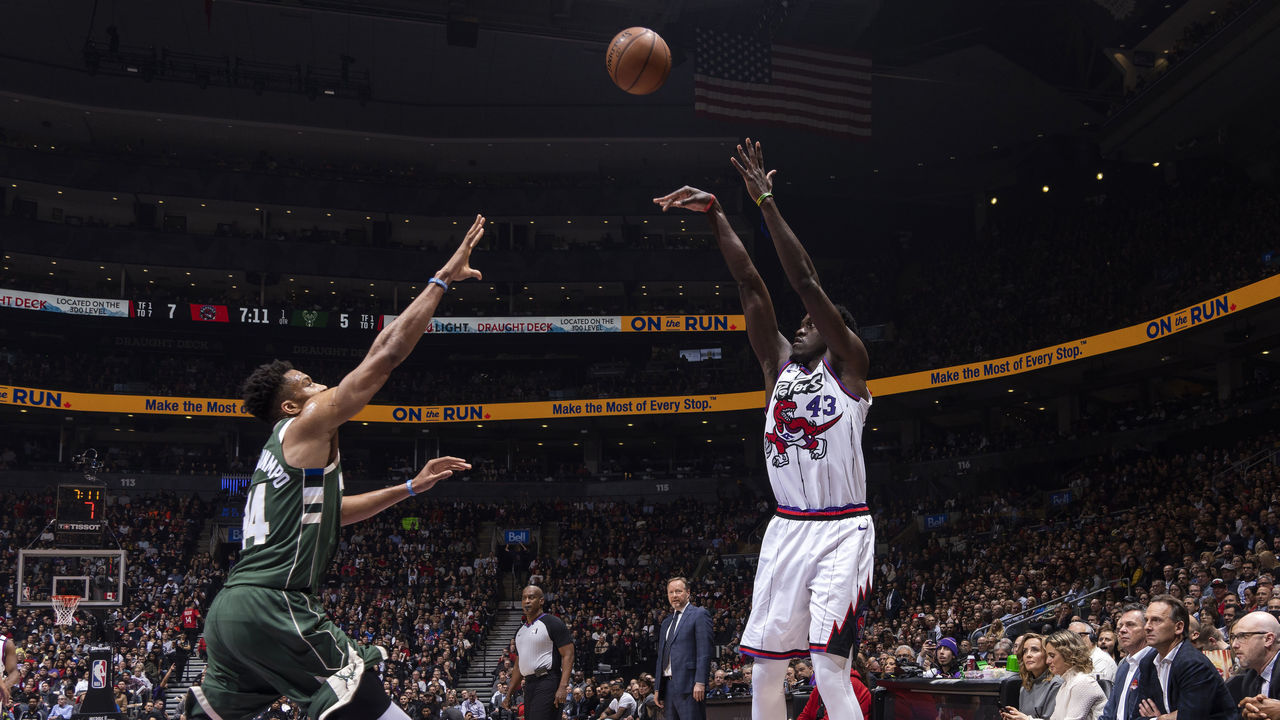 Entering this game, the Bucks and Raptors were both top-seven teams in terms of the percentage of their shot attempts that come from 3-point range. They proceeded to combine for a whopping 94 3-point attempts on Tuesday, which included a franchise-record 52 for Toronto.
And there's plenty more where that came from.
It's not just that both offenses like to fire away from deep. The elite rim protection of the Bucks and Raptors means both are built to encourage their opponents to live and die by the jump shot.
The top two defenses in the league also rank No. 1 and No. 2 in defensive field-goal percentage at the rim and No. 1 and No. 6 in terms of limiting how many attempts even come at the rim. With Antetokounmpo and the Lopez brothers, Milwaukee boasts the top three rim-protectors in the league right now.
Add it all up, and a potential postseason matchup between Milwaukee and Toronto might simply come down to which team can knock down more shots from deep.
So far, it's advantage Bucks, as their superior interior defense meant fewer drive-and-kick opportunities for the Raptors on Tuesday and therefore fewer corner threes.
When they return from injury, Gasol's vision and playmaking and Norman Powell's creativity off the dribble should help Toronto penetrate and prod the paint a bit more in future matchups. On Tuesday, rookie Terence Davis seemed to be the only Raptor who consistently attacked. Gasol's return will also help Toronto discourage Milwaukee from getting into the heart of its defense as often.
Middleton's a big-shot maker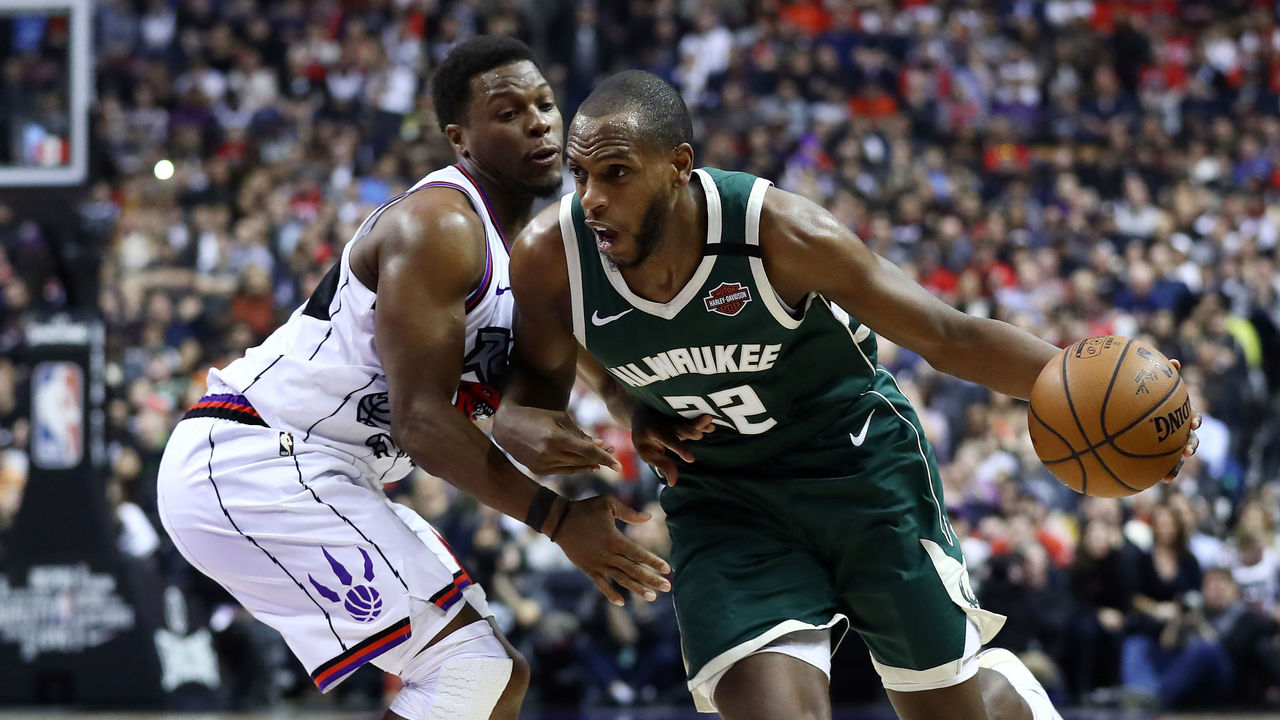 Khris Middleton has made two consecutive All-Star Games and signed a $177.5-million contract less than a year ago, yet it still feels like the full scope of his powers is lost on most fans.
The swingman posted a ho-hum stat line of 22 points, eight rebounds, and three assists on Tuesday, but in a battle between two engines of defensive chaos, Middleton's shooting endured.
His 22 points matched Siakam for the game high, and of the nine players who attempted at least nine field goals, Middleton was the only one who shot 50% from the field. Many of those buckets were back-breakers for Toronto, often coming just as the Raptors were beginning to rally.
The night before in Washington, Middleton scored 40 points in 41 minutes and hit the game-winner in overtime after Antetokounmpo fouled out.
He's now averaging 21.1 points per game on 51-44-91 shooting. Of the eight players in history who make up the famed full-season 50-40-90 club, only Stephen Curry, Larry Bird, Kevin Durant, and Dirk Nowitzki accomplished the feat while averaging 20-plus points per game.
Middleton has been that good.
Different coaching philosophies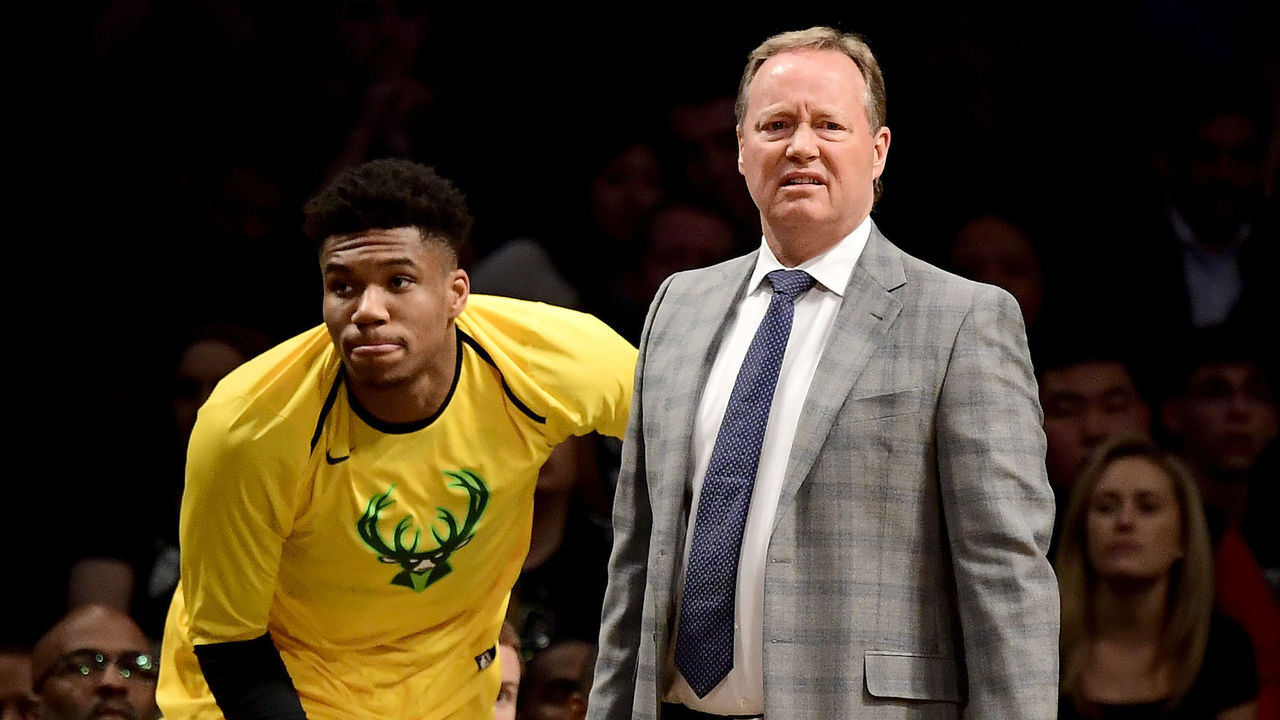 In leading the Raptors to a title in his first season at the helm and then keeping Toronto near the top of the standings despite Leonard's departure and a rash of injuries, Nick Nurse has earned a reputation as a creative problem-solver who isn't afraid to tinker and experiment from possession to possession, let alone from game to game.
By contrast, Mike Budenholzer has often been criticized for failing to adapt on the fly in the postseason, whether it was as the coach of a 60-win Atlanta Hawks team that got swept, or as the architect of a 60-win Bucks team that fell flat on its face against Toronto after building a 2-0 series lead in the East finals.
While Bucks fans may not want to hear it, both coaches remained on-brand in their pregame comments Tuesday.
"I would tend to probably try a few things tonight that may go sideways or may not work that I may not try in a playoff game. Or I might anyway, too - who knows?" Nurse said when asked how he game plans to beat the Bucks in the present without showing all of his cards for the future.
"I've got a couple ideas for tonight that I think I want to look at, that I don't have any idea if they're any good or not. So I think I'll throw them out there."
When posed with the same question, Budenholzer indicated he had nothing to hide. "We're not that tricky," he said. "They pretty much know everything we do."
Earlier in the scrum, Budenholzer went into more detail about his philosophy.
"We pretty much just focus on ourselves," he said. "We stay pretty true (to who we are). The degree to which we do something one night versus one team and something different another night - by NBA standards, we're probably on the other end of the spectrum. We just kind of do what we do, and hopefully it's good enough.
"We really believe in building habits, and the best way to build habits is to just do it night in and night out. You've got be able to tweak and adjust within that, but we'll just go play our game."
To Budenholzer's credit, staying true to themselves and playing their game has put the Bucks on pace for 70 wins, and the way he revolutionized the team last season had it two wins away from The Finals in Year 1.
This season, it's quite possible the combination of Antetokounmpo, quality shooting, and rim protection will be enough to carry the Bucks through June, but given how quickly Milwaukee's season went up in flames last May, it's at least mildly concerning that Budenholzer doesn't sound any more willing to adapt to potential roadblocks than he did back then.
Joseph Casciaro is theScore's senior basketball writer.
Comments
✕
Bucks stymie Raptors: 5 takeaways from Milwaukee's 1st visit to Toronto
  Got something to say? Leave a comment below!