3 potential trades for Kevin Love
Drew Hallowell / Getty Images Sport / Getty
Kevin Love could use a change of scenery.
The veteran power forward's stint with the Cleveland Cavaliers may be coming to an end after a reported outburst toward general manager Koby Altman on Saturday was followed up by an on-court display of frustration later that night against the Oklahoma City Thunder.
It's clear a trade would be a mutually beneficial solution for both parties at this point. Here are three potential deals that could ship Love out of Cleveland:
The Dubs are reborn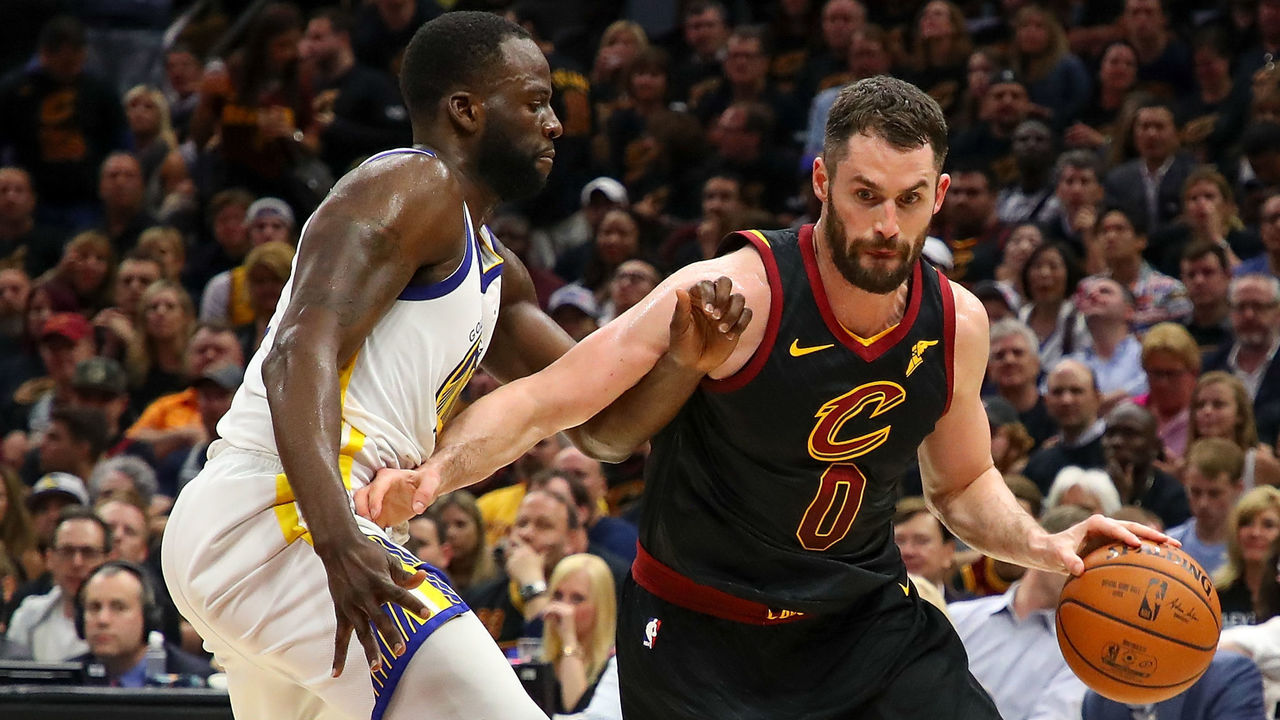 | Warriors receive | Cavaliers receive |
| --- | --- |
| Kevin Love | D'Angelo Russell |
| | Omari Spellman |
Scenarios like this are exactly why the Golden State Warriors were adamant on acquiring D'Angelo Russell in a sign-and-trade with the Brooklyn Nets for Kevin Durant. Russell has proven he can lead a team, but asset retention was always the Warriors' goal, and his fit alongside Stephen Curry and Klay Thompson will always be presumed questionable.
Of course, Warriors fans will note that this would all but silence any rumblings of a potential run at Giannis Antetokounmpo in 2021. In truth, that may be nothing more than a pipe dream, anyway. With Thompson and Draymond Green's respective max deals, plus Curry's gargantuan super-max contract, Golden State would have to make uncomfortable sacrifices with its core to sign Giannis. Love would give them a fourth star today. He's also nearly on the same timeline as Curry; both are 31 and Love's contract has only one more year on it than Curry's. Love and Thompson being childhood friends helps, too.
The Cavaliers might consider this because it would allow them to part with Love and get younger simultaneously, but it would pose another problem for them. Collin Sexton and Darius Garland are both ball-dominant point guards, and adding Russell could complicate an already crowded backcourt.
City of Brotherly K-Love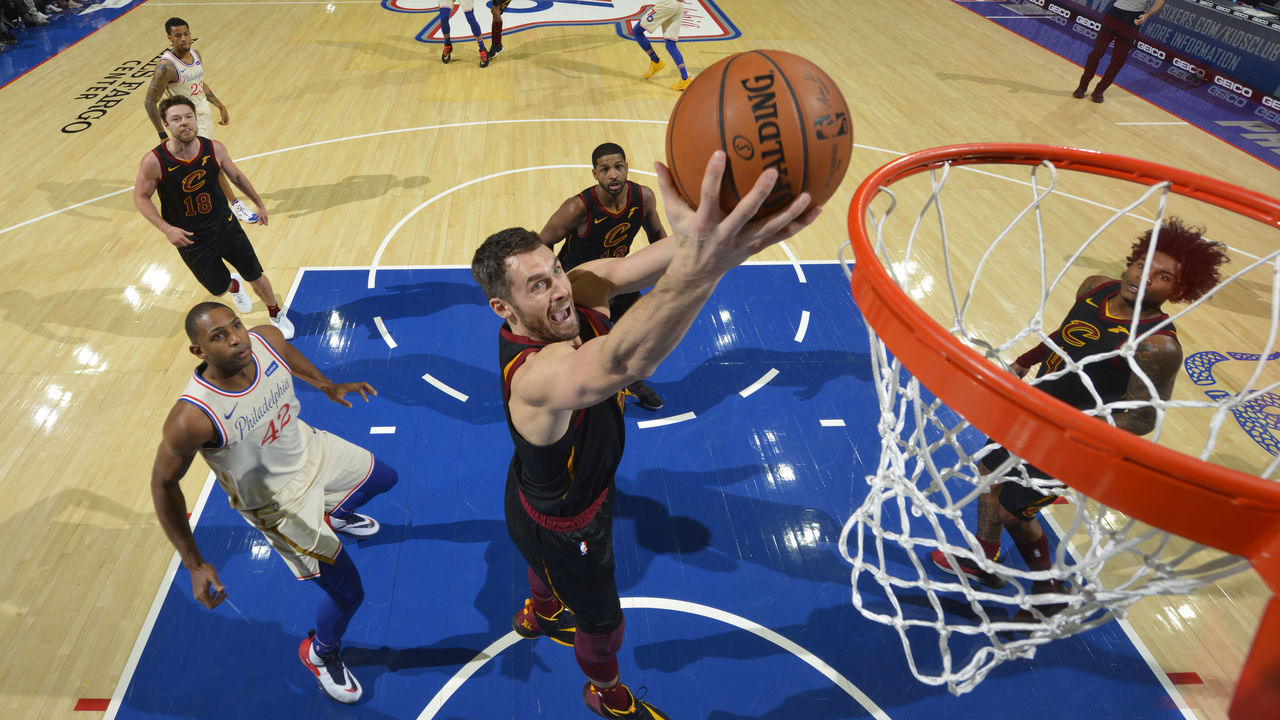 | 76ers receive | Cavaliers receive |
| --- | --- |
| Kevin Love | Al Horford |
| | 76ers' 2024 1st-round pick |
Al Horford's integration into the Philadelphia 76ers' system hasn't gone smoothly.
He was signed to a massive four-year, $109-million deal during free agency to help elevate the 76ers to another level. Instead, Horford's averaging just 12.2 points per game, his lowest output since his 2011-12 season with the Atlanta Hawks, and Philadelphia is already nine games back of the first-place Milwaukee Bucks. The 33-year-old has been open with his dissatisfaction with his offensive role on the team, too, telling Keith Pompey of The Philadelphia Inquirer last month: "I'm very limited with the things that I can do."
Love isn't anywhere near the defender Horford is, but the 76ers, who rank 23rd in 3-pointers made per game, could desperately use his ability to stretch the floor. The drawback is trading away a marquee player just months after signing him would drastically hurt the perception of the franchise as a free-agent destination, but with "The Process" now long over, it's a risk the 76ers need to take.
For the Cavaliers, they would get to swap Love for a well-respected veteran who can soothe a rocky locker room held together by a first-year coach. A likely unprotected first-round pick would also need to be included in the deal, although the Stepien rule prohibits the 76ers from trading a first-rounder until 2024 at the earliest, as there's a possibility their first-round pick in 2022 would go to Brooklyn, according to RealGM.
Send him home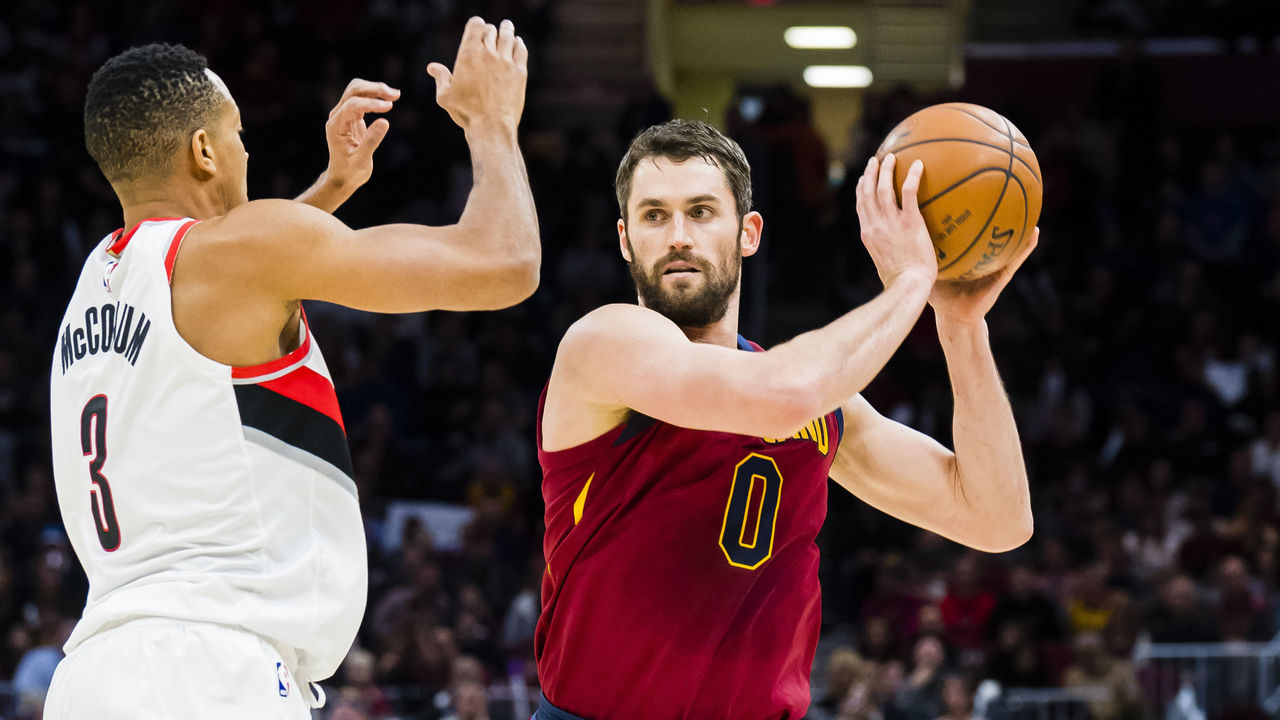 | Trail Blazers receive | Cavaliers receive |
| --- | --- |
| Kevin Love | Hassan Whiteside |
| Tristan Thompson | Skal Labissiere |
| | Kent Bazemore |
| | Trail Blazers' 2021 1st-round pick |
California is where Love was born and attended college, but Oregon is where his roots are. It also just so happens the Portland Trail Blazers have been lacking at power forward since losing LaMarcus Aldridge to the San Antonio Spurs in 2015. With the team teetering dangerously on the edge of the playoff race this season, Love may be the beneficiary of a necessary shake-up in Portland.
Bringing Love back home would be a feel-good storyline, but it would also come with risk. Hassan Whiteside, who was brought in to fill the frontcourt absence caused by Jusuf Nurkic's leg injury, is currently the team's only rim-protector. Adding Tristan Thompson and his expiring contract as a temporary stopgap alongside Love would help slightly in that regard, but the aim would be to eventually partner Love with Nurkic. However, Damian Lillard, CJ McCollum, Carmelo Anthony, and Love should be more than enough to secure the West's eighth seed, at the very least.
In Cleveland, Whiteside would step in for Thompson and continue to make his case for another big payday this summer. Skal Labissiere, who was once a highly touted prospect, hasn't panned out how many expected him to, but a lower-pressure environment in Cleveland could be just what he needs to revive his career. Kent Bazemore would be needed to make the salaries work. The first-round pick, though, is what the Cavaliers would really want, and they could potentially ask for more if the demand for Love - and Thompson - is high enough.
Comments
✕
3 potential trades for Kevin Love
  Got something to say? Leave a comment below!