"Like most people with brains, I subscribe to the notion that decades are a fairly useless way of demarcating stretches of time and tend to get in the way of defining epochs," Nathaniel Friedman (aka Bethlehem Shoals) wrote on his seminal blog, FreeDarko, at the end of 2009. "Except when it comes to the NBA, where history splits itself up into 10-year chunks."
Fittingly, the NBA decade that followed kicked off in earnest with a moment of demarcation that also signaled the dawn of a new basketball epoch. When LeBron James uttered those eight fateful words in the summer of 2010, the league's tectonic plates shifted, leaving its landscape irrevocably changed.
Defining what came next is a matter of perspective and semantics. You can call it the superteam era, or the player empowerment era; the era in which the NBA's competitive balance was tilted out of whack, or the one that brought necessary balance to the league's power struggle between labor and capital. However you choose to define the through-line of the last decade, there's no denying LeBron's fingerprints are all over it.
Paving the way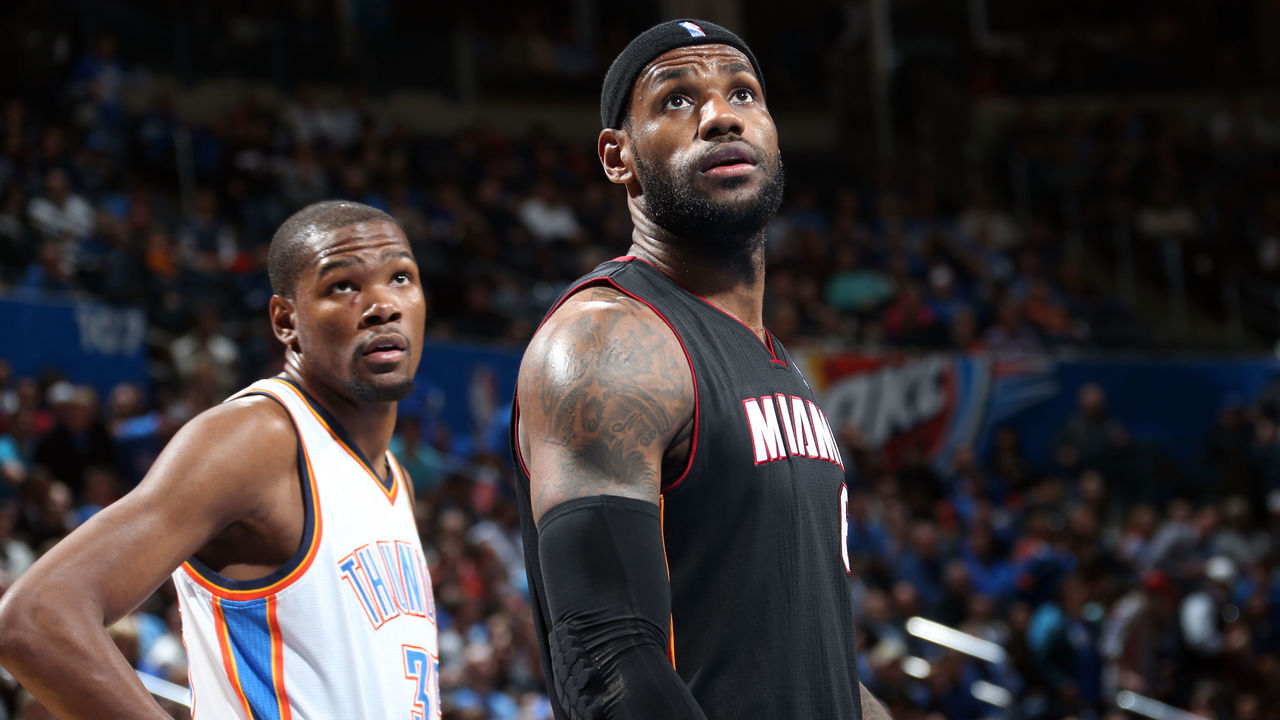 The Decision™ to join forces with Dwyane Wade and Chris Bosh in Miami, and all the vitriolic backlash that came with it, eventually spawned a paradigm shift - away from one-sided ideals about regional and organizational loyalty, and towards a more sympathetic view of player self-determinism. Kevin Durant acknowledged that James "paved the way" for his own unpopular decision to join the Warriors in 2016. Kawhi Leonard was probably always going to do what he wanted, but his decision to leave the Raptors two weeks after winning the championship likely would've been viewed less favorably if not for the earth-shaking free-agent decisions that preceded it.
LeBron's machinations also helped spur a superstar arms race. The league became increasingly defined by blockbuster trades and free-agent signings. Teams began laying years-long plans for those kinds of moves. Stars began angling for trades earlier and earlier in the lives of their contracts. (It's fair to wonder whether that's been good for the NBA populace as a whole, given how many non-star players now find themselves in the crossfire, forced to uproot their lives based on the whims of a select few. Player empowerment certainly doesn't apply to everyone.)
James understood the leverage he and his fellow stars possessed, and as their conceptions of their agency evolved, so too did the fan and media apparatuses orbiting them. But the change didn't happen overnight. First, there were jersey-burning rituals in Cleveland, vociferous boos and worse for the Heatles in every opposing arena, and an outpouring of schadenfreude any time the team struggled, never more so than when James melted down and Miami lost to the Dallas Mavericks in the 2011 Finals. The capstone to that ignominious defeat was LeBron telling his exultant critics that while he'd wake up the following day and still be LeBron, they'd wake up and still be their small selves in their small lives.
Again, it took time. The reaction had to become disproportionately toxic, to spiral out of perspective, in order for the broader NBA community to engage in some sober self-reflection.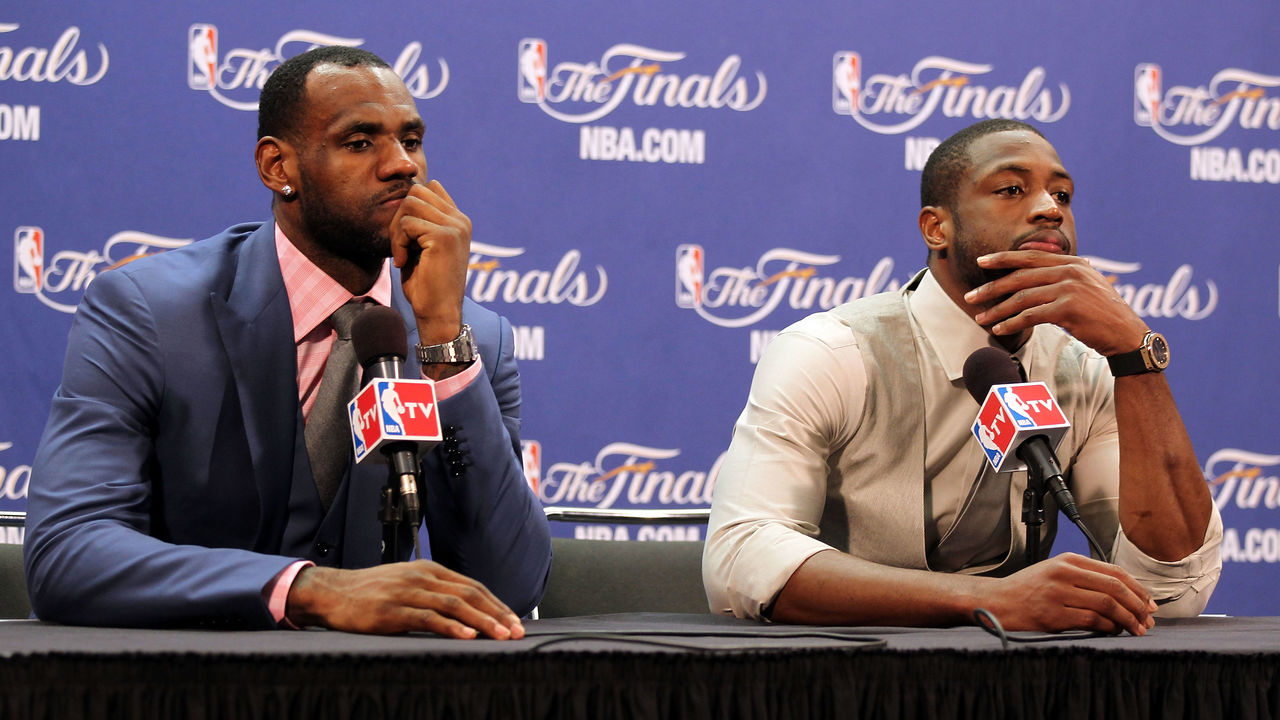 Immediately after that famous Finals flameout, the simmering discord between players and owners over the league's next collective bargaining agreement resulted in a five-month lockout. The need for competitive balance and small-market survival was cited by owners as an impetus for their austere demands, which included a hard salary cap. It was difficult not to read that as a direct rebuke to what LeBron, Wade, and Bosh had wrought by deigning to take so much control into their own hands (never mind that they took relative pay cuts to play together).
The work stoppage was another formative experience for James. The players association at the time was in complete disarray, and the contentious negotiation prompted him to take more of an interest in the state of the union. Four years later, with a new round of bargaining talks looming, as franchise valuations skyrocketed and the league signed a mammoth new TV rights deal, he mounted a public pressure campaign, insisting the players wouldn't be hoodwinked again by owners crying poor. James was unaninmously elected first vice president of the NBAPA in 2015, ahead of what proved to be a successful 2016 CBA negotiation. The vote was a testament to his influence on both sides of the aisle, but also to the level of trust his lower-profile, rank-and-file peers had in him to look out for their best interests, even if those interests were often incompatible with his own.
James won his first championship in the lockout-shortened 2011-12 season, knocking off Durant's then-ascendent Oklahoma City Thunder after playing what some still consider the greatest game of his career - a 45-point, 15-rebound, 19-of-26-shooting masterpiece - to help the Heat stave off elimination in Boston in Game 6 of the East finals.
Miami repeated in 2012-13, a season that included the longest win streak (27 games) of the 3-point era. After Ray Allen's legendary shot saved the Heat in Game 6 of the Finals against the Spurs, James went for 37 points and 12 rebounds and nailed the title-clinching dagger from 19 feet out in Game 7.
LeBron was named regular-season and Finals MVP both years.
He ultimately won just those two titles with the Heat, rather than the seven or so he initially believed they could win, but during his four-year South Beach sojourn he answered every question about his ability to come through when it mattered most.
"Cleveland, this is for you!"
LeBron announced his return to Cleveland in the summer of 2014 with an essay published in Sports Illustrated, titled, "I'm Coming Home." In it, he laid out his goal of finally bringing a championship to the title-bereft city. He also brandished his string-pulling dexterity by conspicuously omitting the names of Andrew Wiggins and Anthony Bennett, the team's No. 1 overall picks from the previous two drafts who were sent to Minnesota in exchange for Kevin Love shortly thereafter.
James came up short in his first year - though not before going up 2-1 on Golden State in the Finals, with both Love and Kyrie Irving injured and Matthew Dellavedova as his wingman. Finally, in 2016, Northeast Ohio's prodigal son fulfilled his mission, delivering Cleveland its first championship of any kind in 52 years in the most dramatic fashion imaginable: Engineering the first-ever comeback from 3-1 down in the Finals, and doing it against the 73-win Warriors.
Over the last three games of the series, James averaged 36.3 points, 11.7 rebounds, 9.7 assists, three steals, and three blocks. In Game 7, he authored perhaps the most indelible NBA moment of the decade when he preserved a tie game in the dying moments with a chase-down swat of Andre Iguodala's layup.
It was the defining play of the defining achievement of his career. The Miami championships were cool, but 2016 was the jewel in his crown, and he knew it. He said later that he felt winning the title like that, over that team, made him the greatest player of all time. LeBron has never been shy about indulging his own mythology.
The Warriors responded to the loss by adding Durant, which made the next two Finals clashes a formality, but James still carried the Cavs through the East in 2017 and 2018 to run his Finals streak to eight straight years. From the moment he left Cleveland for Miami to the moment he left Cleveland for Los Angeles, he did not lose a playoff series in his own conference.
There was no uproar when he left the second time. Part of the reason was that his Cavaliers supporting cast had been decimated, and anyone could see he had little hope of contending there. Another reason: he'd simply worn down a lot of his critics with his stubborn excellence. Even in Cleveland, there weren't many people left who could begrudge him wanting to chart the rest of his career on his own terms.
More than an athlete
A summation of LeBron's decade obviously can't be done without an accounting of his off-court exploits. The past 10 years have seen James develop an understanding of the power of his voice, and use that voice - and his considerable means - to try and affect change.
He established own charity, the LeBron James Family Foundation, which he then used to venture into educational philanthropy, founding the I Promise School in his hometown of Akron, Ohio. The public school provides education, after-school programs, and free meals to at-risk children, as well as resources (including a G.E.D. program) for those students' parents. The program awards all students who meet certain academic criteria full scholarships to the University of Akron. James called it his most important accomplishment.
His philanthropic pursuits have been supplemented by smaller gestures of empathy and political activism: The Trayvon Martin tribute he organized with the Heat; his speech at the ESPYs alongside Wade, Chris Paul, and Carmelo Anthony decrying gun violence and racial profiling in America and calling on fellow athletes to be more involved in their communities; his campaign against amateurism in college athletics, which led to California governor Gavin Newsom coming on his show, "The Shop," to sign the Fair Pay to Play Act; and, of course, the simple, blunt power of "U Bum."
That's not to say there haven't been missteps. James' social conscience and knack for being on the right side of history are what made his critical comments about the Daryl Morey/Hong Kong imbroglio a few months ago - in which he blamed Morey, and not China, for the fallout of Morey's fairly innocuous tweet in support of Hong Kong's pro-democracy protestors - so vexing. It was a rare fumble, and it being rare didn't make it any less or more disappointing than it would've otherwise been. James is highly imperfect, like the rest of us, even if his physical gifts and magisterial aura occasionally make him feel more than human. The responsibility of speaking responsibly is one he invited upon himself, wittingly or unwittingly.
James' credo is "More Than An Athlete," and he's spent the decade earning the distinction. Beyond activism, that's meant turning himself into a bona fide media magnate, with his production company, Uninterrupted, making forays in TV and movies. You may recall James yukking it up with Amy Schumer and Bill Hader in a Judd Apatow rom-com. He's set to star in "Space Jam 2."
A cultural artifact from a previous decade, and one I've constantly found myself returning to throughout this one, is the branding genius that was The LeBrons. On top of spotlighting James' versatile comedic acting chops, that late-aughts Nike campaign got at how multifaceted he was and could be as a person. It spoke to the different plausible iterations of himself, the different parts of his soul, all the potential paths he might walk. LeBron could be taciturn, or he could be Hollywood; he could exude old-soul sagacity, or childlike giddiness.
A new chapter
For the twilight of his career, LeBron indeed chose Hollywood.
James is onto his third team of the 2010s, having undertaken an ambitious project to revitalize the Lakers. He arrived without a co-star, and his first season there was an abject disaster. It saw him suffer the first major injury of his career, blow up the locker room by not-so-subtly maneuvering behind the scenes to get that co-star in the door, and miss the playoffs for the first time in 14 years.
Anthony Davis had recently switched his representation to Klutch Sports, the agency run by James' close friend Rich Paul (who has become one of the game's great power brokers in his own right.) Though Davis had multiple years left on his contract with the Pelicans, Paul put out a public statement on his behalf requesting a trade. It also became public knowledge that the Lakers were trying to trade half their team to acquire him.
The perception of another player-orchestrated power move caused plenty of rancor around the league, and soiled Davis' reputation in New Orleans. But the deal eventually got done in the offseason.
Now, behind James' otherworldly passing and Davis' athletic finishing and defensive ability, the Lakers are one of the NBA's best teams. As was the case when he returned to Cleveland and saw the need for an immediate upgrade to his supporting cast, James tends to get what he wants.
So here we are, at the end of the decade. The Warriors dynasty has run its course. Superteams, at least the kind we'd grown accustomed to amid the Big Three-ification of the league, are taking a sabbatical. And a soon-to-be 35-year-old James is still pulling all the strings for a championship contender, while leading the league in assists for the first time in his career.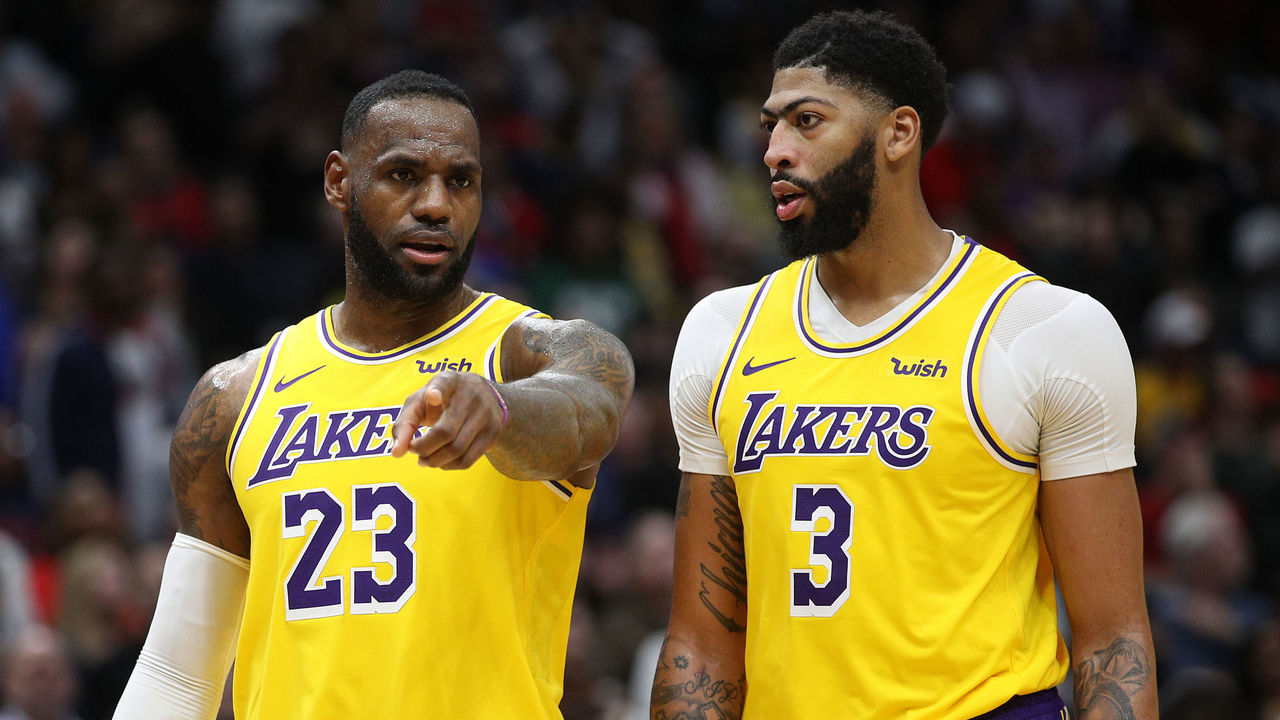 As has been happening for several seasons now, highlights of him dunking on another 7-footer's head, or registering another chase-down block, are captioned incredulously with the simple quantitative marker of his enduring greatness: "Year 17." The implication being: He should not still be able to do this. Even for someone who puts over $1 million into maintaining his body each year, it defies everything we know about the shelf life of an elite NBAer, especially one who lives above the rim, dominates by imposing his physicality, shoulders about 3,000 regular-season minutes, and plays into June almost every year.
James is one of three players from his 2003 draft class who remain active in the league, along with Carmelo Anthony and Kyle Korver. But while Anthony and Korver are fighting to just stick around, James, who's played more combined regular-season and playoff minutes than all but two players in history, remains an MVP candidate and arguably still the best player alive.
His dream of one day playing alongside his son feels more realistic by the day.
We've seen so many different versions of LeBron this decade. There's been hero LeBron and villain LeBron, lighthearted LeBron and straight killer LeBron, passive-aggressive LeBron, cryptic-subtweeting LeBron, socially conscious LeBron, self-deprecating LeBron, and self-mythologizing LeBron. It's the way James has melded all those things - his superhuman ability and durability, his all-too-human foibles, his larger-than-life persona, his off-court ambitions, his social conscience - that have made him the defining athlete of the decade.
Even if you subscribe to the notion that decades are a fairly useless way of demarcating stretches of time, you can acknowledge that we spent the last 10 years living through an epoch that belonged to LeBron James.
Joe Wolfond writes about basketball and tennis for theScore.