Over the first six weeks of the season, the Toronto Raptors' defense has earned a reputation for stymieing its opponents' best players. With janky, unpredictable, and hyper-aggressive schemes, the Raptors repeatedly kept other team's stars flustered and off-balance. LeBron James, Kawhi Leonard, Damian Lillard, and Joel Embiid all had their worst individual offensive outputs against Toronto.
But limiting a star isn't an end in itself, especially when your means of doing so are as aggressive as Toronto's were against James Harden and the Houston Rockets on Thursday night.
From the beginning of the game, the Raptors double-teamed Harden at the first opportunity, with a second defender (typically Fred VanVleet) joining Harden's primary defender (either OG Anunoby or Norman Powell) the moment he crossed midcourt. Once Harden got rid of the ball, the second defender would peel off, but his primary defender would continue face-guarding him 30-plus feet from the hoop until the possession was over, allowing the Rockets to play four-on-three or at worst four-on-four in the halfcourt.
Against that coverage, Harden mustered just 12 shooting possessions, almost all of which came either in transition or amidst chaos after offensive rebounds. His 15.4% usage rate was his lowest in a game since Nov. 29. 2013. But, just as they did in that game six years ago, the Rockets won pretty comfortably.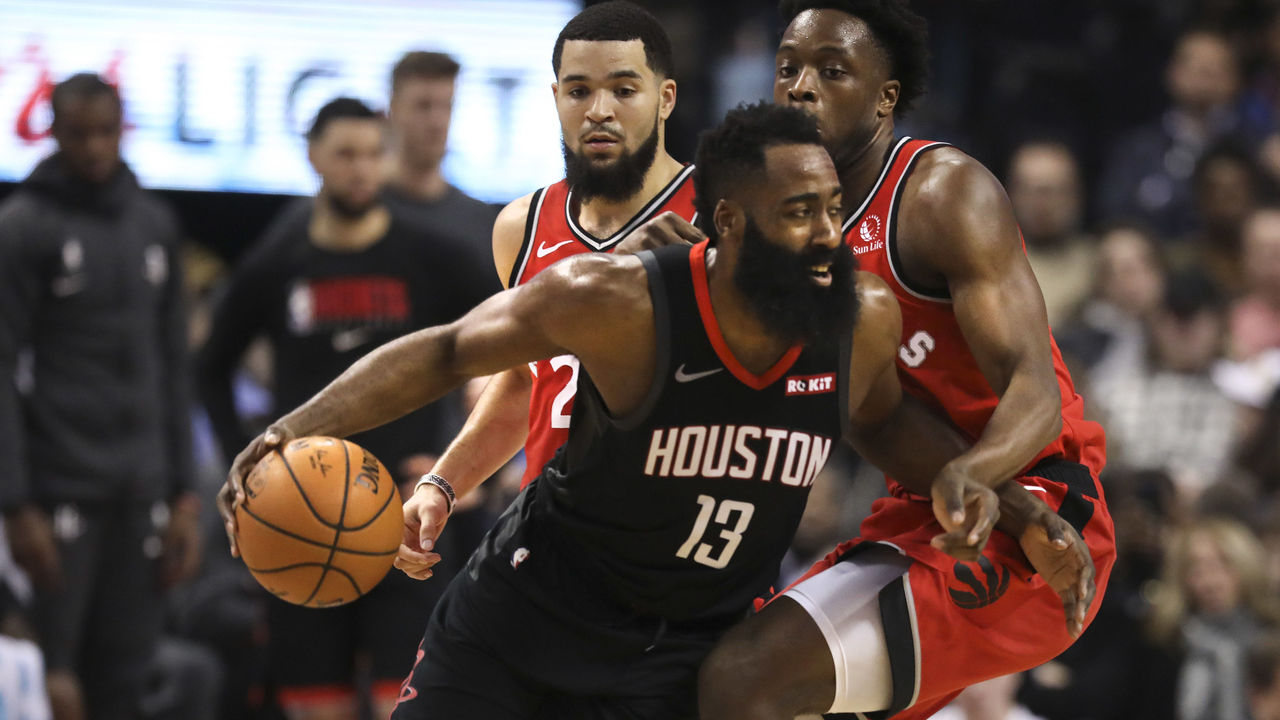 So, what happened? In simple terms, the Raptors put too much strain on themselves on the back end of all those double teams, and couldn't catch up to the ball once it started moving. The Rockets would have someone flash to the nail, immediately put the Raptors in rotation, and find an open look two or three passes later. A simple flare screen or relocation was often all it took for them to bust Toronto's shorthanded zone.
The Rockets shot 55 3-pointers, and 29 of them came with the shooter at least 6 feet clear of any defender, according to NBA.com. They also attempted 23 corner threes and hit 11 of them. (For perspective, the Raptors surrender 12.3 such shots a night on average, which is already the most in the league by a mile.)
In theory, it's nice to take a star out of the action and force role players to beat you, but at some point, the risk-reward balance tilts out of whack. Scary as it may seem to let Harden - one of the greatest scorers of all time - get cooking, it should be equally scary to let P.J. Tucker and Danuel House bomb away from the corners, where they shoot 52.9% and 42.5%, respectively. Having those two guys go 5-of-11 from that spot on Thursday was far from an aberration; it actually brought their collective season percentage down. Harden shoots just 34.3% on pull-up threes, and 35.1% from above the break.
To be clear, by forcing the ball from his hands as early and often as they did, the Raptors were doing far more than simply limiting Harden's 3-point attempts. They were preventing him from getting downhill, scoring at the rim, drawing fouls in the paint, and collapsing the defense from the inside. There's certainly no guarantee that they would've fared any better by playing Harden straight up. After all, the Rockets still average over 46 3-point attempts per game with Harden racking up a usage rate of nearly 40%, and the Raptors succeeded in holding them to their lowest free-throw total of the season.
Plus, the blitzes actually worked quite well when Russell Westbrook was on the floor, mainly because his jump shot wasn't a threat and he made persistently poor decisions with the ball when he was the release valve in four-on-three situations. The Rockets' offensive rating in the game with both Harden and Westbrook on the floor was just 91.9. When Harden was on the floor without Westbrook, though, it was 157.7.
Raptors coach Nick Nurse, the author of all those star-stopping schemes, stuck to his guns even when the red-hot House replaced Westbrook or the Rockets went five-out with Tucker at center. (In 16 minutes with Tucker at the five, the Rockets outscored the Raptors by 16 points.)
House said after the game that he expected Toronto to switch things up, and he almost seemed to interpret Nurse's stubbornness as disrespect.
"After guys get to hitting a few shots, usually coaches change their defensive schemes," House said. "I guess they felt like we were gonna cool down. But when you're giving guys - NBA pros - open looks like that, guys are going to knock it down all night."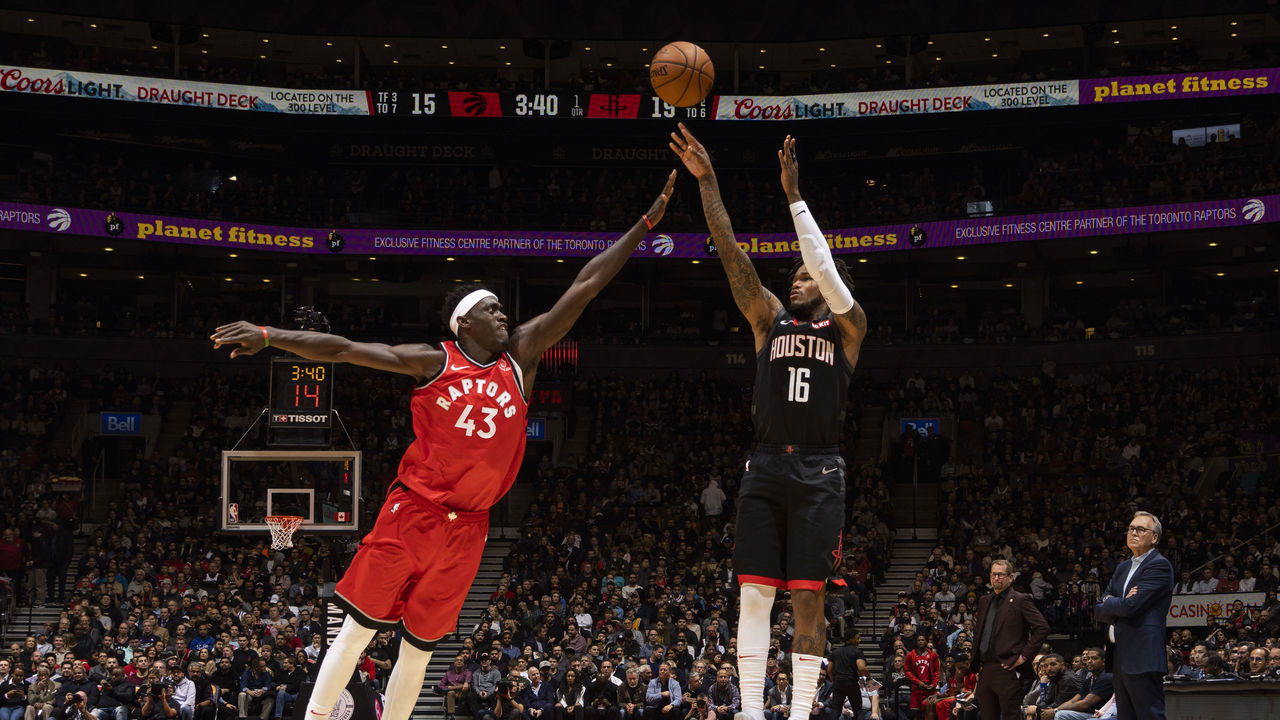 Ben McLemore hoisted 17 threes himself, which would seem insane if you only looked at the box score, but it was perfectly rational in the flow of the game. The vast majority of them were so wide-open that turning them down would've been sacrilege. He hit eight of them, easily a career high.
Harden has seen all manner of defensive coverages over the past few years. He's the kind of player who demands creativity and risk from his opponents. But he doesn't get spooked under pressure, and he dealt with all of this about as well as he possibly could. Even though he hadn't seen quite this level of attention before, he looked extremely prepared. He didn't force anything, smartly picked his spots, and made all the right passes. While the Raptors managed to force opposing No. 1 options into heaps of turnovers in previous games, Harden took excellent care of the basketball, finishing with three turnovers.
"We've seen so many different defenses throughout the course of the year," Harden said. "Tonight was the first time seeing this defense, but guys did an unbelievable job moving their bodies and being ready to shoot."
He recorded just three assists but contributed significantly more secondary and tertiary assists when his passes out of traps led to swing-swing sequences that produced wide-open threes. Doubling him harder would've put the Raptors at greater risk of fouling, but the ease with which he broke the traps, and the lack of turnovers those traps created, was another way in which Harden tilted the risk/reward calculus in Houston's favor.
All those things arguably fall under the umbrella of intended consequences - things the Raptors knew they'd sacrifice by selling out to neutralize Harden. But there were also unintended consequences.
For one, Harden didn't have to break a sweat at the offensive end, leaving him with plenty in the tank to play one of his best defensive games of the season. He held his own switching onto players big and small. He came up with five steals and repeatedly stoned Raptors in the post, including Siakam on multiple occasions. It was one of the most quietly dominant performances you'll ever see. He pulled all the strings while barely lifting a finger.
The fact that Siakam struggled so much at the offensive end in the second half - he was often hesitant to attack, and failed to make much of an impact in the post - was perhaps part of a compounding problem. He had to cover a lot of ground on defense, repeatedly getting stuck guarding two players between the wing and corner once Harden hit the release valve in the middle. He was constantly stunting and recovering, closing out, trying to run guys off the arc, and then trying to veer back in time to grab a rebound. It stands to reason he'd have less energy to carry the primary scoring load. A run-ragged Siakam posting up a fresh-legged Harden isn't the mismatch it would appear to be on paper.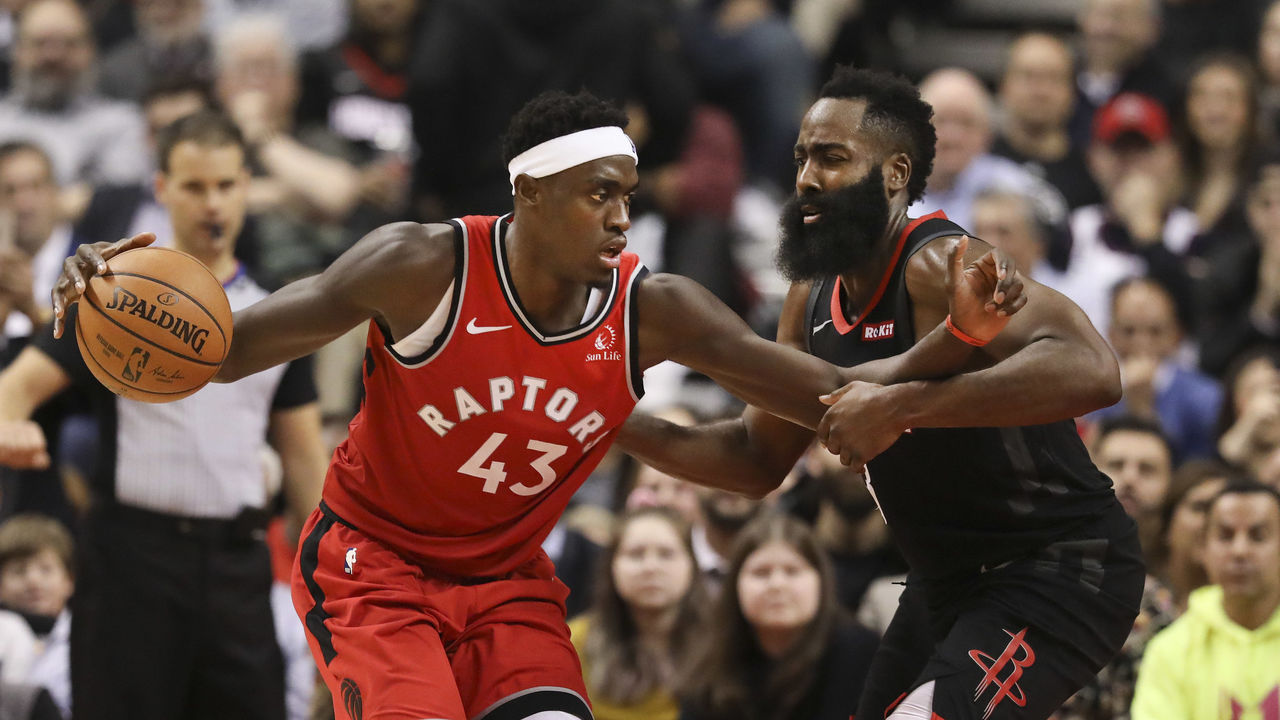 The constant traps also minimized the value of Anunoby, the Raptors' best perimeter stopper, who'd had his share of success guarding Harden in the past. For a team without that level of one-on-one defender, sending two to the ball makes perfect sense, but while Anunoby's length and reflexes make him a great option to provide one half of a trap, using him that way on every possession wasted his individual defensive brilliance - his footwork, balance, anticipation, and strength. Perhaps that's why the Raptors opted to close with Powell, who was giving them a bit more at the offensive end.
Then there were the rebounds. With a scrambled defense, the Raptors often found themselves out of position to box out. The preponderance of threes also produced a preponderance of long rebounds. All told, they surrendered 20 offensive boards, which went for 24 second-chance points.
This isn't to say that the scheme itself was wrongheaded. Experimentation during the regular season is generally a good idea, and Toronto's 115.5 defensive rating was far from disastrous in a game against an offensive juggernaut like Houston.
As Nurse said repeatedly in his postgame presser, "It was a pretty interesting experiment. If the result turned out the other way around, we'd probably say it was a great experiment."
Still, while selectively conducting that experiment would've been a calculated gamble, doing so for an entire game felt like playing with fire. (If it were a playoff game, Nurse presumably would have been more willing to adjust and mix things up.) It also served to highlight the fact that taking an opposing team's best player out of a game is only half the battle.
The Raptors have managed to survive the back half of that battle for most of the season, but on Thursday, they may have finally pushed things on the front end a bit too far.
Joe Wolfond writes about basketball and tennis for theScore.