This was always going to be a bridge year in Brooklyn. For everything a blockbuster offseason seemed to signal about how far the Nets organization had come and how far it might go in the future, short-term expectations had to be tempered.
Kevin Durant was unlikely to take the floor, the Nets were bringing in a potentially volatile element in Kyrie Irving, and the team's democratized system that had brought unexpected success last season would have to reorient itself around a high-wattage, high-maintenance star.
Even measured against those moderate expectations, though, the Nets have been disappointing. They've started 6-8 with a minus-3 net rating that ranks 22nd in the NBA, despite facing the league's third-easiest schedule to date, according to Basketball Reference.
Before missing the last three games with a shoulder impingement, Irving was putting up gaudy counting stats while being sporadically transcendent, but - and maybe you've heard this before - it's been hard to draw a straight line from his individual exploits to his team's success.
Stylistically, his arrival has been a mixed bag at the offensive end. On one hand, the Nets are moving the ball less. After making 309 passes per game last year (ranking eighth in the league), they're down to 256.4 this season (27th). They're also down from 45.1 potential assists (14th) to 41.2 (23rd), and they're running about two more isolation possessions per game. With Irving on the floor, the team's assist percentage is 53%, compared to 60.2% when he's off. Head coach Kenny Atkinson responded to a recent loss by saying, "We're not really running anything."
On the other hand, the Nets' shot spectrum is extremely similar to last year's, and any changes have been for the better. They've attempted threes at almost exactly the same rate, they've grown even more allergic to the mid-range, and they've jumped from 13th to fourth in frequency of shots at the rim. Before Irving went on the shelf, Brooklyn ranked fifth in quantified shot quality, according to PBP Stats.
In short, the Nets are getting the shots they want; they're just not hitting enough of them.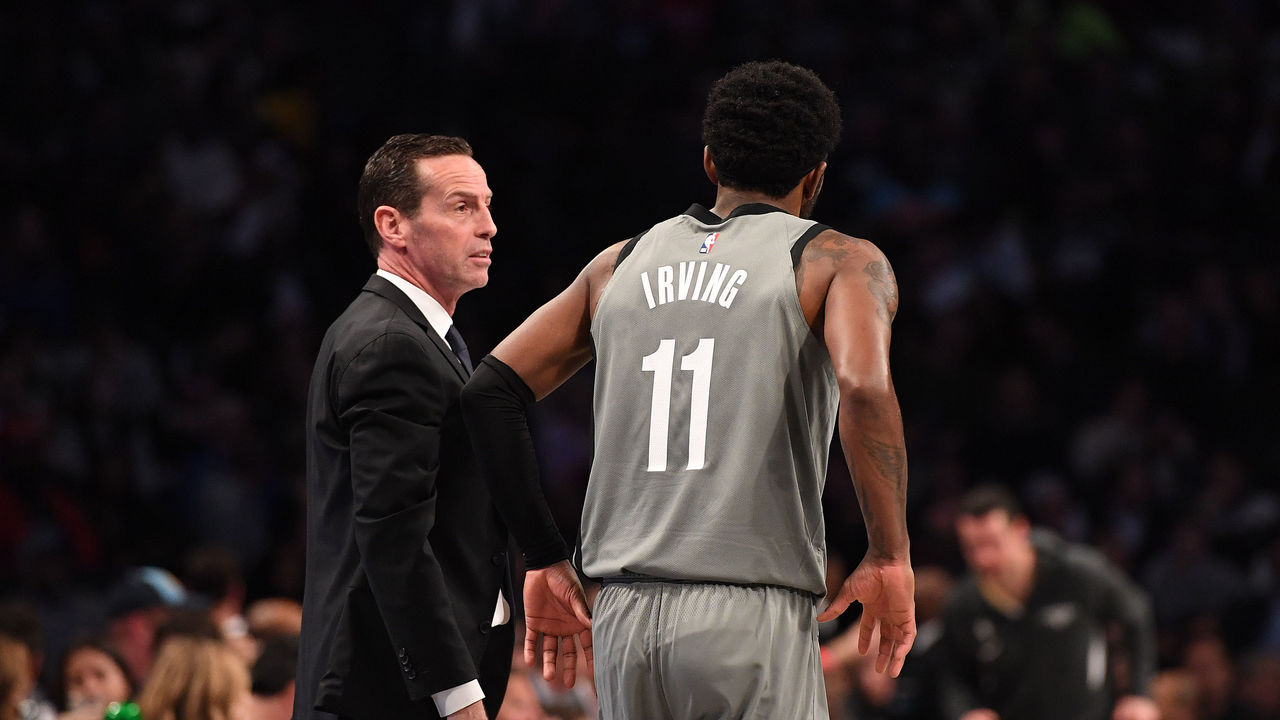 To create those shots, Brooklyn is running about the same number of pick-and-rolls as last season, with Irving essentially stepping into D'Angelo Russell's old role. He's controlling the ball almost exactly the same amount as Russell did, and he's finishing a near-identical share of his possessions as the ball-handler out of the pick-and-roll, per NBA.com. Irving's just doing it while scoring way more efficiently and turning the ball over far less frequently.
Throwing a lot of passes doesn't necessarily equate to good team offense, as it's often due to the lack of an elite individual scorer. (Three of the top five offenses in the league last year finished bottom five in passes per game.) It requires less ball movement to create a profitable shot when your primary ball-handler can break down a defense and attract the level of attention that Irving does.
He may not always play within the flow of the offense, but he has the gravity to draw multiple defenders to the ball 25 feet from the basket, and he's an underrated pocket passer. Once Irving makes the pass, his teammates must navigate the man-advantage situation he creates - something they've struggled to do in Brooklyn. As Atkinson explained early in the season, "Our issues have been with other guys on the team making the right reads. I think the group around him can pick it up."
Still, the Nets have been able to run a lot of simple stuff that leverages Irving's gravity to create good shots. This one, a "horns" pick-and-pop in which Jarrett Allen sets a flare screen for the popper, almost always produces a clean 3-point look:
Brooklyn is also playing quite a bit faster. The offense has sliced almost a full second from its average time of possession, with most of that uptick coming off live rebounds, according to Inpredictable. Irving has played a big part in pushing the pace (the Nets have run 13% more often after an opponent's miss when he's on the floor, per Cleaning the Glass), thanks largely to hit-ahead passes like this one:
Overall, the Nets' offense has been dramatically better with Irving in the fold, even though his teammates haven't done much to help. Backcourt mates Spencer Dinwiddie and Caris LeVert (before he got injured) have been underwhelming, while the former has actually run a higher frequency of isolations than Irving. Allen, for all his welcome activity, is only a mediocre screen-setter who doesn't carve out as much space for shooters as you'd like. Through it all, you can see Irving trying to stay on the right side of the fine line separating assertiveness and ball-hoggery.
Brooklyn's defense, of course, has been significantly worse with Irving on the floor and, unlike the offense, does not seem likely to improve. But those problems go way beyond the star guard.
For one thing, DeAndre Jordan is one of the laziest big-man defenders in the league. He rarely ventures outside his crease in front of the basket, rarely gives a good-faith shot contest, and rarely jumps a second time on the same possession (if he even jumps once).
It doesn't help that Brooklyn is pretty small from the one-spot through the four. Taurean Prince has spent most of his time playing up a position at power forward, where he's struggled to guard his counterparts. Unsurprisingly, the defense also gets chewed up on the glass in those alignments. And while Allen is a good rim-protector when he's helping on drives or dropping back in the pick-and-roll, he gets bullied by bulkier centers in the post and on the boards. The Nets lost a lot of their grit and veteran smarts when they let go of Ed Davis, DeMarre Carroll, and Rondae Hollis-Jefferson in the offseason. Now they're just a bit … soft.
These days, the Nets apply minimal pressure on the perimeter, which is why they rank last league-wide at forcing turnovers. Their ultra-conservative drop coverage deters opponents from taking shots at the rim, but it can backfire when the drop man makes no effort to challenge a shot, or when perimeter defenders don't fight through screens or stay attached when going over the top. It's not just bad luck that Brooklyn has surrendered the league's second-highest field-goal percentage on mid-rangers. Offenses dice the Nets up with floaters and wide-open jumpers from the free-throw line:
None of Irving, Dinwiddie, LeVert, or Joe Harris has proven adept at containing dribble penetration. The Nets own a 113.3 defensive rating with Irving, LeVert, and Harris on the floor together. When it's Dinwiddie in place of LeVert, the number jumps to 118.5.
Beyond Xs and Os, it's easy to speculate about the effects of intangible factors like "chemistry" or "joy," as one could see Irving forcefully directing teammate Dzanan Musa to move from one side of the floor to the other during a play and conclude that he's somehow poisoned the well. We often cling to straightforward explanations, and between Irving's oft-individualistic style and his enigmatic personality, he makes for the most convenient of scapegoats.
Much of the Celtics' underperformance last year was chalked up to Irving's awkward attempts at leadership, and to players who'd captained the team when he was injured the previous season bristling at their suddenly scaled-down roles. But Irving has mostly been saying the right things since arriving in Brooklyn, and it's not like any of his new teammates have seen a significant reduction in their roles. Are the Nets disgruntled, or are they simply adapting to change?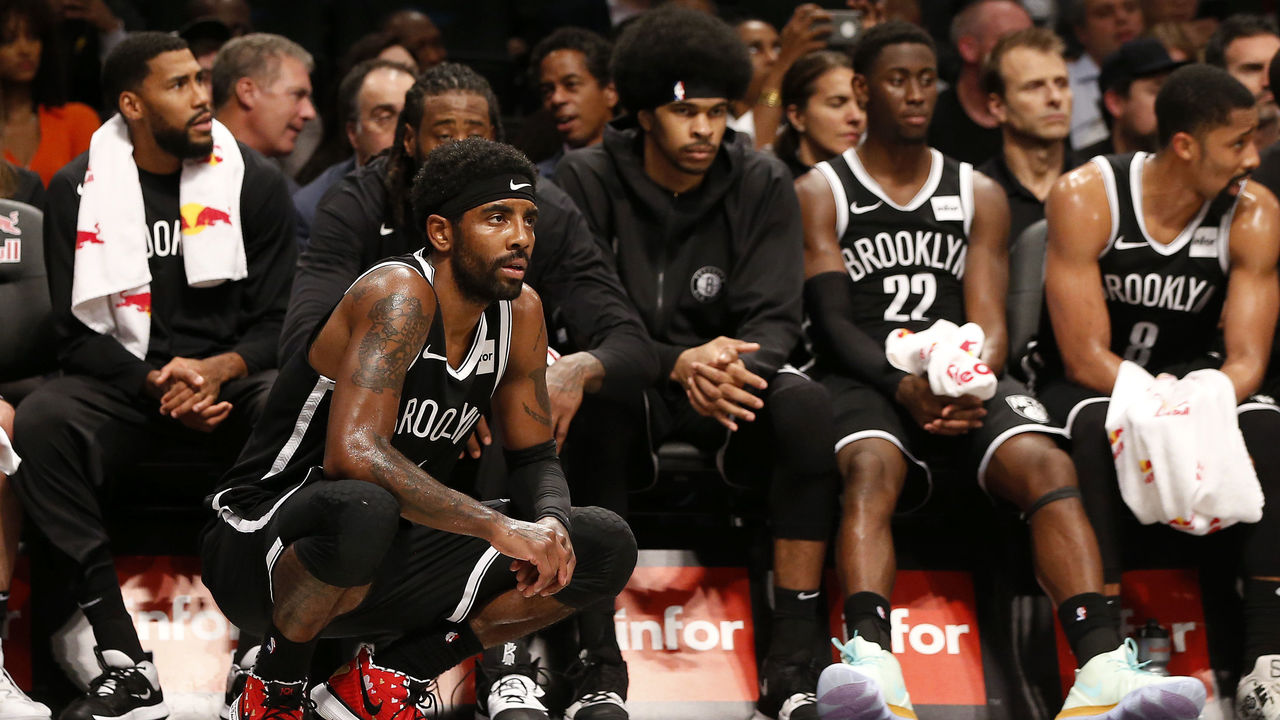 Whatever the case, something of a perfect storm has created a narrative about Irving's presence. After they traded for him in 2017, the Celtics repeatedly thrived in his absence - they fell just short of the 2018 Finals without him, they went 9-2 in games he missed last season, and they're excelling this year after replacing him with Kemba Walker.
The Nets, meanwhile, came together last year, only to ostensibly start to fray once Irving signed on. Before this season even began, Brooklyn's front office was leaking concerns over Irving's reluctance to adapt to his new team's protocols. Add it all up, and there's been enough circumstantial evidence to paint the talented but mercurial point guard as The Problem.
He isn't, but he hasn't proven to be a solution, either. And that's a problem in itself.
Brooklyn's been a modest 2.4 points per 100 possessions better with Irving on the floor. It's easy enough to say these injury-plagued Nets simply aren't that good (as Atkinson recently did), but some of us were saying the same thing about the Celtics last season, and they look pretty decent right now. By and large, the players who remained in Brooklyn have been worse this season, and the Nets seem more uncertain of who they are and what they're trying to do. It's hard to put everything on Irving, but it's also hard to ignore the emerging pattern.
In some way, Irving's resume and reputation will always be unimpeachable because of his performance in the 2016 Finals and the championship-winning three he hit in Game 7. But by now, it's fair to question whether he helps or hinders his teammates, and whether his net impact on an organization is as positive as his stature and his individual numbers indicate it should be.
That this season has invoked an identity crisis for the Nets is understandable, given that they essentially blew up what they'd been building in order to add two superstars. It's unfair that Irving must bear the brunt of the team's disappointment, especially since he wasn't brought in to be the No. 1 guy. The impression provided by Irving's career so far is that he can be a dynamite No. 2 in a situation where he can be himself and isn't relied upon to carry a team.
But the last time he played second fiddle, Irving chafed at the role and forced his way out of LeBron James' shadow. He's ostensibly picked up some hard-learned lessons since then, and he got to choose his Batman in Durant this time around. Does that necessarily mean he'll be more amenable to playing Robin when the time comes?
For now, the Nets are Irving's team, and there are reasons to believe they'll improve as this season goes along. If they can get and stay healthy, they should make the playoffs in the East. But as to whether Irving can counteract the perception that's taken shape about him, we may not find out until next season.