Ever since the Houston Rockets asked him to make himself scarce just over a year ago, Carmelo Anthony had been waiting - and sometimes pleading - for another NBA team to take a chance on him.
He did media blitzes, expressing his desire to keep playing and blaming the Rockets organization for scapegoating him. His trainer told the world Anthony simply wanted a farewell season like Dwyane Wade got. Countless videos were released of him hitting jumpers in empty gyms. His peers campaigned on his behalf, with some going so far as to suggest he was being blackballed. Even the most powerful player in the world seemed unable to help (or unwilling to go out on a limb for) his friend. The league, it seemed, had given up on Melo.
But on Thursday, at long last, the 35-year-old got his wish, inking a non-guaranteed contract with the scuffling Portland Trail Blazers.
Perhaps it's fitting. The prospect of Anthony winding up on the Blazers was speculative grist in the NBA rumor mill for a time. At one point, Damian Lillard and CJ McCollum were openly recruiting him back in the summer of 2017. That was when he and the Knicks were shopping around for a situation appealing enough to make him waive his no-trade clause. Two years later, Anthony had no other option, and the Blazers were desperate enough to roll the dice.
The Trail Blazers are in a bad place right now: banged-up and woefully understaffed and overextended at the forward spots. Lillard has been herculean through the first three weeks of the season, but the offseason departures of Al-Farouq Aminu, Moe Harkless, and Jake Layman, and the injuries to Jusuf Nurkic and Zach Collins, have left him with minimal help up front or on the wing. The Blazers recently lost a game in which Lillard scored more than half of their points. They're 4-8 and 13th in the West in a season that began with championship aspirations. They needed any kind of jolt they could get.
And so, after the ugly breakup with the Knicks, the flop in Oklahoma City, the crash and burn in Houston, and a year on the campaign trail, Anthony will get one last chance to go out on something resembling his own terms.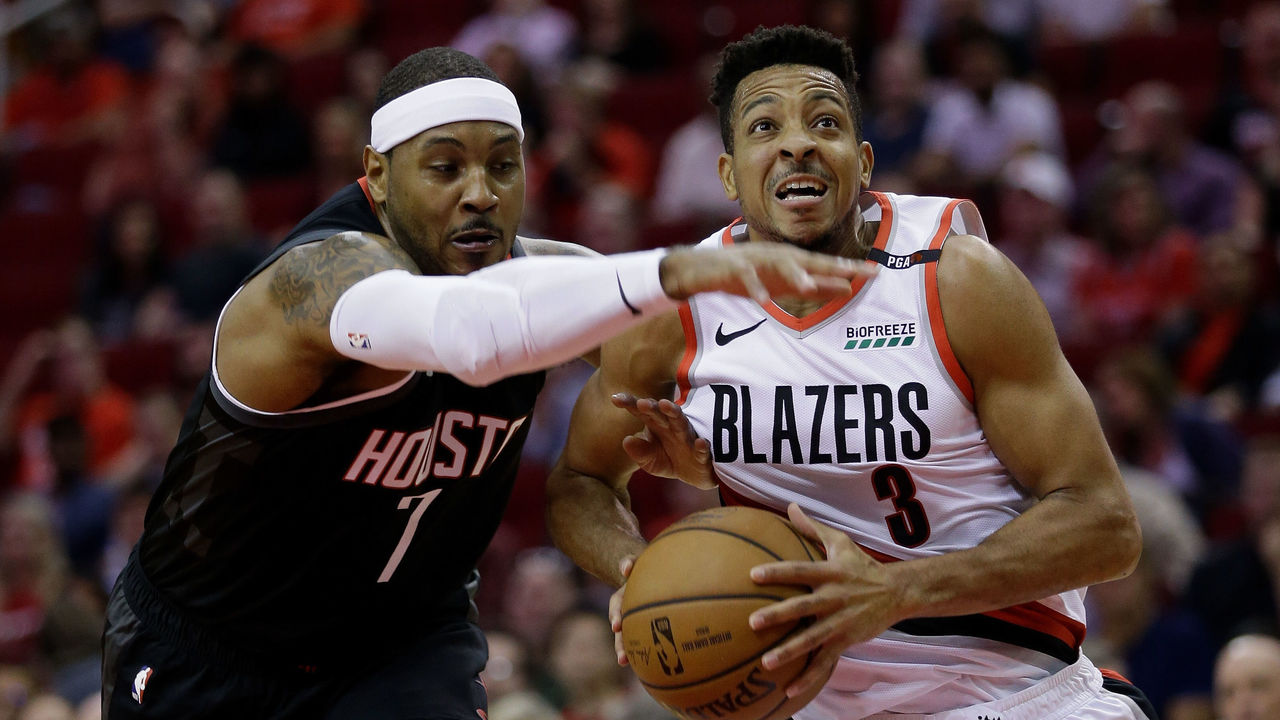 There's ostensibly little risk for Portland. Anthony will have to know coming in how short a leash he's on, and if he isn't meeting expectations, the Blazers can cut bait anytime before Jan. 7, which is when the contract would become guaranteed, according to ESPN's Bobby Marks. They surely aren't expecting Anthony to be the long-term solution at the four; they simply need someone who can help tide them over until their trade options start to open up in mid-December.
Anthony, however, was supposed to be a no-risk signing for the Rockets last year, and things proved a bit more fraught than anticipated. Through no real fault of his own, his status, high profile, and relationships with teammates tend to complicate matters and create a distraction. Reports about his Rockets tenure suggested that even when he wasn't playing, his outsized presence cast a "cloud" over the team.
There's been this notion over the last few years that Melo could be a productive player if he could just find a way to tone down his Melo-ness - if he could ditch all the isos, jab steps, and long twos, and embrace being a full-time power forward whose primary job was to space the floor and launch catch-and-shoot threes.
But the issue in OKC and Houston wasn't his unwillingness to adapt; it was that he wasn't good enough. His offensive output nowhere near made up for his comically upright and immobile defense. He had a 50.3 true shooting percentage in his lone season with the Thunder, and a 51.3 mark in his 10 games with the Rockets. Couple that with his lack of playmaking, and even being a league-average defender wouldn't have put him on the positive side of the productivity ledger.
A year removed from his most recent NBA game, those things don't seem likely to improve, and what he has to offer at this point doesn't seem likely to help Portland, a team that ranks 19th in defensive efficiency and that's being absolutely shredded by opposing forwards, ranging from Warriors rookie Eric Paschall to Raptors emerging superstar Pascal Siakam. But, hey, this season has been chock-full of redemption stories: Dwight Howard, Andrew Wiggins, Jabari Parker, even the Phoenix Suns. Maybe there's room for one more.
Maybe Anthony can make quick enough decisions and hit enough stationary jumpers to serve as an effective release valve for Lillard and McCollum when they get blitzed. Maybe he can do just enough to survive at the defensive end. Maybe he can give them 12-15 decent minutes a night. Maybe that will be enough to help the Blazers tread water until they get healthy or make a more meaningful move.
Maybe that will be enough to vindicate the Melo supporters who insisted he deserved a job in the league; and enough to make Anthony himself feel like he had a hand in writing the last chapter of his career.
Maybe. When you're as desperate as Melo and the Blazers both are, that's the best you can hope for.
Joe Wolfond writes about basketball and tennis for theScore