In most cases, it takes several years for the contours of an NBA career to come into focus. The learning curve at the highest level is both steep and long. Progress is hardly ever linear; the road twists and turns and diverges unexpectedly. That's part of the fun and excitement of watching raw players early in their pro basketball life cycles. Projecting their futures takes a certain measure of imagination and educated guesswork.
But there are a select few who cut through the haze of uncertainty that shrouds young prospects: players who remove the guesswork, leave little to the imagination, and make clear almost immediately how good they are, or will be. These are players whose skills and moxie are so evident that healthy skepticism is shouldered out by unfettered belief and reckless optimism. That's where we find ourselves with Luka Doncic and Trae Young, two electric sophomores currently lighting up the league.
Not that their accelerated journeys to NBA stardom have been devoid of speed bumps. Young had a miserable summer league debut, clanked his way through the first two months of his career, and finished his rookie season ranked dead last (514th!) in defensive real plus-minus. Many doubted his ability to handle NBA size and physicality.
Doncic's path has been more straightforward - he arrived as a full-grown unicorn and took flight right away - but concerns about his lack of conditioning, traditional athleticism, and defensive acumen still nibbled at the margins of his incendiary rookie campaign. Some questioned how much better he could actually get.
Just three weeks into their second seasons, the two are making those doubts - which initially led to them being passed over with the first two picks of the 2018 draft - look ridiculous. Sample-size caveats apply, but they're on track to post two of the most impressive sophomore campaigns in league history. (To use just a pair of catch-all metrics, if Doncic maintains his current rates, he would finish with the best PER and box plus-minus ever for a second-year player, while Young would rank in the top 15 all time for both.)
Doncic ranks in the top five in nearly every meaningful offensive category this season and is less than an assist per game away from averaging a 28-point triple-double on 61.6% true shooting. Young doesn't rebound like Doncic, but he's scoring and racking up assists at the same per-minute rate while shooting a better percentage on a higher volume of 3-pointers.
The professional careers of Doncic and Young have been intertwined since the beginning, though they've had scant opportunity to develop anything resembling an on-court rivalry. They'll always be bound together by the fateful draft-night trade in which they were exchanged for one another. There will always be those goofy photos of them wearing the other's team's hat; shreds of evidence of an alternative history we'll never get to glimpse.
It's the sort of trade that seems bound to get scrutinized and re-litigated endlessly; the kind of what-if that NBA fans pore over for decades. Young will always be the guy who the Hawks decided they wanted more than Doncic. That ought not be his cross to bear, nor should the fact that the Hawks used the 2019 first-rounder they acquired in the deal to draft Cam Reddish, whose career is off to a sluggish start, to put it charitably.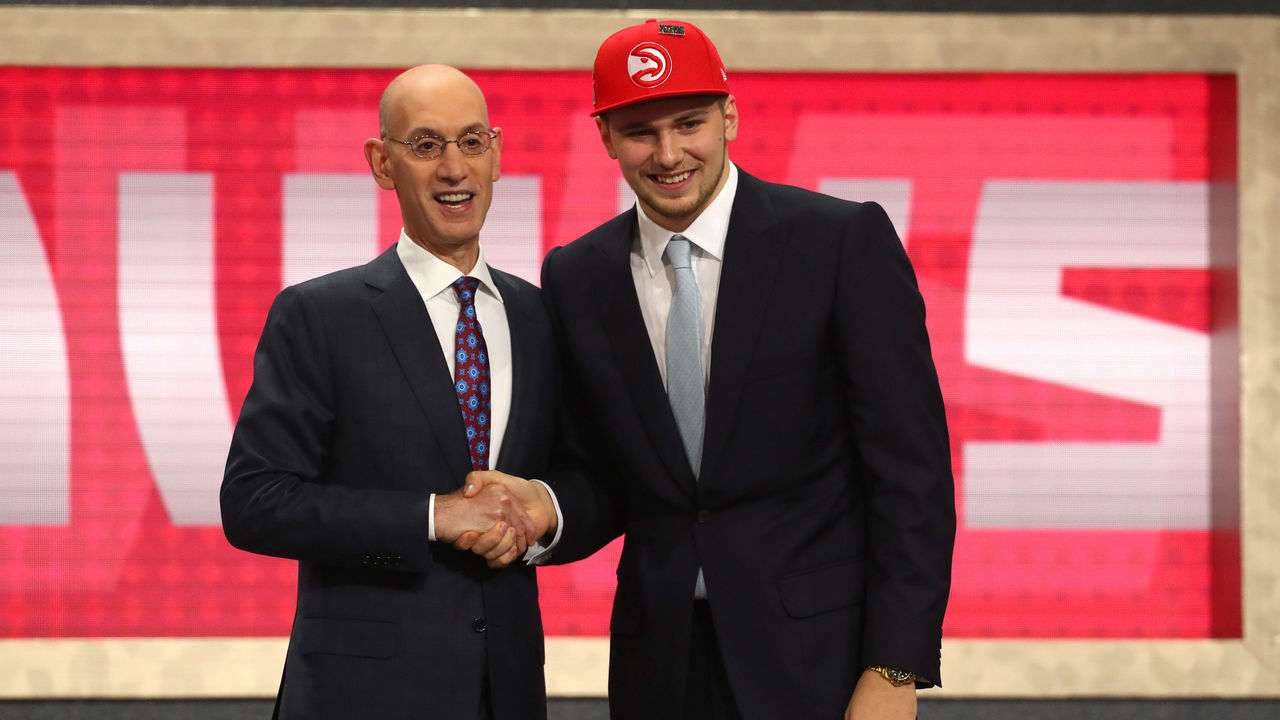 At the same time, we may be entering uncharted territory here. It's historically rare for so much collective ability to be exchanged before any of the principles played an NBA game. This isn't Robert Traylor for Dirk Nowitzki or even Tyrus Thomas for LaMarcus Aldridge. The closest comparisons are probably the draft-night trades that saw Antawn Jamison swapped for Vince Carter in 1998, and Ray Allen for Stephon Marbury in 1996. This deal may ultimately have a clear winner as those previous trades did, but it has a chance to blow precedent out of the water in terms of the talent going both ways.
Even if they weren't tethered by the yoke of transaction, we'd likely be comparing and contrasting Young and Doncic because they arrived at the same time, appear set to be two of the NBA's faces well into the future, and have plenty in common as players. Despite their markedly different physical profiles (Doncic measures 6-foot-7, 220 pounds; Young comes in at 6-foot-1 and 180), they orchestrate their teams' offenses in similar fashion - which is to say, they initiate everything and pull all the strings. After all, Doncic and Young rank first and second in the league in time of possession, respectively.
The pick-and-roll is the staple food of the modern offensive diet, and few players choreograph that dance as creatively or effectively as Doncic and Young do. At 20 and 21 years old, respectively, they're already two of the five best passers in the NBA, each blessed with a lethal combination of dexterity, vision, and gumption. They not only see passing angles and possibilities that others cannot, they have the skill and the daring to deliver those passes with accuracy and velocity - to thread the ball through tight spaces or sling it the width of the court faster than rotating defenders can catch up to it.
Variety and unpredictability are key. These guys are just as likely to toss lobs to rolling big men as they are to fire crosscourt bullets to corner shooters while weak-side defenders are lurching into the lane to tag those roll men. If a defense is savvy and disciplined enough to take away both options, they'll probe incrementally and patiently until a defender finally either bites on a hesitation or collapses, or otherwise commits in one direction or another, opening up kickouts and interior shovel passes.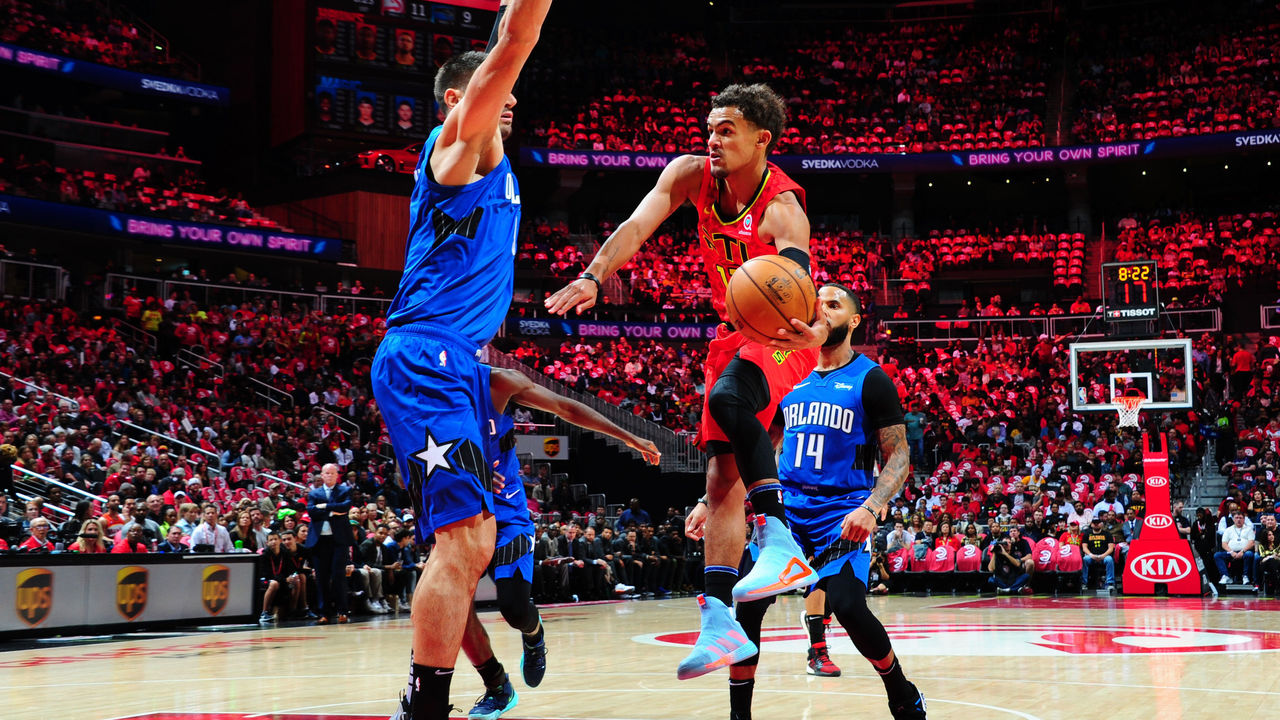 Of course, Doncic and Young wouldn't be able to leverage the full force of their playmaking genius if they both weren't also major scoring threats. They have, in fact, been two of the NBA's most efficient high-volume scorers this season. The fear they incite as scorers allows them to warp defenses by drawing extra attention and then use that attention to feed the open man with a mix of fastballs and changeups that only a handful of guys in the league can locate.
They do their scoring in slightly different ways. Young comes around screens and steps into pull-up threes from as far out as the logo or shakes free for them by juking away from screens with nasty right-to-left crossovers. Doncic is more of an isolation artist who likes to dance with defenders before either separating for his step-back jumper or using the threat of it to burrow into the lane. When they're forced inside the arc against drop-back schemes and the screen defender opts to protect against the lob, they have two of the most buttery floaters in the game. Young is shooting an incredible 58.8% from floater range, while Doncic is at 56.5%.
Doncic can bully smaller defenders on switches, while Young can embarrass bigger guys with vicious dribble combinations. Young's size deficit means he doesn't get to the basket quite as often or finish as efficiently there as Doncic, but he's more likely to draw two opponents to the ball on high screen-rolls because he's demonstrated a bit more range, a quicker release, and greater 3-point accuracy.
Doncic's Mavericks are a lot further along than Young's Hawks, but don't hold that against Young. Doncic is surrounded by more capable shooters and a plethora of athletic dive men, not to mention a dynamic secondary scorer in Kristaps Porzingis. Young has a bouncy pick-and-roll partner in John Collins - who was suspended 25 games for testing positive for a banned substance - but not a whole lot else. Young is forced to carry his team, as Atlanta scores almost 16 more points per 100 possessions with him on the floor.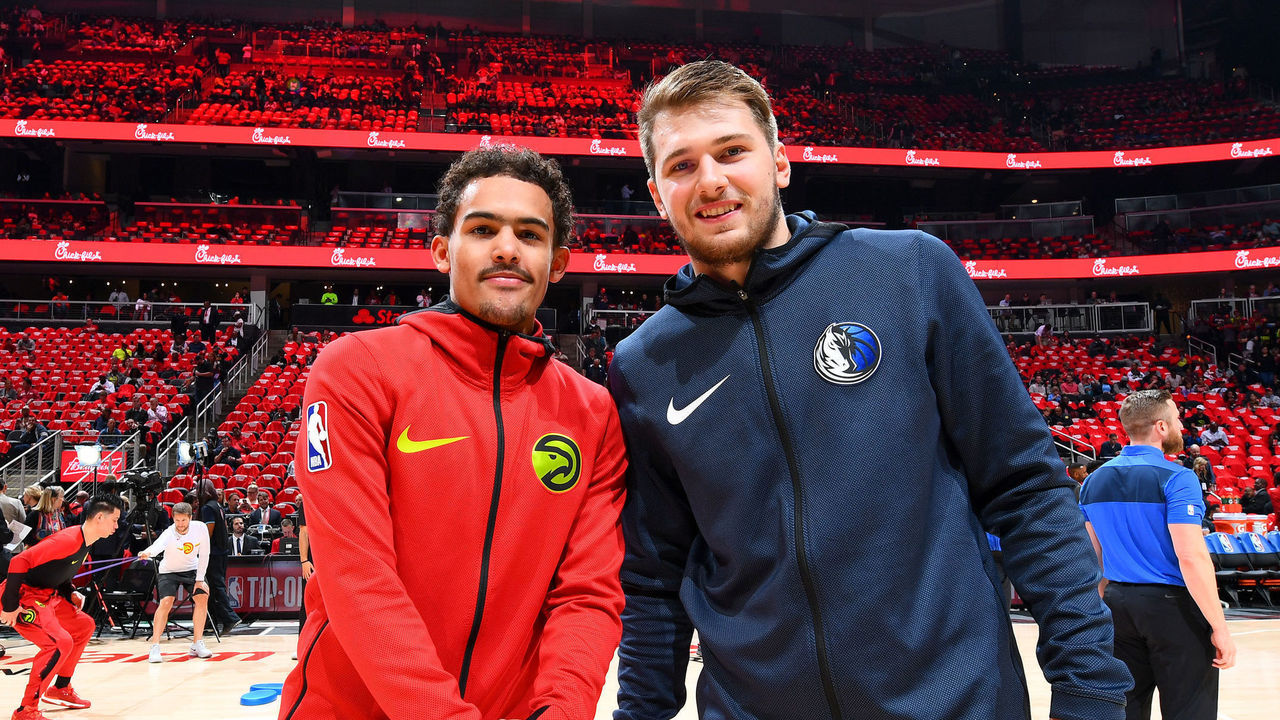 The comparisons between the two will persist, but the important thing at the moment is that they already look like franchise anchors and have given their respective organizations a future worth believing in. The Mavericks spent years fumbling around in the dark, trying in vain to land star talent while languishing in the lottery during Dirk's post-prime era. They pounced on their chance to trade up for Doncic when the Suns and Kings passed on him, and his immediate impact as a rookie made it worth their while to pony up for a second young star in Porzingis. The Hawks recently put together a decade-long playoff streak, only to see themselves become NBA shorthand for aspirational limitations and the treadmill of good-but-not-greatness. They staked their hopes of finally escaping those constraints on Young, now the foundation of what they envision as a Warriors-style roster construct.
Doncic has a leg up for now, and the smart money would be on that remaining the case. He's simply easier to build around because of his size and positional versatility. His point guard skills are equal to Young's, but he isn't bound by point guard size. Even after putting on some muscle in the offseason, Young is wispy (and not just follicly) and will almost certainly never be an above-average defender. Even getting to average would be a massive development.
But that doesn't necessarily mean the Hawks will regret their choice. Each guy can do things the other cannot, and if both continue their ascent, it's possible the trade will eventually stop mattering because they'll both be so good - and their respective teams so specifically tailored to fit their respective games - that choosing between them will become more a matter of style and taste than objective quality.