The Clippers struck the first blow in the battle of L.A., overwhelming their Staples Center cohabitants on Tuesday night to notch a 112-102 victory against the Lakers.
Here are some takeaways from the opening salvo in what promises to be a fascinating season-long tussle between two newly formed juggernauts.
An Achilles' heel for each defense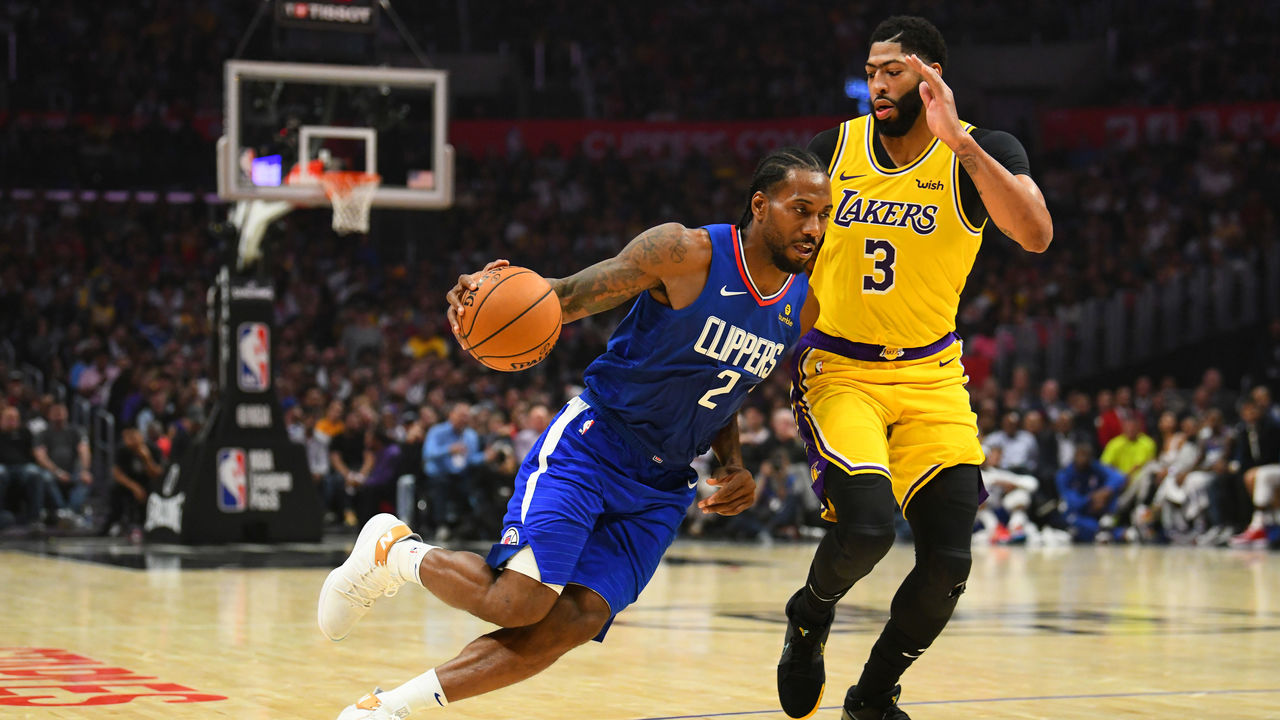 In Anthony Davis' and Kawhi Leonard's debuts with their new teams, each superstar exposed and exploited the cracks in the opposing defensive foundation.
As Davis got going inside, the Clippers' lack of interior defense became fairly evident early on. They don't have a ton of size in the middle outside of Ivica Zubac, and Zubac's reads and feet are a beat too slow for him to be trusted as a back-line anchor (the Clippers' team defense was a mess with him on the floor). That mostly left smaller guys to wrangle with Davis, without much help behind them on switches or fronts.
The Lakers' offense was a bit janky, and they had Davis post up a startling amount (more on this in a minute), but he justified the tactic to an extent by scoring 1.24 points per post-up possession.
At the other end, the Lakers faced their own problem: They didn't have a viable option to stick on Leonard, who repeatedly got to his spots and pulled up for unperturbed, feathery jumpers. The Lakers' wing defenders just can't physically bother him at all - Avery Bradley's too short, Kentavious Caldwell-Pope's too slight, and Danny Green's too slow. None of them had the strength to deter Leonard from getting exactly where he wanted to go.
As a consequence, Leonard drew a lot of extra attention, and his passing was quite sharp, whether it came on the move or out of the post. The Clippers shot 6-of-9 from the field and 2-of-3 from distance off of his passes.
Physically, LeBron James seems like the obvious guy to guard Leonard, but he didn't spend much time on him during this game, and he hasn't been a priority-assignment defender in the regular season for a minute. It's unclear if James can even be one in the playoffs at this point. How the Lakers will manage against the Clippers' offense when Paul George returns is a troubling thought.
Curious deployment of AD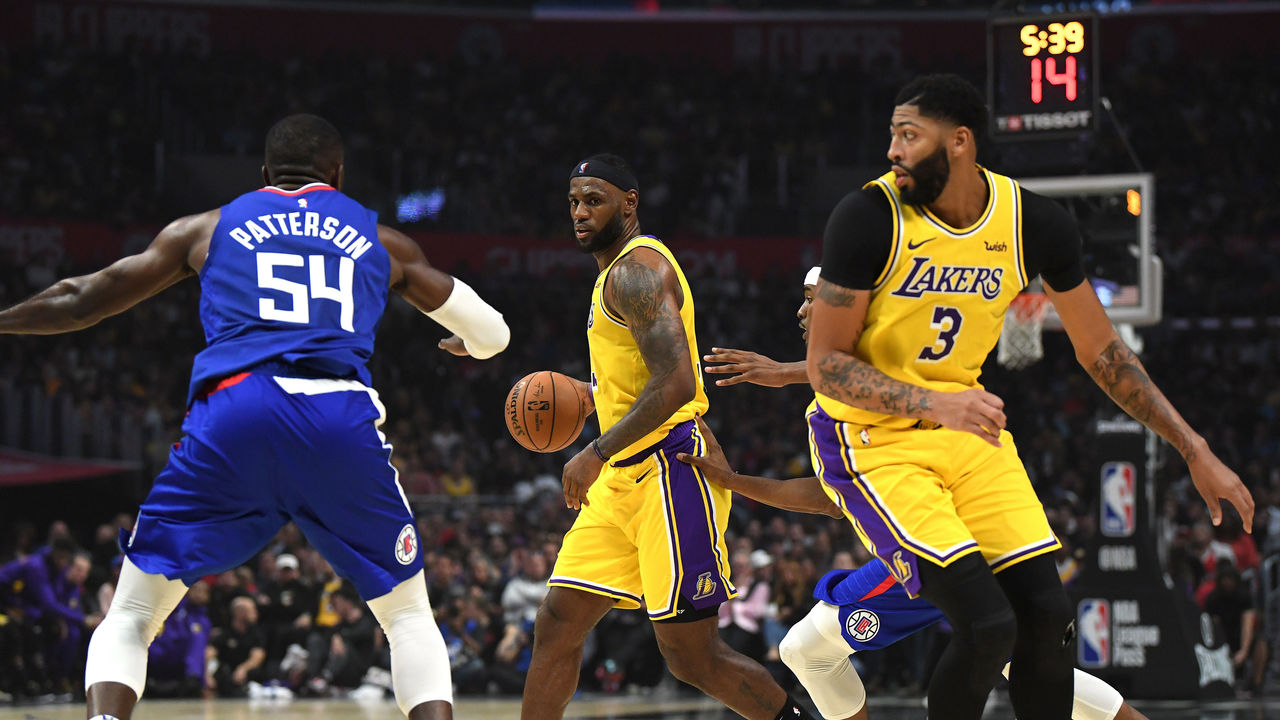 Part of what makes the James-Davis pairing so tantalizing is the idea of them running pick-and-rolls together; the league's best creator and one of its best above-the-rim finishers moving in perfect lockstep in an unstoppable two-man tango.
It was a little head-scratching, then, to see the Lakers all but abandon that dance number on Tuesday night. Rather than use Davis as a screener or a dive man, they repeatedly had him post up, and in some cases spot up, while LeBron scanned the floor and looked to throw passes over the top. The two weren't nearly as connected on offense as one would've expected, with LeBron recording just one assist to Davis.
There could be a couple of explanations for why the Lakers deployed Davis this way - one being that they could exploit his size advantage in one-on-one matchups near the basket (the Clippers were reluctant to send double-teams and Davis was scoring pretty efficiently on those post-ups). But the biggest reason is that there wasn't enough room for Davis to roll effectively when he was playing next to non-shooting centers in JaVale McGee or Dwight Howard.
There were a bunch of possessions that featured Davis chilling in the corner while McGee was involved in the central screening action with LeBron. Realistically, that's a better use of McGee than having him stand in the dunker spot and muck up the Lakers' spacing, but ideally they'd be playing Davis at the five and not have to worry about it.
To wit: On the rare occasions when the Lakers did run the LeBron-Davis pick-and-roll in the two-big configuration, the Clippers switched it, knowing that if necessary there would be help in the lane and at the rim because the Lakers had no semblance of a shooting threat at the center position.
That basically played into the Clippers' hands, allowing them to get away with their lack of rim protection by just loading up on LeBron's drives and trusting themselves to recover to their original assignments.
So much of Davis' offense was stationary. There was minimal effort to get him the ball on the move, to use him as a lob threat, to get him posted off cross screens, or even to get him rolling into post-ups against switches. Making matters worse, the Lakers threw a bunch of sloppy entry passes that the Clippers (mainly Moe Harkless) gleefully picked off.
Davis has been clear that he doesn't want to play center, but the cost of that insistence is spending extended time drifting on the perimeter while LeBron runs pick-and-rolls with McGee. He's not a good enough shooter, and he's too good at everything else, to be used as a floor-spacer.
For what it's worth, the Lakers did play the Davis-LeBron combo with no other big man on the floor for 10 minutes - and got outscored by five points.
A clear depth disparity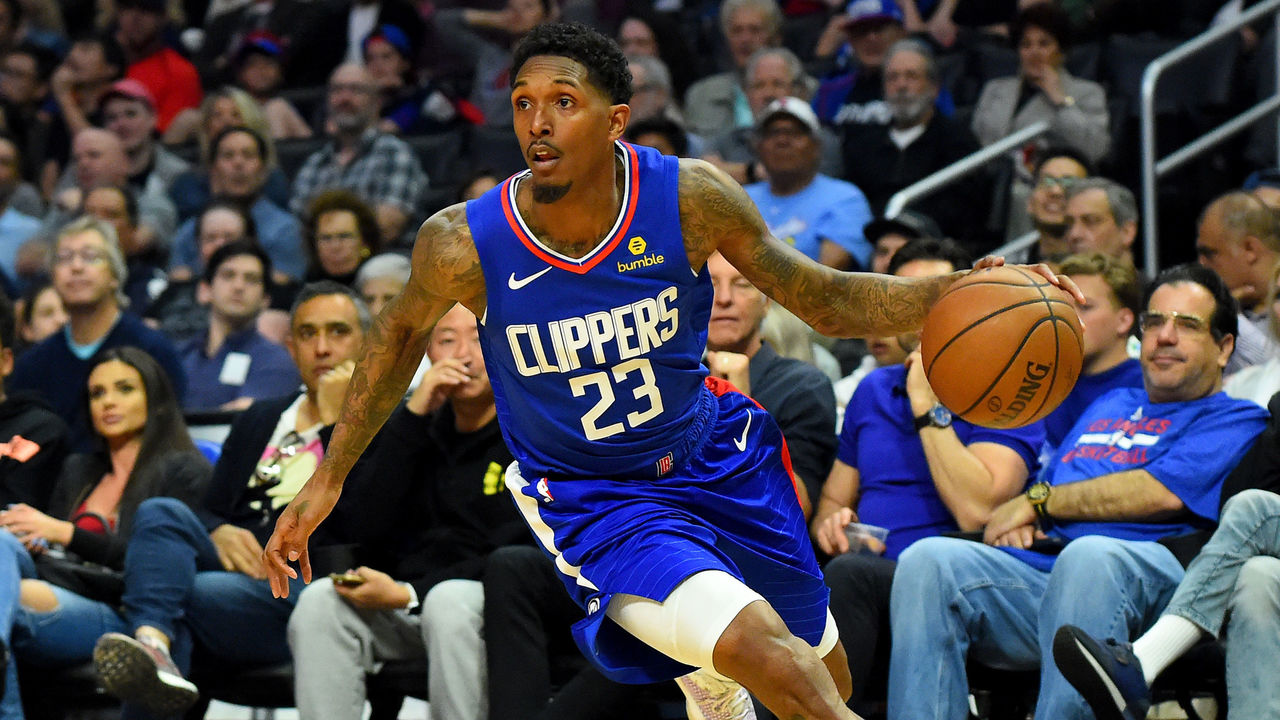 The Lakers' starters got off to a hot start, but as the game progressed, the Clippers steadily worked them over with a vastly superior nine-man rotation, outscoring the Lakers 60-19 off the bench. And they did that with George, last year's third-place MVP finisher, in street clothes (or prom clothes, whatever).
Granted, Kyle Kuzma's absence bumped everyone up a notch in the rotation and overextended some members of the supporting cast. But the Lakers are still going to need more from Caldwell-Pope, Quinn Cook, and Jared Dudley. It's also not entirely clear why Alex Caruso got DNP'd while Cook and Troy Daniels combined for 33 minutes.
For the Clippers, the Lou Williams-Montrezl Harrell two-man game is still very much alive and well, with their pick-and-roll as lethal as ever. Despite coming off the bench, the two of them wound up leading the Clippers in minutes (37 for Williams, 38 for Harrell) and plus-minus (plus-13 and plus-15, respectively). Passing figured to be one of the Clippers' rare deficiencies this season, but Williams has turned himself into an elite playmaker, and he somehow gets better at it every year.
On Tuesday, he carved the Lakers up off the dribble and got defenders to lurch and overcommit before either pulling up or slipping passes to open teammates. Overall, Williams racked up seven assists, with four of them going to Harrell for dunks or layups and the other three producing 3-pointers for Leonard or JaMychal Green.
Meanwhile, the Lakers predictably got very little in the way of offensive creation outside of their two tentpole stars. That lack of secondary playmaking may not matter on most nights, but against this Clippers team, it's clearly going to be an issue. And banking on Rajon Rondo to be the remedy, given what else he's liable to take off the table, feels foolhardy. Green is a wonderful complementary piece, as he proved with an absolutely torrid shooting performance, but he can't dribble or pass. The Lakers as currently constructed can't afford to play meaningful minutes without one of LeBron or Davis on the floor.
Kuzma's return will at least bolster their secondary scoring. But big-picture, George figures to be a much more impactful addition to this matchup than Kuzma does, so it's difficult to see the Lakers closing the depth gap.
Big Clips energy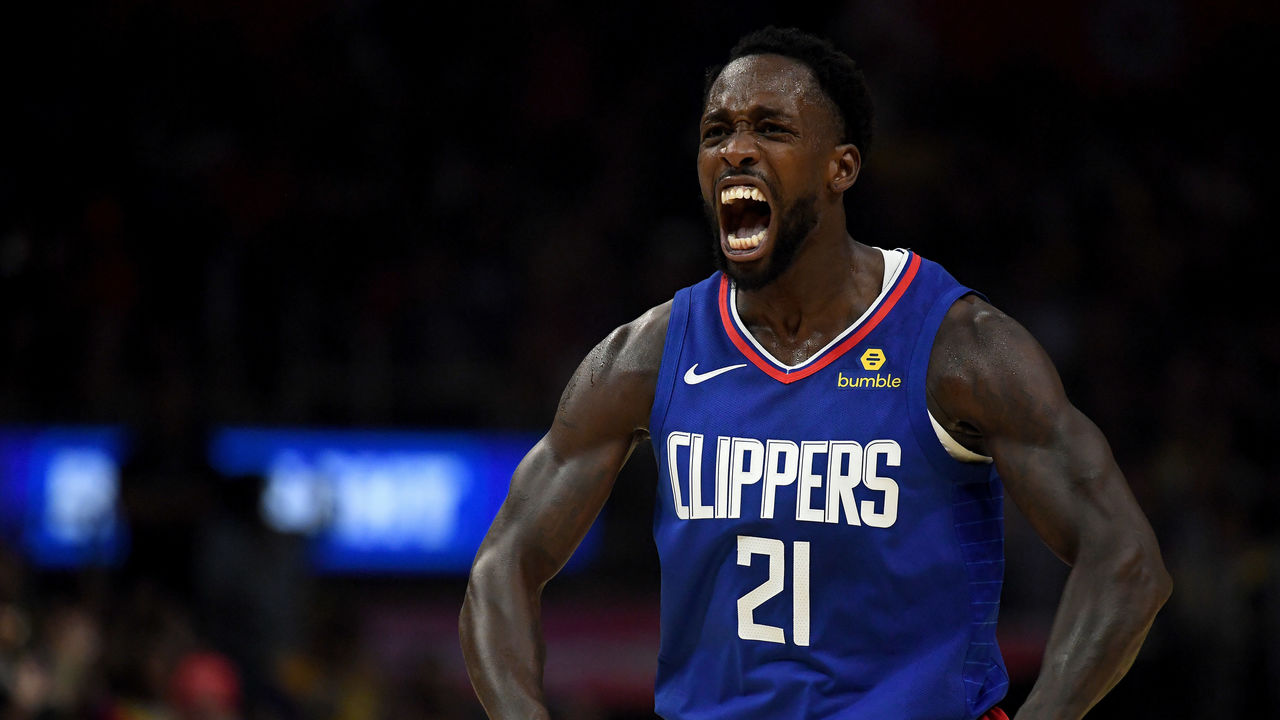 It sounds pat (no pun intended), but it's worth noting that the Clippers played with far more energy and force than the Lakers, who looked totally unprepared for the level of effort their opponent brought to Game 1 of 82. The Clippers demolished them in the hustle stats (deflections, loose balls recovered, box-outs), and those numbers were supported by the eye test. As much as any tactical deficiency, the Lakers lost because they got outworked.
The Clippers' effort and energy was personified by Patrick Beverley, Harrell, and Harkless. If you've paid attention to the NBA over the past few years, those first two names won't surprise you. The third one might. The Clippers were somehow compensated with a first-round pick just for absorbing Harkless' $11-million expiring contract in the offseason. But far from being dead-weight salary, the erstwhile Trail Blazer had his fingerprints all over this game, particularly at the defensive end.
Harkless switched across all five positions, got his hands on every ball in his vicinity, and spurred the Clippers' transition game. All told, he recorded five deflections, four steals, and two blocks. He guarded LeBron down the stretch and helped the Clippers completely neutralize him. It was a team effort, but Harkless provided the necessary resistance at the point of attack, which allowed the layers of help behind him to get set. This team really has an embarrassment of riches on the wing.
Harkless and Beverley demonstrated why the Clippers' lack of interior defenders may not be such a crisis. When the first line of defense is airtight, it takes a lot of pressure off of the back line.
For his part, Beverley did all manner of Beverley things: Pestered LeBron on the perimeter, took a charge from a rampaging Davis, tied Davis up and forced a jump ball with a textbook dig, slid over to bust up an alley-oop, and snagged an incredible, back-breaking offensive rebound late in the fourth quarter.
This was just diabolical disruption from both guys:
Harrell, as is his wont, overwhelmed the Lakers with his relentless aggressiveness while rolling to the rim and crashing the boards.
Bottom line: The Clippers are good enough to coast on talent, but it's clear that's not in their DNA. They're going to do it with grit as well.