Zion's hype is driving a robust rookie-card market
Michelle Farsi / NBA / Getty Images
After early returns for Zion Williamson's first rookie cards shocked dealers and hobby executives, the next question is obvious: Where is the ceiling?
"The ceiling?" said Ryan Veres of Burbank Sportscards in Burbank, Calif. "There is no ceiling."
Williamson's initial cards sold for as high as $5,900 online after being released at the 2019 National Sports Card Convention in Chicago two weeks ago.
Panini, which announced its signing of Williamson to an exclusive autograph deal just days before the NBA rookie photo shoot last weekend, inserted versions of his numbered rookie card, with varying scarcity, in the company's silver and VIP gold premium packs at the convention. Those packs, a free giveaway to both random and high-valued customers, have typically been an afterthought in the hobby community.
But the base version of Williamson's rookie card is selling for more than $70, and parallel cards, limited to 299, sold for more than $250. Those cards have now settled at about $120 on average; one version - limited to just one copy and with a diamond affixed to the card (yes, you read that right) - commanded $5,500 in an online auction.
For comparison, the unnumbered base version of Luka Doncic's 2018 The National VIP card sells for less than $10, and even that value is historically high compared to other recent top rookies, such as Jayson Tatum and Karl-Anthony Towns.
"Day 1 prices, we've never seen this," Veres said. "We thought Lonzo (Ball) was hyped in '17-18. The first day I got back from the National, I had 20 customers, basically in a row, asking me about the National packs. … We'd only gotten a limited amount, but I could've gotten more. I made the mistake of not getting enough.
"I was getting $8 to $10 a pack, and the only thing I was hearing was just Zion. No one cares about anything else. A $200 base card. A guy brought in a blue parallel out of 15 looking for $600. I thought, 'No way.' Then I looked it up on eBay, and $600 was about right."
With early sales so high, industry insiders are rethinking their plans.
Prices for unopened basketball card products were already expected to rise for the 2019-20 season, and not just because of Williamson, the high-flying New Orleans Pelicans draft pick who became an Instagram sensation before he was old enough to drive.
Memphis' Ja Morant and the Knicks' RJ Barrett, the No. 2 and No. 3 picks in the NBA Draft, respectively, are also making collectors excited, and the rookie class is expected to be strong overall.
"When you have an opportunity with a class, you go with it," said Jason Howarth, Panini's vice president of marketing. "There are some great athletes in this class - Ja and RJ are going to be really compelling, and Rui Hachimura, being the first Japanese player, there is another anticipation for him.
"But when you get a guy like Zion, who gives us the ability to say, 'Oh my god, I need to get this guy's card,' people come in who haven't thought that in who knows how long."
Panini received some evidence of Williamson's burgeoning cardboard popularity on draft night when its direct-to-consumer Panini Instant rookie cards were released, which, Howarth said, "outsold any athlete in any other sport."
"And that was just (with a picture of) him crossing the stage in a white suit," Howarth added.
For some of Panini's more coveted products - including the premium National Treasures and Immaculate lines, unopened boxes that command over $500, and the lower-priced but highly valued Panini Prizm - Williamson and this rookie class might send prices into the stratosphere.
"The basketball product is so exciting now," Howarth said. "There are so many stars in the league. You add a Zion on top of the guys who are already there? I can't wait for our products to come out just to see what happens.
"We've got double-digit growth at Walmart and Target, and that means we're bringing in new consumers. … You want to measure some of the expectations, but he can be a guy who bridges the gap (to youth)."
Can Williamson bring kids back to a hobby that's been rapidly fueled by speculation and investment?
"Zion is going to increase so many more sales for (low price-point products such as) Hoops and Donruss, and he's going to drive people into Walmart, Target, and our hobby shop," said Thomas Fish of Blowout Cards, one of the biggest online sports card retailers. "People come in and ask 'where can I get the Zion card?'
"He's one of the first guys who is coming from the Instagram generation," Veres said. "It's only the last couple years the dunk reel thing has been a phenomenon, and Zion has been in the making for two or three years there and it's coming to fruition now."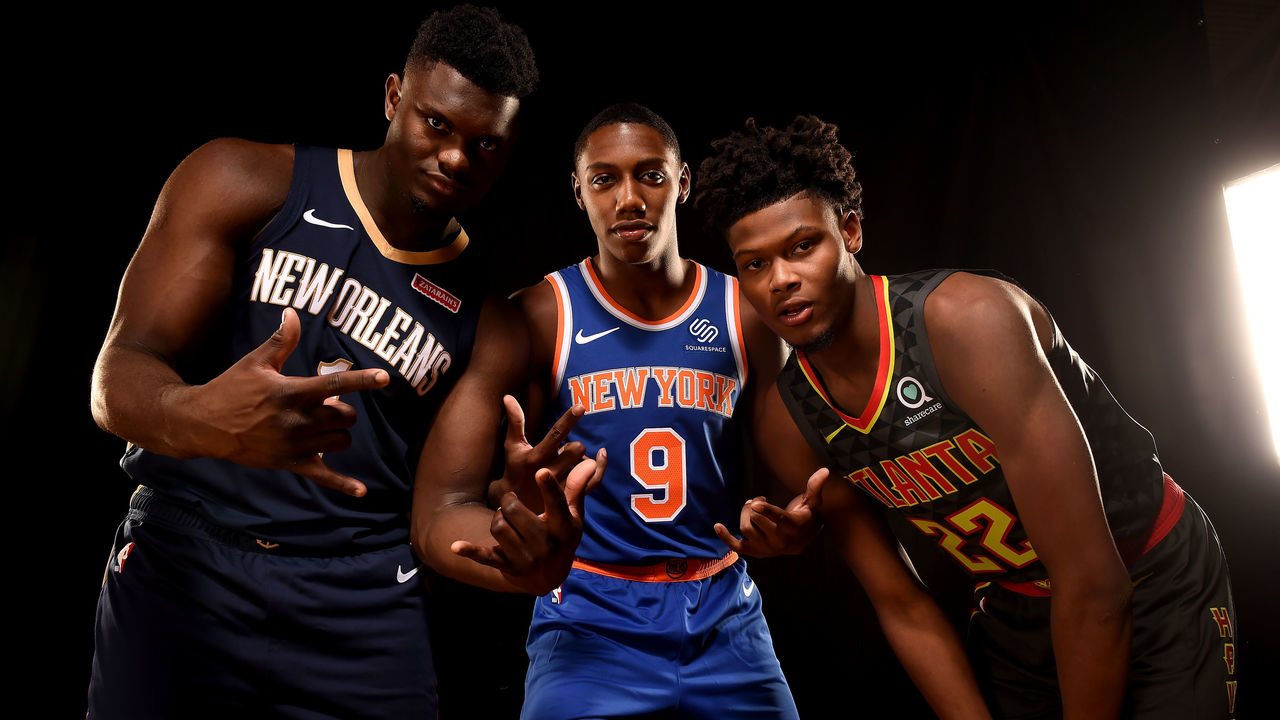 Fish is now replacing the Panini silver packs in his inventory at the same cost as what he sold the product for last week. He's been in the industry for more than three decades and hasn't seen anything like this.
"The inquiries, the traffic on the web site, people in the retail store, the hype at the national (convention), the selling we're doing of the Panini silver packs - the chase is on for Zion. It's already started," Fish said.
"It's hard for me to think of anything that comes close. Some guys were saying it's the biggest hype since LeBron. I actually believe it's bigger."
Fish is now starting to worry about whether Williamson's on-court play can back up what's been invested in him during this buying frenzy.
"It's so high, so high, that I'm afraid nothing can live up to the hype," he said. "That's how crazy it is. It's all going to depend on how well he does. If he does well, they're going to televise the guy, kids are going to watch. Is he going to be the next megastar in basketball?"
Williamson will get a platform immediately. The Pelicans will be shown on national television a franchise-record 30 times during the 2019-20 season, including six of Williamson's first 10 games. If he gets off to a hot start, the industry will feel it.
"Prizm comes out after the season has been going for a couple months," Veres said. "At that point, you know who is going to be good. If Zion starts off running, it's going to exponentially drive it."
"I can't imagine how crazy it is just from the sale of the silver packs," Added Fish. "It's so crazy that product orders haven't even been solicited by Panini, we haven't even been given out product information, and people are already asking. We don't know the price, don't know when it's coming out yet. They just want to buy."
Those who don't collect cards might wonder what's motivating the rush.
"They want a piece of Zion," Fish said. "That's what collectors want."
Comments
✕
Zion's hype is driving a robust rookie-card market
  Got something to say? Leave a comment below!