The Toronto Raptors came back from a 12-point third-quarter deficit to beat the Milwaukee Bucks on the road and take a 3-2 series lead in the Eastern Conference finals Thursday.
Behind another incandescent two-way performance from Kawhi Leonard, another airtight defensive showing, and a major lift from Fred VanVleet off the bench, the Raptors handed the Bucks their first three-game losing streak of the season and moved within a game of the franchise's first-ever NBA Finals appearance.
Here are some takeaways from Toronto's victory.
Kawhi's decisively winning the superstar battle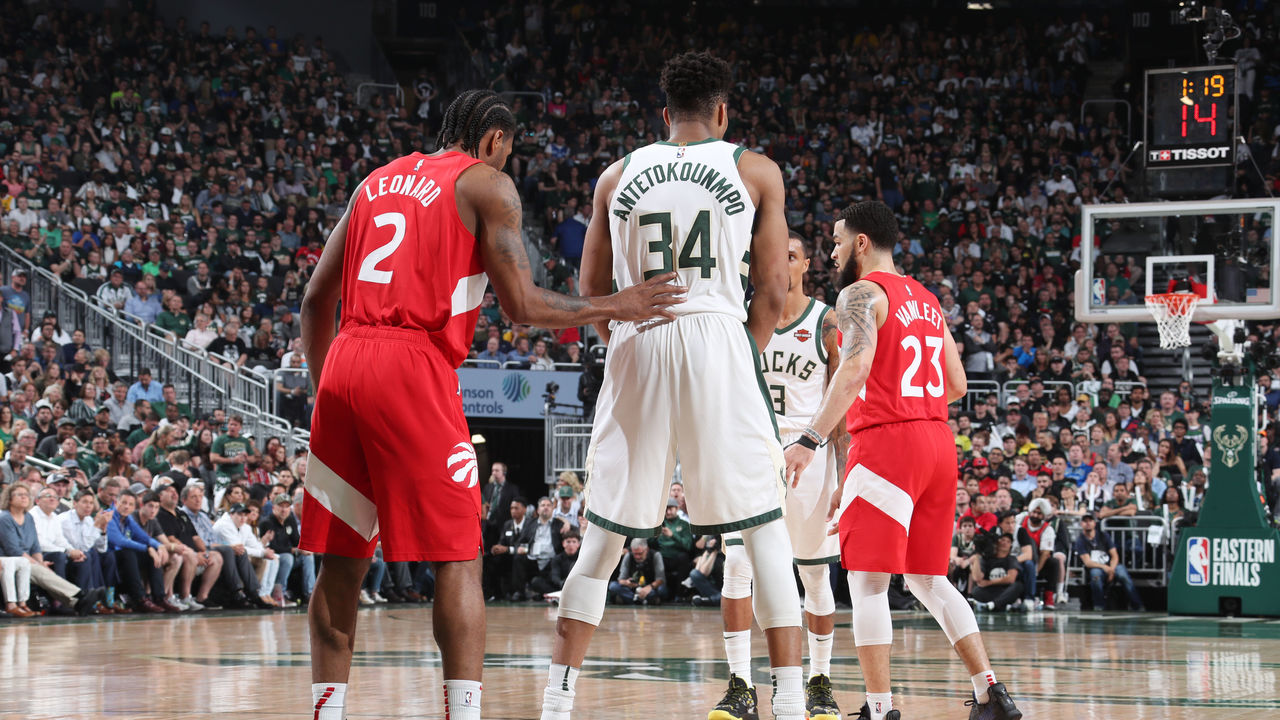 In a series between two teams as closely matched as the Bucks and Raptors, the outcome tends to be determined by which team's best player outplays the other. Giannis Antetokounmpo had the edge through the first two games, but since Game 3, when Raptors coach Nick Nurse adjusted by making Leonard the primary defender on Antetokounmpo, that balance has shifted significantly.
This was Leonard's finest game in a series full of them. On top of his flummoxing defense and clutch shot-making, he finished with nine assists - a season high. That ... wasn't supposed to happen. In Game 4, Leonard's mobility appeared to be seriously compromised due to a leg injury; he struggled to create separation, his jump shot was routinely short, and his handle was sloppier than normal because he seemed too stiff to keep it low. The Bucks were trapping him and showing him multiple extra bodies all game, but his individual output didn't justify the amount of defensive attention being paid to him. Instead, those traps seemed to let him off the hook and opened things up for the rest of the Raptors.
The Bucks scaled back their pressure and played him more conservatively in Game 5. They still shaded extra defenders toward him, but sent fewer traps and were more willing to defend him one-on-one. Leonard, looking a whole lot spryer than he did Tuesday night, responded by repeatedly getting into the teeth of Milwaukee's defense and collapsing it from within, then lasering kickouts to the perimeter. Incredibly, all nine of his assists led to 3-pointers.
The Bucks also switched Leonard pick-and-rolls a lot more than they had in the previous four games, and Leonard was able to take advantage of that too. In the fourth quarter, when he scored 15 of his 35 points, he hit consecutive pull-up threes over Brook Lopez on switches that put the Raptors in the driver's seat (though one of Lopez's contests was perfectly acceptable).
Antetokounmpo, conversely, wasn't as good as the Bucks needed him to be. Leonard's defense continues to give him fits, and Giannis seems vexed by his inability to remove the two-time Defensive Player of the Year from his path with either agility or strength. Leonard straight-up ripped the ball away from him at one point in the second quarter, and on a handful of other possessions simply planted himself between Antetokounmpo and the rim, slid his feet with him, followed his drive all the way to the hoop, and forced off-balance layup attempts. It doesn't help that the presumptive MVP has forgotten how to shoot free throws (he went 4-of-9 in this one).
Despite hitting two of his three 3-point attempts, Antetokounmpo finished with just 24 points on 24 used possessions.
Fatherhood is the new market inefficiency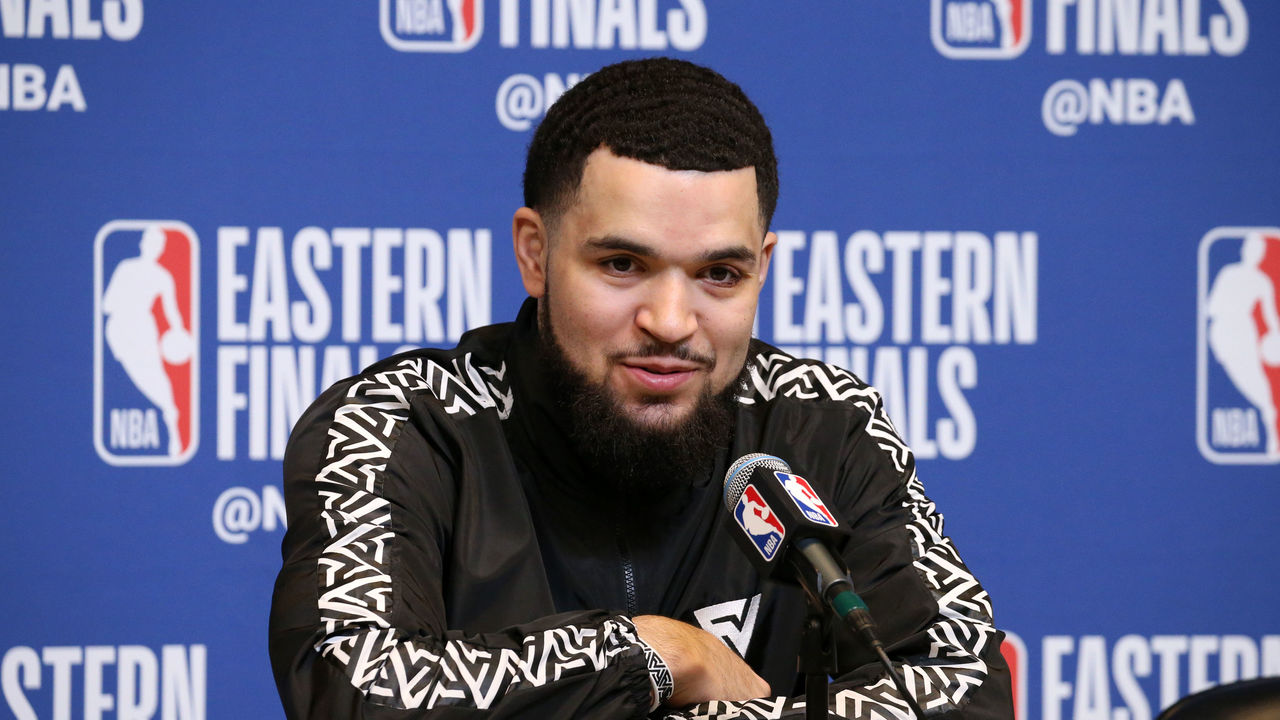 The biggest beneficiary of Leonard's playmaking was VanVleet, who hit four of his seven 3-balls off assists from Leonard.
VanVleet had been mired in a catastrophic postseason shooting slump (25.6 percent from the field, 19.5 percent from deep) before breaking out in Game 4. Afterward, he revealed to reporters that he and his girlfriend had welcomed their second child, Fred Jr., the night before, and said the experience had been clarifying. After a wild 48 hours that included two trips to Rockford and two overnight stays in the hospital, VanVleet was back at it again Thursday, putting his struggles behind him in even more resounding fashion.
He shot 7-of-9 from deep, outscoring the entire Bucks bench by himself. (He's 10-of-12 from three the past two games after going 8-of-41 in the playoffs before then.) His defense was strong in the ways it usually is - great dig-downs in the post, excellent ball denial - and also included one bonus possession in which he stoned Antetokounmpo on a drive in single coverage. He was a game-high plus-28.
His biggest moment came immediately after a Lopez three tied the game with under three minutes to play. The Bucks had rallied from eight points down, the Raptors were wobbling, and Fiserv Forum was going berserk. Leonard drove on Malcolm Brogdon, got to his spot at the right elbow, and rose for what looked like a clean jumper. But Brogdon swiped down and caught a piece of the ball, causing it to slip from Leonard's grip as he went up and forcing him to bail out in midair. VanVleet flashed off a flare screen from Marc Gasol on the right wing and came up ready to fire. He caught Leonard's kickout and nailed the biggest shot of his life.
After the game, VanVleet described his newfound formula for success: "Zero sleep, have a lot of babies, and go out there and let loose."
More tangibly, playing off the ball more has helped drive his turnaround. He wasn't dominating possession or over-dribbling; instead, he showcased his off-ball savvy and knack for relocation. All seven of his made threes came off the catch. For the postseason, he's now shooting 42.4 percent on spot-up threes, compared to just 20 percent off the dribble.
Raptors keep smothering Bucks in the half court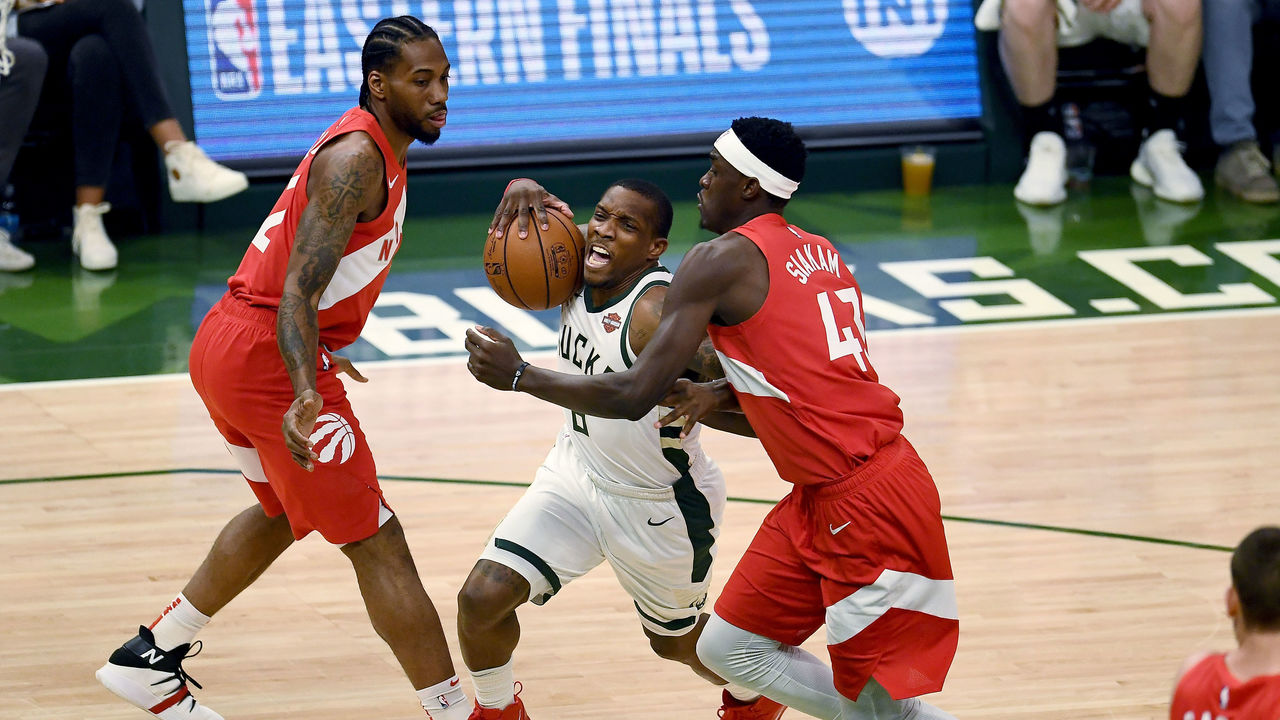 A running theme of this series is that the Bucks need to be running. Once they get bogged down in the half court, they can't solve the Raptors' defense.
When the court shrinks, Toronto's length, switchability, intelligence, and recovery speed are giving Milwaukee fits. Kawhi is doing his thing on Giannis, but it takes a village to slow down this Bucks offense. Gasol has done a masterful job patrolling the back line, Pascal Siakam is switching across every position and blowing stuff up with timely rotations, and Kyle Lowry and VanVleet are denying the ball, getting into the body, and shutting down bigger guys in the post.
Every time Antetokounmpo looks to drive from up top, two extra guys are ready to meet him at the elbows. The threat of Lowry's charge-drawing has seemingly gotten into his head at times and made him hesitant to attack mismatches, while the threat of Leonard's meat hooks has made him pick up his dribble early.
This initially looked like a game in which the Bucks would make hay in the open floor. They raced out to a 14-point lead by running like mad off of defensive rebounds and live-ball turnovers. But after a shaky first quarter, the Raptors settled into an offensive rhythm, started hitting shots, and took much better care of the basketball. They finished with six turnovers and just two in the final three frames. The Bucks' transition opportunities dried up, and ultimately, so did their offense.
It's worth noting how dramatically the Raptors have tilted the math that once seemed to be working against them. They out-rebounded the Bucks on the offensive glass, including a couple absolute back-breakers from Leonard and Gasol late in the fourth. They got up 12 more 3-point attempts than the Bucks, outscoring them 54-30 from beyond the arc. And they decisively won the free-throw battle.
That's how you win a game in which you shoot 37 percent from the field.
Milwaukee made the right rotation adjustment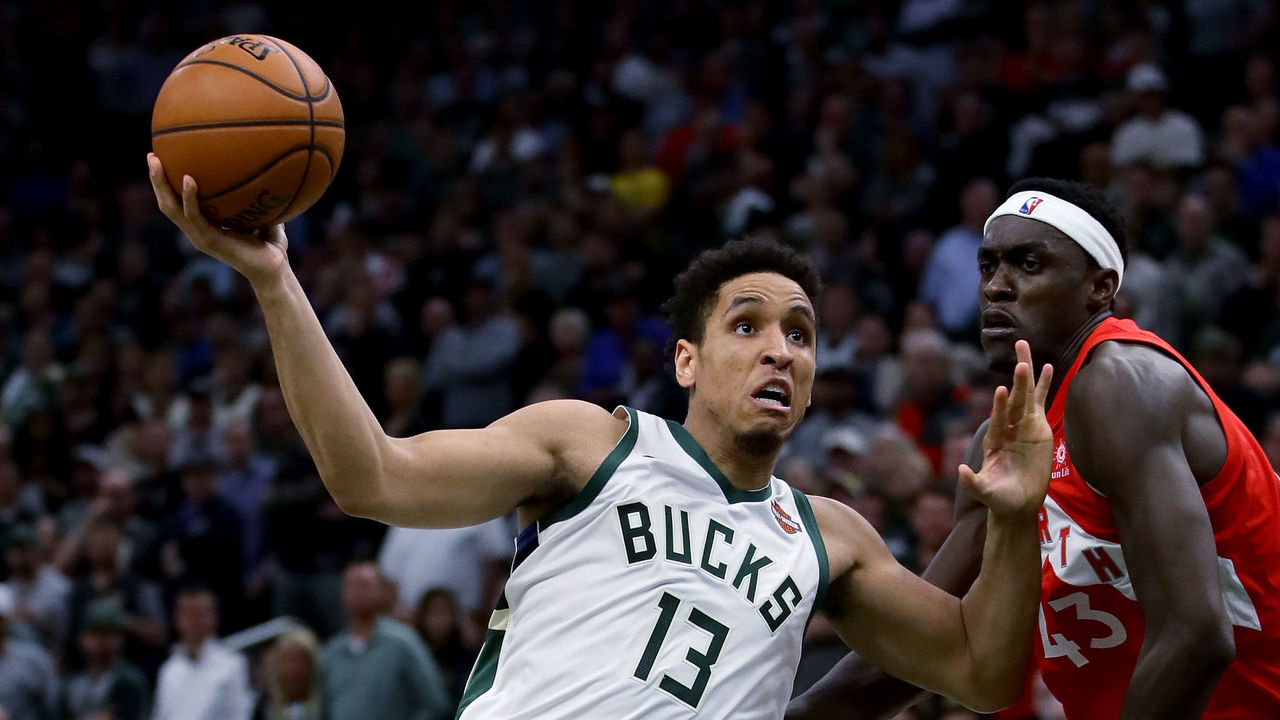 Though it didn't produce a win, Mike Budenholzer absolutely made the right decision by replacing Nikola Mirotic with Brogdon in the starting lineup.
Brogdon might have been Milwaukee's best player Thursday, finishing with 18 points, 11 rebounds, and six assists. The Bucks were a plus-18 in his 34 minutes, and a minus-23 in 14 minutes without him. He's one of the few Bucks players who has effectively attacked the Raptors' set defense in this series.
The most obvious advantage he brings over Mirotic is his ability to put the ball on the floor. The Raptors have done a great job closing out to the 3-point line, and where a lot of the Bucks' complementary players have responded by picking up their dribble or swinging the ball or otherwise dithering, Brogdon has just zoomed into the lane, finishing with floaters or tough reverse layups.
The downside to the move is that Milwaukee's bench, which looked like one of its biggest advantages early in the series, sorely missed him. Mirotic seemed like a huge get when the Bucks acquired him at the trade deadline, but he's giving them absolutely nothing right now. He can't hit shots, he's getting targeted defensively, and he's not making his size felt on the glass or in the post. In the first quarter of Game 5, he got VanVleet - a guy who is a full foot shorter than him - on a switch. He wound up shooting, and missing, a 15-foot turnaround fadeaway. Ersan Ilyasova and Pat Connaughton were similarly ineffective.
That doesn't change the fact that starting Brogdon was the right call. The Bucks just need to play that lineup together for longer. Their depth has been a strength throughout the season, but there's no time for that now. They're on the brink of elimination.
Quote of the game
"I keep telling these guys, there's a little bit of grit n' grind in that locker room now." - Gasol, to Grind City Media's Michael Wallace, on the Raptors' toughness.
What to watch for
Antetokounmpo appeared to twist his right ankle while trying to pressure Leonard in the backcourt with just over a minute left in the fourth quarter. He was removed from the game a few seconds later as Leonard went to the free-throw line.
He re-entered after just 30 game-clock seconds, but the fact that he had to be pulled out for any amount of time at such a pivotal moment - that the Bucks played an offensive and defensive possession without him, despite holding a pair of timeouts, in what was then a one-possession game - made it feel like a cause for concern.
Antetokounmpo dealt with a sprain in the same ankle down the stretch of the regular season. Everyone's nicked up in some way, shape, or form at this time of year, but for a Bucks team that needs every edge it can find to pull out Game 6 in Toronto, Giannis being less than 100 percent could be a death knell.