At the Jordan Classic, high schoolers are building brands beyond their years
LAS VEGAS - As Cole Anthony finally made his way back to the locker room following the 2019 Jordan Brand Classic high school basketball all-star game, a horde of children looked at each other as if they'd just been introduced to an icon.
They danced and high-fived. Some even had to pick their jaws off the ground.
Anthony, one of the young stars they'd just watched play at T-Mobile Arena, was here among them, signing autographs and doling out fist bumps, minutes after he was named MVP for the Away Team after a 132-125 loss to the Home Team and its MVP, Memphis-bound James Wiseman, the top-ranked college recruit in the country.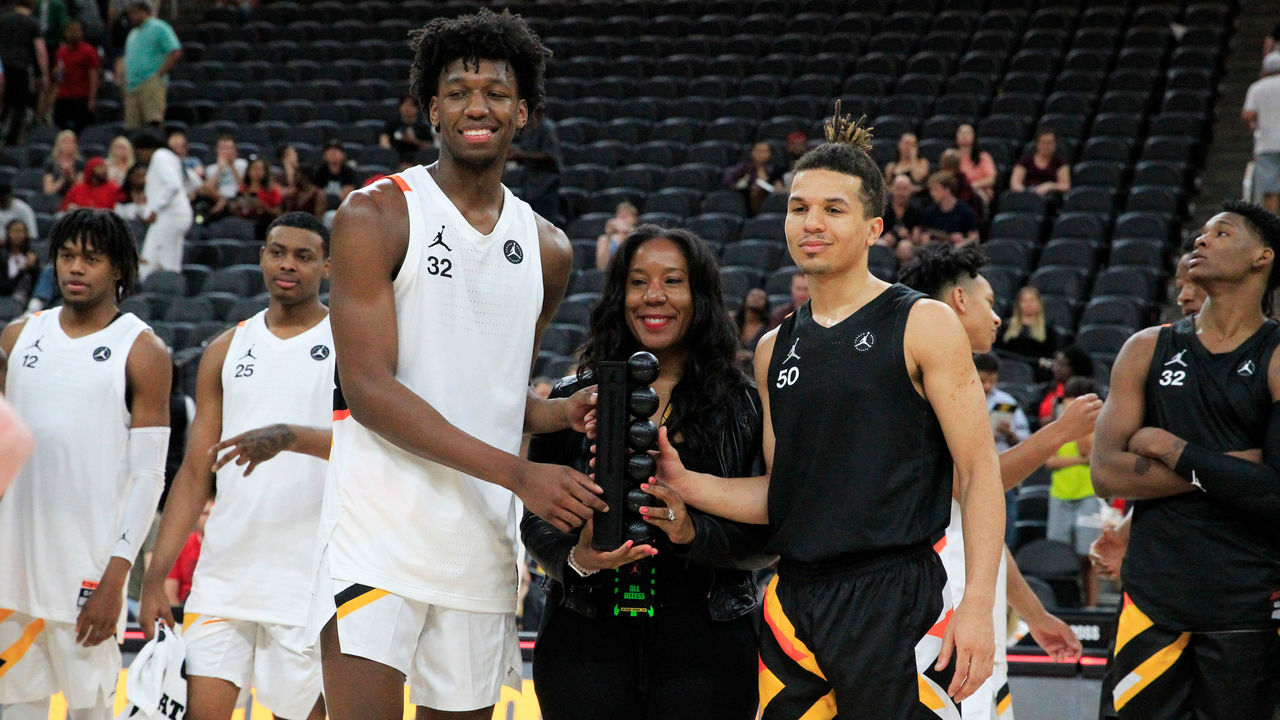 Instead of celebrating with his teammates, or rehashing the evening they spent with rapper Travis Scott the night before, or plotting his future with two dozen other potential millionaires, Anthony stayed on the court longer than any of his peers, giving a little bit of himself to the young fans in attendance.
At 18 years old, his basketball acumen is clearly a step above - Anthony committed to North Carolina on Tuesday as ESPN's No. 2-ranked player in the country - but he wasn't in Las Vegas just to work on his game.
He also has a brand to build.
Before there was Michael, there was Mikan.
The first franchise center in the illustrious history of the Minneapolis-turned-Los Angeles Lakers, George Mikan was also the first marketable NBA star.
In 1956, it was his face - along with those of University of San Francisco coach Phil Woolpert and Philadelphia Warriors coach George Senesky - in ads hawking PRO-Keds, one of the original popular basketball shoes. But it wasn't until three decades later, when a smiling star scorer from North Carolina splashed onto the scene, that the power of personality really came to pass.
Jordan, unlike Mikan - and unlike Wilt Chamberlain, Bill Russell, and Oscar Robertson before him - would parlay his on-court success into an off-court empire. Shoes, yes, but also blockbusters and boxers and briefs. Even baseball. Even Ball Park Franks.
Now, 35 years after Jordan's rookie season with the Chicago Bulls, the Air's heirs look to him as the blueprint.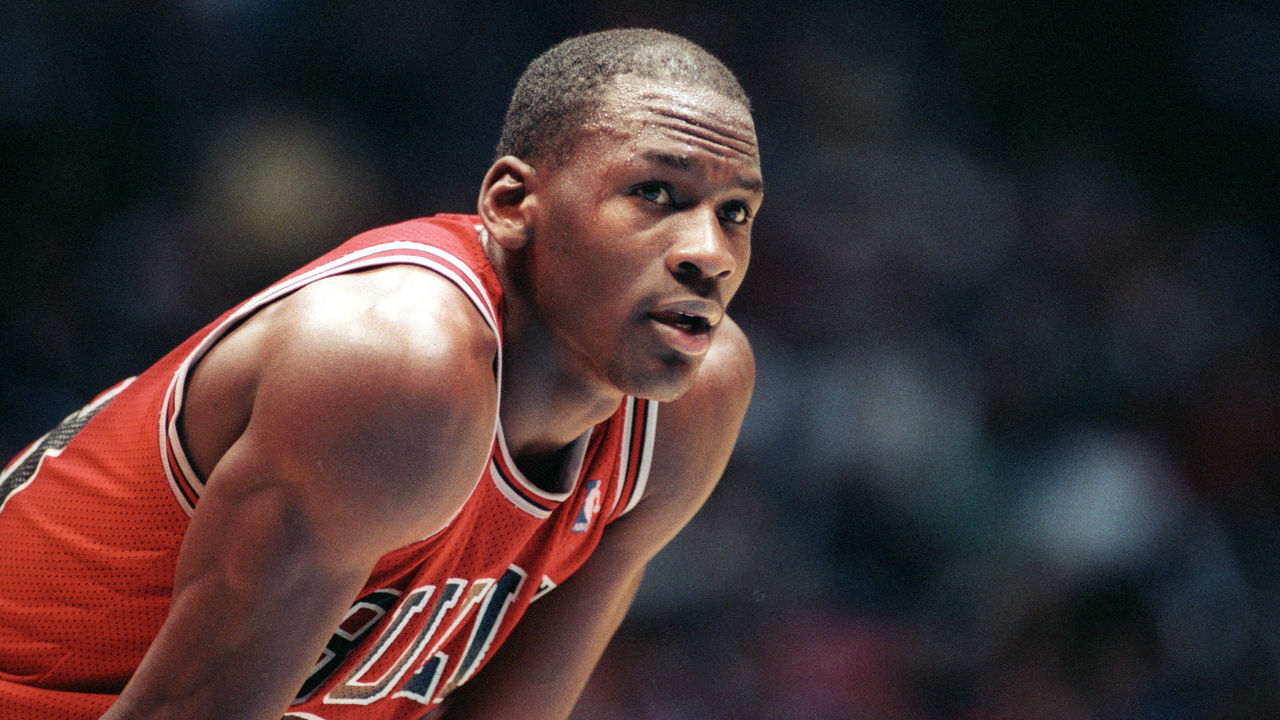 Building a brand in 2019 means so much more than dazzling dunks, sharp shooting, and sneaker sales. This generation of high school basketball luminaries has visions of future empires. The players have carefully cultivated their social-media followings, some since the eighth grade. They've stayed on the straight and narrow, playing the long game. They understand that to be a brand unto themselves, they'll need to become involved in the community around them, and they've begun taking steps to do so.
Already, without a single college game under their belts, some of the Jordan Brand all-stars are more famous than the teammates they'll join at the next level - and many others in the NBA.
Imagine being so young, and with so many eyeballs on your every move. Imagine the riches that can await if you make the right ones.
"I'm definitely already looking toward the future. I want to be the commissioner of the NBA," said Cassius Stanley, ESPN's No. 29 recruit who also boasts more than 300,000 Instagram followers and announced on Monday that he'll attend Duke.
"It's not really a mogul thing, but it's something to strive for."
If 12-year-old Noah Bouknight had flown any higher, he might never have come down. Of all the middle school kids tucked into a spacious conference room in Las Vegas' Aria hotel on Friday night, Bouknight might also have been the luckiest one.
At that moment, Anthony and three fellow Jordan Brand Classic all-stars had tossed young Noah into the air. He crashed back down to earth laughing, falling into the arms of Anthony, who gently put a hand on his head and tousled his hair.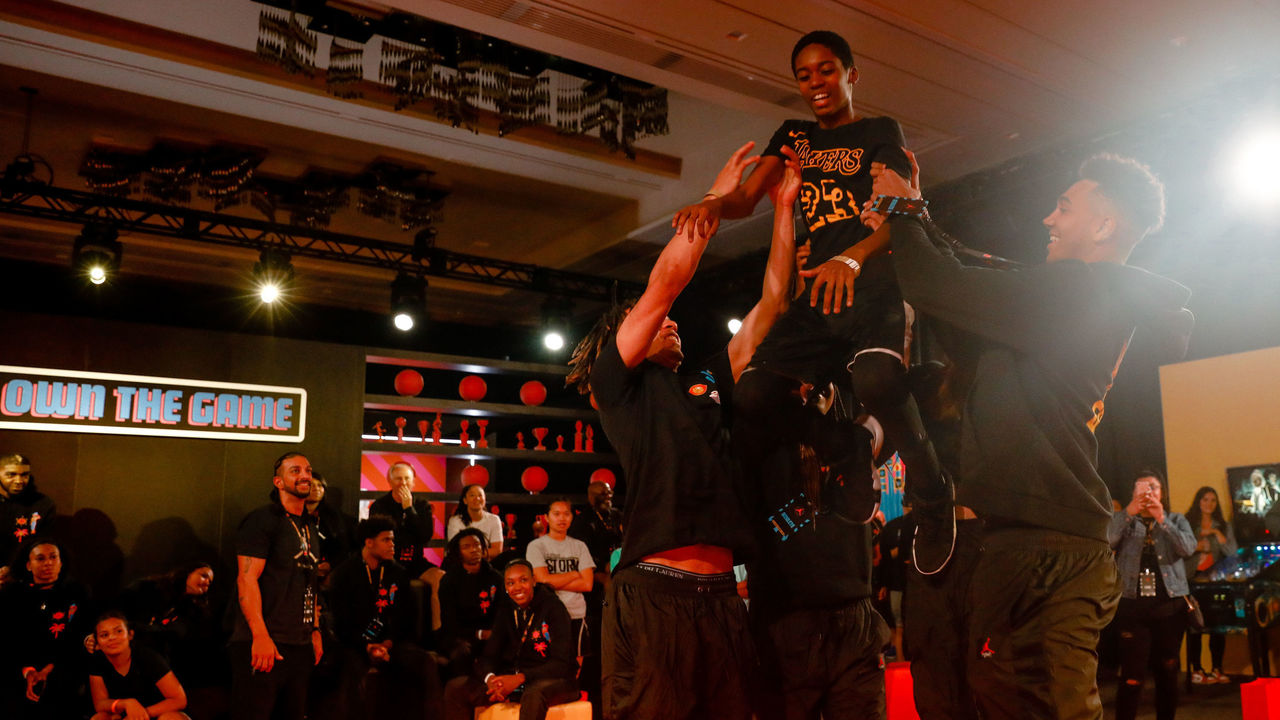 "It's kind of surreal," young Noah said later. "I never would've expected to be in the same room at the same time as someone like Cole Anthony. Superstars, basically. That was a very cool moment. I realize that's an opportunity a lot of people don't have. I just think it's very crazy. Very cool."
Organizers of the Jordan Brand Classic planned a number of activities for the days leading up to the game. There was the private concert with Scott, a Grammy-nominated rapper and Jordan Brand representative. There was a meeting with reps from the National Basketball Players Association, who warned of potential pitfalls along the road ahead. And there was this community-service event, meant to help players begin to understand some of their responsibility and the pleasures of giving back to the communities who will support their endeavors.
Junior high members of Hoop City Basketball Las Vegas were invited to the hotel to play games and to participate in team-building exercises with the visiting all-stars. Two youth players from the JBC boys' teams and two from the girls' teams partnered with one of the local players. First came the team-naming portion - there was Team Whoa and Team Drip, Team Gucci and Team Bread, among others - and a brief dance or introduction for each of the five- or six-person squads.
A few minutes later, it was on to the games. Anthony lay on the ground, face down, legs splayed, meticulously affixing gummy bears to toothpicks, attempting to build the tallest candy tower in the room.
In that moment, it was easy to remember these all-stars haven't fully crossed over to adulthood either.
"I'd rather connect to these guys," Noah said, comparing the high school ballers to NBA players. "They're closer to my age, and I can relate to them more. NBA players, they grew up in the '90s maybe, or the '80s. These guys are my generation. I can relate to them in a cultural sense."
Sometimes, the connections these budding stars make as community leaders aren't planned.
Jaden Owens is among the most famous girls basketball players in the country. The 18-year-old, UCLA-bound point guard has nearly 160,000 Instagram followers, partly due to her relationship with LiAngelo Ball, the middle of the famous Ball brothers. Just a couple years ago, she had 6,000 or so followers, and "overnight it felt like I got to 20 (thousand) and it just kept going. It was like my phone was gonna break."
She also remembers the first time a young girl approached her for a picture.
"It was like, 'For what? Why?' They tell you, 'I really look up to you,' and that touches your heart," Owens said. "Yeah, this is basketball, but it's so much more."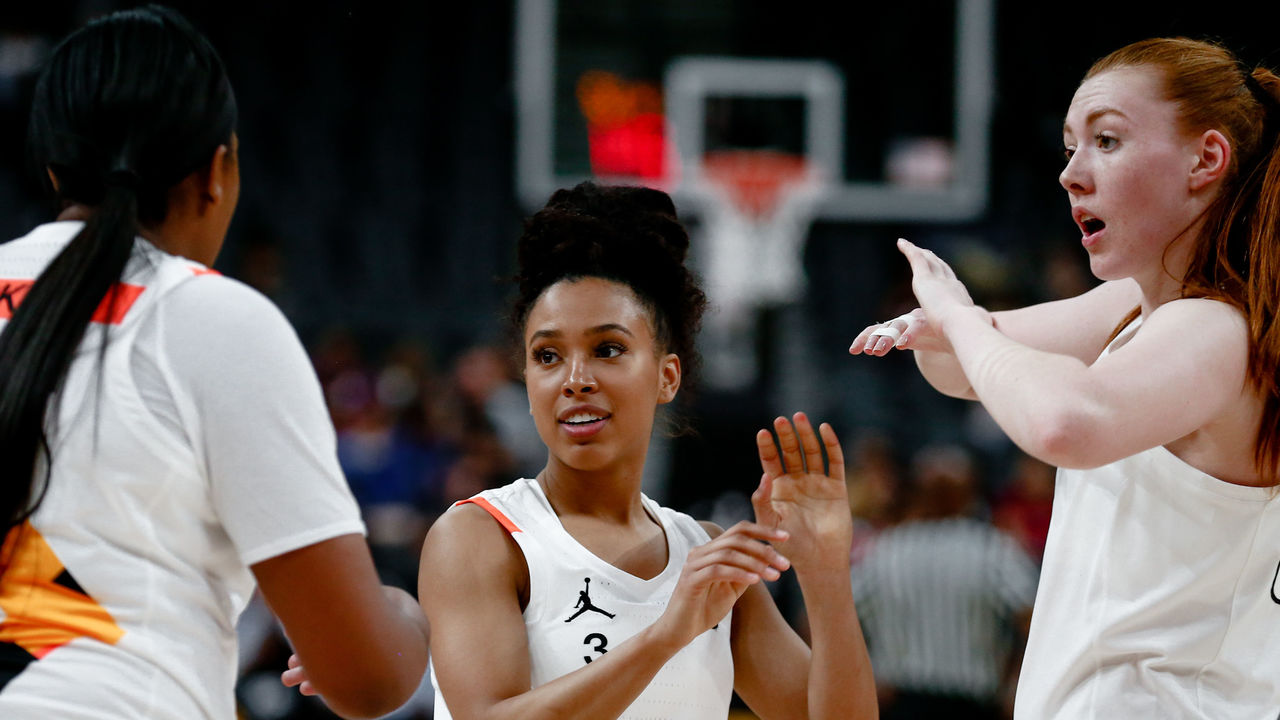 Owens smiled while recalling that meeting, but her emotions changed quickly minutes later.
"I get a DM on Instagram, a younger girl, and she tells me her story - she said she's thought multiple times about ending her life," Owens said. "You could tell this person was genuine. She had no hope. 'I've been going through such hard times, my mom wants me to be so good at basketball … '"
Owens trailed off.
"I'm starting to get teary-eyed," she continued. "It's not just about basketball. It's about so much more. I saw (her message), and I responded within five minutes. I said, 'There's so much more about life than your sport. Your parents will accept it.' I said, 'Do what makes you happy, find your love, and try as hard as you can be so you can be successful.' A month later, she texted me again, 'You really saved my life.'
"It really touched me. You're never too big to talk to somebody."
A similar thing happened to Tre Mann, a star point guard at The Villages Charter High School in Florida, who has signed to stay home and play for the Gators.
"A kid DM-ed me on Instagram and told me that his brother was in a mental hole, ready to do stuff to himself, to end his life," Mann said. "He knew his little brother liked Dwyane Wade, and he hit me up, knew I talked to Dwyane. He asked me if I could reach out to him, maybe get him to do a video.
"So Dwyane sent me a video of him talking to the kid, and I sent it to his brother, and his little brother wrote a whole book thanking Dwyane and myself. I was able to help out, in a little way. It was little, but so big at the same time. When I got the message back, I read all of it. I just wanted to do more stuff like that."
Two years ago, as a high school sophomore, Georgia-bound shooting guard Anthony Edwards was approached by younger fans asking for pictures. In that moment, he knew things had changed for him.
"I realized then, maybe I need to start carrying myself better," he said. "I used to walk around the gym rapping. Kids don't need to hear stuff like that. I even changed the way I walk. I move different. I don't even go out that much. I don't want to be seen in the wrong situation.
"My friends will go to this party, and I know it's going to be lit, but I say 'I'm gonna go to the gym, bruh,'" Edwards added, echoing the words of so many others at the Jordan Brand event.
He already has a list of goals he'd like to achieve outside basketball.
"I want to be able to go back to my community, take care of the homeless, help single moms out," Edwards said. "If God blesses me with the ability to do it, why not? Never tell someone no if you have the ability to give help."
Three recent moments helped hammer that message home for these players.
The March 31 death of Los Angeles-based rapper Nipsey Hussle was still being felt several weeks after the shooting. Hussle, a massive basketball fan who was regularly seen courtside at Lakers games, was known perhaps as much for his impact on L.A.'s Crenshaw community as for his music and fame. His loss was deeply felt locally and throughout the basketball world.
Fewer than two weeks later, another of these players' idols suited up for his last NBA game. Across the league, Wade's global impact was celebrated. But the farewell was about much more than his basketball success, of which there was plenty. Budweiser's tribute video explaining Wade's community impact went viral.
Almost simultaneously came the news that the test scores for students at LeBron James' I Promise School in Akron, Ohio, were drastically ahead of schedule after one year.
The young stars of tomorrow see that success, and hope that someday, they might also say goodbye to basketball in absolute glory.
But for now, there are brands to build, and legacies to create.
"I'm focused on getting there first," said C.J. Walker, a 6-foot-8 power forward bound for Oregon. "Once I'm there, I'll focus on what I have to do to help everybody else. Right now, it's everybody for themselves in high school. I'm still broke. We don't have no money yet. Once we get to the league, and I might have enough money to help out kids, I'll make that difference. I do look at LeBron, seeing him open up a school, and that's something I'd want to do.
"Everybody is going to leave this earth," he added. "I just want to say I was able to make a difference."
Comments
✕
At the Jordan Classic, high schoolers are building brands beyond their years
  Got something to say? Leave a comment below!