Maybe the Celtics just aren't that good
MediaNews Group/Boston Herald via Getty Images / MediaNews Group / Getty
All season, trying to diagnose what's ailing the Boston Celtics has basically been an NBA parlor game.
Despite staying relatively healthy, and getting 90th-percentile production out of its best player, the team oddsmakers and analysts pegged as the preseason favorite to win the Eastern Conference has looked more like a sideshow than a Finals contender.
And everyone seems to have their own theory as to why.
Is Kyrie Irving a bad leader? Have previously emboldened players been reluctant to accept reduced roles in light of Irving and Gordon Hayward returning to health?
Is Brad Stevens failing to get the team's complementary guys to buy in?
Has Jayson Tatum been falling hopelessly in love with mid-range pull-up jumpers?
Has Irving's looming free agency, and his recent about-face regarding future plans, cast a pall over the locker room?
Did the public Anthony Davis imbroglio make too many Celtics players face their own expendability?
Or does the team simply lack togetherness, as Marcus Smart has suggested? Do they all just need to take Marcus Morris' advice and "bring some soul back to this shit"?
The subtext behind those theories is that the Celtics' issues are stemming from a talent surplus - too many mouths to feed, and only so many minutes and touches on which to subsist.
As Irving said recently: "We have a bunch of young men in our locker room who feel they're capable of doing a lot more than they're doing."
There are probably kernels of truth to most, if not all, of the speculative diagnoses. But it feels like we've been dancing around the Celtics' big problem: They just aren't as good as we thought they were.
In our haste to crown Boston the present and future kings of the East, we've looked past the reality staring us in the face, mischaracterizing the struggles of a team that's actually been operating at a talent deficit compared to its chief conference competitors.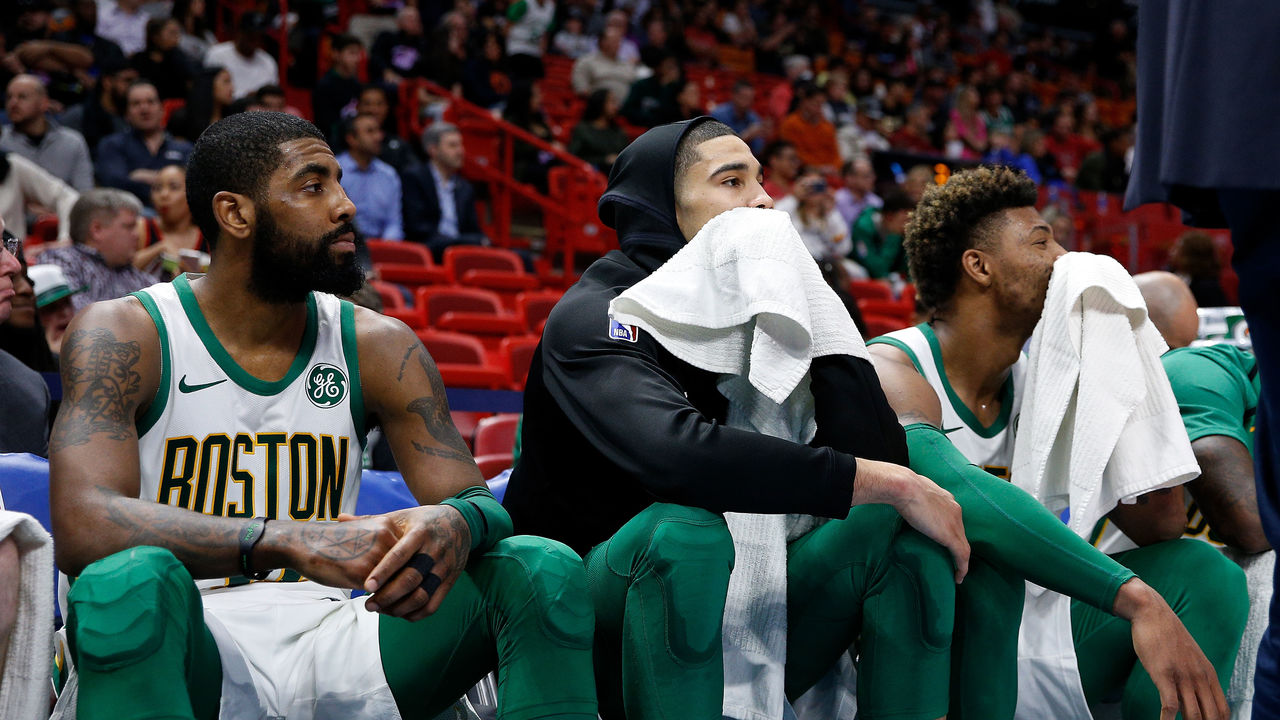 The Celtics' rosy projections coming into the season, and the benefit of the doubt they've been afforded, were and are understandable.
They won 55 games last year despite playing without Hayward for all but five minutes. Then they lost Irving for the playoffs and still rolled to within a game of the Finals before LeBron James and an untimely 3-point shooting freeze combined to stop them in their tracks.
With Irving and Hayward rejoining the fray, the team's promising young supporting cast getting another offseason of presumed growth, and James moving West, it felt like the East would run through Boston. But it hasn't looked that way for a single moment this season, and as a result, the panic around the Celtics has steadily risen to a fever pitch.
Which is unfair, really, because many of the expectations for this team were founded on notions long proven false.
First, Hayward isn't remotely the player he was before breaking his ankle on opening night last season. Whether he can get back to that level is another question for another day, but for now, there's no use pretending he's some X-factor who may rediscover his form in time to swing the Celtics' playoff fortunes.
Even with a large portion of his minutes coming against second units, Hayward is struggling to turn the corner, shoot off the dribble, absorb contact, or otherwise assert himself. He's not a star rounding back into shape - he's just another bench player.
Hayward may be the most significant disappointment for Boston this season, but he still only represents the tip of the iceberg.
Tatum's excellent rookie season in 2017-18, and even more impressive postseason, led a lot of analysts to project an All-Star-level leap this year. Instead, he's been the same guy, with slightly less discerning shot selection.
Tatum is still a good player whose age (21) gives him a tantalizing sense of extrapolative possibility. But to this point, he's shown scant growth as a facilitator, and attempting to expand his off-the-dribble game is mostly leading to inefficient self-creation.
Then there's Jaylen Brown, who has rebounded from a miserable start to the season. But he's still taken a step back after a breakout sophomore campaign, stagnating as a playmaker and regressing as a shooter.
Terry Rozier has stumbled, too, after stepping in brilliantly for Irving during last year's playoffs. He's struggling through a ghastly offensive season with 49 percent true shooting.
Al Horford, one of just two thirtysomethings on the team, has been reliable offensively, but he's looked his age at times when defending in space. Put it all together, and the Celtics' ballyhooed depth simply hasn't performed to expectations.
This year, you can point to maybe three rotation players who aren't disappointments.
There's Morris, whose much-improved shooting has carried the team through some arid offensive stretches (though he's already crashing back to earth). Smart's submitting an All-Defensive-first-team-caliber season while suddenly knocking down 37 percent of his 3-pointers. And Irving, who, for all the teammate-shaming he's done and unnecessary fuss he's created, has been undeniably spectacular at the basketball-playing aspect of his job.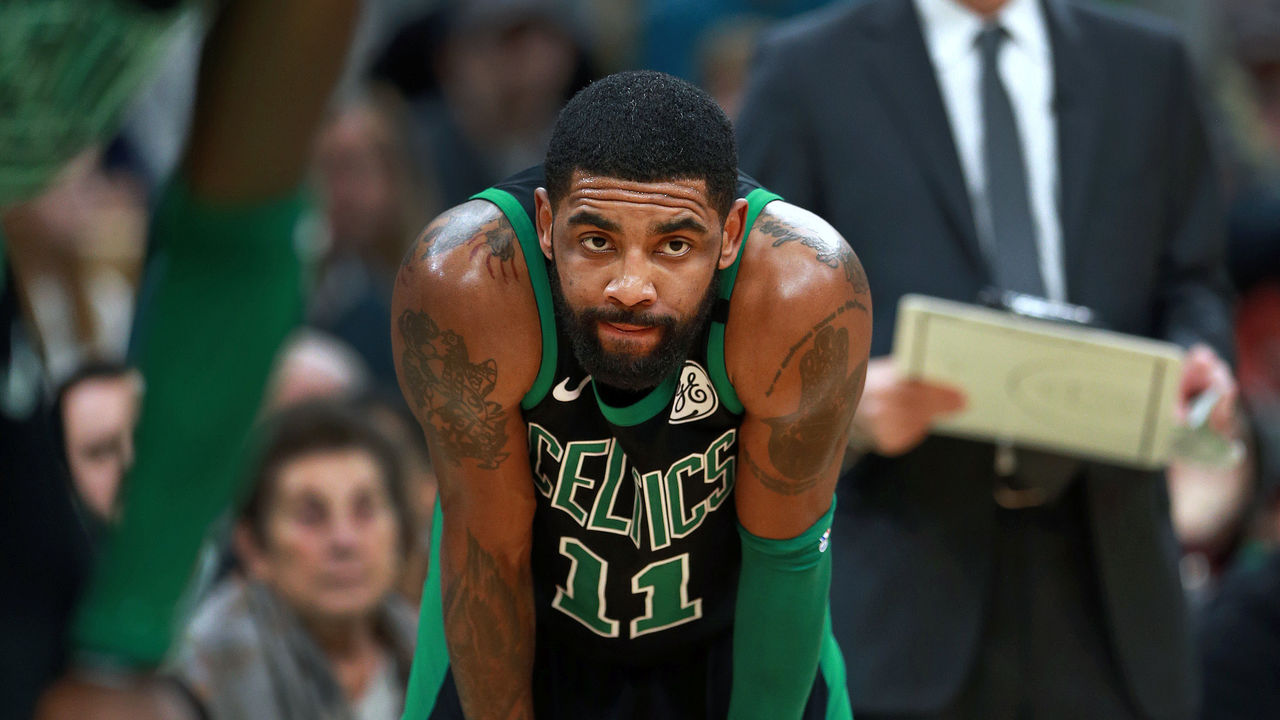 Irving's flirting with 50/40/90 shooting splits while also recording his most productive season as a distributor. He's played stretches of legitimately inspired defense and been absolutely lights out in crunch time, with 64.6-percent true shooting and a plus-31.4 net rating across 106 clutch minutes.
Given all the off-court theater he's producing, there's been a strong impulse to pin the Celtics' dysfunction on Irving. Their 9-2 record without him bolsters that case. But in reality, Boston's offense collapses when he's on the bench, as the team is 6.3 points per 100 possessions better with him on the floor. And, contrary to anecdotal evidence, virtually every Celtics player's efficiency improves when they play alongside Irving. If he's torpedoing Boston's season, there's zero quantitative proof.
The Celtics remain in the top 10 on both ends of the floor, and they can still be a beast defensively. They may find another gear come playoff time, as Irving insists.
But given what we've seen from them this season, is there reason to think they can keep up with the powerhouse East teams that seem to be passing the Celtics?
Even if they do band together, they'll be hard-pressed to keep pace with the rim-erasing 3-point bombing machine that is Milwaukee, or a Toronto team every bit as deep and versatile as the Celtics, but with more offensive firepower.
The restocked 76ers, a team the Celtics have decidedly owned the past two years, now possess the distinct talent edge, and they should pose more matchup quandaries. Even the Victor Oladipo-less, scrap-for-every-inch Pacers - a team that's nearly last year's Celtics reborn - would be a handful in a playoff series.
On one hand, last season's Celtics already proved that a less talented team can still win through cohesion and attention to detail. On the other hand, the top of the conference is better now, and this year's team doesn't feel like one that can overcome its limits through a shared sense of purpose and trust.
Maybe it's time to admit that most of us labeled the Celtics wrong - that we overreacted to a playoff run defined by beating an inexperienced, ill-prepared Sixers team, and going seven games against a Cavs team that probably should've lost in the first round. And that we falsely assumed the progress of Boston's young players would be linear, and Hayward would return to something resembling his prior natural state.
We can speculate about the intangible reasons for the Celtics' letdown season until we're green in the face. But if we let Occam's Razor cut through all the noise, we're left with this: The Celtics aren't the class of the East because they aren't good enough.
Comments
✕
Maybe the Celtics just aren't that good
  Got something to say? Leave a comment below!