Monty McCutchen's wild ride from small-town Texas to the top of the reffing world
When Monty McCutchen's name flashes across screens these days, as it did after the infamous non-call on Bradley Beal in February, it can be easy to forget the weight of his authority in the NBA.
After 25 years as an on-court referee, McCutchen's now a league vice president in charge of referee training and development. Fans may see him explaining a contentious call on TV in a bow tie, or narrating a video that breaks down this year's officiating points of emphasis - and he's got plenty of opportunities to educate.
When Wizards star Beal wasn't called for traveling in a game against the Pistons, the play became the latest reason for fans to protest the work of the league's referees. The NBA Referees Association's Twitter account tried to explain the decision by claiming that Beal didn't travel when he took four steps with the ball because he bobbled it in the middle, creating a second possession. Social media was incredibly amused.
The next day, word came down from on high: McCutchen declared it should have been a travel.
In addition to his PR work, McCutchen's duties include evaluating and developing current officials, as well as finding and training the next wave. Not many new officials, however, will take a stranger route to the league than McCutchen.
Imagine a recent college grad driving nearly 1,400 miles from Texas to Los Angeles in a beat-up car and living out of that car for weeks, all to pursue an unconventional NBA dream - a dream initially financed by a horse (yes, a horse).
"That was one of the things that helped me make the decision to come into this (VP) role, the idea of serving something that has been so incredibly good to me," the 53-year-old McCutchen told theScore over the phone from his home in Asheville, N.C.
"(Officiating) transformed me, and if you can influence that back through young people, that's obviously very enriching, both personally and professionally."
__________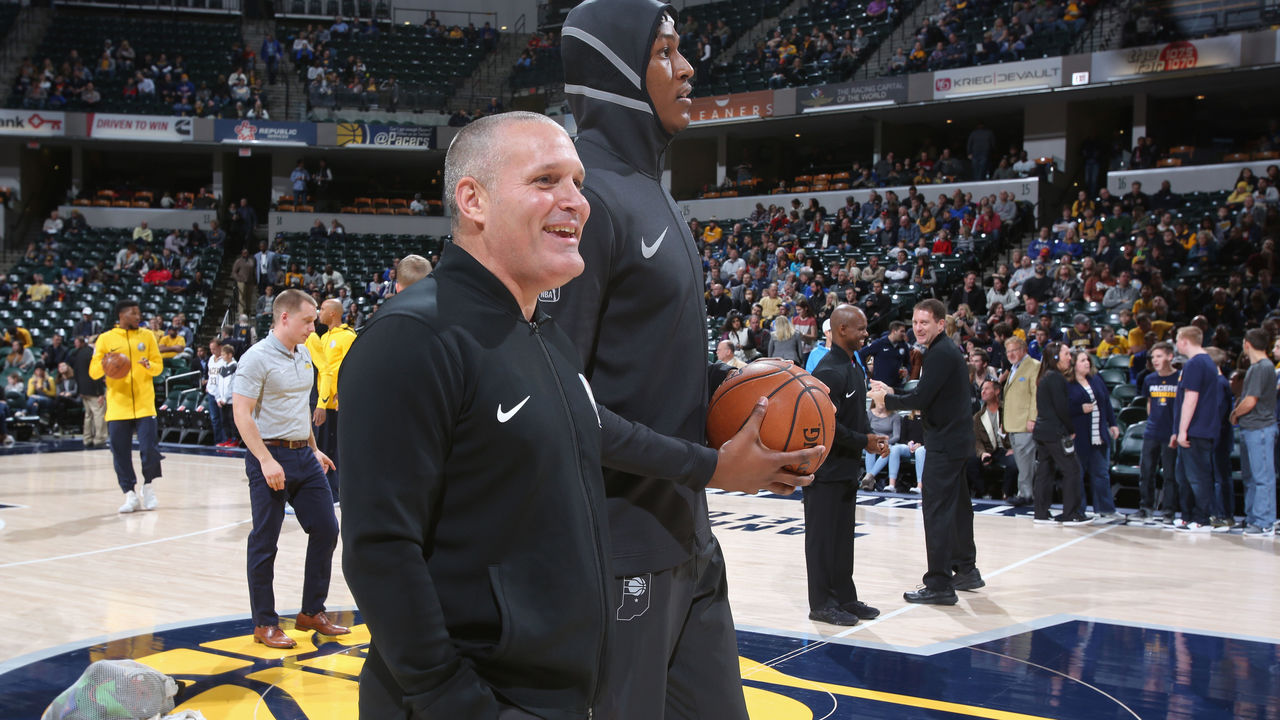 The son of a preacher, the San Antonio-born McCutchen moved around Texas with his father and grew extremely close to his dad after his parents divorced. "I went off with my dad, and my sisters went off with my mom. Just normal kind of American life right there," he said.
After school stops in Hico and Dublin, Texas, where McCutchen earned all-district basketball honors, he found himself at Ranger College, a Texas junior college where he came to understand that all-district players from 5A schools were a lot better than all-district players from 2A schools, like himself.
Realizing that the time he was putting into basketball wasn't worth the time it took away from academics, McCutchen shifted gears. He played just one year for Ranger and continued to focus on his studies. He also made the life-altering decision to start officiating as a side hustle.
"I was working (as a ref) in college to make a little money, just local, junior-high stuff. I'd make 20 bucks an hour to go work a game, and I really loved it. Refereeing was a way for me to stay involved in the game while solving a really important issue for me: eating, rent, and tuition," McCutchen said. Money was tight for him and his father, who'd gone back to school to pursue a PhD in cultural anthropology.
Reffing was the first thing in McCutchen's life that he found confidence in, and in his junior year, he wrote the NBA a letter explaining his wish to pursue a career in officiating.
The NBA mailed back a package that included a set of rules, as well as information and contacts for various pro-am tournaments throughout the country. When McCutchen got in touch with the man responsible for Dallas-area officials, he was told that he would be eaten alive at the pro-am level given his lack of experience. Instead, he should attend a Los Angeles camp run by NBA ref Hue Hollins. McCutchen could earn a pro-am officiating gig the following year if he made a good impression on Hollins, who would report back to Dallas.
The problem? Hollins' camp cost $325, and it started in five days.
McCutchen decided to ask his father for the money. He acknowledges now that his entire future may have been decided by whether or not dad was in a good mood on that particular day.
"I was worried he'd say, 'What do you mean you wanna go to a camp? I don't have money for that.' Instead, the first words out of his mouth were, 'Well, if this is what you want to do, we've got to figure out how to get you out there, don't we?'
"Banking was still done on handshakes," McCutchen continued, laughing at the memory of small-town finance in the '80s. "What (my dad) did was, he went down to get a loan for me, using a good horse that we owned, as collateral for $600. So my dad gave me $600, which I thought was from him. I didn't realize he had put his good horse up on making it right."
Between paying for the camp and the cheapest Southwest flight he could find on a Wednesday - camp started on a Friday - McCutchen didn't have much left. When he got off the plane, he began to worry about having to go without eating, and that's before he realized he was $50 short on hotel money.
Then fate intervened.
As McCutchen recalls, while standing in line at the camp, Clippers scout Jim Mitchell approached. Mitchell thought McCutchen was one of the players attending camp rather than a referee. Because of that assumption, McCutchen was offered a shared room with two players (Melvin Mathis and Charles Young), slicing his accommodation expenses by two-thirds.
"When you pursue things sometimes, things work out even where you don't know they're going to," McCutchen said.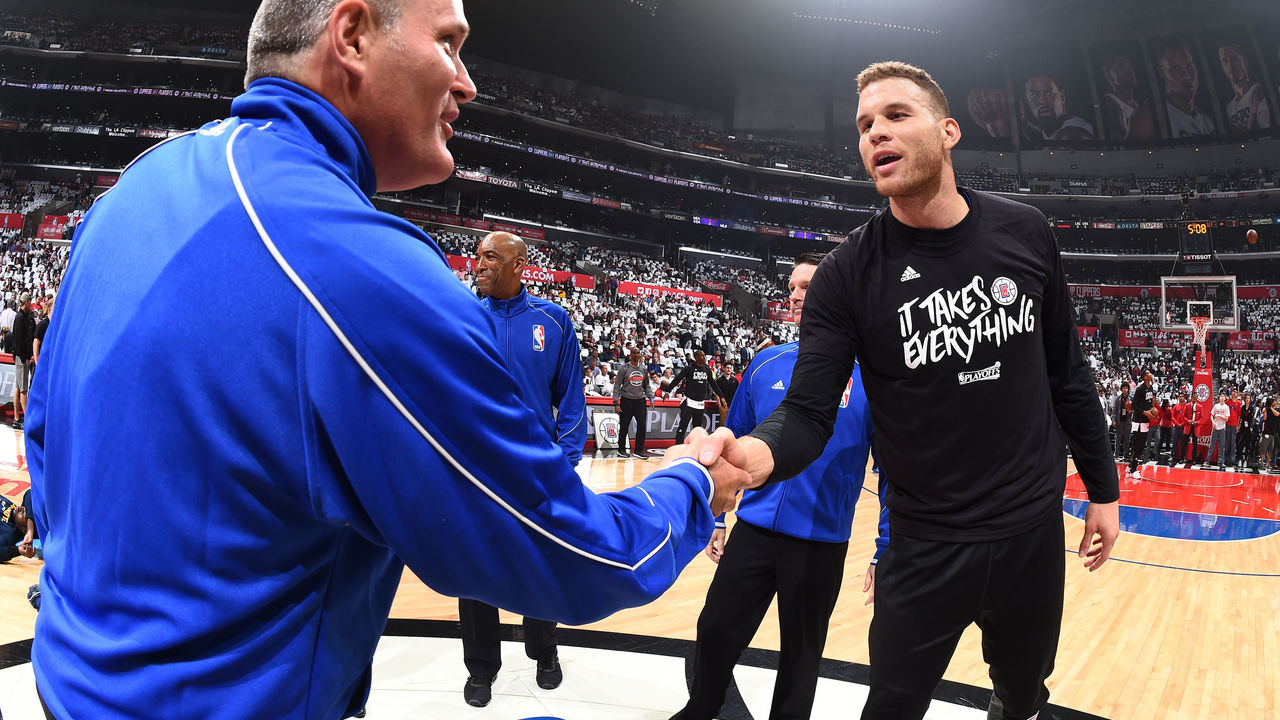 __________
After working the camp, McCutchen flew home, finished his final year of college, and decided to attend Hollins' camp again the following summer. When he returned to Texas following his second of these camps, in 1988, McCutchen felt it was time to move to Los Angeles, where he could hone his officiating skills. He also applied to UCLA's masters program in folklore and mythology, which he thought would give him the opportunity to teach at the university level.
"I loaded up my Chevette Scooter, which is not a prideful thing to say," McCutchen joked, describing his cross-country journey to arrive in L.A. in time for a pro-am tournament. " ... I didn't really have anywhere to stay, didn't know anyone, and didn't want to take the time to find a place to stay while the summer pro league was going on, so I just parked in the parking lot and slept there for three weeks."
McCutchen would wake up at 10 or 11 a.m., walk into the gym to watch the day's pro-am games, then retire to his car around 11:30 p.m. and spend the night sleeping in the front seat.
Eventually, an accomplished NBA official working the tournament took notice.
After breaking the ice with a joke about the size of McCutchen's head, Joey Crawford extended his hand.
"He said, 'Joe Crawford, NBA referee. You want to be a referee, don't you?'" McCutchen recalled.
"'Well then, quit sitting four rows up and come down here and sit at the edge, and when there's something important, I'll turn around and tell you the way I tell the group.'
"You can't imagine watching Joey Crawford on TV and having him open himself up to you in that way," McCutchen said. "From the very beginning, Joe has been a mentor and older brother to me."
Once he heard the story of McCutchen's journey to L.A., Crawford - 15 years McCutchen's senior - says he convinced officiating boss Darell Garretson to let McCutchen officiate and hang out for the duration of the summer league. For Crawford, the decision to help an eager youngster seeking to join the business was an easy one.
"I was so taken aback by the guy," said Crawford, 67, who retired in 2015 and now works under McCutchen as a developmental advisor for NBA refs. "You were rooting for him, you know what I mean? You wanted to see the guy succeed, because he had nothing, and he wanted to be a ref!" Crawford exclaimed, as if McCutchen's dedication still boggles his mind.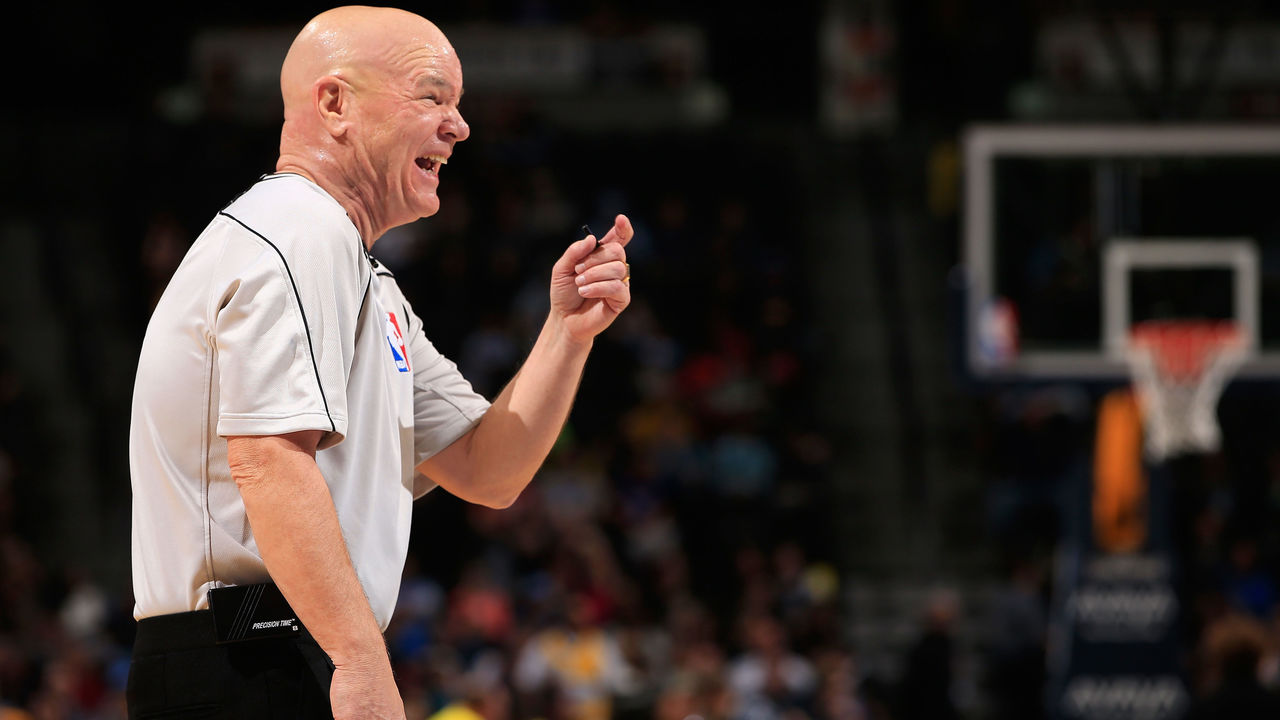 __________
Asked to pinpoint a moment he knew his journey would pay off, McCutchen reminisces about his second time at Hollins' camp, before he graduated college. He overheard the veteran official tell someone to assign McCutchen a higher-profile game in what's now known as the Drew League.
"Hollins said, '(Monty) can handle it, no problem,' and I remember thinking, 'Holy cow, I don't think I can handle it, but if Hue Hollins thinks I can, maybe I've got something here.' That moment is indelibly marked on me, that someone had the belief that I could work the Crenshaw League," McCutchen said. "That was a big step in a young ref's career. Even today, if you get the chance to work the Drew League, and NBA players stop by to play, by definition, that's going to be the best ball you've ever refereed in your life (outside the NBA)."
McCutchen wasn't accepted into the program at UCLA, but with Crawford and Hollins in his corner, and Garretson's approval of McCutchen's pro-am and summer-league work, the old Continental Basketball Association eventually came calling. He joined the NBA four years later.
Between 1992 and 2017, McCutchen established himself as a consummate professional, earning the respect of his peers, players, and coaches. During that time, McCutchen worked more than 1,400 regular-season games, 169 playoff games, and 16 Finals games, including 2013's Game 7 between the Heat and the Spurs, and 2016's Game 7 between the Cavaliers and the Warriors.
NBA players and coaches say it's no wonder McCutchen often earned the league's biggest assignments.
"I just have a respect and appreciation for the way he did his job," Vince Carter said. "Monty was a fair, honest, and approachable ref and always a straight shooter, and I think all the guys respected that. He was more than willing to hear you out and admit when he made a mistake. There's a really interesting relationship between a player and a ref in basketball, and I always feel like a good two-way relationship builds trust and helps both sides do their jobs. That was definitely the case when he was on the floor."
Pacers coach Nate McMillan praised McCutchen's fairness.
"I thought he was good for the game. He was one of those officials that you knew ... you were gonna get a game that was going to be called fair," McMillan said. "And you could communicate with him. A lot of officials, it's hard to communicate with them."
The respect McCutchen earned flows both ways.
"Our players and coaches are the best people, in addition to being the best at their professions," McCutchen said.
"There's outliers in every field. I'm sure there's outliers among referees. I'm continually amazed at the pressures our coaches and players live under to perform up against an angry internet mob - how they put their personhood ahead of their competitive spirit most nights. Sometimes we catch them, being young, in the public eye, and so in today's soundbite culture, we tend to cling onto one or two things that don't fully represent the genuineness of most of the people in our league."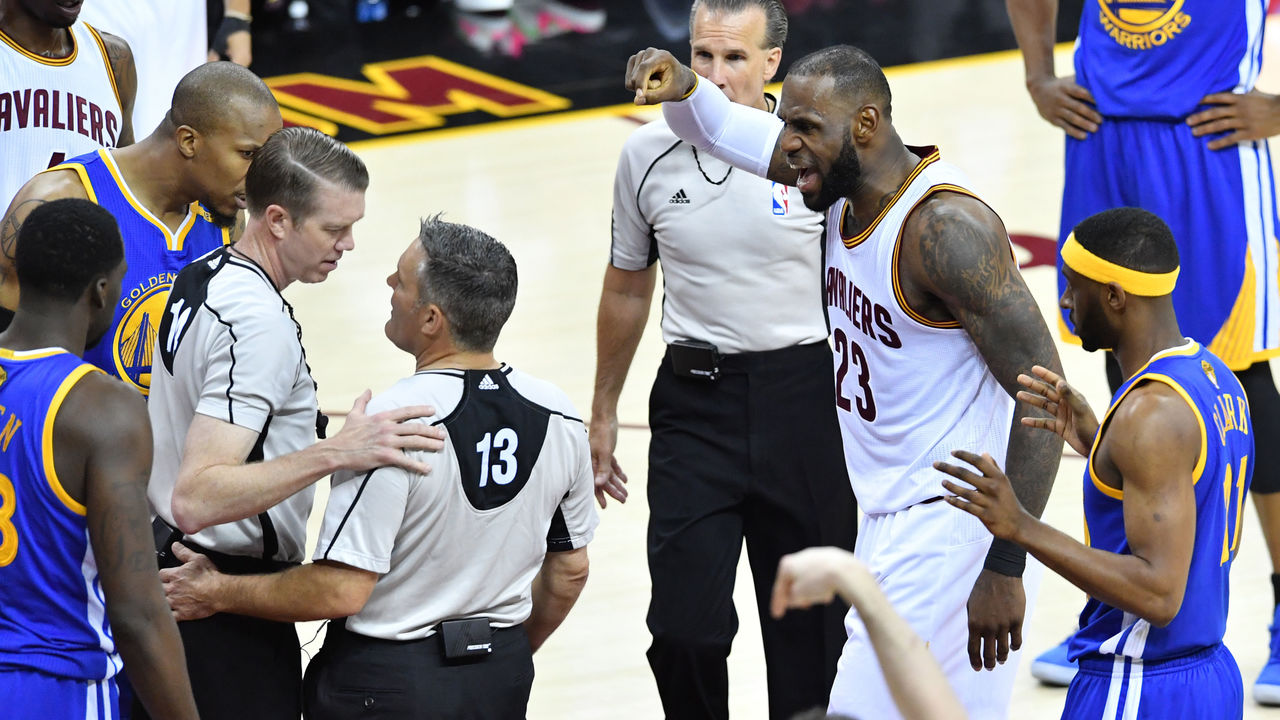 The strong relationships that McCutchen built benefited his peers, too, as Crawford can attest. They both worked a first-round Game 7 between the Grizzlies and Clippers in 2012, and Crawford describes it as a learning experience.
"No matter what you did, there was a squabble. It was just a real, real hard game," Crawford recalled.
"I just remember I kept saying to myself during a timeout, 'Thank God I'm with Monty.' He added an ease to the game. ... I was adding fuel to the fire, where he was controlling the fire. I knew this guy was getting us through the game, simply by the way he interacted with players and coaches. It was an enlightening day for me because I was always of the mindset that you had to be aggressive, and he just went the other way. That game didn't need aggression. He recognized it."
Such stories help explain why, in December 2017, NBA commissioner Adam Silver promoted McCutchen to the VP position. Crawford calls it "the best thing Adam Silver has done," noting that in the past, the job was filled by retired or injured refs rather than an official in their prime.
When it comes to his current role, McCutchen wants people to understand how difficult it is to become an NBA referee and how rigorous the process is.
More than 3,000 basketball officials from around the U.S. are scouted by NBA personnel at high school and college games throughout the year. The league classifies the best officials as either people to continue monitoring or grassroots candidates. The top 90 are invited to the first grassroots camp, the top 45 from that group move on to the next level, and 28 ascend to the final, elite camp. Of those, 12 get the opportunity to be hired into the G League.
If refs actually make the league, they're under constant scrutiny - something McCutchen says fans don't always grasp.
"Referees want to do well. They take pride in serving the game well, and when they fail at that, it's not just, 'Hey, let's get on to the next city,'" McCutchen said. He added, "We take it very seriously, and when you fail, it weighs on you."
For his part, he remembers a flagrant foul call on Shaquille O'Neal the first time Shaq matched up against Yao Ming, as well as a traveling call he made during Game 1 of a West final, that "ate away" at him.
The second-guessing and the grueling schedule can take their toll. "You tried to stay married in the summertime," McCutchen jokes. He points out that during the season, NBA refs are on the road about 21-23 days a month. "We don't get 41 home games. ... We're a service industry, and we serve the game."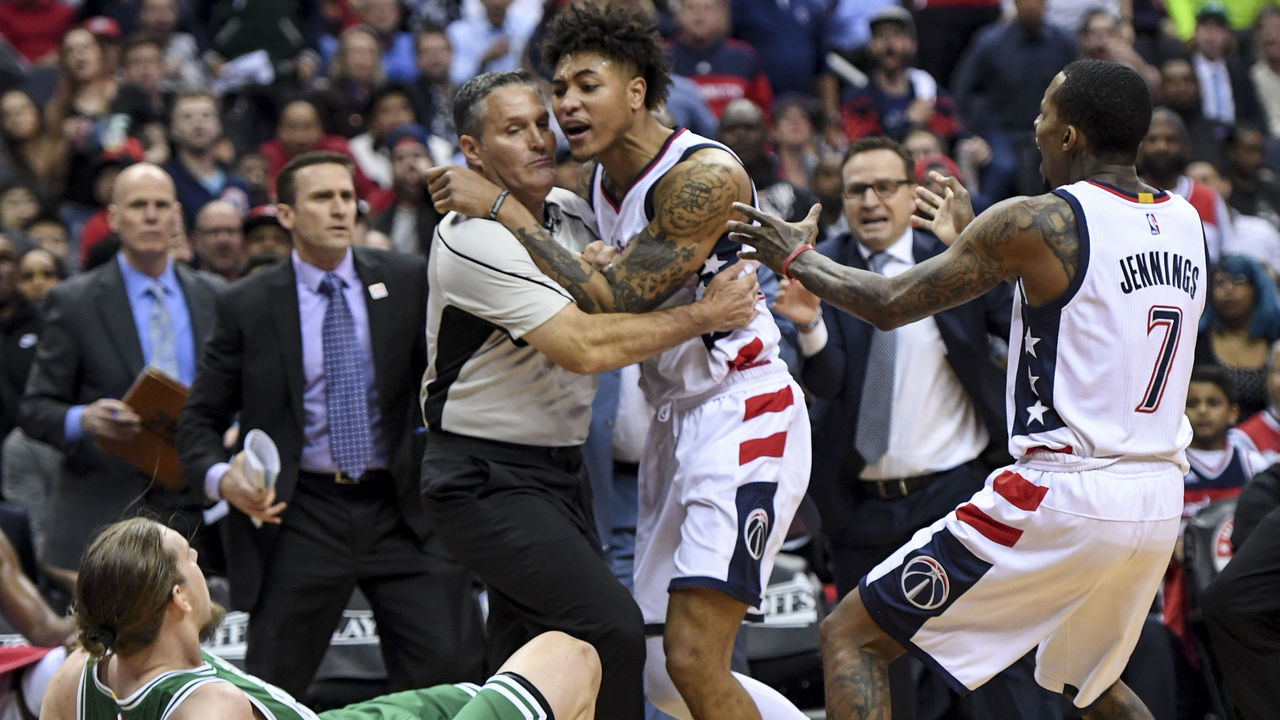 Referees need to find a way to cope with the hectic schedule and the demands of working in a harsh spotlight. Self-proclaimed oddball McCutchen found balance in photography and quilting. He shoots photographs in a variety of formats, including "glass plates, like Abraham Lincoln would've had his picture taken with."
His other hobby started as a joke, but it became a long-term commitment.
"I was grumbling one day about sitting in the 'man chair' at a quilting store with (my wife) and her mother, and we got into a fun banter about a contest making a quilt for our daughter," McCutchen said. He's since made that quilt and another one for his son, both approximately queen size.
"I was stitching it on planes and in locker rooms. It kind of turned into a meditative thing for me. The one for my son had over 11,000 pieces that were hand-stitched. It took me eight years to do."
As Crawford puts it, "He's just one of those types of guys that you really, really know that he's special. He's smart, and it's not just about basketball."
Both Crawford and McCutchen attribute that to the influence of the latter's father. Now a college educator in his 70s, the former preacher remains a fitness freak who still wears his hair down to his waist.
McCutchen's voice shakes slightly as he tries to describe the way his father's perspective shaped his son's career. Upon realizing that McCutchen wanted to be a professional referee, the two often spoke about Odysseus, a hero of Greek mythology who fought in the Trojan War and then embarked on a 10-year journey home.
McCutchen explained the comparison: "This was an adventure, a great quest, and if you wanted to go pursue it, you could always come home. That's what home meant: that you wouldn't be judged the way you are culturally, maybe, for pursuing something odd. When you have that kind of backdrop from your father, who you're close with - when he says you can come home, but you're not a failure, that the sense of adventure is worth it - that frees you ...
"Anytime we have safe harbors, a bastion of refuge, it emboldens us when we're out and about. It most certainly did for me, and I owe my father a great deal for that."
As for McCutchen's debt to his father, what became of that horse first posted as collateral?
"When I got hired (as a pro ref), the first thing I did was fly from Los Angeles home to interrupt my father's class and gave him a $600 cheque," McCutchen said. "We got to keep the horse because we didn't default on the loan, and I paid him back, so it turned out well all around."
Comments
✕
Monty McCutchen's wild ride from small-town Texas to the top of the reffing world
  Got something to say? Leave a comment below!