The Indiana Pacers weren't even supposed to be here.
This was supposed to be Year 2 of a painful rebuild in the wake of Paul George's exit, another season of soul-searching for a small-market team after being spurned by its franchise player.
But they are here - with a 32-15 record, the No. 3 seed in the Eastern Conference, and the NBA's fourth-best net rating and second-ranked defense - and that's what makes Thursday's news that Victor Oladipo will miss the rest of the season with a ruptured quad tendon so uniquely crushing.
Oladipo, who played his college ball in Indiana, rescued the Pacers from what looked certain to be a long sojourn in the wilderness. Since it was public knowledge that George wanted out, the team had limited leverage and was universally panned for its return in the trade, which featured no draft picks and was headlined by a disappointing fifth-year player who'd seemingly plateaued.
Then that player transformed his body, turned himself into a savage off-the-bounce attacker and a knock-down pull-up shooter, embraced his new role as an alpha on his adopted hometown team, and produced one of the most extraordinary year-over-year leaps in recent NBA history. Oladipo became an All-Star, All-NBAer, and All-Defensive first-teamer. He was named the league's Most Improved Player in a near-unanimous vote.
He embraced the city, and the city's jilted fans embraced him in turn. Forget George, this was their guy. He gave them hope, and he gave them the kind of player worth rooting for: ebullient, confident, and fun as hell to watch. He made the Pacers matter. And a would-be rebuilding franchise found itself with another beloved two-way cornerstone immediately after being forced to trade one.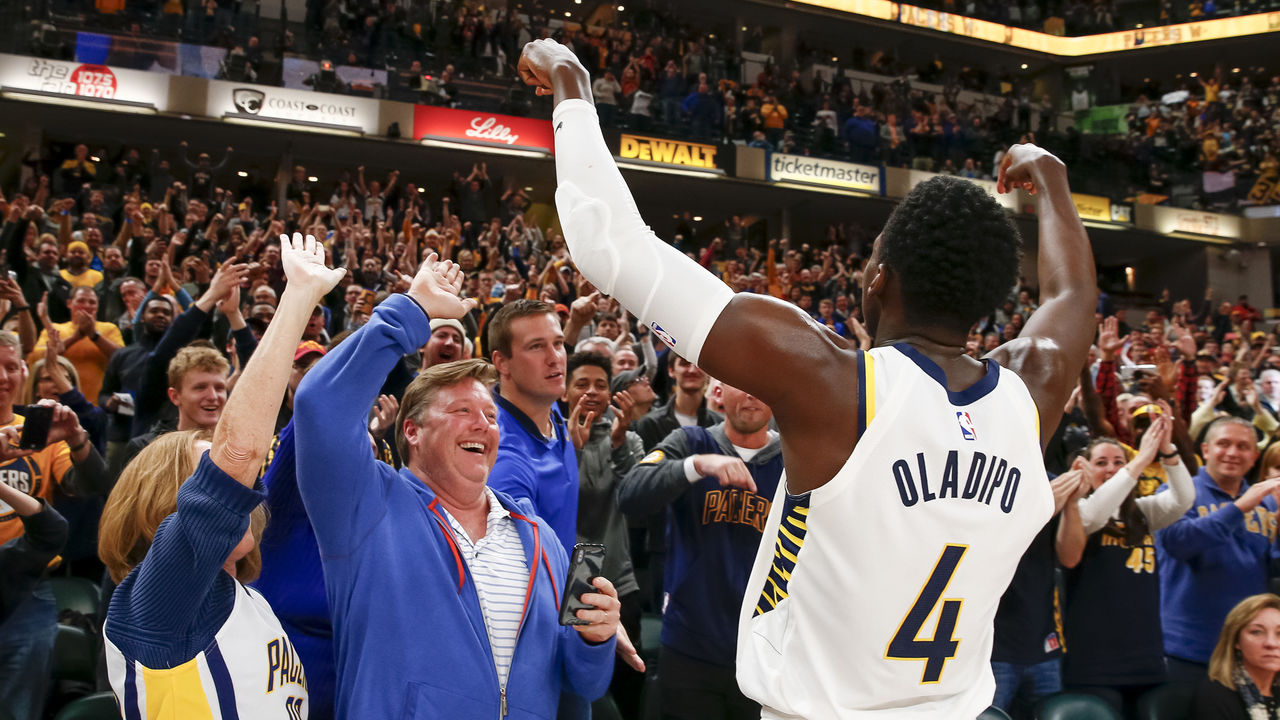 Instead of tanking, the Pacers got better. They collected 48 wins (surpassing their preseason over/under projection by 17) and then took LeBron James and the eventual Eastern Conference champion Cleveland Cavaliers to seven grueling games in the first round of the playoffs.
Oladipo faced constant traps in that series, but he didn't back down. He dropped 32 points in a statement Game 1 win; posted a 28-point triple-double in a series-tying Game 6; and went for 30 points, 12 rebounds, six assists, and three steals in Game 7. That series made it clear: The Pacers weren't some cute story. They were a team to be reckoned with, with an honest-to-god superstar at the helm.
This season was another proving ground. The preseason chatter about the Pacers was the same as it always is for teams that have just experienced unforeseen success: Was it a fluke? Would they get scouted and exposed? Would they be able to replicate their performance while playing with real expectations?
Once again, the Pacers responded by getting better - this time, as a result of Oladipo's supporting cast elevating their games. Myles Turner's become a defensive stalwart; Domantas Sabonis (the other piece of the George trade) is growing into a short-roll assassin and one of the league's best inside-the-arc floor spacers; Thaddeus Young's distilling his defend-and-scavenge role to its essence; and Bojan Bogdanovic is turning into an indispensable 3-and-D (yes, D) guy.
Collectively, they masked a quietly disappointing season for Oladipo. He missed 11 games with persistent soreness in the same knee that buckled on him during Wednesday's game against the Raptors, and he'd lacked the same explosive downhill burst since returning to the lineup. Last season, the Pacers were a train wreck any time Oladipo wasn't on the floor, with their net rating plummeting by 14.2 points per 100 possessions; in 2018-19, they've been 0.5 points per 100 possessions better with him on the bench.
But Oladipo's remained the rising tide lifting all ships in Indiana. His moxie and spirit infiltrated the rest of the team. His teammates and coach rave about his attitude and work ethic. Turner's renaissance came about largely because he transformed his own body last offseason with a regimen he modeled after Oladipo's. As I wrote in making Oladipo's All-Star case, few players have done more to reroute their team's trajectory over the past two seasons.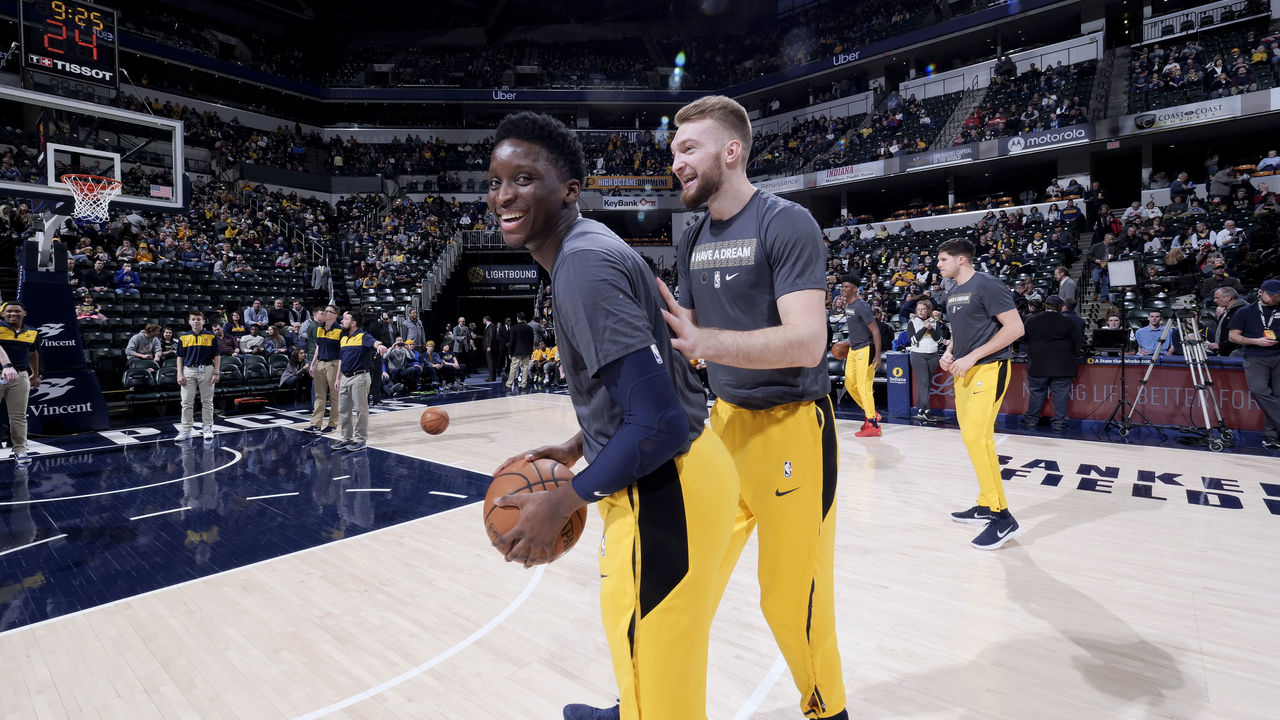 His absence will be felt on defense, where he's helped the Pacers generate the league's third-highest percentage of opponent turnovers. They'll miss him most, however, at the other end of the floor, devoid as they are of primary playmakers. Given Tyreke Evans' performance, there might not be anyone else on the roster who can reliably create his own offense. Darren Collison has been very good recently, but his usage rate this season is 16 percent.
Oladipo's injury isn't devastating just because of what he means to the Pacers now, but because of what he would've meant to them in the spring. Though they may be better equipped to deal with losing him this year, it torpedoes their hopes of making a playoff run - hopes that were well-founded, even if the Pacers lacked the depth of top-end talent that's historically produced postseason success. Though they wouldn't have had the best player in a series against any of the other top-five teams in the East, Oladipo gave them their own fearless go-to star to turn to in the tightest moments, whether they needed a bucket or a stop. Given the quality of the role players around him, that might have been enough.
There's a lot of conventional wisdom about the kinds of teams that can thrive in the playoffs. The deep, balanced, scrappy Pacers didn't fit the bill. But I was really, really looking forward to watching them try to upend that narrative, and I felt increasingly confident they could. In Oladipo's absence, the rest of the Pacers are good enough to stay afloat - they're 7-4 in games he missed this season (8-4 if you include Wednesday), and given the size of their cushion, they probably won't even fall out of the top five in the East. Still, Indiana's not beating healthy Sixers, Celtics, Raptors, or Bucks teams without him.
A ruptured quad tendon is, by all accounts, a very tricky injury. Hopefully, he'll make a full recovery, his breathtaking speed and athleticism won't be compromised, and he'll be ready to pick up where he left off when he returns.
In the meantime, what a colossal bummer. During an era defined by the specter of the Warriors, the thirst for the next great "superteam," and a sense of predestination that threatens to render the regular season moot, the Pacers have been something of a disruptor: a team that's routinely recalibrated external expectations and teased with the possibility of what it might yet do; the kind of team you look at and wonder, What if we're wrong?
This season, at least, that question will go unanswered - and that is everyone's loss.