What should the Magic do with Nikola Vucevic?
The Orlando Magic have made several damaging moves since they sent a disillusioned Dwight Howard to the Los Angeles Lakers as part of a four-team deal in 2012, but that deal - which objectively wasn't a bad trade - has always been seen as the one that broke them.
In the six-plus years since Howard's departure, the Magic have crossed the 30-win threshold just once, finishing with 25 or fewer wins four times. No Orlando player has made an All-Star Game during that period. However, Nikola Vucevic - the young center Orlando acquired in the Howard trade all those miserable years ago - looks poised to become the team's first All-Star since Superman left central Florida.
Vucevic, now 28, is having by far his best season, averaging 20.2 points, 12 rebounds, 3.7 assists, and 1.2 blocks with a 59-percent true shooting mark, all career highs. He has long been one of the game's more skilled offensive bigs, but this year he's sharpened those skills into razor-like talons; he's gotten a bit better, and a bit meaner, in every conceivable way.
He remains an inhaler of rebounds and a handful on the block; a low-post brute with a feathery touch. But he's also polished his handle, developed a reliable 3-point shot, and honed his footwork. He's been more decisive attacking mismatches, more willing and able to put the ball on the floor, and quicker to pass out of double teams. He can pop, dive, post up, spot up from three, create from the elbow, or scavenge from the dunker spot. Also, his improved positional awareness as a drop-back defender in the pick-and-roll has papered over a lot of his physical limitations at that end of the floor.
Among big men, Vucevic ranks in the 95th percentile in assist rate, the 97th percentile in defensive rebound rate, the 87th percentile in mid-range shooting accuracy, the 83rd percentile in 3-point shooting, and the 92nd percentile in defensive foul avoidance, per Cleaning the Glass. Virtually every advanced metric - be it PER, Real Plus-Minus, Box Plus-Minus, Player Impact Plus-Minus, Win Shares per 48 minutes - pegs him as a top-15 player in the NBA so far in 2018-19.
But Vucevic is a few months from unrestricted free agency, and the roster around him makes little sense. The Magic - clearly planning for a future without him - have used three top-six picks in the last five drafts on frontcourt players (Aaron Gordon, Jonathan Isaac, Mo Bamba) while their backcourt and wing rotations have gone underdeveloped. They've lost nine of their past 12 games to fall to 17-24 and posses the league's 28th-ranked offense and sixth-worst net rating. They've been a net positive with Vucevic on the floor, but they've been outscored by a staggering 13.2 points per 100 possessions with him on the bench.
With the trade deadline less than a month away, the Magic now find themselves in familiar territory: sitting on an elite, in-his-prime center that they may not be able to keep. Can they afford to trade their burgeoning big man? Can they afford not to?
The case for trading Vooch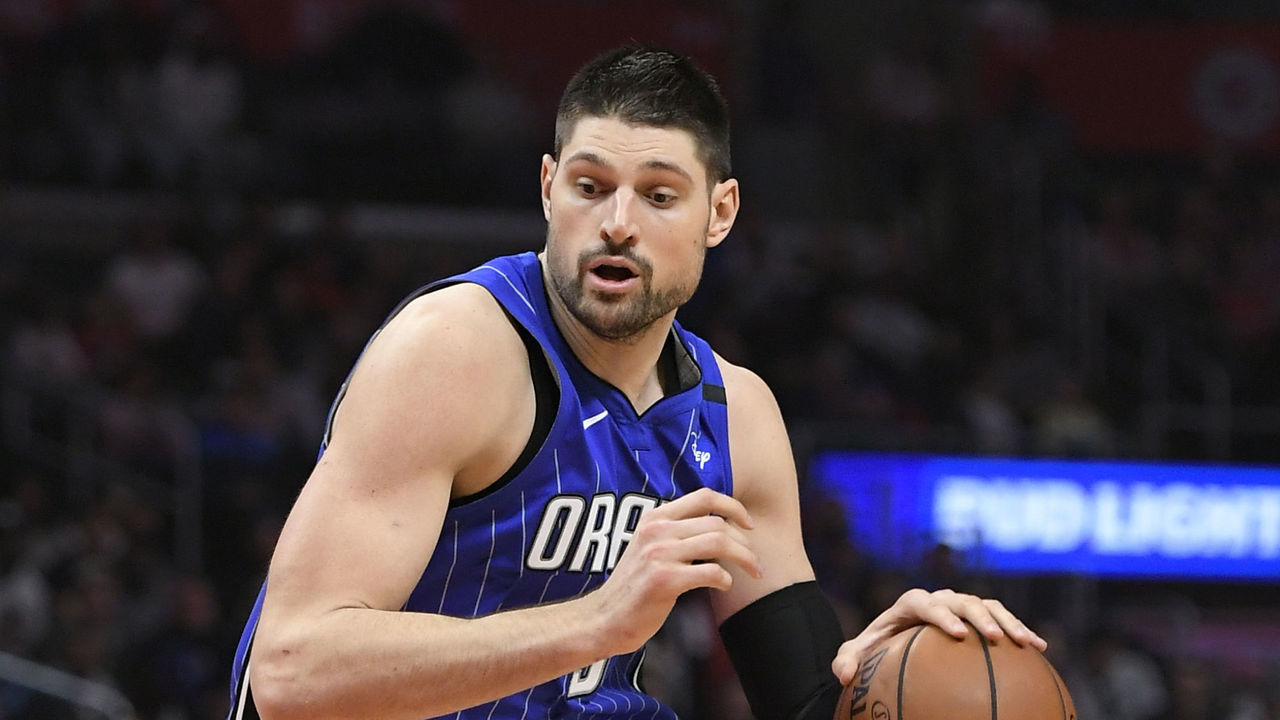 The Magic are in dire need of a roster reconfiguration. Between Vucevic, Bamba, Isaac, and Gordon, they basically have four players for two positions. None of those guys stands a chance of being optimized in this setting long term. Trading Vucevic - whose value may never be higher than it is now - is the most expedient way to balance things out.
For better or worse, the Magic chose Bamba to be their center of the future when they took him sixth overall last summer. He's a one-position player who isn't built to coexist with another traditional big. Bamba is as raw as it gets, but his tools are tantalizing, and Orlando would risk stunting his development by keeping Vucevic around. The best version of the Magic in the future - albeit maybe a bit of a pipe dream - is a defensive juggernaut with Bamba and Isaac teaming up to seal off the middle of the floor.
That vision may be a long way off for two guys who are 20 and 21 years old, but where are the Magic really going with Vucevic? Even if he can maintain this heretofore unseen level of production, they can't expect his prime to last much longer. They'd need to get considerable growth from the rest of their young core, and fast, in order to make retaining him worth their while. And that's before considering whether Vucevic would even have any interest in sticking around beyond this season.
The Magic can sell high and target young wings or point guards who both better fit their rebuilding timeline and help balance their roster. They might be able to pull in a first-rounder to boot. And dealing Vucevic now - their best player - would come with the added benefit of ensuring that they land another top-six pick that they'll hopefully use on a non-big this time around.
The case for keeping Vooch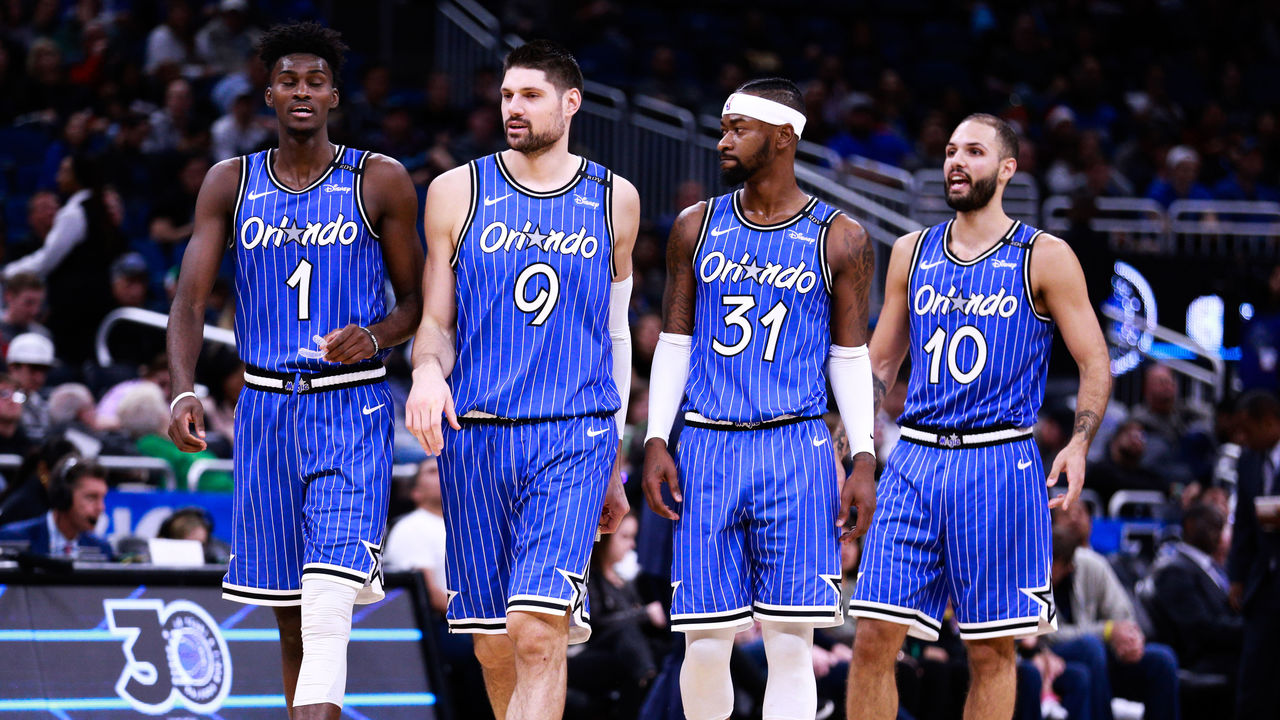 Seeing what Vucevic is capable of doing, even with a suboptimal supporting cast, makes it easy to dream of what he could do with the right complementary pieces around him.
The Magic's bench is a tire fire, and they have an embarrassing lack of shot creation and playmaking. Can they just find an above-average pick-and-roll point guard? Or a better 3-and-D wing than Terrence Ross? Finding those kinds of players isn't easy, but it shouldn't be as difficult as Orlando has made it seem over the past few years. One of Isaac or Bamba should have enough trade value to net such a piece in return.
Going that route would give the Magic a shorter runway, but it would also give them a far sturdier plane with which to take flight. Given how unceasingly bad they've been in the post-Howard era, can they afford to toss aside the one sure thing they have?
Also worth considering: Do the Magic even have anywhere to trade Vucevic? His impending free-agent status winnows the pool of potential suitors to playoff contenders, and within that pool, there are a small handful of teams that would even be looking for an upgrade in the middle.
The Bucks could compile a Malcolm Brogdon-centric package, anchored by Tony Snell's salary. Vucevic would fit their defensive scheme perfectly, and give Giannis Antetokounmpo a worthy offensive co-star. But using their bigs primarily as stationary floor spacers for Antetokounmpo has propelled the Bucks to the third-best offense in the league, and using Vucevic as such would minimize his skill set. Also, Brook Lopez has been an effective 7-foot-tall volume 3-point gunner for a fraction of the cost.
The Kings would be a fascinating landing spot, but Vucevic would force them to slow down the breakneck pace that's brought them so much unexpected success, and Sacramento might be wary of getting trigger-happy in the interest of a short-term playoff chase now that they're finally on a sensible rebuilding track. The Lakers represent a more natural fit, and Vucevic's ephemeral contract status actually works to their advantage given their free-agency ambitions. But it's clear they're keeping their powder dry for a potentially splashier trade down the road, so they'd likely be loath to part with any significant assets for a rental.
The Clippers might be interested, but it's hard to conceive of a combination of their contracts and young assets that would appease both sides. The Raptors have matchable salaries and plenty of point guard and wing depth to deal from, but none of the blue-chip prospects to make it worth Orlando's while. Beyond that, the Magic would be looking at desperate playoff bubble teams like the Hornets or Wizards, and those teams need to be holding onto their young assets like grim death.
Point being, finding a workable deal is tough. The specter of losing Vucevic for nothing is scary, but that doesn't mean Orlando should trade him for the sake of trading him. As good as he's been, he plays a stacked position, which depresses his trade value and might also dampen his free-agent market. If the Magic think they can retain him at a reasonable cost, why not make him the guy they build around?
Comments
✕
What should the Magic do with Nikola Vucevic?
  Got something to say? Leave a comment below!