The Philadelphia 76ers had been rolling since their acquisition of Jimmy Butler, rattling off eight wins in nine games after an inauspicious debut to climb to second place in the East. But the Sixers hadn't faced much in the way of elite competition following the trade until they rolled into Toronto to take on the league-leading Raptors on Wednesday night.
In a game that saw Butler and Kawhi Leonard trade blows, and Toronto's centers collectively tame Joel Embiid, the Raptors came away with a 113-102 win, extending their six-year home winning streak over Philadelphia to 13 games. Here are four takeaways from the meeting of Eastern Conference elites:
Kawhi is all the way back
Even though he's performed at or above expectations so far this season and has approximated his pre-hamstring-injury form with increasing regularity, there have been a lot of ifs and whens regarding Leonard during his young Raptors tenure. He's been largely great, occasionally transcendent, but it's still been almost universally acknowledged that he hasn't looked quite as sharp or as explosive as he did during his Spurs peak. Would he ever get back to that level? How good could the Raptors be if and when he did?
His volcanic performance Wednesday night required no such qualification. Leonard completely owned the floor at both ends, and the how was as notable as the what. He looked quicker laterally and bouncier vertically than he had all season. On a night in which none of the Raptors' guards could score, Leonard's jumper was pure. He finished strong at the rim and torched the Sixers in the open floor off grab-and-gos. This gear shift was especially ridiculous.
Defensively, this was the best game Leonard has played as a Raptor - the first time he looked all the way back to being the terror who won back-to-back Defensive Player of the Year awards. He was everywhere. One second he was swooping in to dig down in the post, or recovering to run his check off the arc (if he wasn't just stealing the kickout pass), the next he was doubling back again and skying for a defensive rebound. His hands were in every passing lane. He was inescapable.
On top of his 36 points on 27 shooting possessions, Leonard snatched five steals and added six deflections for good measure. He managed to play all that active, handsy defense without committing a single foul.
- Joe Wolfond
Raptors have one flaw on D
Toronto's defense was generally solid against the Sixers, limiting Embiid and Ben Simmons to a combined 18 points while creating 11 turnovers between the pair. The Raptors were able to shut down the paint by sending timely help defenders against Embiid, while Leonard rendered Simmons useless.
However, with Butler and J.J. Redick totaling 63 points, they evidently struggled with dribble handoffs. Both players consistently found space to shoot coming around Embiid's screens, and Toronto's plan of chasing over the top wasn't working.
In the play below, Fred VanVleet tries to stay attached to Redick, but he steps out far too wide to avoid Embiid's screen, which left No. 17 with a wide-open look for three.
Raptors coach Nick Nurse waited until the fourth quarter to adjust against the Sixers. Embiid was clearly having an off night, so Nurse had his bigs come up higher and deny Redick at all costs. Below, Valanciunas closes out all the way past the 3-point arc to force the miss.
This same weakness keeps popping up anytime the Raptors face a crafty two guard and a versatile center. E'Twaun Moore scored 30 against Toronto by working the two-man game with Anthony Davis, while Evan Fournier racked up 27 by doing the same with Nikola Vucevic.
Toronto's priority will always be to pack the paint against lethal bigs like Davis and Embiid, but they need to find a middle ground. They can't just expect their diminutive point guards to consistently fight around screens to take away the 3-point shot against experienced shooters.
- William Lou
Embiid might need to rediscover his jumper
During his abbreviated rookie season, Embiid shot 36.7 percent from 3-point range - better than league average. The volume wasn't negligible, either; he took about 23 percent of his field goals from beyond the arc. In two seasons since, his 3-point attempt rate has stayed virtually the same, but his accuracy has fallen off. Last season, he shot just 30.8 percent from deep. This year, he's down to 29 percent after a 0-for-4 showing on Wednesday.
Embiid's mid-range game has also dried up. He's shooting a career-low 39.1 percent from that area, down from 44 percent a season ago. Embiid's still one of the most dominant post scorers in the league and has been feasting on the block all season, so maybe it's not all that important he no longer looks like the stretch big he once seemed destined to be. But for teams like the Raptors, who have a center that can match him in size and strength, this is a significant boon. Embiid couldn't make much headway in the post against Valanciunas (or any of the Toronto's bigs, for that matter), and the Raptors were content to repeatedly sink those bigs deep into the paint and dare Embiid to beat them with his jumper.
A few ill-fated pick-and-pops only served to draw multiple defenders to the ball while Embiid stood neglected at the top of the arc.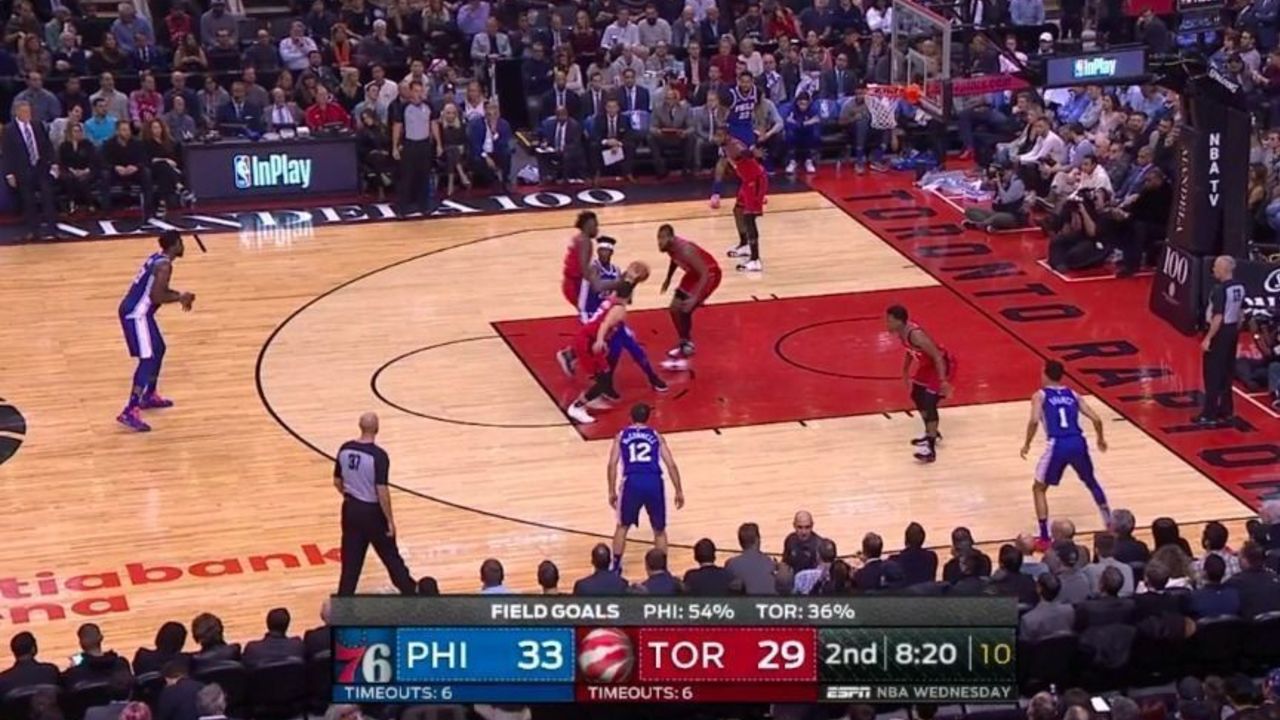 The above possession, which ended with Butler getting stripped by VanVleet, served to highlight Philadelphia's need for more shooting. T.J. McConnell may offer more gravity than Markelle Fultz, but VanVleet had no qualms about abandoning him to pounce on Butler some 10 feet away. Butler is one of the Sixers' few viable floor spacers, but they also need him to be a creator. If Embiid could go back to making defenses pay for ignoring him, it'd sure go a long way toward opening up Philly's halfcourt offense.
Valanciunas and Serge Ibaka wound up thoroughly outplaying Embiid in this one. Even Greg Monroe held his own in spot minutes. Although Embiid's bad game extended well beyond his shooting, he won't play this poorly every night. But Toronto's bigs showed they can bang with him down low (at least, Valanciunas can), and his inability to pull them away from the rim made their task that much easier.
- Wolfond
Sixers lack depth
The first item on Sixers general manager Elton Brand's agenda should be to get a power forward, because the Sixers are basically playing four-on-five.
Wilson Chandler and Mike Muscala combined for nine points in 49 minutes, and they both failed to put a body on Pascal Siakam, who snagged five offensive rebounds. Both Chandler and Muscala are score-first players, but they're also largely one-dimensional and become liabilities if the outside shot isn't keeping their defenders honest.
Brand should also look into finding someone who can create their own offense off the bench. Brett Brown is as creative as they come in terms of staggering minutes so that his stars can keep the bench afloat, but the second unit can't rely on handoffs with Landry Shamet as their go-to play.
- Lou