Back before the regular season started, before Jimmy Butler's trade request became public, and before all the subsequent lunacy played out, I made the case that the Minnesota Timberwolves are the most fascinating team in the NBA. Whether that's proven true so far is a subjective assessment, but it's safe to say few teams, if any, have ridden as wild a roller coaster as the Wolves have through the season's first two months.
Karl-Anthony Towns signed a max extension almost immediately after Butler asked to be dealt. But the trade request just sat there, so Butler made a show of hijacking a preseason practice, then heard boos and "M-V-P" chants from the home crowd in the same game after starting the season in Minnesota, casting a pall over Towns and the rest of the team for 13 miserable games until finally being shipped to Philadelphia in exchange for Robert Covington and Dario Saric. Then, the Wolves started their season in earnest.
The pre-trade Wolves were 4-9, riding a five-game losing streak, and carrying the league's 29th-ranked defense. The post-trade Wolves are 9-3, with the league's second-ranked defense and second-best net rating. Their schedule during the latter stretch hasn't been daunting, but decisive wins over the Pelicans, Blazers, Rockets, and Hornets, along with a narrow loss to the West-leading Nuggets and an existential-crisis-inducing evisceration of the Spurs, have been strong indicators of a team figuring itself out.
Here are a few thoughts on the Wolves' stunning turnaround, where they currently stand, and what the rest of their season might look like.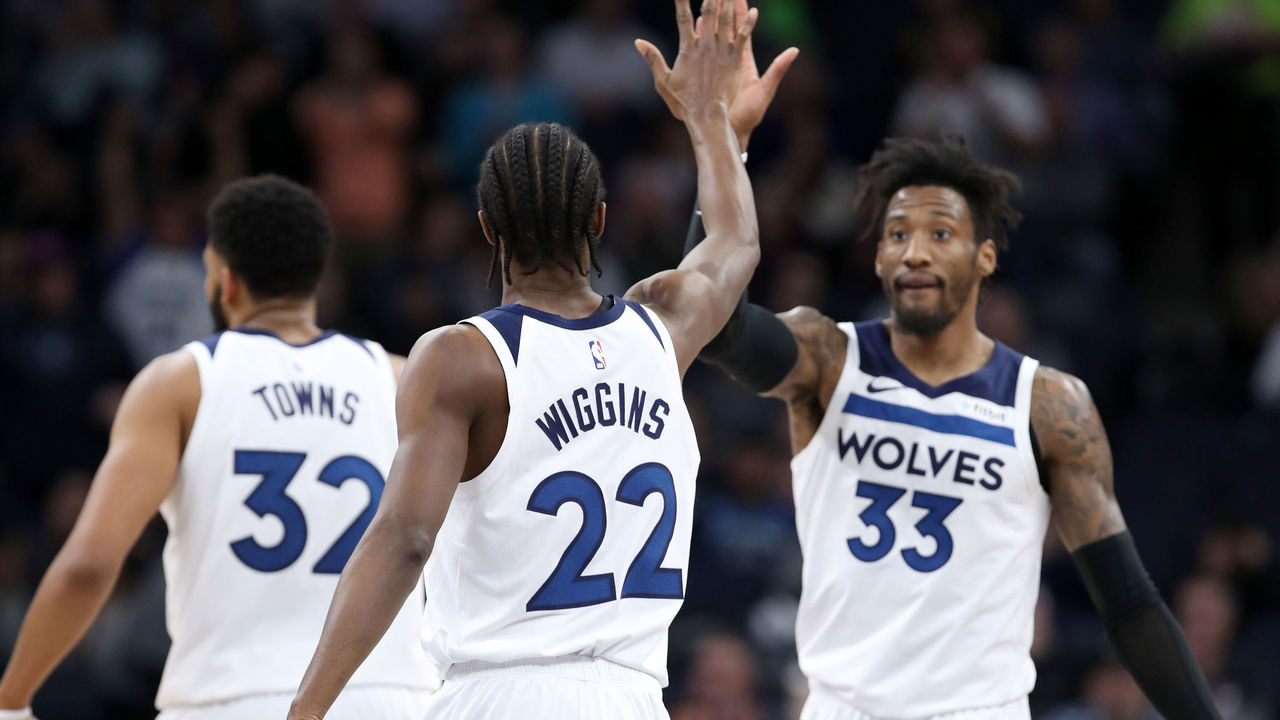 The Covington effect
Covington has been a revelation, and he's by far the biggest driver of the Wolves' defensive renaissance. Even though he ostensibly replaced an equally adept wing stopper in Butler, Covington's injection of energy and ferocity has changed the shape of Minnesota's defense and the team's identity.
Covington's dogged individual work is one thing, but it's what he's been able to do within the team concept that's had the biggest impact. His incredible hands - disruptive, precise, positively Kawhiian - have given the Wolves a newfound aggressiveness.
Suddenly, arms are in driving lanes as guys stunt and swipe from the wing. Space is closed off in a hurry and help arrives promptly. Covington can bottle up ball-handlers, or body bigs in the post, or arrive with a perfectly timed help rotation.
These two possessions, which happened about a minute apart during the Wolves' dominant second half against the Rockets this week, tell you all you need to know.
The Wolves switch a bit more liberally because of Covington's versatility, dig down in the post more frequently, and hedge more forcefully, trusting their ability to recover and rotate. As a result, they're forcing way more turnovers (up from 14th to eighth in the league since the trade), and the team is doing it without fouling (tied for second in opponent free-throw rate post-Butler).
Perhaps most importantly, Covington's effort and communication have rubbed off on his new teammates - including the franchise player.
Towns taking the reins
No Timberwolf needed to get out from under the Butler cloud as urgently as Towns, and after an understandably disengaged start to the season, the 23-year-old is proving he's capable of carrying an offense that's actually designed to run through him.
Since the trade, his usage rate has spiked from 24.1 percent to 27.2 percent, and his effective field-goal percentage has jumped from 52.6 to 57.6. He's averaging 22.8 points, 13.2 rebounds (including 3.7 offensive boards), and 2.6 assists, with a .523/.420/.836 shooting split. Yeesh.
Part of that is the result of removing a ball-dominant co-star, and slotting Covington into a perfect complementary role - spotting up, canning nearly 40 percent of his threes, ditching some of the more audacious shots he had a penchant for chucking in Philadelphia, and giving Towns room to operate with the ball. And Towns has also simply been more assertive and less risk-averse (his turnovers are also way up). He's gone from finishing 8.9 possessions per game out of the post to 12.8, and the Wolves have a 111 offensive rating with Towns on the floor since the trade.
Even more encouraging than that, Minnesota also has a sterling 100.8 defensive rating during Towns' minutes. Since the trade, the Wolves rank fourth in the league at defending shots at the rim (they ranked 19th before it), and Towns has been their bellwether. Opponents have shot just 48 percent at the rim against him following the trade, down from 60.7 percent beforehand.
That number isn't sustainable, but it hasn't been undermined by the eye test. As the last line of defense, Towns has been noticeably more clued in, more active, and more patient.
If he can sustain his defensive transformation even remotely, the Wolves will be in good hands for a long time.
It's not time to give up on Wiggins ... yet
Given the positional and stylistic overlap between the two, Andrew Wiggins figured to benefit from Butler's departure. Instead, he's been the only Wolves rotation player who's playing worse since the trade.
Still, even before he broke out of his prolonged slump with back-to-back solid outings against Houston and Charlotte this week, Wiggins' poor results had belied a lot of sound process. He's been working harder off the ball, and the Wolves are getting him involved as a cutter. For a while, and for whatever reason, he just couldn't convert opportunities at the rim.
The most glaring, most enduring issue for Wiggins offensively is that he doesn't have a tight enough handle to get by anybody in the halfcourt, and good things almost never happen when he dribbles in place and eats clock. But he remains an effective open-court player, and he's even shown some life recently as an off-the-catch attacker.
The key for him is decisiveness. Which might also necessitate a role change.
Wiggins needs to fully lean in and become an off-ball wing. He has to cut out the aimless dribbles, scale back the pull-up 2-pointers (on which he's shooting a hideous 26.8 percent this season), and focus more on catch-and-shoot threes (38.5 percent) and straight-line drives.
There's no way he's going to keep shooting as poorly in the restricted area (55.8 percent) as he has so far this season. He shot 67.6 percent from inside the circle last year.
Wiggins still needs to improve as a defender. He's sluggish through a lot of positions, and there are times when he simply doesn't recover to his man after bringing a double team. But, like the rest of his team, he's come on strong at that end of the floor in recent games.
The chances of him living up to his lucrative contract are slim to none, but the Wolves probably need to start thinking about that deal as a sunk cost. The team needs to recalibrate what success for the 23-year-old looks like and put him in the best position to succeed within that framework.
With a role readjustment and a bit more discipline, there's no reason he can't still be a valuable contributor.
Sudden depth
Following the trade that swapped one rotation player for two, the astonishing revival of Derrick Rose, and the strong play of rookie wing Josh Okogie, the Wolves - chronically top-heavy in the Tom Thibodeau era - suddenly have more depth than they know what to do with. Eleven players on the team are currently averaging over 13 minutes per game. Thibodeau, remarkably, doesn't even have anyone crossing the 36-minute threshold.
The bench is struggling to score, but the unit is defending its face off, with the perpetually pesky Tyus Jones leading the way. Saric has settled in nicely, even if he still isn't quite being utilized the way he'd like. Rose, a career 30.7-percent 3-point shooter, is hitting 47.5 percent from deep. Consequently, useful guys like Okogie and Anthony Tolliver can barely even get on the floor.
Given how many playable guys he has to work with, you could argue Thibodeau is still overplaying some of his starters (Wiggins, for instance). Rose has made himself impossible to bench, and Jeff Teague has the best offensive rating on the team. But Jones still feels underutilized.
It's easy to imagine the Wolves bundling some of their depth in a trade, but there isn't a realistic move that makes sense. The only guys who have trade value are the ones they have to keep. Rose might be Minnesota's best trade chip, and rival GMs will have to pry him from Thibodeau's cold, dead hands.
For now, finally having options is nice.
Making the playoffs is still an extremely tall task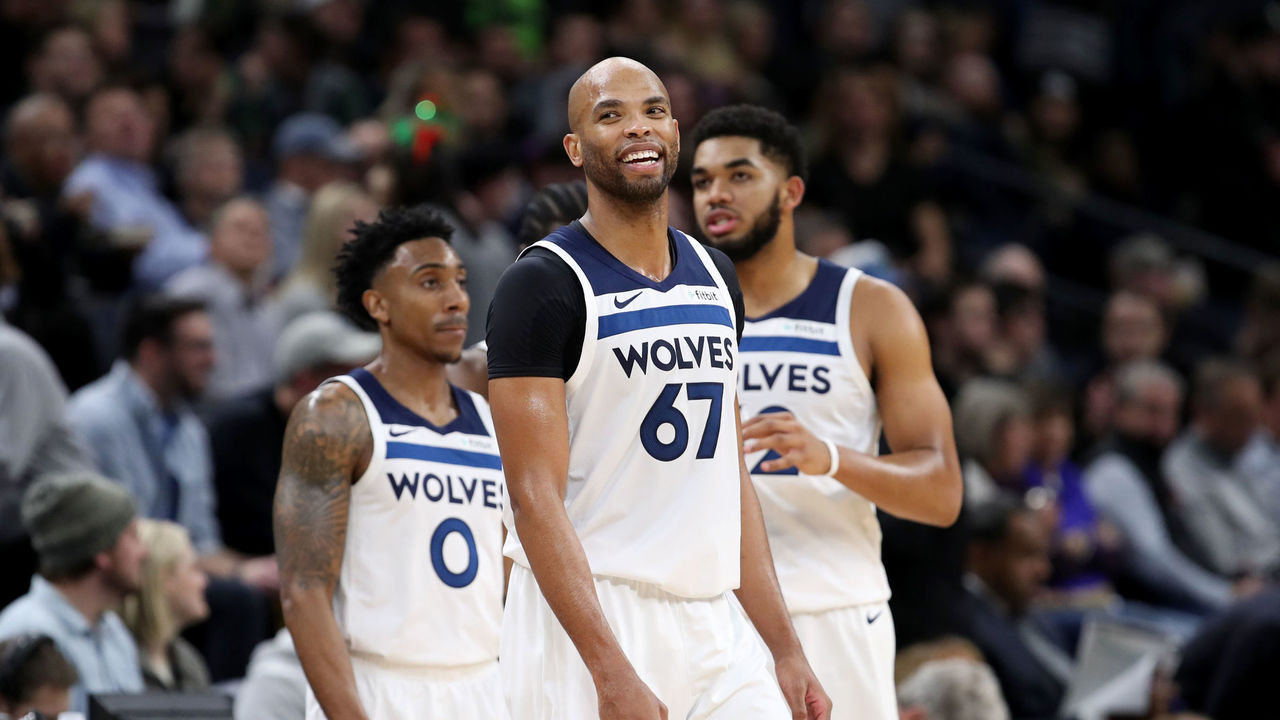 It's a shame the Wolves had to dig themselves out of a hole of their own making. If they started the season with the current roster, there's a good chance the Timberwolves would be in the middle of the playoff mix right now.
As it stands, they're in a virtual tie for eighth place in the Western Conference with two other teams. They're also just two games out of 14th. The FiveThirtyEight projection model pegs them as a 44-win team and gives Minnesota a 55 percent chance to make the playoffs.
If they earn a postseason berth, that means at least two of the Warriors, Nuggets, Lakers, Blazers, Grizzlies, Clippers, Rockets, Jazz, and Pelicans will not. The West is a freaking bear with no break on the schedule.
That 4-9 start wiped out the Wolves' margin for error. They need to hope recent success isn't just a blip after becoming briefly energized following an overdue shake-up. And when they hit the lulls that are surely coming, the Wolves will also need to sustain the good vibes that arrived with Covington and Saric.
Rose isn't going to sink half his threes all season, and Towns isn't going to protect the rim like Joel Embiid all year. The Wolves' offense is evolving, but it's still unimaginative, and they still go into most games at a mathematical disadvantage.
But the Wolves even getting back into the playoff bubble so quickly is remarkable. Besides, the progress Towns makes this season is the only thing that matters in the grand scheme, and he finally appears to be in an environment that's conducive to his growth.
"Guys have been speaking their minds, but guys are speaking their minds in a positive way," Taj Gibson told reporters this week. "They're not speaking their minds in a negative fashion at all. Everybody wants to do something positive. Everybody's still learning but we're growing as a team. There's nothing out of the ordinary negativity-wise. It's always positive, always preaching good things."
What a weird, fascinating team.