In what Klay Thompson dubbed a possible preview of the NBA Finals, the Toronto Raptors survived the shorthanded, defending champion Golden State Warriors in a 131-128 overtime barn burner Thursday night.
Here are four takeaways from one of the most exciting games of the season so far:
More switching
Maybe the Raptors were just hiding their cards in the regular season, but it was strange they didn't defend the Warriors by switching.
Houston pushed Golden State to the brink by blowing up their sets and switching everything across the board. The Warriors' egalitarian offense was reduced to a series of unwatchable one-on-one possessions where Kevin Durant jab stepped at the elbow before inevitably tossing up a contested jumper over a shorter defender.
Toronto has the personnel to replicate Houston's strategy. They have four multi-dimensional wing defenders in Kawhi Leonard, OG Anunoby, Pascal Siakam, and Danny Green, while Kyle Lowry and Serge Ibaka are also wily vets who can guard multiple positions. As Durant showed Thursday night, Golden State has superstars who can render defenses useless, but Toronto should still be able to make life difficult.
The Raptors mostly chose to play the Warriors straight up. Leonard, Anunoby, and Siakam all took turns guarding Durant, who simply got whatever he wanted off the high screen. Durant would either pull up for his feathery mid-range jumper or drive the lane and finish at the basket. He finished with 51 points and six assists.
Switching on a night when Durant was unconscious could have made things worse; he might have scored 60 if he was attacking mismatches. The only defensive strategy that worked against Durant was when the Raptors trapped him in overtime and forced other players to score. Generally speaking, the point of switching against the Warriors is to guard against Stephen Curry's pull-up threes, and he was on the sidelines as the world's most expensive cheerleader.
However, the Raptors should consider switching in the rematch on Dec. 12, if for no other reason than to see what works and what doesn't. Give Ibaka a chance to shuffle his feet against Curry or Durant, and test if Siakam can hold it down as a small-ball center. Switching isn't an ideal strategy, but it's the only scheme that has ever given the Warriors pause.
Monsters of the mid-range
The Warriors and Raptors are the most proficient mid-range jump shooting teams in the NBA (tied at 49.5 percent), but Golden State shoots twice as many mid-rangers a game as Toronto. Their ownership of that shunned space - driven almost entirely by Durant and Thompson - presents an interesting dilemma for a defense like Toronto's, which is specifically geared toward coaxing shots from inside the arc and outside the paint.
Every defense in today's NBA has to pick at least one poison, and the game's least efficient on-paper shot is a fine choice. The Raptors' drop-and-pursue pick-and-roll coverage funnels ball-handlers into the middle of the floor and often strands them there. But that coverage also leaves them with a bit of a schematic blind spot, one that can be exploited by the right opponent. They sometimes seem to forget that coaxing floaters and mid-range jumpers are only half the battle; they still need to make those shots difficult. They've made things a bit too easy on some teams this season, like the Pelicans and Grizzlies.
At times, they made things simple for Durant. He's shooting 53.5 percent from mid-range this season, so the notion that this shot is inefficient evaporates when he's your opponent. While the Raptors' on-ball defenders had a few nice rearview contests, they lost contact more often than not. Toronto's screen defenders sunk a bit too far back, giving Durant time and space to rise up for 18-footers that were as effortless as layups. If that sounds like hyperbole, consider this: The Warriors shot a better percentage from mid-range in this game than they did at the rim. Durant hit 8-of-11.
The Raptors' scheme is still a sensible and effective one, but their execution of it could be a whole lot better. Part of that comes down to simply knowing their opponent.
Raptors need a bench big
Every team in the league knows the Raptors are light in the frontcourt. Toronto is two-thirds of the way there with Ibaka and Siakam, but neither player can secure defensive rebounds, and the Warriors capitalized by grabbing 17 offensive boards.
Normally, the Raptors would bring in Jonas Valanciunas to secure the glass, but he is just unplayable in this matchup. The Warriors will attack him in pick-and-roll down the floor and either exploit him dropping back with his hands down to get a wide-open jumper, or beat him on the perimeter. Valanciunas is the one player on the Raptors with zero defensive flexibility, as he can only guard centers by camping out in the paint.
The Raptors would ideally bring in a center like Tristan Thompson off the bench, who can switch onto guards and be a factor on the boards. Jakob Poeltl, who was a casualty in the Leonard trade, was perfect in that role last season, and even had a game against the Warriors where he grabbed 11 offensive rebounds. The loss of Poeltl has also crippled the Raptors' bench, which got thoroughly outplayed by its counterpart on Thursday.
Toronto's best recourse will be to make a trade, and it shouldn't cost that much to get a defensive big in a league gaga about small ball. Delon Wright is an expendable trade chip, while Valanciunas and C.J. Miles could both be used to match salary in a deal.
The Draymond void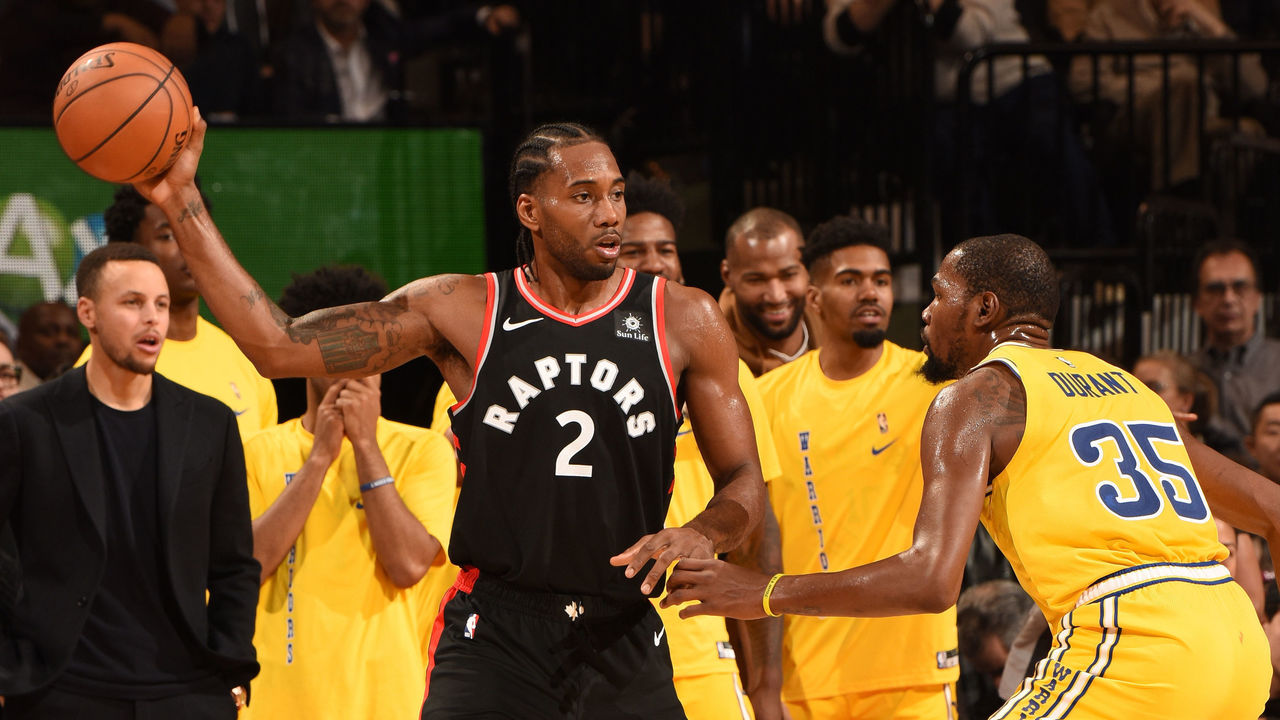 There's justifiably been a lot of talk about how the Warriors' identity changes when Curry is out of action, but this was a matchup in which Draymond Green's absence stuck out just as much. For one, no Warriors defender had much success getting into Leonard's airspace, pushing him off the ball, or preventing him from getting to his spots. Leonard spent the bulk of the game matching Durant shot for shot, finishing with 37 points on 14-of-24 shooting.
The Raptors repeatedly ran screen actions to get Golden State's bigs switched onto Leonard, and all of them - from Damian Jones, to Jonas Jerebko, to Jordan Bell - proved ineffectual in the matchup. They all got burned defending in space. Meanwhile, Thompson didn't have the size to bother Leonard, and Durant, while positionally solid, couldn't affect his shot. Green was noticeably missed defensively, not just as a would-be Leonard stopper, but in the transition game and on the back line. The Raptors piled up points in the first half by leaking out and beating the Warriors down the floor.
But his absence was perhaps most glaring at the offensive end in overtime, when the Raptors finally started throwing hard hedges and traps at Durant, forcing him to give up the ball. The rest of the Warriors were befuddled and struggled to make plays off the catch with the man advantage; both Jerebko and Andre Iguodala committed traveling violations in the extra frame. Kevon Looney was less skittish but still mechanical. With Thompson's shot going cold, Durant found himself with no viable release valve. Green's ability to make snap reads and deliver pinpoint passes out of the 4-on-3 is a crucial counter to defensive blitzes. Without him, the Warriors couldn't make Toronto pay for loading up on Durant.