There are few NBA happenings more exhilarating than a team stumbling upon an accidental blueprint for success, and subsequently blowing away its perceived limits.
Consider the David Lee injury that paved the way for Draymond Green's rise on the 2014-15 Golden State Warriors. Or the Rudy Gay trade that was supposed to kick-start a scorched-earth rebuild for the 2013-14 Toronto Raptors but instead propelled the franchise to its greatest heights. Or the opening-night Gordon Hayward injury that preceded a 16-game Boston Celtics winning streak and unshackled Jayson Tatum in his rookie year.
The New Orleans Pelicans unearthed their own treasure map a few months ago when DeMarcus Cousins tore his Achilles tendon. Cousins was the most talented teammate Anthony Davis had played with since entering the league, and in their first full season together, the Pelicans had been good, occasionally even approaching great.
With a two-center look that butted up against modern conventional wisdom, they'd found success playing a kind of highbrow bully ball. Acquiring Cousins at reasonable cost had been a no-brainer, and looked like the best move Dell Demps and the Pelicans' front office had made - a worthwhile gambit to convince Davis they could surround him with enough talent to make New Orleans an attractive long-term home.
Cousins' injury initially appeared to kill that momentum, but then a funny thing happened: The Pelicans embraced a new identity, and took off. They prioritized mobility and speed, and when they effectively replaced Cousins with stretch big Nikola Mirotic via trade, their new edict was clear: Surround Davis with shooters, amp up the aggressiveness on defense, and run opposing teams into the ground.
Riding a breakneck pace, with Davis going supernova in a wide-open floor, the Pelicans closed the season on a 20-8 run and then vaporized the higher-seeded Portland Trail Blazers in the first round of the playoffs. It was the first series win of Davis' career, and the first for the franchise in the post-Chris Paul era. New Orleans was ultimately cut down by the Warriors, but by then it was clear Cousins no longer jived with the team's vision of a Davis-centric roster.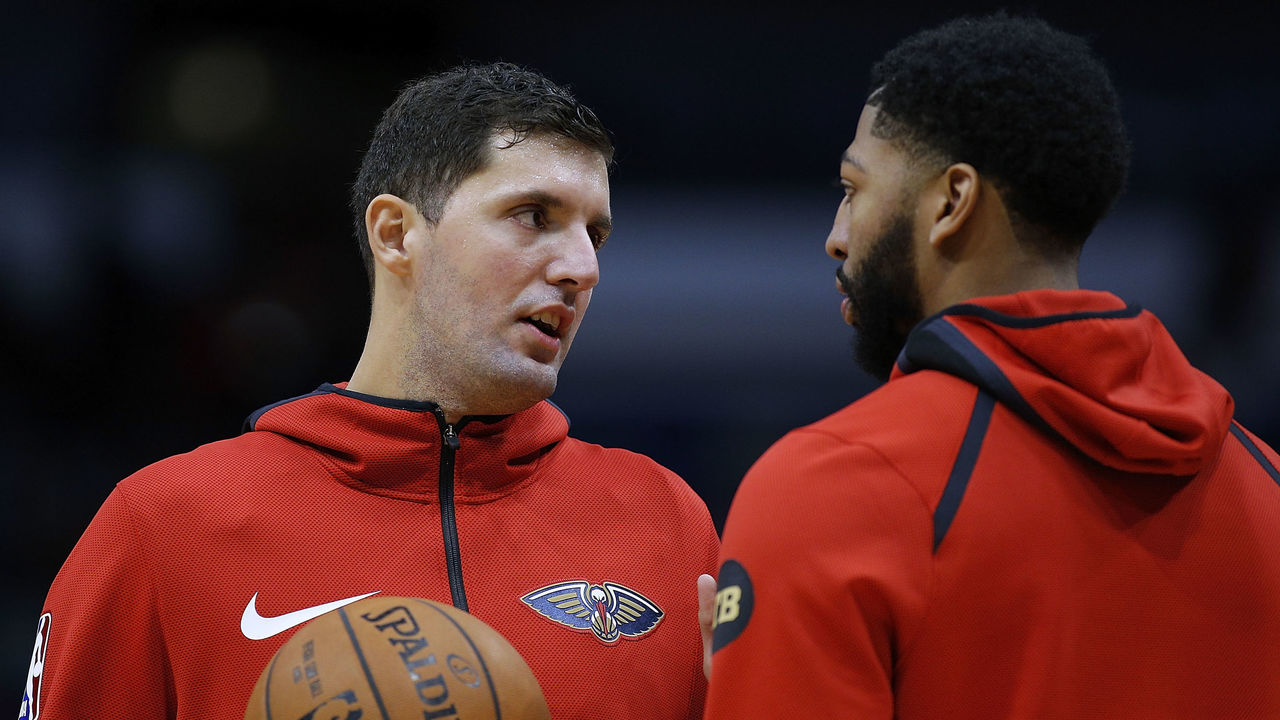 The Pelicans doubled down on that formula in the offseason, letting Cousins walk and running back virtually the same roster while adding a supplemental frontcourt piece in Julius Randle, who's something of a Cousins Lite. If that sounds like a slight, it isn't. Randle's lighter on his feet and much quicker than Cousins, more versatile defensively, and a more dynamic fast-break orchestrator. He offers a comparable surplus of passing for his position, and while he isn't as dominant an interior force, he's no easier to stop when he gets a head of steam. (Among players who've driven the ball at least 30 times this season, Randle ranks first in points produced per drive.)
The Pelicans flew out of the gate this season, suggesting their success down the stretch of 2017-18 would be repeatable. But a Davis elbow injury blew them off course, and the process of reorienting themselves has come in fits and starts. They're now 7-7, and still figuring out how to make it work with an unconventional roster that features a paper-thin wing rotation and three bigs - Davis, Randle, and Mirotic - as its highest-usage players. They run a helicoptering frontcourt rotation, with at least two of those three on the floor at almost all times. Not all of the fits are equally snug.
Mirotic and Davis are a match made in Horns-set heaven - the rim-runner and the floor spacer, the roller and the popper - and they've picked up where they left off last season. It's been by far the Pelicans' most successful big-man combo, and the one that usually closes games. Davis and Randle are a less obvious fit, but they're able to navigate tighter spaces with guile and force. The Randle-Mirotic duo makes sense on paper, but in reality is still very much a work in progress, particularly at the offensive end, where they suffer from a lack of vertical gravity.
With Davis on the floor, Randle's more of a cutter and scavenger, but he otherwise shifts into on-ball mode. His usage rate spikes from 20.3 percent alongside Davis to 31.6 percent with the superstar on the bench. (Mirotic's has stayed mostly the same regardless of whom he plays with.)
"It's a bit different," Randle told theScore. "With AD, you've just gotta share the floor a little bit more and open it up for him. Attacking-wise, Niko spreads the floor for you, so it's different in that way. But I don't really try to change the way I play. I just play hard, and let the game dictate what we should do."
Even if he can't space the floor with the threat of a jumper, Randle still serves as an effective release valve thanks to his instincts and playmaking abilities. When defenses load up to stop the Davis-Jrue Holiday pick-and-roll, Randle allows New Orleans to short it:
Randle also finds workarounds with timely baseline cuts. He and Davis are developing a nice mind-meld when the latter attacks down the middle, especially in semi-transition:
Davis has long been reluctant to play center on a full-time basis (even if that positional distinction is increasingly meaningless), so it helps that either Randle or Mirotic can handle the five defensively for long stretches. That might not have been an option for Mirotic in the past, but he has focused on bulking up in order to absorb some of the beatings that might otherwise be inflicted on Davis. This season, he's posting the highest rebounding rate of the three, blowing away his previous career best.
"I've been working a lot on myself, to get stronger, to put weight on my body," Mirotic told theScore. "I made a goal for myself: I know I can get 10 rebounds a game. It's just about effort, and that's what I'm doing right now."
The concept of "small ball" can be a bit of a misnomer. There's a sense that the league as a whole has fallen in love with downsizing, which isn't entirely true. It would be more accurate to say the league has fallen in love with versatility. Small ball's become shorthand for playing fast, zipping the ball around, shooting a bunch of threes, and switching a lot on defense. But you don't necessarily have to trot out small lineups to do those things, and the Pelicans are proof.
The advantage New Orleans possesses - in theory, at least - is the ability to switch at one end while destroying switches at the other. When opposing defenses opt to switch on screening actions, the Pelicans' bigs eat in the post. When defenses don't switch, the guards - namely Holiday and E'Twaun Moore - can get to the middle of the floor and feast on floaters.
The Pelicans also have a nuclear option up their sleeve. While they've mostly staggered the three talented bigs, they've also experimented with all of them on the floor at once, including for the final eight minutes of last week's near-comeback against the Oklahoma City Thunder after Russell Westbrook departed with an ankle injury.
The appeal of the lineup is obvious, especially against a shooting-challenged team like the Thunder. One example: Late in that game, Dennis Schroder tries to work a pick-and-roll with Steven Adams, but comes up against a wall of arms as Davis drops back and Mirotic cheats off Jerami Grant in the strong-side corner. Schroder eventually tries threading a pass to Adams on the roll, which Randle anticipates and pounces on from the weak side. Then, Randle sprints the length of the floor and goes right into the chest of a backpedaling Adams for the easy deuce:
In a tiny 16-minute sample of the trio playing together, the Pelicans have produced an 80.0 defensive rating and a 22.4 net rating, with a ridiculous 119-possession pace. It's been a bit choppy at the offensive end, but they've drawn a bunch of fouls just by overwhelming teams with their combination of speed and size. Here, Mirotic runs the break off a defensive rebound, goes immediately into a dribble-handoff, and slips behind the defense before anyone's the wiser:
Randle misses him on what should've been a pass over the top, but Schroder still picks up a foul after Mirotic seals him right under the basket.
Had the Pelicans been playing a stretchier team, or had Westbrook been there to attack their bigs in space, this might not have been tenable. But coach Alvin Gentry says he'll run the lineup out there any time he can get away with it.
"It is situational, but we're trying to look to do it," Gentry told theScore. "Basically, we're trying to get our best players on the floor, and our best players, some of them happen to be big guys. So we try to find a way, especially at the end of the game, to have those three guys on the floor."
Randle says he doesn't have a favorite lineup composition, but that he enjoyed playing with both Mirotic and Davis at the same time, pointing to their ability to cross-match in transition.
"We're (all) big and we're very mobile, all of us," he said. "So, if it's a cross-matchup, and the guy I'm supposed to be guarding is up the floor, Niko can guard him, or AD can guard him."
Mirotic, who spent parts of that Thunder game battling Adams in the post, and others trying to stay in front of Paul George or chasing Alex Abrines around screens on the perimeter, is also a fan.
"I know it's crazy, but I feel great (about it)," he said. "We all can play at the same time, because we understand how to play with each other. Those guys can pop, they can roll to the basket, (but) their biggest strength is going inside, so when they play with me it's great because I can space the floor.
"I love it so far. We've got great chemistry."
Every NBA team is embracing positionless basketball, but most are doing so with armies of 6-foot-7 wings who toggle between front- and backcourt assignments. Not many are doing it with guys who stand 6-foot-9, 6-foot-10, and 6-foot-11.
All three of the Pelicans' bigs have ball skills and are quick on their feet. All of them can push the ball up the floor, attack off the dribble, and defend in space. And they're all increasingly willing 3-point shooters. Mirotic's accuracy comes and goes, but defenses respect his shot, and he's jacking up seven attempts a night. Davis is taking 2.3 threes a game, connecting on 40 percent. And Randle's more than doubled his previous career high in 3-point attempt rate while hitting a passable 30.8 percent.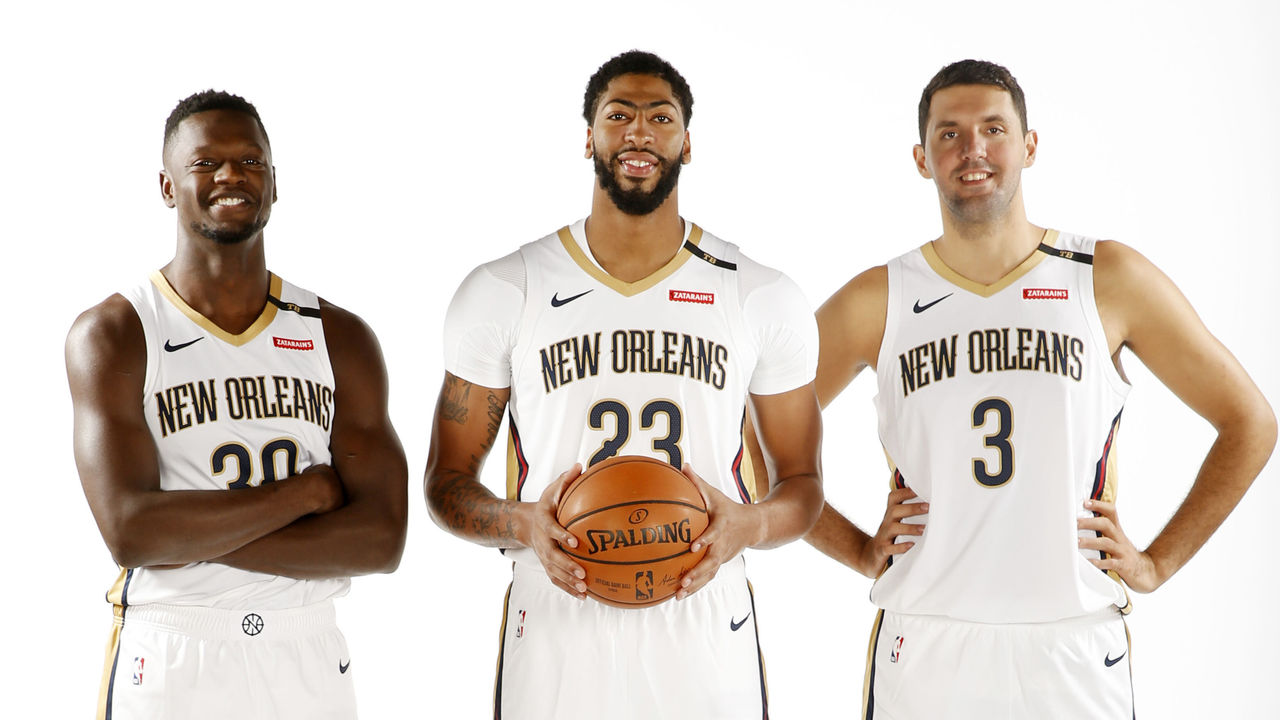 The Pelicans still crash the offensive glass, collecting 30 percent of their own misses while ranking fifth in overall rebounding rate. And they play ultrafast no matter which lineup's on the floor. No team gets shots off quicker, or scores more frequently, following opponents' makes. (In an inversion of the league-wide norm, the Pelicans score more efficiently off dead balls than off defensive rebounds or live-ball turnovers, according to Inpredictable.)
Whether that's a recipe for sustained success is still up for debate. The Pelicans are piling up points, but their defense ranks just 24th, which is especially disappointing given the individual abilities of Davis and Holiday. Mirotic suggested that, because of the team's tempo, success at one end of the floor often comes at the expense of the other.
"When coach was talking in the preseason that he wanted to play even faster than last year, I think a lot of people were surprised," Mirotic said. "Right now we're doing that, but we need to get better in defensive transition. Sometimes, we're too focused on playing fast, spending all our energy on the offense. We need to be capable of doing it on both sides of the court. But, it's still early, and we're still trying to figure out the best way to play."
The stakes are high. Davis' 2020 free agency looms, and he's already sending troubling signals about his future with New Orleans. The Pelicans are still too dependent on him, outscoring opponents by 10.9 points per 100 possessions with him on the floor, and getting outscored by 13.3 per 100 without him. Meanwhile, both Randle and Mirotic will be free agents after this season (it's a near-lock that Randle declines his 2019-20 player option), and both figure to command deals between $15 million and $20 million annually.
If the Pelicans don't show meaningful progress this season - if they don't win a series, or if they get thoroughly outclassed in the second round once again - all parties involved are going to have difficult decisions to make. The front office appears cognizant of the urgency, reportedly offering Mirotic and an unprotected first-round pick in exchange for Jimmy Butler before the latter's trade to Philly.
Still, this is probably the most overall talent the franchise has assembled around Davis since it drafted him in 2012. That's a low bar, to be sure, but at their best, the current Pelicans are extremely dangerous. With no clear-cut second-best team in the West, and with things teetering in the Bay, they have an opportunity. Whether they have the depth and the roster balance to take advantage is the real question, but it helps that they've forged an identity.