Film Room: Could 1 major flaw prevent Bucks from contending?
Garrett Ellwood / National Basketball Association / Getty
The Eastern Conference was supposed to be a three-team race between Toronto, Boston, and Philadelphia, but Mike Budenholzer and his Milwaukee Bucks are making a strong early push to crash the party.
The Bucks are 8-2, and they've outscored opponents by an average of 12.7 points per game. The offensive approach has changed significantly, as they're launching nearly twice as many threes (up from 24.7 to 41.1 attempts per game) and they've already proved their mettle with wins over the Raptors, 76ers, and Indiana Pacers.
The improvements on defense haven't garnered as much attention. The Bucks have jumped from 17th to third in defensive rating while miraculously fixing their problems defending the interior. Specifically, Milwaukee's gone from allowing the most restricted-area attempts per game in 2017-18 to conceding the fewest this season, while the team's defensive rebounding percentage has improved from 29th to fourth. Sure, adding Brook Lopez and Ersan Ilyasova has helped, but they're not exactly defensive anchors.
Instead, those improvements can be credited to Budenholzer, who's installed a strictly conservative scheme to replace the scrambling mess left behind by his predecessors. Rather than doubling every screen and relying on rotations to beat the pass, Budenholzer wants the Bucks to keep help defense to a minimum, and to protect the paint at all costs by keeping his centers close to the basket.
Here's an example of how the Bucks are defending pick-and-rolls this season. Notice Ilyasova sitting right in the lane, which is taking away both dribble penetration and a potential pass to the roll man - purposefully leaving a gap at the perimeter in order to deny the paint: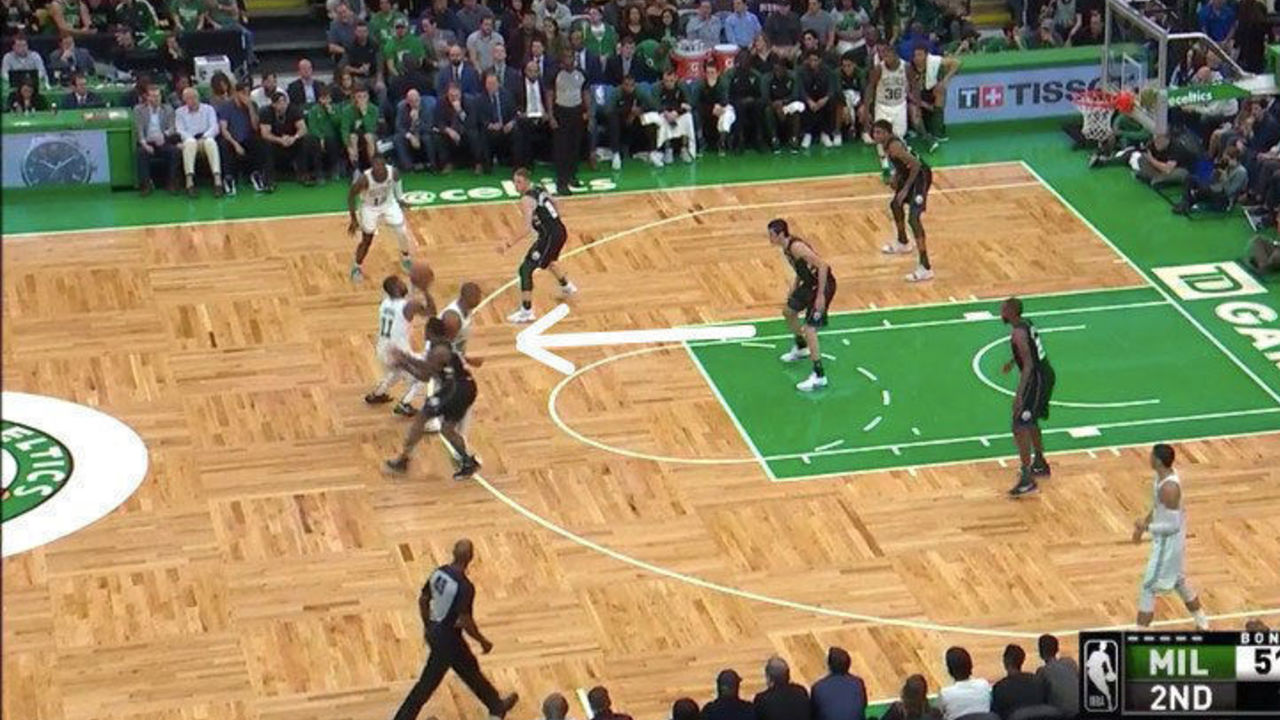 The results have been fantastic overall, but Budenholzer's defense does have one glaring flaw: Selling out to protect the rim leaves the perimeter wide open, and teams are cluing in, which is why Milwaukee ranks 28th in 3-point attempts allowed.
That was evident in both of the Bucks' losses, as Boston and Portland combined to hit 41 threes. More importantly, those teams combined for 98 attempts, suggesting they specifically planned to make it rain from deep based on Milwaukee's scheme.
Defenseless against pull-up shooters
The easiest way to attack this style of defense is with a shooter who can pull up. Milwaukee's bigs will hang back when defending a ball screen, which means there's always a clean look for a pull-up jumper.
Here's an example involving Kyrie Irving and Al Horford. Lopez is camped in the paint to defend against the drive, but that puts Eric Bledsoe in a difficult spot. Bledsoe fights like hell to get around the screen, but Irving still steps into a wide-open three because Lopez is nowhere to be found:
Here's another one, with Jusuf Nurkic setting the high screen for Damian Lillard. The same opportunity to pull up becomes available as Lopez drops back:
And here's one more, in which Kemba Walker gets an uncontested look:
Milwaukee will live with 27-foot pull-ups against most teams since only a handful of players can hit those shots consistently. However, it's concerning that the Bucks stuck with that paint-focused approach even when facing the likes of Irving, Lillard, and Walker.
Susceptible to pick-and-pops
The other straightforward way to exploit the Bucks' defensive system is by playing pick-and-pop with a center who can shoot. Again, the principle is simple, as the Bucks will always abandon the 3-point line in favor of clogging the lane.
The Celtics ran at least a dozen pick-and-pops for Horford and Aron Baynes in their win over the Bucks. The guards would sell the drive off the screen - drawing both defenders into the paint - before kicking it out for an open look:
Here's the same play involving Markelle Fultz and Joel Embiid:
And one more with Kyle Lowry and Serge Ibaka:
Again, the Bucks are happy to concede some open threes instead of allowing shots at the basket. Budenholzer knows his interior defense will be exploited if it doesn't have a numerical advantage to make up for a lack of shot-blockers, and he's more than happy with opposing centers floating at the arc rather than getting inside position. But as demonstrated above, this strategy runs into problems against teams with the right personnel to execute pick-and-pops and make shots.
Easy to exploit
The more creative coaches in the league have already found other ways to counter Milwaukee's defensive scheme by exploiting gaps.
Here's one example in which the Sixers and Brett Brown came prepared with a set play right from the jump. Dario Saric sets a screen for the ball-handler, Ben Simmons, knowing that his own defender, Khris Middleton, would drop to guard against a potential drive. Saric then uses a separate screen from Embiid to reach the perimeter and make a wide open 3-pointer while Middleton's caught trailing well behind the play:
Brad Stevens had a similar idea of baiting the Bucks into abandoning the perimeter. Here, Terry Rozier runs a half-hearted pick-and-roll with Horford that coaxes Ilyasova into dropping into the paint. Rozier then quickly reverses the ball to Irving, who comes around a screen from Horford for an open shot in the vacated space:
In this next example, Raptors coach Nick Nurse skipped over the pick-and-roll part altogether and got an open three by simply running a pin-down. Lowry comes flying around a screen by Ibaka, and once again the Bucks are helpless because Lopez is stationed in the paint rather than contesting the shot:
Every team make mistakes and leave shooters open, but the examples in this piece aren't breakdowns. Budenholzer is leaving shooters open by design in order to protect the rim, and the results have largely worked in his favor. Milwaukee is third in defensive rating because only a handful of teams can hit enough threes to compensate for a lack of layups.
It's a calculated risk, but it's also a flaw that can be exploited. Teams with pick-and-pop bigs and guards who can consistently pull up from deep will give the Bucks trouble all season - and that specific defensive shortcoming could very well keep Milwaukee from reaching the upper echelon of the Eastern Conference come playoff time.
Comments
✕
Film Room: Could 1 major flaw prevent Bucks from contending?
  Got something to say? Leave a comment below!