It wasn't long ago that the Minnesota Timberwolves were burgeoning NBA darlings: a team with a gifted young nucleus, seemingly boundless potential, and all the time in the world to grow into it. The Wolves had a future every rebuilding team could dream on. People looked at them and saw the late-aughts Thunder reborn.
Their future may yet be sunny, but for now the Wolves' path has veered from its once-clear course and led them into a dense, dark wood. Along the way, a group of doe-eyed prodigies has mutated into a misfit collection of malcontents with an uncertain future and an awful lot riding on the coming season.
After a draft-night trade for Jimmy Butler last year, 2017-18 had all the makings of a watershed campaign for the franchise. In a way, it was. The Wolves did make the postseason for the first time in 14 years. But ending that drought - the second-longest of its kind in league history - didn't feel nearly as joyous or galvanizing as it should have.
The team never fully clicked. Andrew Wiggins regressed offensively, Karl-Anthony Towns plateaued defensively, Butler tore his meniscus, Ricky Rubio's skill set was missed as Jeff Teague's proved more redundant, and the bench, outside of Tyus Jones, was disastrous. The Wolves finished the season ranked fourth in offensive efficiency, but, much like the Raptors of years past, the antiquated formula that got them there did not hold up to postseason scrutiny. Their defense was routinely shredded. As cracks in the roster were exposed, resentment fomented and relationships soured. Though Minnesota won a thrilling play-in game over the Denver Nuggets on the final day of the regular season, the playoff appearance that was a decade-and-a-half in the making came and went with a whimper - a five-game whitewashing at the hands of the Houston Rockets in the first round.
That said, when Butler was healthy last season, the Wolves were pretty damn good. They went 37-22 in games he played, a winning percentage that would've comfortably put them third in the West. They outscored teams by 8.3 points per 100 possessions with him on the floor, a mark that would've bested every team but the Rockets. There's reason to believe the Wolves can replicate that success, and even build on it, if they get a full season out of Butler. In him and Towns, they have two top-15 talents, which is something maybe three or four other teams in the league can say. But there is an equally realistic scenario in which personal and stylistic disharmony wins out over talent, and Minnesota crashes and burns.
At a time when you have to work hard to talk yourself into more than one team having legitimate title hopes, the regular season has become a long, glorious distraction, with big-picture significance taking a backseat to day-to-day entertainment and petty palace intrigue. The Wolves won't win a championship this season - they probably won't come close - but all the unknowns, the drama, and the wide range of potential outcomes should make them one of the NBA's most fascinating distractions. Here are the biggest reasons to keep tabs on them in 2018-19.
Towns front and center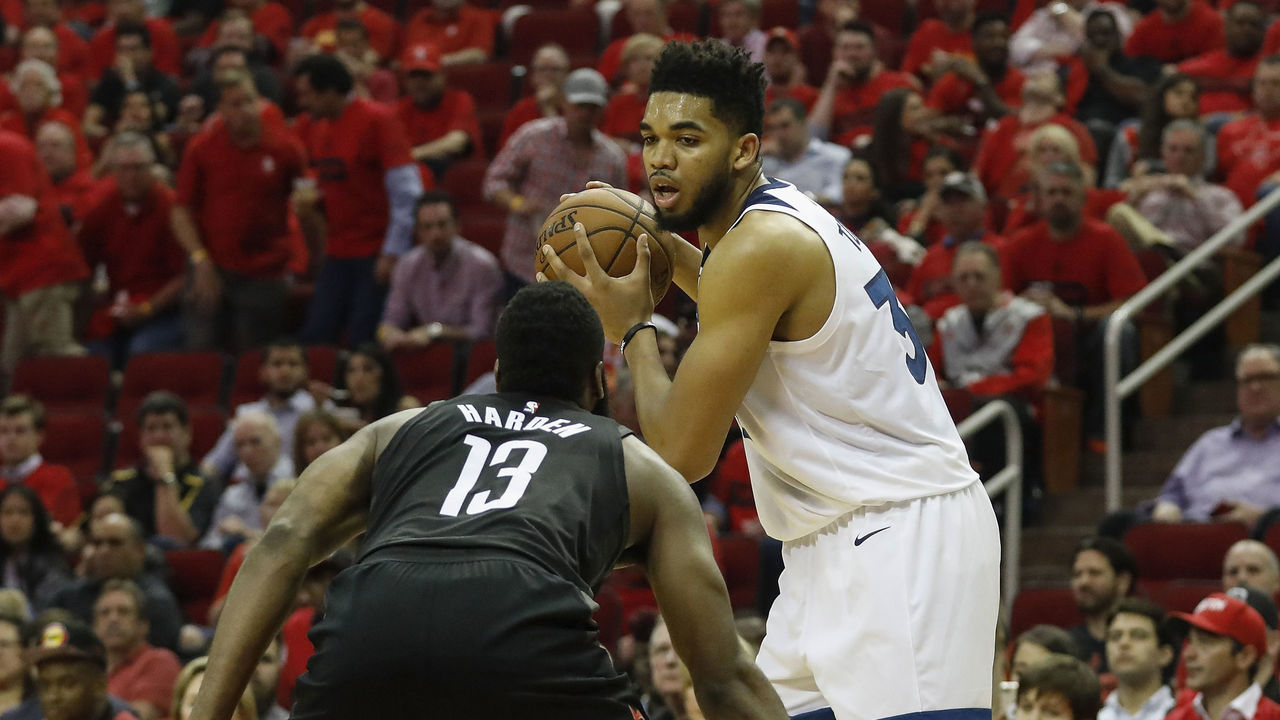 Towns has a year left on his rookie deal, but by all accounts, the Wolves are prepared to sign him to a max contract extension. As good as Towns is at the tender age of 22, that's far from a risk-free proposition. They gave the same extension to Wiggins last summer, and it already looks like an albatross. Towns is unquestionably a wiser investment than Wiggins, but he still comes with red flags: He remains a minus at the defensive end, is often far too passive offensively, no-showed in the playoffs, and seems to have a less-than-rosy relationship with coach Tom Thibodeau.
None of those things should be irreparable, though, and Towns is the most important member of the organization right now. He's already a ridiculously polished offensive player with an unguardable inside-out game built around his unique combination of strength, touch, long-range marksmanship, and unfair speed for a 7-footer. He was one of the most efficient post scorers in the league last season, and his 64.6-percent true shooting mark ranked second only to Steph Curry among high-usage players. Minnesota scored 10.5 more points per 100 possessions with him on the floor. And he still has plenty of room to grow.
Simply getting involved in more possessions would go a long way. His 21.9-percent usage rate last season was unacceptably low for someone so gifted, and that dissonance was even more pronounced in crunch time, where Towns' 15.1-percent usage ranked sixth on the team behind Butler, Wiggins, Teague, Jamal Crawford, and Nemanja Bjelica. Part of the blame for that falls on Towns' teammates for looking him off, but more of it falls on Towns. There were too many times when he wasn't assertive enough; when he didn't work to establish deep post position or flash into space or otherwise make himself a target. Perhaps the next stage in his offensive evolution will be cutting out the middleman. To this point, Towns' ballhandling and playmaking abilities - while firmly above average for a big man - have not been refined enough to make him an initiator, so the extent of his involvement in Minnesota's offense has been contingent on the cooperation of others. Honing those skills would allow him to take matters into his own hands more often.
The other end of the floor is obviously a different story. Towns has all the physical tools to be an impact defender - he is an excellent defensive rebounder, has good shot-blocking instincts, and has the lateral quicks to hang with most guards on switches - but, while he steadily improved over last season, he still left a lot to be desired when it came to awareness, effort, and execution. More than continuing to expand his offensive arsenal, nailing down the finer points of NBA defense will determine whether or not he proves worthy of max money. It may also determine whether Butler can envision a future in Minnesota.
Butler trade watch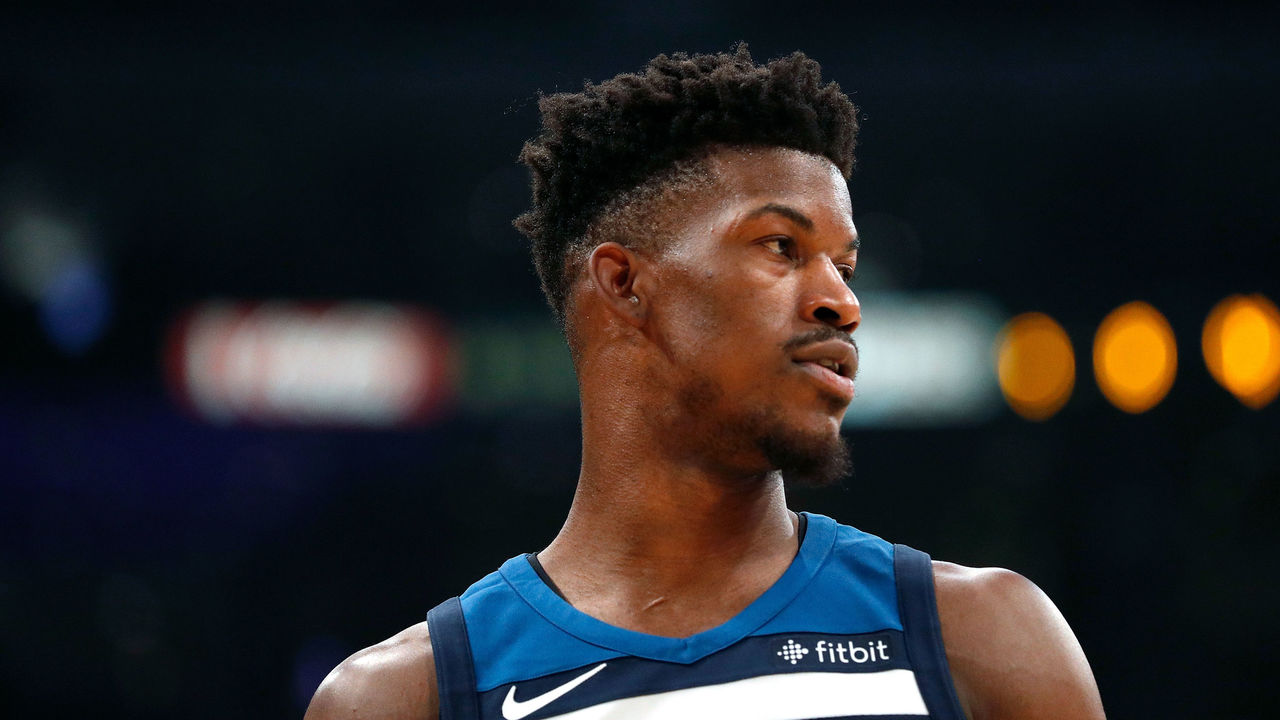 Less than a year after he first donned a Timberwolves jersey, the excitement from the Butler trade has given way to anxiety over his impending free agency, with rumors already swirling about his desire to decamp for one coast or another next summer. Everything that's leaked from his camp in recent months suggests he's unimpressed with the attitude and work ethic of his young co-stars, and there seems to be a clear schism between the hard-driving Bulls imports (Butler, Thibodeau, Taj Gibson) and the more laid-back homegrown Wolves like Towns and Wiggins. Butler was slated to meet with the team's front office Monday to discuss his future.
His fit in Minnesota, in both a cultural and a basketball sense, is imperfect. On top of the disparity in temperament, ethos, and leadership style, there's a great deal of functional overlap between him and Wiggins. Both like to operate in isolation and attack the basket as a first option, both make the ball sticky at times, and neither really spaces the floor or cuts or makes plays for the other. They don't work in symphony so much as they take turns playing solos. Still, the notion that they can't play together is probably overstated. Wiggins' individual production suffered, but when the two shared the floor last season the Wolves posted a 9.4 net rating. (When Towns played alongside them, that rating jumped to an even 10, and with Gibson in the mix it was 10.7.)
Butler was the glue holding all those lineups together. His steady hand, power-stepping scoring prowess, and ability to tackle the toughest perimeter defensive assignment night after night, released considerable pressure from everyone around him. When Wiggins and Towns played together without Butler, the Wolves posted a minus-1.3 net rating and an appalling 112.6 defensive rating (a full two points worse than the Suns' league-worst mark). The team as a whole was 12.8 points per 100 possessions worse when he was on the bench. Without him, the Wolves would be staring at a 16th straight lottery berth. They should and likely will do everything in their power to retain him.
Butler is also 29, with six seasons of Thibodeau-enforced workloads and the resultant wear and tear. He's missed at least 15 games in four of the past five seasons. Even if Minnesota can somehow salvage this situation and convince him to re-up, it's worth questioning the prudence of locking in all three of Butler, Towns, and Wiggins on max deals given the trio's ostensible limitations and how badly that would hamstring the team financially. Would the Wolves be crazy to try moving Butler for younger and cheaper assets, taking a step back in the present but potentially setting themselves up for a more sustainable run a few years down the road? Conversely, would it make sense to hold onto Butler for what could be just one more season in which they are, at best, second-round fodder? Much will obviously depend on the signals they get from Butler, but if their season gets off to a rocky start, or the team's chemistry remains combustible, the Wolves will have to start exploring the idea of trading him (if they aren't looking at it already).
The X-factor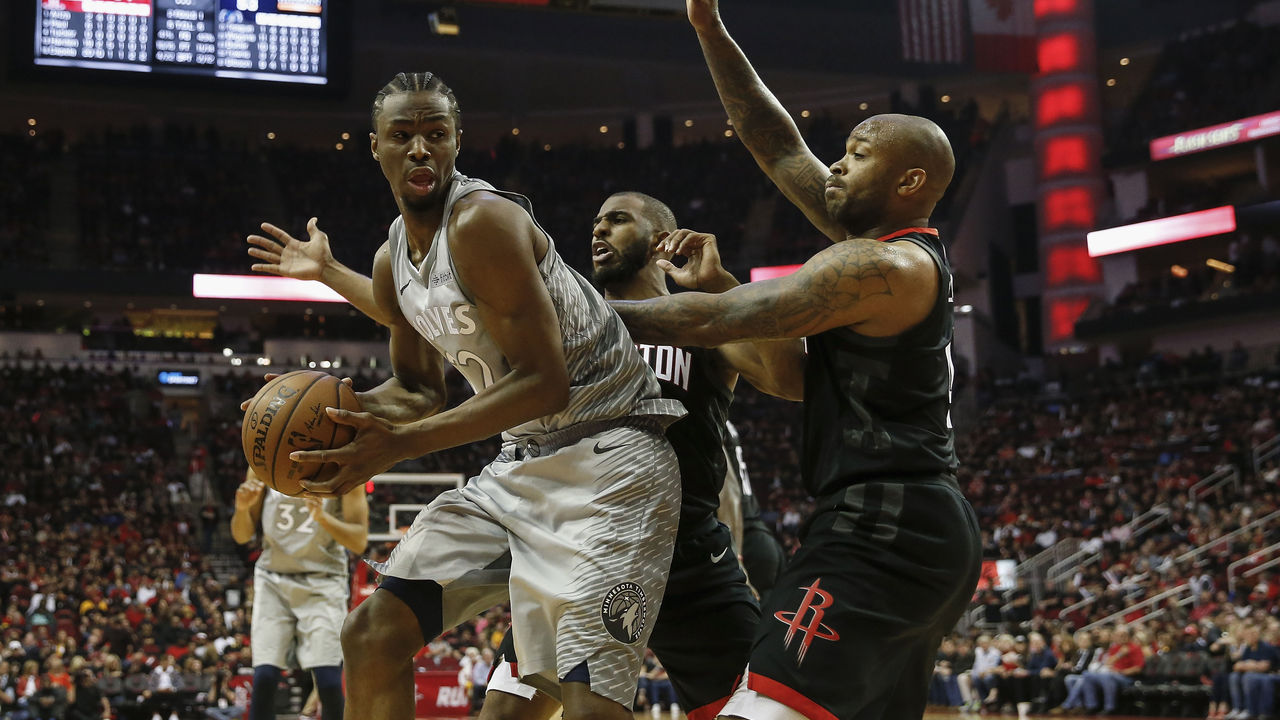 While Towns and Butler are at least somewhat proven commodities, it's virtually impossible to predict what Minnesota is going to get from Wiggins. He may be the hinge on which his team's season swings, but his motivations are inscrutable, and one wonders whether he'll ever be committed enough to appease the demanding likes of Butler and Thibodeau. His strength, footwork, vertical athleticism, and at-rim finishing tantalize, but those abilities (and the massive contract they earned him) will be held against Wiggins unless or until he outgrows his penchant for drifting in and out of games.
Butler's arrival figured to create more fruitful offensive opportunities for the former No. 1 pick, but it wound up throwing Wiggins' game (and perhaps his psyche) out of whack. He didn't grow into an off-ball role. He was an indecisive off-the-catch attacker, remained a hesitant (if effective) cutter, and shot just 35.8 percent on spot-up jumpers. He averaged 0.67 points per isolation possession, putting him in the 18th percentile of the league. Initiating contact at the rim and piling up points at the line had been his greatest offensive strengths, but his free-throw attempts plunged, and more strangely still, so did his percentage. All told, he posted career lows in true shooting, PER, assist rate, free-throw rate, and win shares per 48 minutes. He remained stunted as a passer and rebounder. Advanced metrics continued to despise him.
Wiggins was reportedly upset about being relegated to a third option (which is curious because he still led the team in field-goal attempts per game), but it's hard to see him climbing in the pecking order as long as he's on a team with Towns and Butler. If he was so inclined, he could take the reduced offensive load as an opportunity to apply more effort and energy at the other end of the floor. There's a universe in which he develops a reliable 3-point shot, hones his playmaking skills, and embraces a role as a high-end tertiary scorer and multi-positional wing defender. That's the universe the Wolves need him to exist in, at least for now. Their future may well depend on his adaptability. Wiggins is only 23, but he's been in the league for four years and his progress so far has been circular at best.
One thing you can unequivocally say about Wiggins is that he is durable, having missed just one game across those four seasons. But what does that durability amount to if he can't evolve as a player?
The role of Tyus Jones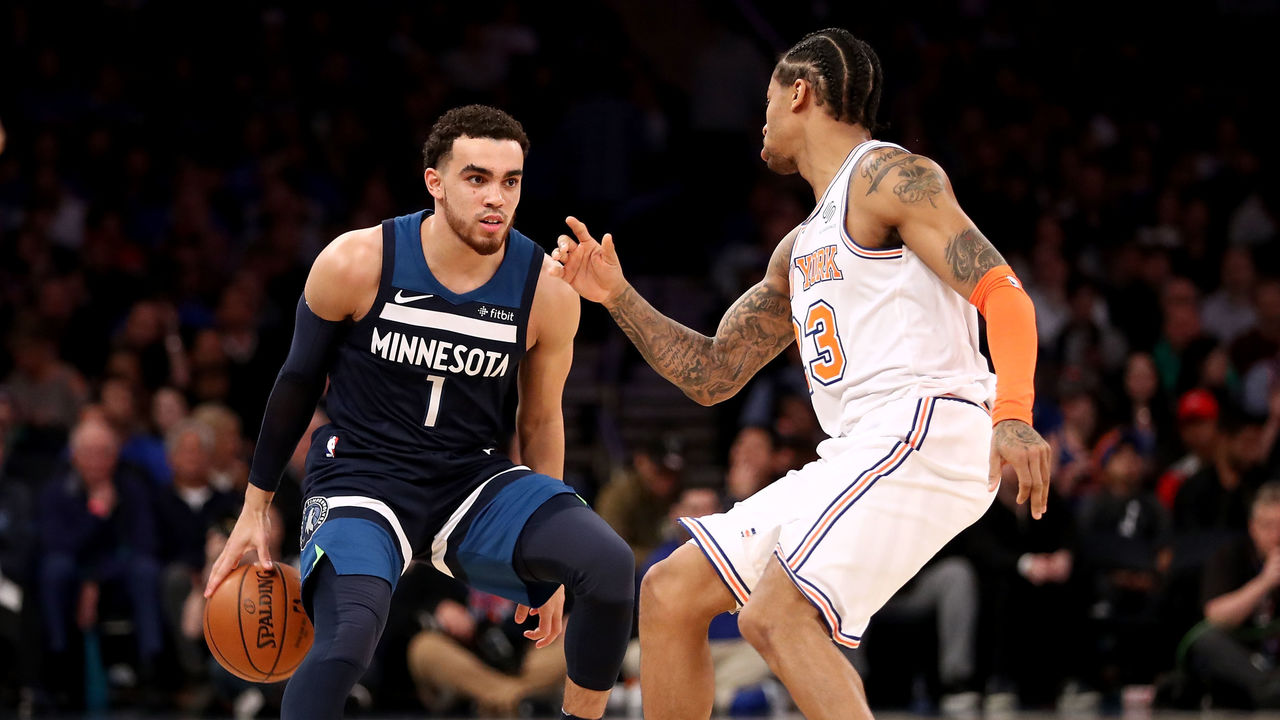 A born-and-bred Minnesotan, the Wolves' backup point guard was quietly one of the team's most impactful players a season ago. Jones is a plus defender even at 6-foot-2, thanks to his length, active hands, intelligence, and tenacity. He ranked fifth among qualified players in deflections per 36 minutes. At the offensive end, he can play on or off the ball, limits turnovers, and finishes surprisingly well at the rim. He was part of nearly all of the Wolves' most productive five-man lineups, and finished second on the team in both defensive and net rating, behind only Butler. He finished 15th in the whole league in Real Plus-Minus, one spot ahead of Towns.
As a low-maintenance facilitator who doesn't need a lot of touches (12.7 percent usage) and efficiently picks his spots when he gets them (57.2 percent true shooting), he arguably makes more sense than Teague does playing alongside the rest of the team's starters. (The Jones-and-starters lineup posted an absurd 23.5 net rating last season, tops in the league among five-man groups with at least 200 minutes played.) But Jones only saw his playing time increase when Teague was injured, and the Wolves have risked alienating him further with their bizarre Derrick Rose fetish, which reportedly prompted Jones to consider a trade request just after the playoffs. Thibodeau talked him down by promising no role reduction before going out and re-signing Rose.
Rose might simply step into the role that's been vacated by Crawford (i.e. the score-first, defense-averse, inefficient bench gunner). That wouldn't necessarily eat into Jones' playing time, but it would threaten to make that time less effective, as happened last season when Jones spent more than two-thirds of his minutes shackled to Crawford.
| Jones | With Crawford | Without Crawford |
| --- | --- | --- |
| Minutes | 1,011 | 455 |
| O Rating | 110.1 | 115.8 |
| D Rating | 110.6 | 94.4 |
| Net Rating | -0.6 | 21.4 |
Jones also played a decent chunk of minutes beside Rose after the veteran was acquired in March, which had a similarly dampening effect. Meanwhile, a tiny sample size of him playing in two-point-guard lineups next to Teague (something Teague himself reportedly campaigned for) was successful.
Jones isn't some superstar in waiting, and it benefits him to play alongside volume scorers; being a go-to offensive option isn't really in his DNA or his skill set. But he's earned the opportunity to spread his wings a bit wider, and unless Thibodeau plans to play him with the starters more often, Rose is going to crowd Jones' airspace. What kind of message do the Wolves want to send to a valuable contributor who's a year from restricted free agency?
The right man for the job(s)?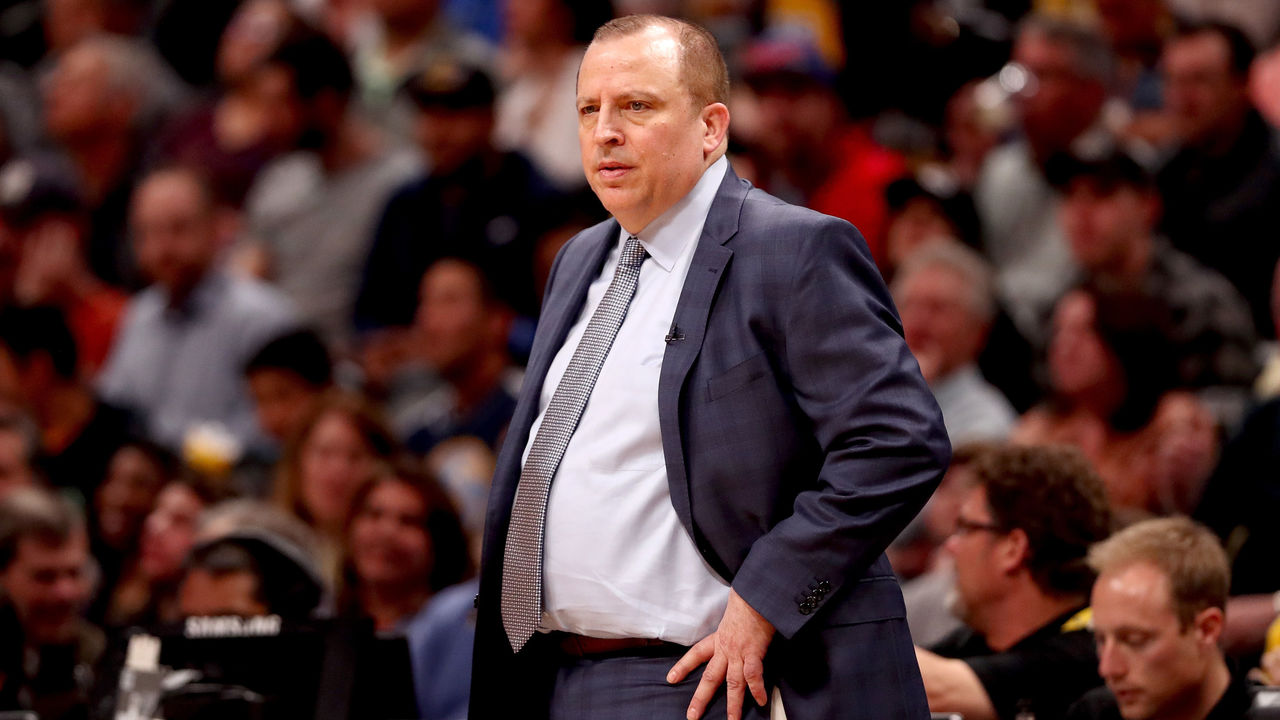 Thibodeau is the last remaining NBA coach who also has full basketball-operations control, and the dual role hasn't served him or the Timberwolves particularly well. Much of his work as an executive has only helped exacerbate his deepest-rooted (and most outdated) tendencies as a coach. He put together a paper-thin bench, making it easier to justify running his starters into the ground. He assembled a team with minimal outside shooting designed to play two traditional bigs together, making it easier to justify a plodding, iso-heavy, interior-oriented offense. Meanwhile, despite adding some solid defensive personnel, he hasn't been able to get the Wolves to buy in at that end of the floor, which was supposed to be his calling card.
At this point, it seems impossible for the coach and executive roles not to cannibalize each other. A healthy front office should be a marketplace of ideas, and Thibodeau's attempts to mold the team in his own image have mostly sown dysfunction. The TimberBulls thing verges on self-parody at this point, with Minnesota adding a broken-down Luol Deng to a roster that already included three of Thibodeau's former Chicago disciples. And if it does come time to consider dealing Butler, will Thibs the GM agree to a move that makes life harder for Thibs the coach?
Thibodeau is a venerated, revolutionary NBA figure with a proven track record as a coach. He's had some bright spots as an executive too, the Butler trade standing out among them. It's clear, though, that something is broken here. Owner Glen Taylor is reportedly vexed by the culture that's taken root under Thibodeau's watch and is second-guessing the decision to give him control of basketball operations. This season will be Thibodeau's third at the helm of the Wolves, and it feels like it will be the one that definitively demonstrates whether he's the right man to lead the franchise forward. Both his jobs are very much at stake.