Cooking for ballers: Inside the world of NBA personal chefs
In 2012, Ryan Lopez was a 22-year-old chef working three jobs when he received a phone call that changed the trajectory of his career.
Kevin Durant wanted Lopez to drive from Westland, Mich. - 20 miles west of Detroit - to Akron, Ohio, to cook for a group of friends while they hung out at LeBron James' home. Durant was well aware of Lopez's cooking talents, having been referred to him by a fellow chef.
"I wasn't really nervous," Lopez told theScore. "I was really excited at the opportunity."
Lopez arrived in Akron in the late evening, had a short sleep, and was scouring grocery stores by 6 a.m. the next day to start preparing for lunch and dinner. Among other delicacies, he served a kale Caesar salad, grilled chicken sausage, Caribbean jerk shrimp, chicken wings, duck, and salmon.
Lopez had never been a personal chef before. Now, he was standing in James' home getting positive feedback on his cooking from the two best basketball players in the world. Soon after his audition in Akron, Lopez packed up and moved to Oklahoma City, having been hired as Durant's personal chef.
Six years later, Lopez is still working the same gig. And when Durant signed with the Golden State Warriors two summers ago, Lopez made the move to Oakland with him.
__________
Aside from making personal sacrifices and devoting a significant amount of time to meet the specific needs of an athlete's diet, NBA personal chefs face challenges that might appear simple on the surface, like finding out each player's preferences.
It requires an open mind from an athlete, and a chef who's willing to ask questions and explore.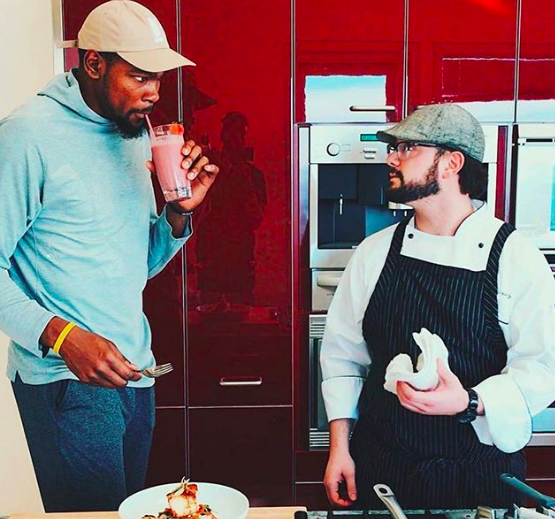 (Photo courtesy: Ryan Lopez)
"Kevin has a great palate," Lopez said. "He's got a great understanding of different flavors and is always willing to try something new."
Being flexible is one of Lopez's strongest traits. After working at a local country club as a 15-year-old - chatting up the kitchen staff about recipes and ingredients - he entered the restaurant industry with vigor. At one point, he was simultaneously working as a line cook at one of Michael Symon's restaurants, as a fish manager at a gourmet market, and as the head line cook at a local gastropub.
Throughout the years, Lopez has figured out Durant's preferences, which include chicken wings and ribs. The All-Star also has an affinity for seafood, and lately has steered Lopez toward Japanese and Korean cuisines. Miso glazed sea bass is a personal favorite for Durant, who once said Lopez knows his palate better than his mother does.
__________
Traci Siegel has worked as a personal chef for five years. Born in the Midwest and based in Berkeley, Calif., she's been cooking for as long as she can remember, starting as a 5-year-old when she was gifted an Easy-Bake oven from her mother.
"A lot of what I try to do is recreate my clients' favorite dishes," Siegel told theScore.
Last season, Siegel worked with JaVale McGee, who's joined a long list of NBA players - including Kyrie Irving, Damian Lillard, Enes Kanter, and Wilson Chandler - who've adopted some form of a vegan diet.
Among McGee's favorite vegan dishes is a lasagna made with Siegel's own signature vegan version of ricotta cheese, pesto, and Parmesan cheese. He also loves a vegan fried rice dish that includes fresh onions, garlic, ginger, vinegar, tamari, and sesame oil, with peas, carrots and cashews on top.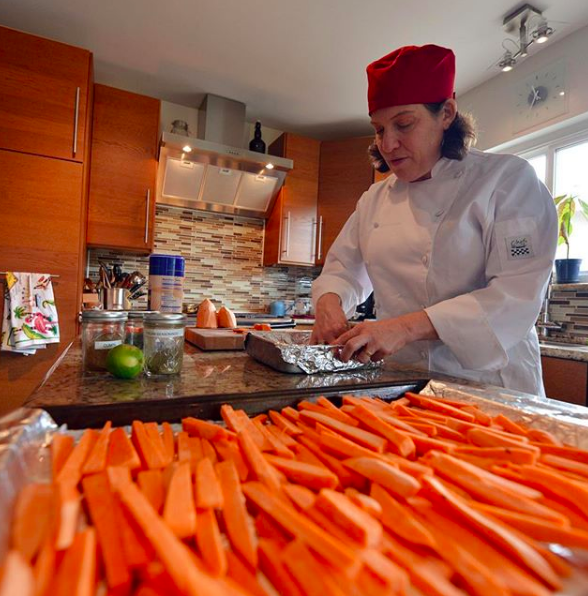 (Photo courtesy: Tracy Siegel)
"People eat with their eyes first," Siegel said. "Presentation is important. A successful dish has a contrast of flavor, texture, and visuals."
A lot of times, personal chefs also serve to debunk basic food myths. On her website, Siegel promotes herself as a health-supportive chef - someone who helps clients optimize their health with their food choices.
"Some people think because they're eating a certain way they can't have certain dishes anymore," she said. "It's not true."
__________
Being an NBA personal chef requires more than just above-average cooking skills. The ability to develop a rapport in a one-on-one setting is also critical to longevity in this career.
Sami Udell grew up in Chicago and developed a passion for food and a healthy style of living during college.
"Unless you're rich," Udell told theScore, "you have to learn how to cook your own food if you want to be healthy."
Her path to becoming DeMarcus Cousins' personal chef began four years ago when, after moving to Los Angeles and taking an office job, Udell catered a house party of 50 people.
One of the guests who was impressed by her spread - which included Asian lemongrass ginger coconut soup, vegetable fajitas, and roasted salmon - was the personal manager of Ludacris, and told Udell it was the best meal he'd had in his eight years living in Los Angeles. He then helped connect her with the rapper/actor to become his personal chef.
Cousins, who shares a personal trainer with Ludacris and 2Chainz, was introduced to Udell last summer and the two started working together last season. Cousins' favorites include a spicy pad thai with sea bass and chicken, a pizza made with homemade dough that includes creative toppings like Wagyu steak, and Vietnamese spiced bone broth pho noodles with chicken bones and chicken meat.
They've also forged a friendship. The most common question Udell gets from friends is whether Cousins, known for his prickly attitude toward the media, is a bully. Udell simply laughs when she hears the question.
"He's the type of person that if you're in his crew, and he likes you, he'll protect you and always have your back," she said.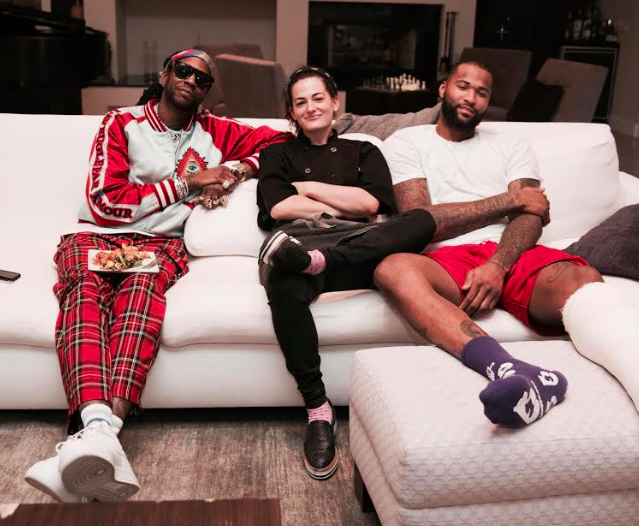 (Photo courtesy: Sami Udell)
Overall, outside of their inner circle of friends, athletes often aren't treated like regular people. It's a trait that personal chefs believe is important to being successful at their jobs.
"Their personal space is so important," Udell said. "They're hounded with requests for photos and autographs in public. In private, they don't want that."
"Whether you're an athlete or not, you need to eat," Siegel added. "I'm open to feedback and just treating them like I would any other client. I think they appreciate that. They're real people just like everyone else."
For that reason, millionaire athletes often hire chefs for reasons that go beyond the convenience of having great meals cooked for them. Given their fame, it's also becoming a necessity, as there simply aren't many players - especially stars - who can go to a local restaurant without attracting a crowd.
"There has to be a relationship both as an employer and as a friend," Lopez said.
Udell added: "They want all the fun things of eating out but in the comfort of their own home."
__________
The personal chef industry is a lucrative one, and lends itself to other opportunities. Siegel has worked with various athletes and celebrities, including the Property Brothers. Lopez's main client is Durant, but he's worked with other athletes including professional boxer Amir Khan. However, it can breed jealousy and contempt from colleagues in the restaurant industry.
Udell experienced that firsthand several years ago while working at a traditional restaurant. There are some who view a personal chef as a glorified role; a fill-in for millionaire athletes and celebrities who can afford to have someone cook for them.
Udell was once asked: "Do you want to be a personal chef, or do you want to be a chef?"
"As if being a personal chef is not being a real chef," she said. "It used to bother me. But at this point, it's what I love doing, and I love getting to know people and helping to nourish them."
In fact, while the role of a personal chef is unique because of the one-on-one nature, the challenges might be even more difficult. After all, serving the palate of a single individual over a long period requires a lot of time and effort; certainly more than just simply showing up at a fancy home to cook a few simple dishes.
Lopez likens it to the lonely existence of being a golfer.
"You have to handle your own business," he said. "You have to keep reading, researching, pushing yourself, staying self-motivated and passionate about every aspect of cooking, from prep, cooking, cleaning, and grocery shopping."
Ultimately, the challenge for NBA personal chefs is to remain creative while developing a strong friendship with the player they're spending so much time with. There's no other kitchen staff to point the finger at if anything goes wrong.
"At the end of the day," Lopez said, "it's all you on that plate."
Alex Wong is a feature writer for theScore. His work has appeared in GQ, The New Yorker, Vice Sports, and The Atlantic, among other publications. Find him on Twitter @steven_lebron.
Comments
✕
Cooking for ballers: Inside the world of NBA personal chefs
  Got something to say? Leave a comment below!