Who, what, and Kawhi: 3 plausible Raptors trades for Leonard
Ronald Cortes / Getty Images Sport / Getty
If Las Vegas bookmakers or plugged-in NBA reporters are to be believed, the Toronto Raptors have somewhat unexpectedly emerged as the most likely trade destination for disgruntled San Antonio Spurs star Kawhi Leonard.
In theory, it makes a lot of sense. The Raptors have the right combination of All-Star-caliber veterans and promising youngs the Spurs reportedly covet, they own all their own draft picks, and they're as desperate as any team in the league to shake things up and make a short-term push for legitimate contention. In practice, pulling off a deal is going to be extremely complicated.
There's a reason players as good and young as Leonard rarely get traded. For one thing, the cost of such players tends to be prohibitive, with the endowment effect typically producing too much circumspection among one or both sides for a deal to get done. For another thing, players as good and young as Leonard rarely come with this many question marks and extenuating circumstances.
Due to a mysterious quadriceps injury, Leonard played just nine games last year, and in those games looked nowhere close to the All-NBA and All-Defensive force he'd been the four years prior. His camp has made it known he only has eyes for the Los Angeles Lakers and will sign there as a free agent next summer if they aren't the team to trade for him. Leonard himself has been standoffish and curiously absent throughout the past year, and nobody seems quite sure of his motivations. The Raptors haven't seen his medicals, and the Spurs haven't allowed them (or any prospective trade partner) to talk to Leonard or his reps. In short, he may be physically diminished, may be a rental, may be a malcontent, may be all or none of the above, and the Raptors have no way of knowing.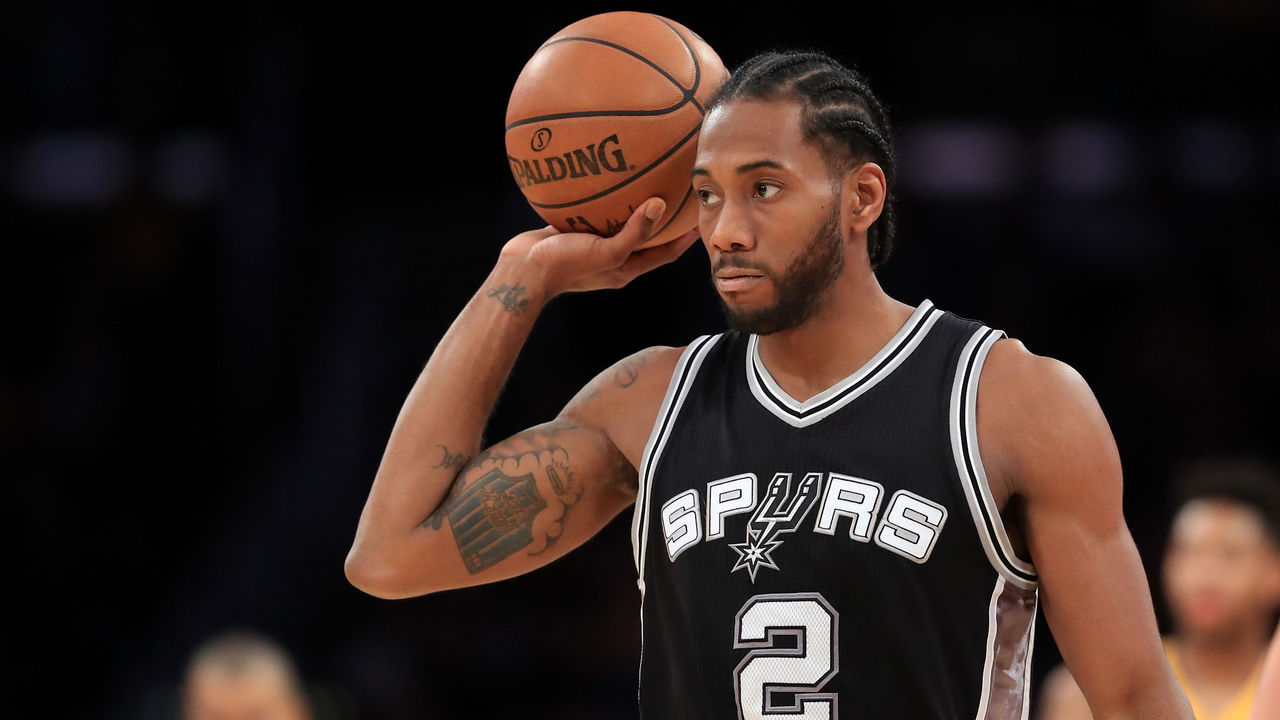 The context, too, makes things convoluted. That their longtime tormentor has finally decamped for the Western Conference could sway the team in one of two ways: Either they sense a once-in-a-generation opportunity to cash in all their chips, or they decide the roster that won 59 games last year is already good enough to beat any non-LeBron-led team in the East, so the risk isn't worth it.
A popular argument in favor of the Raptors trading for Leonard is that their veteran core is positioned to be phased out in two years, anyway, so if Leonard walks after 2018-19 they'll simply be pivoting toward a rebuild a year earlier than planned. The issue with that logic is that any trade for Leonard would require the Raptors to surrender one or more of their promising young pieces, thereby compromising the foundation of the bridge they've been so meticulously building from this era to the next. If Leonard's gone in a year, and so is the bridge, the Raptors will be stranded on an island with no means of escape.
That said, there's a case to be made that their bridge isn't building to bountiful new shores, anyway. The Raptors have never had a player as good as Leonard, and for an organization and fan base that's always had a bit of a persecution complex, that may be all that matters. A healthy Leonard arguably makes them Eastern Conference co-favorites with the Celtics. ESPN's Brian Windhorst reports that the Raptors have already made a "compelling offer," while the Lakers and 76ers have reportedly moved on.
The question then becomes, what would that offer look like? What sort of framework makes sense for both sides? Here are a few possibilities:
The most plausible scenario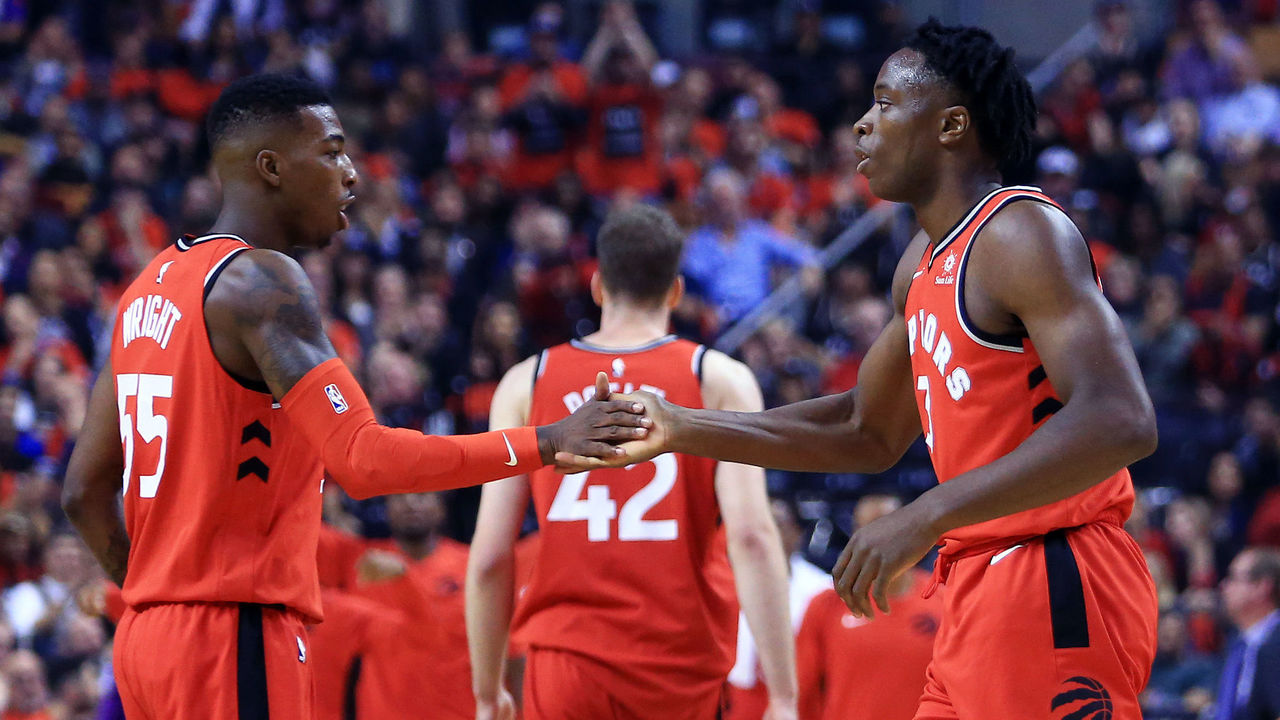 With Gregg Popovich in the twilight of his coaching career, the Spurs plainly have no interest in tanking. They're a proud franchise with an active playoff streak that spans three decades, and a full-scale teardown appears to be out of the question.
According to ESPN's Adrian Wojnarowski and Ramona Shelburne, who have been doing the bulk of the reporting on the whole Kawhi saga, the Spurs are aiming to bring back "an All-Star caliber player, high-potential young players, and draft assets" in a potential Leonard deal.
Here's a Raptors package that fits the bill:
Raptors get: Leonard | Patty Mills
Spurs get: Demar DeRozan | OG Anunoby or Pascal Siakam | Delon Wright | protected 2020 first-round pick
This ticks all the Spurs' boxes. In DeRozan, they'd get a four-time All-Star and two-time All-NBAer going into his age-29 season, and in Anunoby or Siakam, they'd get a young borderline blue-chipper with tremendous defensive upside and multiple years of team control remaining.
Without knowing how the Spurs value the Raptors' youngs, it's hard to know whether they'd demand more than one of them, or which one they'd want if they can't convince Toronto to part with two or more. It says here that Anunoby and Siakam are the Raptors' two best prospects, with Anunoby getting the slight edge because he plays a premium position, has proven he can hit threes at an above-average clip, and is three years younger.
Similarly, the Spurs might well prefer Kyle Lowry to DeRozan (particularly given the abundance of mid-range jumpers they're already getting from LaMarcus Aldridge), and the money still works if Lowry gets swapped in. But for now we'll assume DeRozan is the All-Star San Antonio would want, since he's three years younger, slightly cheaper, fills a position of greater need, has shown fewer signs of physical decline, and would probably be easier for the Spurs to move if they at least want the option of going full rebuild.
Mills is a necessary throw-in to make the salaries line up, and while the Raptors would likely push for Danny Green (a better roster fit on an expiring deal) instead, getting off Mills' contract makes this trade way more palatable for the Spurs. That's particularly true if they can replace him with Wright, who's perhaps the Spursiest player on Toronto's roster (he's sort of like Dejounte Murray with a better jump shot).
The draft-pick compensation might be the most contentious part of the negotiation. Even if it meant waiting an extra year, the Spurs would covet the 2020 first-rounder over 2019, since Leonard bolting next summer would likely put Toronto in the lottery the following season, whereas their 2019 pick would fall in the late-20s. The Raptors would surely fight hard for some sort of protection on the pick, but would they let that derail a deal if it proves to be a sticking point for the Spurs?
Let's split the difference and say they settle on a light protection - call it top-eight - that would give the Raptors an incentive to fully tank if Leonard bails.
A Big 3, and a soft reset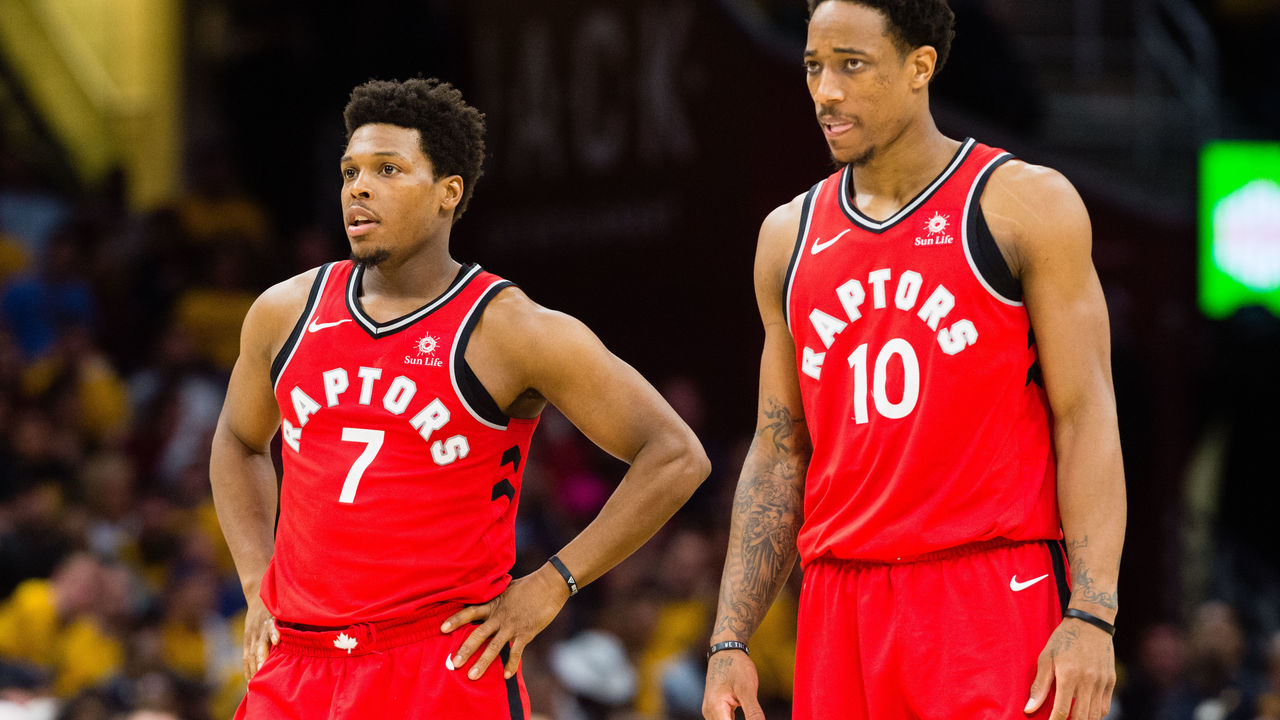 If the Raptors are intent on holding onto their two All-Stars - who have been instrumental in changing the culture and perception of the franchise over the past half-decade - and creating a Big Three with Leonard in the fold, would they be able to sell the Spurs on a package of young players and draft assets alone?
Here's what such a trade could look like:
Raptors get: Leonard | Green or Mills
Spurs get: Anunoby | Jonas Valanciunas | Norman Powell | 2019 1st-round pick | 2020 2nd-round pick | 2021 1st-round pick swap
The Spurs don't need to get DeRozan or Lowry to avoid a rebuild. They won 47 games last season without Leonard, and here they'd be adding three young rotation players and a pair of valuable draft chips to basically that same roster. This would be something of a soft reset, allowing them to stay competitive in the short term while significantly improving their long-term outlook.
Anunoby would still be the crown jewel, but Valanciunas would be a nice complementary piece. It feels like he's been in the league forever, but he's still just 26, and he made meaningful strides last year as a defender, high-post passer, short-roll playmaker, and 3-point shooter. Powell would be something of a reclamation project after a disastrous season, but the raw tools are still tantalizing, and so many of his struggles in 2017-18 were rooted in and compounded by a broken jump shot. No team is better at repairing busted jumpers than the Spurs.
They'd also get the unprotected 2019 first-rounder, a potentially high 2020 second-rounder, and a 2021 pick swap that could prove to be a huge coup if things go south for the Raps in the wake of their Kawhi gambit. Once again, if the Spurs had their druthers, they'd likely use Mills as salary filler rather than Green, but the Raptors would be thin on the wing in that case, and the pick-swap sweetener might be enough to win on that point.
Meanwhile, Toronto would roll into next season with a 10-man rotation of Lowry, DeRozan, Leonard, Siakam, Wright, Green, Fred VanVleet, Jakob Poeltl, Serge Ibaka, and C.J. Miles, with the potential to add another frontcourt depth piece on a minimum contract or with the taxpayer's mid-level exception (Bebe's still out there, for what it's worth). Moving Powell's long-term deal would further clear their books for the summer of 2020, and keeping both Lowry and DeRozan aboard might also help them convince Leonard to stay beyond 2019.
The nuclear option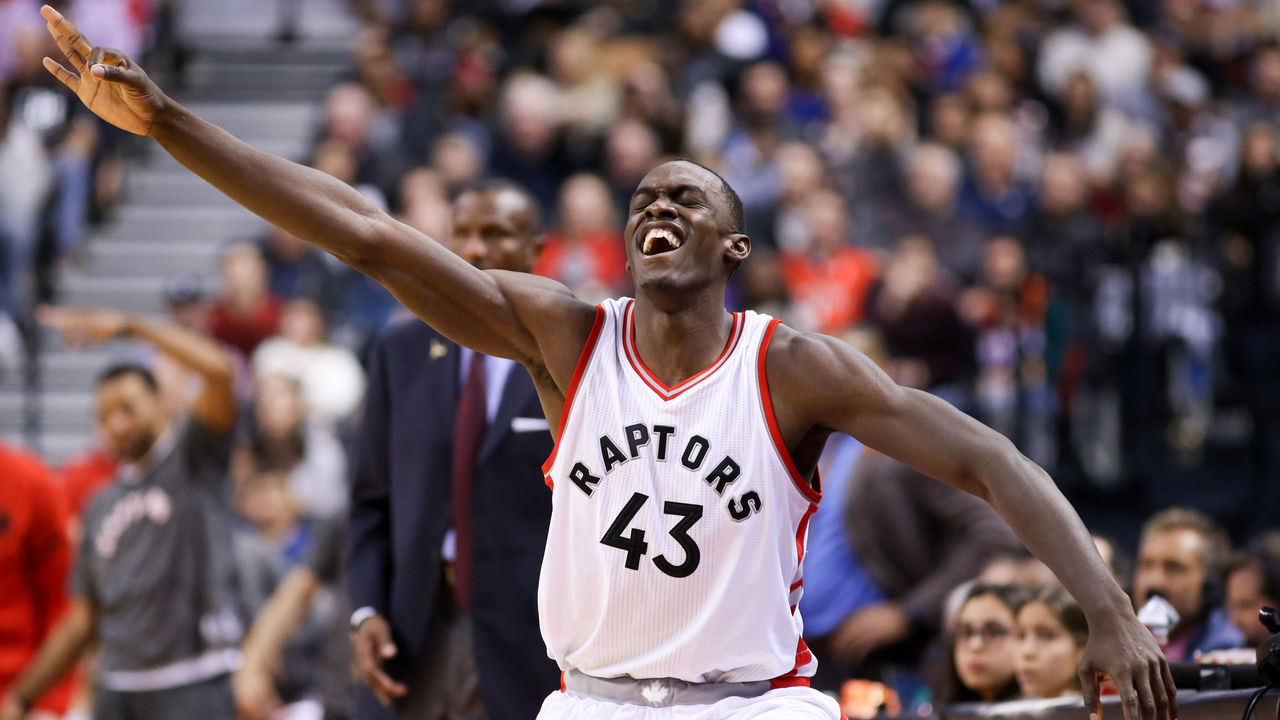 If the Spurs refuse to budge on their demands, how far are the Raptors willing to go to acquire the two-time Defensive Player of the Year?
Raptors get: Leonard | Green
Spurs get: DeRozan | Anunoby | Siakam | 2019 and 2020 2nd-round picks
With the risk of losing both the present and future faces of the franchise for one year of a potentially hobbled Leonard, this may be a bridge too far for the Raptors. But if the Spurs were willing to take this package without any first-rounders attached, Toronto would have to at least think long and hard about it.
For as long as the Lakers, Sixers, and Celtics are content to sit the Kawhi sweepstakes out, the Spurs likely don't have enough negotiating leverage to get both Anunoby and Siakam. But a change of heart from any of those teams, or any inkling that reparation with the Spurs is possible, could change things in a hurry. If that happens, they might be able to squeeze a desperate Raptors team to get what they want.
(Photos courtesy: Getty Images)