Don't Trip: How LeBron changed things for an independent brand overnight
David Liam Kyle / National Basketball Association / Getty
Hours after the Cleveland Cavaliers completed their sweep of the Toronto Raptors with a Game 4 victory at home, Kevin Circosta woke up at 6 a.m., prepared for another long workday. Circosta, a 38-year-old Los Angeles native, launched the lifestyle brand Free & Easy about a year ago. Getting an early start was part of the job.
That morning was just like any other - until Circosta got out of his bed and checked his phone. Judging from the unusual amount of Instagram notifications, the number of text messages he had received overnight, and a missed call from TMZ, something was up.
Circosta clicked on one of the messages. He saw a photo of LeBron James, holding a microphone at the postgame podium, wearing a Don't Trip hat - the very same one Circosta sells on his site for $36.
The postgame podium has become the go-to spot for NBA players to show off their fashion sense. Players typically arrive for their interviews wearing recognizable high-end luxury brands like Gucci, Balenciaga, Prada or Off-White.
For his two home games in the second round of the playoffs, James chose a more casual look, contrasting with the matching Thom Browne suits the team's worn on the road throughout its playoff run. One of those casual looks included Circosta's Don't Trip hat.
"He was literally saying, 'Don't trip, I got this,'" Circosta told theScore. "I think it was a statement from him telling everybody, 'Yo, don't trip, I got this.'"
James has often used different platforms, including his social media, to communicate. Remember, he once subtweeted teammate Kevin Love during their first season together in Cleveland. It's not a reach to think James had a message in mind when he wore the Don't Trip hat to the podium after sweeping the No. 1 seed in the East just a week after many were wondering whether the Cavaliers were finished, having needed seven games to barely get by the Indiana Pacers in Round 1.
Circosta thinks James was communicating something else too.
"It's also a fashion statement by him," he said. "To support an independent brand. People are really craving authenticity these days. Things that are too produced, that are too corporate, are a turn-off."
So, what happens when the best player in the world shows your hat off to millions of people?
After waking up the morning after Game 4, Circosta grabbed a coffee, did a phone interview with TMZ, and then went to work. All six color styles of the Don't Trip hat were sold out on the website. Circosta connected with his team to immediately produce more hats so they could continue taking orders online.
"Since last Tuesday," Circosta said, "we've sold a hat every minute."
While the brand has placed its apparel in well-known streetwear stores including Virgil Normal, Opening Ceremony, and Colette, Circosta admits having James wear the Don't Trip hat was a game-changer for Free & Easy.
"It's opened us up to a whole new demographic," Circosta said. The brand has received orders worldwide, including from China and Europe. Circosta has also connected with partners in the United Kingdom, Australia, and Japan for potential business opportunities.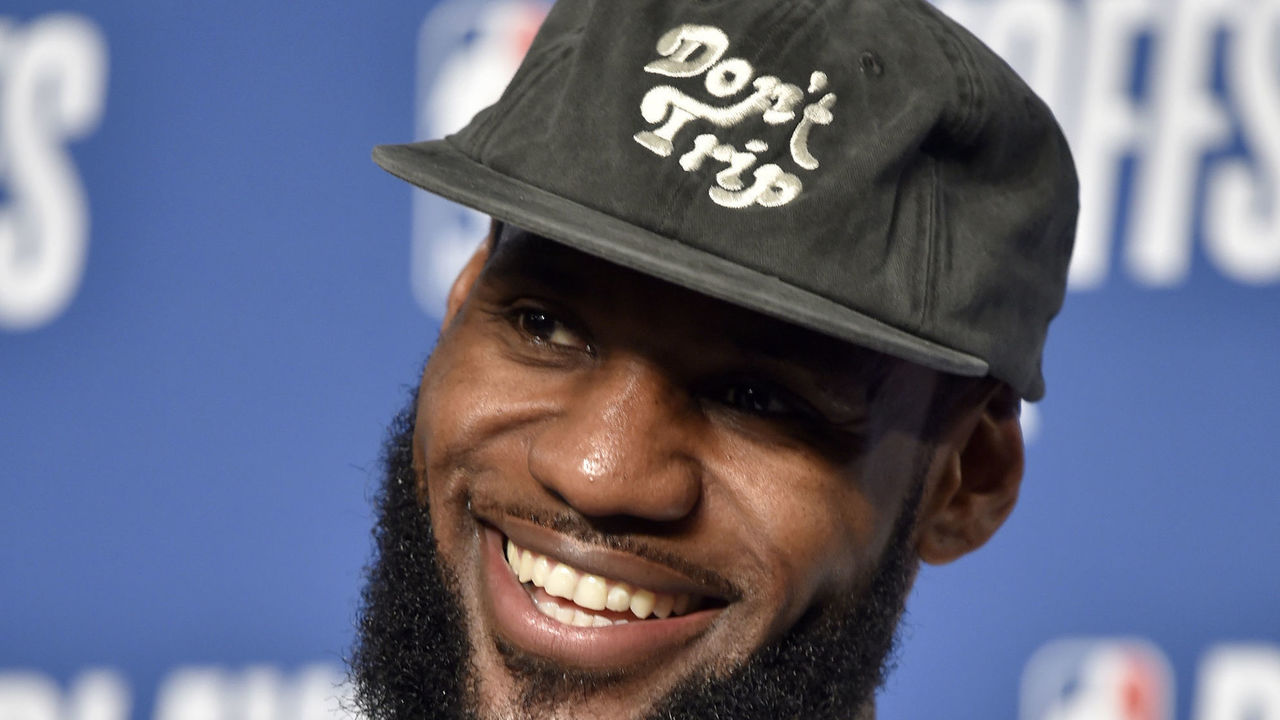 (Photo courtesy: Getty Images)
Free & Easy was inspired by Circosta's experiences growing up with what he describes as hippie parents. He remembers riding the Volkswagen to the beach every weekend, taking in the California lifestyle and surf aesthetic. Circosta believes James, who bought a second home in Los Angeles for $23 million in the Brentwood neighborhood last year, relates to the brand's messaging.
"He loves the free and easy lifestyle," Circosta said. "He wants to live in the sunshine for nine, 10 months of the year, go to the beach, and then have some fine dining in the city."
Circosta remembers going to The Forum in Inglewood, Calif., as a kid with his dad to watch the Lakers. He met Magic Johnson once. He watched Shaquille O'Neal and Kobe Bryant bring three championships to the city, and then watched Bryant win two more after O'Neal's departure.
"We're a city of champions," Circosta said.
If James decides to join the Lakers this summer as a free agent, Circosta thinks it would be a perfect fit. "He's an undisputed champion," Circosta said. "He could come to Los Angeles and make some beautiful things happen here. I'm open arms. I would love to see him here."
The exposure James has given Free & Easy has Circosta paying closer attention to the playoffs, exploring other potential postgame podium opportunities. The brand has another hat that reads "The Bay," a perfect fit for Steph Curry and the Golden State Warriors.
Circosta says he has spoken with Curry's representatives, and it's possible we might see Curry wearing the hat in the near future.
"You never know," Circosta said. "It would be exciting to see players send subtle messages with their hats, like some kind of secret code."
For now, he is rooting for James and the Cavaliers - much easier since they're playing the Boston Celtics, a rival team for any Lakers fan. Circosta doesn't seem particularly worried about the deficit the Cavaliers face in the Eastern Conference finals.
"Even now," Circosta said, "two games down, I still believe in LeBron to come back."
In other words: Don't trip.
Alex Wong is an NBA freelance writer whose work has appeared in GQ, The New Yorker, Vice Sports, and Complex, among other publications.
Comments
✕
Don't Trip: How LeBron changed things for an independent brand overnight
  Got something to say? Leave a comment below!