2018 NBA Mock Draft: Doncic takes over top spot after Suns win lottery
AFP Contributor / AFP / Getty
With only one month remaining before the 2018 NBA Draft, theScore is predicting the full first round, offering an in-depth look at the most realistic option for all 30 teams.
1. Suns - Luka Doncic, G/F, Real Madrid (Spain)
Before helping the Jazz unexpectedly reach Round 2 of the postseason as an assistant, the Suns' new coach, Igor Kokoskov, was guiding the Slovenian national team to its first-ever Eurobasket championship - and what a surprise, his star pupil from the gold medal run is among the top two players in the draft. At Real Madrid, Doncic continues to wow scouts with a mean streak and a willingness to take big shots against professional competition. It's uncanny to watch a teenager contend for MVP in the world's second-best league, but Doncic is doing just that.
2. Kings - Deandre Ayton, C, Arizona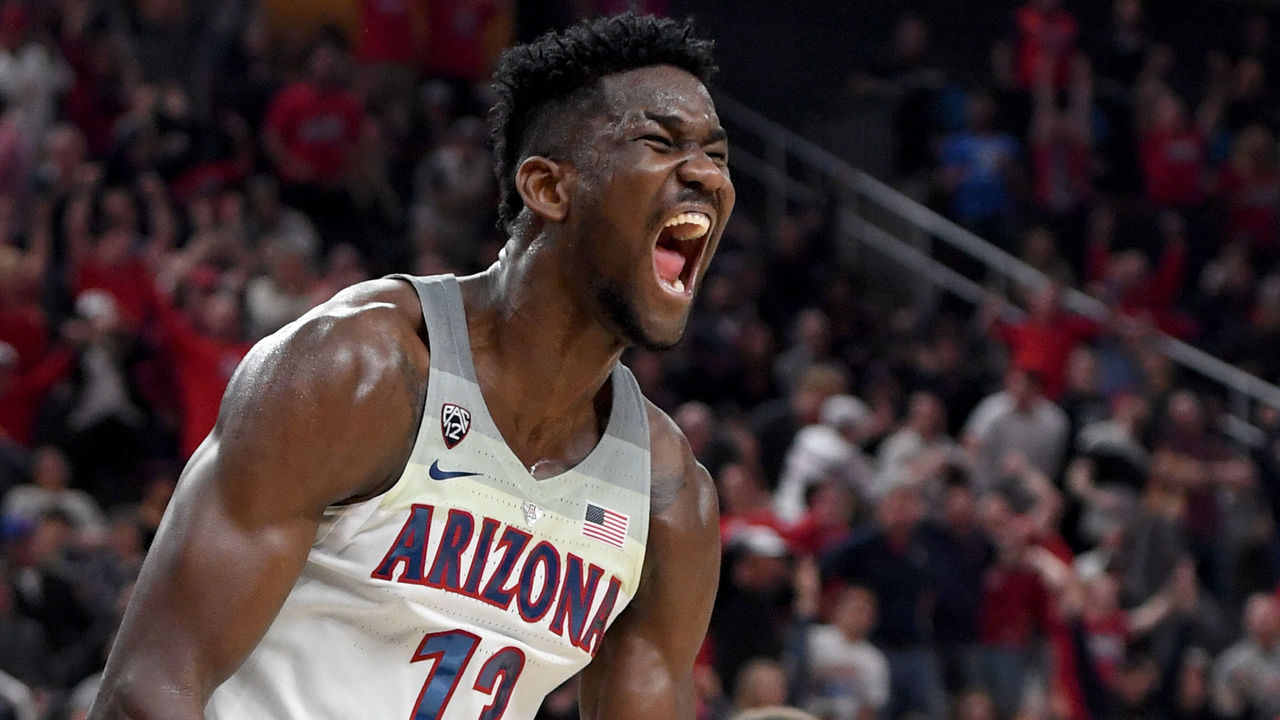 The Kings struck gold Tuesday by climbing to the No. 2 spot despite owning the seventh-best odds. At this point, their roster is mostly a disaster with some solid perimeter building blocks in De'Aaron Fox, Buddy Hield, and Bogdan Bogdanovic, but adding a franchise-altering center like Ayton should help turn things around. The 7-foot-1 Bahamian dominated his college opposition, averaging 20.1 points and 11.6 rebounds. Although Arizona flamed out in Round 1 of the NCAA tournament, it's hard to see Ayton dropping past this spot due to his ceiling and physical profile.
3. Hawks - Marvin Bagley III, F/C, Duke
Few teams have less talent to offer than Atlanta. Luckily, the team has four of the top 33 picks in the draft and can begin adding pieces next to John Collins and Taurean Prince. Ideally, Bagley's offensive repertoire would give the Hawks a top option despite his shortcomings on the defensive end. Few 6-foot-11 athletes are able to blow past their defender off the dribble while possessing dominant post play. If Bagley finds consistency with his jumper, he won't disappoint as a pro.
4. Grizzlies - Michael Porter Jr., F, Missouri
Arguably the lottery's biggest loser, the odds were in the Grizzlies' favor to snag one of the top two picks. Falling to fourth probably means they won't end up with Doncic or Ayton, but swinging for the fences with a high-ceiling scorer like Porter could fix what ails the franchise. Porter ended up playing just two full games for Missouri but wasn't 100 percent and struggled to impress. Still, the 6-foot-10 forward should become an elite shooter and his upside should ensure he stays in the top half of the lottery.
5. Mavericks - Jaren Jackson Jr., F/C, Michigan State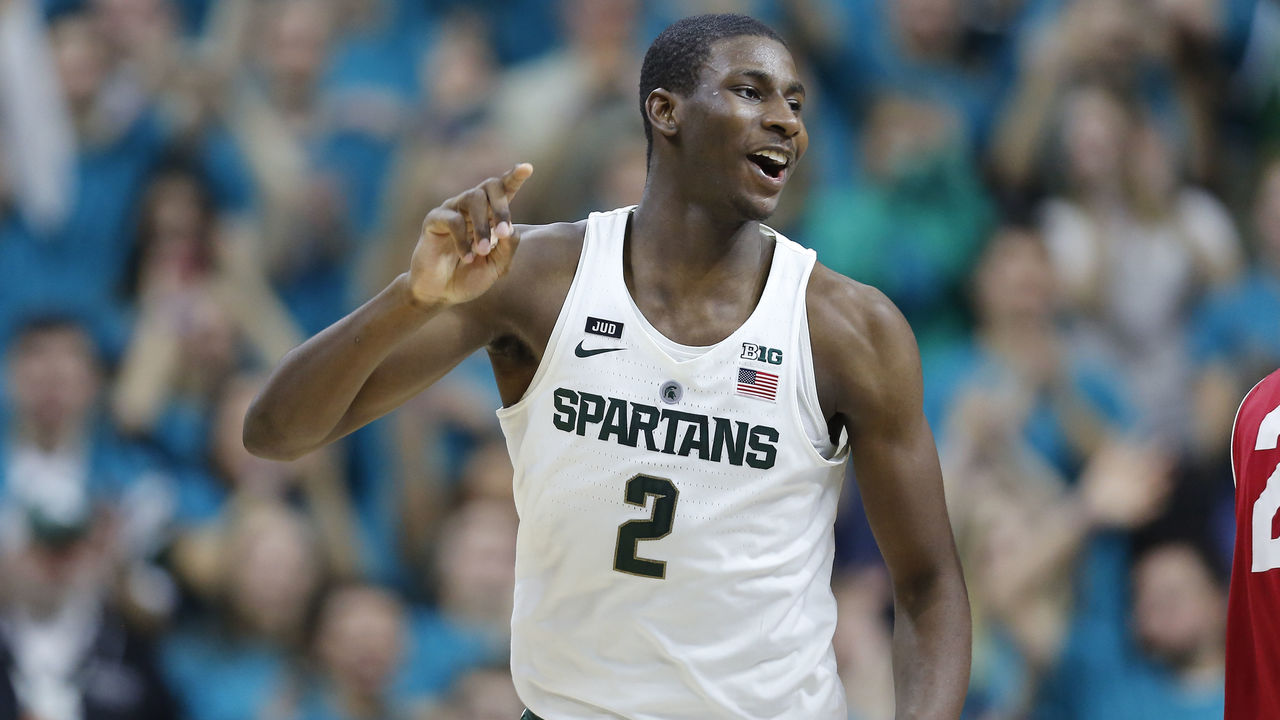 Replacing Dirk Nowitzki with Jackson could be exactly what the Mavericks need after slipping out of the top three. With one of the highest ceilings in the draft, Jackson's less-than-stellar season can be ignored if teams view his elite two-way potential as worthy of a top-five pick. Jackson shot 39.6 percent on 3-pointers and ranked fourth with a 14.3 block percentage. However, the freshman's 3.2 fouls in 21.8 minutes made it difficult to keep him on the floor.
6. Magic - Mohamed Bamba, C, Texas
Bismack Biyombo and Nikola Vucevic are clearly not what the Magic have in mind for their future at center next to Aaron Gordon. Bamba's potential should be enough for Orlando to test his ceiling as a franchise-changing defensive centerpiece. The Texas product's 7-foot-9 wingspan and athleticism should immediately make him a dominant shot-blocker. As for offense, Bamba's already a great transition big man, but a jump shot would go a long way.
7. Bulls - Wendell Carter Jr., C, Duke
With Kris Dunn, Zach LaVine, and Lauri Markkanen likely anchoring the roster, Chicago still finds itself with a gaping hole in the middle. Robin Lopez won't have a future in the Windy City, so investing in Carter is the right play. Hidden behind Bagley's superb freshman campaign with the the Blue Devils was Carter's underrated productivity, as he averaged 20.2 points, 13.5 boards, and 3.1 blocks per 40 minutes and was the defensive anchor, hiding his frontcourt partner's flaws as a rim-protector.
8. Cavaliers (via Nets) - Trae Young, G, Oklahoma
Cavaliers receive Nets' unprotected first-round pick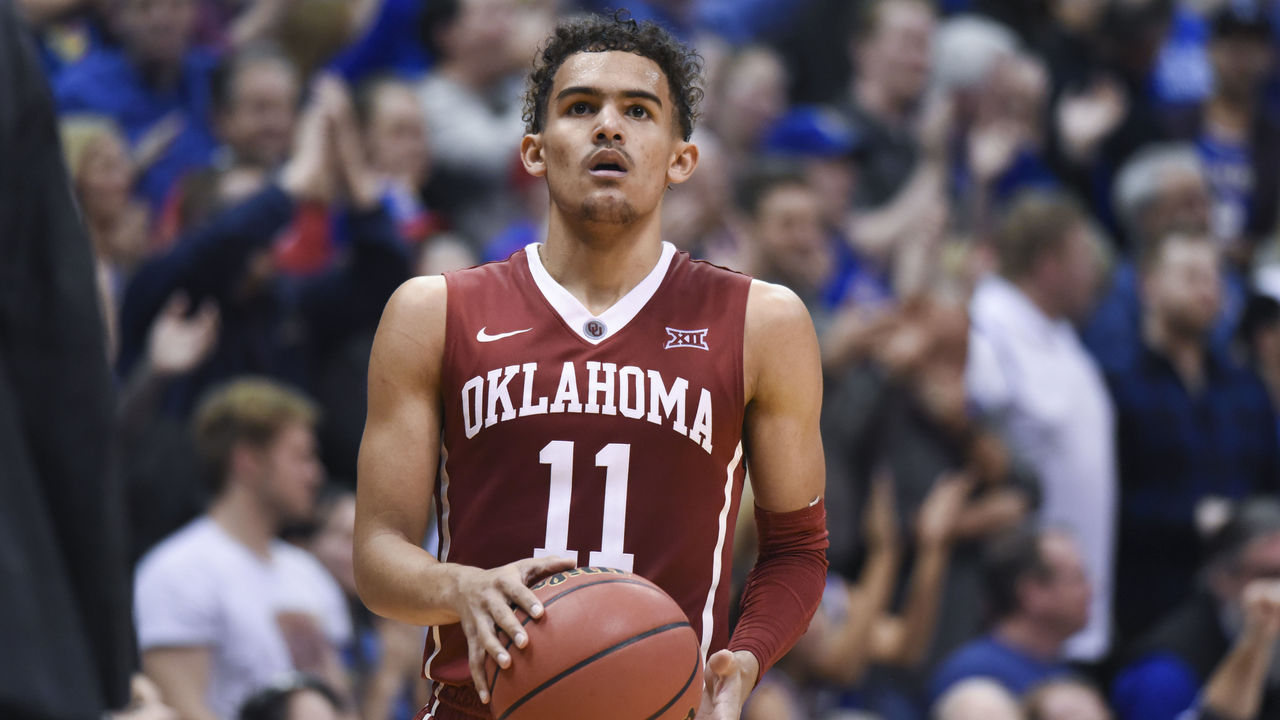 Whether LeBron James moves on from Cleveland or not, adding a prolific scorer and playmaker in Young would help fix this flawed roster. Young's historic season was overshadowed by his struggles in the second half, but the 6-foot-2 gunner led the nation in both points (27.4) and assists (8.7), and enters the draft with some of the scariest shooting range since Stephen Curry.
9. Knicks - Collin Sexton, G, Alabama
David Fizdale was an excellent hire to help the Knicks recover from their playoff drought. Few coaches see their players work harder, and few players can match Fizdale's work ethic and intensity like Sexton. Mostly forgotten is Alabama's game against Minnesota in November, when the 6-foot-2 point guard went off for 40 points in a loss despite the Crimson Tide playing with just three players for the final eight minutes. Sexton also possesses blazing downhill speed and gets to the line often, as he finished seventh in fouls drawn (7.6 per 40 minutes).
10. 76ers (via Lakers) - Mikal Bridges, G/F, Villanova
76ers receive Lakers' first-round pick
Philly flamed out of the playoffs in the second round, but still easily surpassed expectations this season. The team's monster lineup of shooters and high-level defenders can get even more terrifying with the addition of Bridges. The 6-foot-7 swingman is expected to be NBA-ready after averaging 17.7 points and shooting 43.5 percent from deep on six attempts per game. He closed out the year with his second national championship in three seasons, and with some added strength, could become one of the most reliable 3-and-D players in the NBA.
11. Hornets - Miles Bridges, F, Michigan State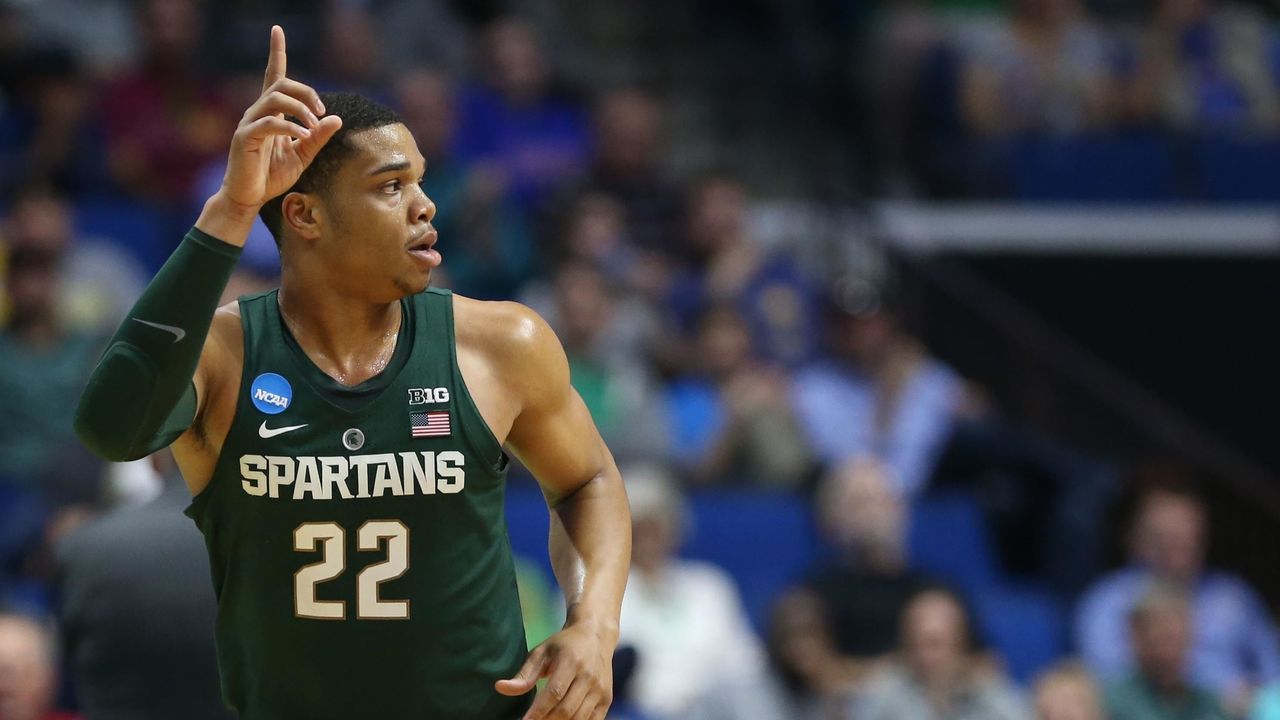 It's a mess in North Carolina, as the Hornets are stuck with one of the worst payrolls in the NBA. Adding a high-value athlete like Bridges should give Charlotte a rotation player who's ready to impact games. Returning for his sophomore campaign didn't help his draft stock, but Bridges could become a versatile forward with NBA teams playing smaller. At 6-foot-7 and 230 pounds, he's built like a truck with excellent athleticism. He also shot 37.5 percent from three on 5.5 attempts in 62 games with Michigan State.
12. Clippers (via Pistons) - Shai Gilgeous-Alexander, G, Kentucky
Clippers receive Pistons' top four-protected first-round pick
The overachieving Clippers could rebuild quickly by adding this long-limbed lead guard. Gilgeous-Alexander wasn't on many radars prior to the season, as the Canadian sensation didn't expect to play a crucial role with Kentucky. However, the freshman became John Calipari's MVP down the stretch, pushing the Wildcats to the Sweet 16. He averaged 16.4 points, 4.6 boards, and 5.7 assists as a full-time starter, and the 6-6 point guard is a consistent jump shot away from becoming a two-way superstar.
13. Clippers - Robert Williams, C, Texas A&M
The Clippers will get another shot to fix their weaknesses with a second straight selection. There's a chance DeAndre Jordan opts to leave L.A., so going with another monstrous athlete could help fill the void. A phenomenal showing in the NCAA tournament salvaged a difficult sophomore year for Williams, who returned to the Aggies hoping to increase his draft stock. The 6-foot-10 center has a 7-6 wingspan and should translate into one of the better shot-blockers at the professional level after swatting 10.1 percent of shots while on the floor.
14. Nuggets - Kevin Knox, F, Kentucky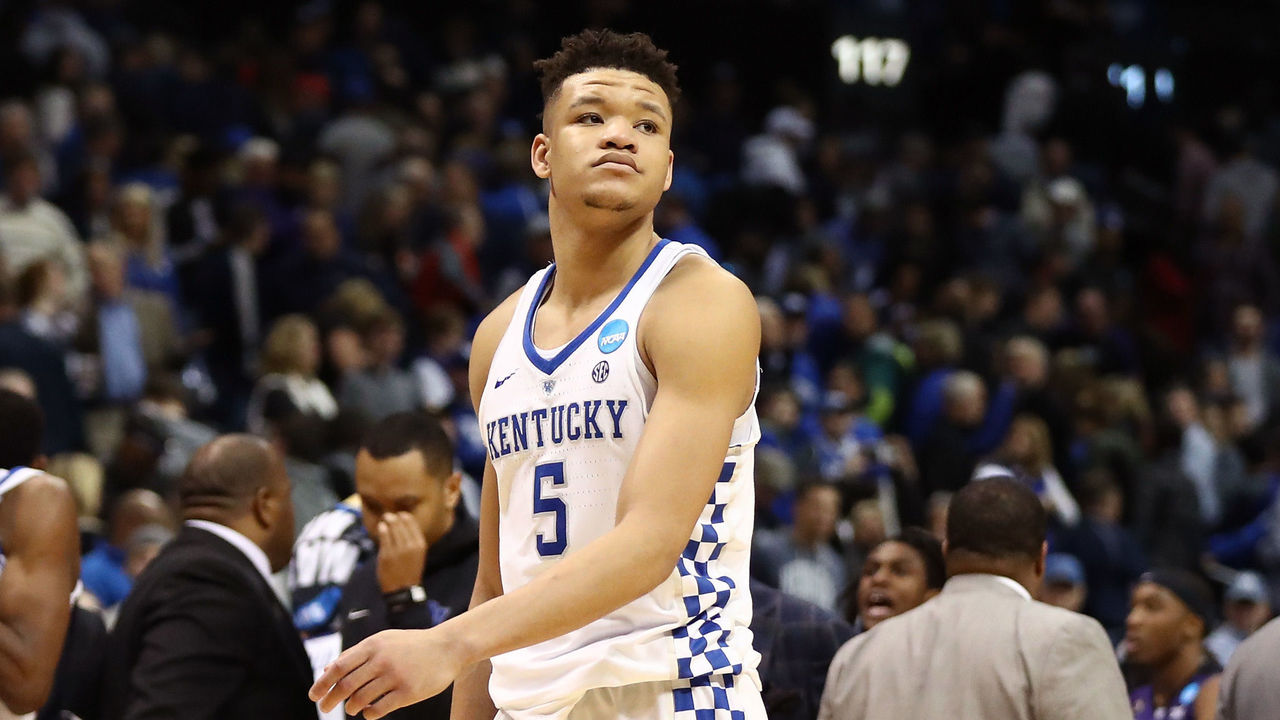 Denver has a $30-million team option for Paul Millsap in 2019-20, and after watching the 33-year-old miss three months with an injury this season, could ultimately decide to move on. Knox struggled to take over games early in the season with Kentucky despite having exceptional talent and superior athleticism. However, he showed strides as a complimentary player next to Gilgeous-Alexander, averaging 16.9 points on 38.6 percent shooting from three over his final 18 games.
15. Wizards - Lonnie Walker IV, G, Miami
The Wizards need depth on their depleted bench, and the 3-and-D wing is a safe pick. Although his lone season at Miami was marred by injury and inconsistency, Walker's 6-foot-11 wingspan and game-changing defensive potential are tantalizing. He averaged 15.1 points and shot 38 percent in the Hurricanes' final 15 regular-season games.
16. Suns (via Heat) - Zhaire Smith, G/F, Texas Tech
Suns receive Heat's top seven-protected first-round pick
If the Suns end up with Doncic, a post player would be the logical move. But Smith would be tough to pass on. The 6-5 guard is among the draft's most explosive athletes and, if he adds a consistent 3-pointer, could end up as one of its biggest steals.
17. Bucks - Mitchell Robinson, C, N/A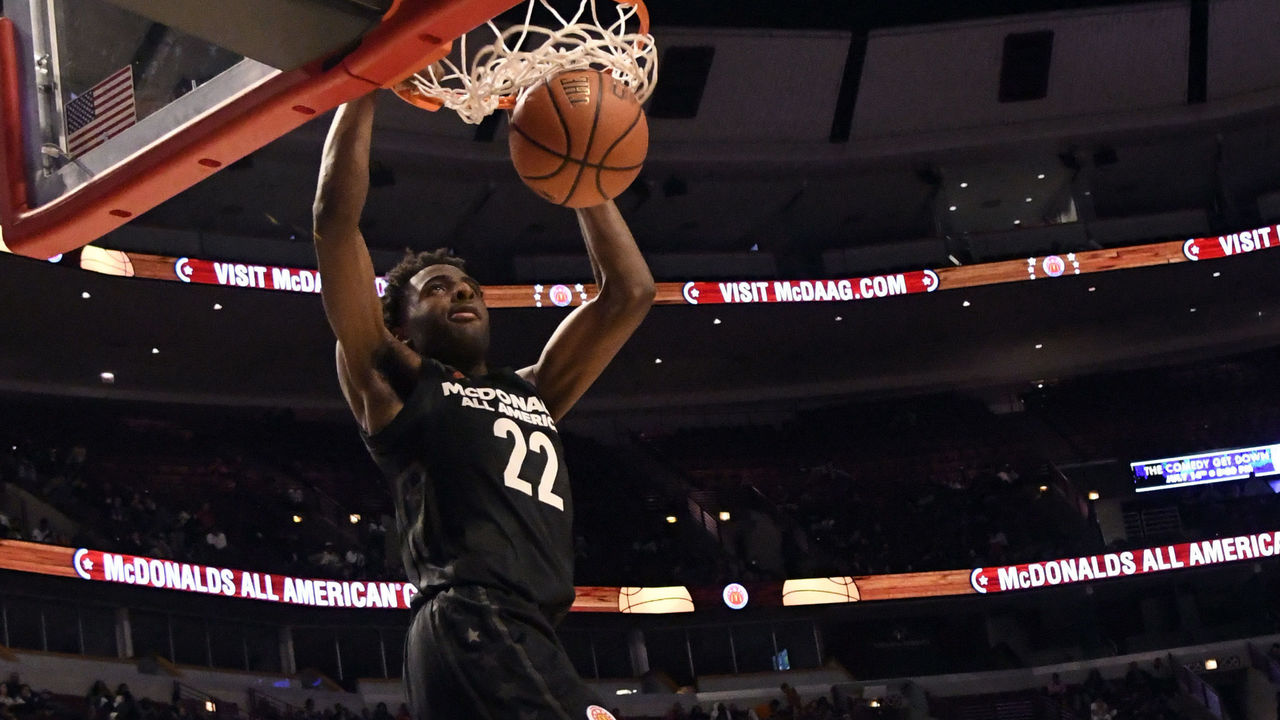 The Bucks thought they had their center of the future in Thon Maker, but his rail-thin frame and inconsistency have hindered his growth. A monstrous athlete, Robinson could fill the void. The 7-footer left Western Kentucky before the season and worked with coaches alone in preparation for the draft. Though that may be a red flag, Robinson's elite rim protection and high ceiling are worth the risk.
18. Spurs - Dzanan Musa, G/F, Cedevita (Croatia)
With the potential end of Manu Ginobili's tenure, the Spurs could immediately draft a crafty, international replacement. Similar to Doncic, Musa has had a tremendous season playing professionally overseas, averaging 12.2 points and 3.4 boards as an 18-year-old. The 6-foot-9 Bosnian will have no problem rising up from three in the NBA.
19. Hawks (via Timberwolves) - Aaron Holiday, G, UCLA
Hawks receive Timberwolves' lottery-protected first-round pick
With few pieces to build around, the Hawks could start preparing for life after Dennis Schroder by adding the younger brother of current NBAers Jrue and Justin Holiday. Aaron was terrific as a junior at UCLA, averaging 20.3 points and 5.8 assists. In his three years, Holiday never once shot under 40 percent from three over an entire season.
20. Timberwolves (via Thunder) - Troy Brown, G/F, Oregon
Timberwolves receive Thunder's lottery-protected first round pick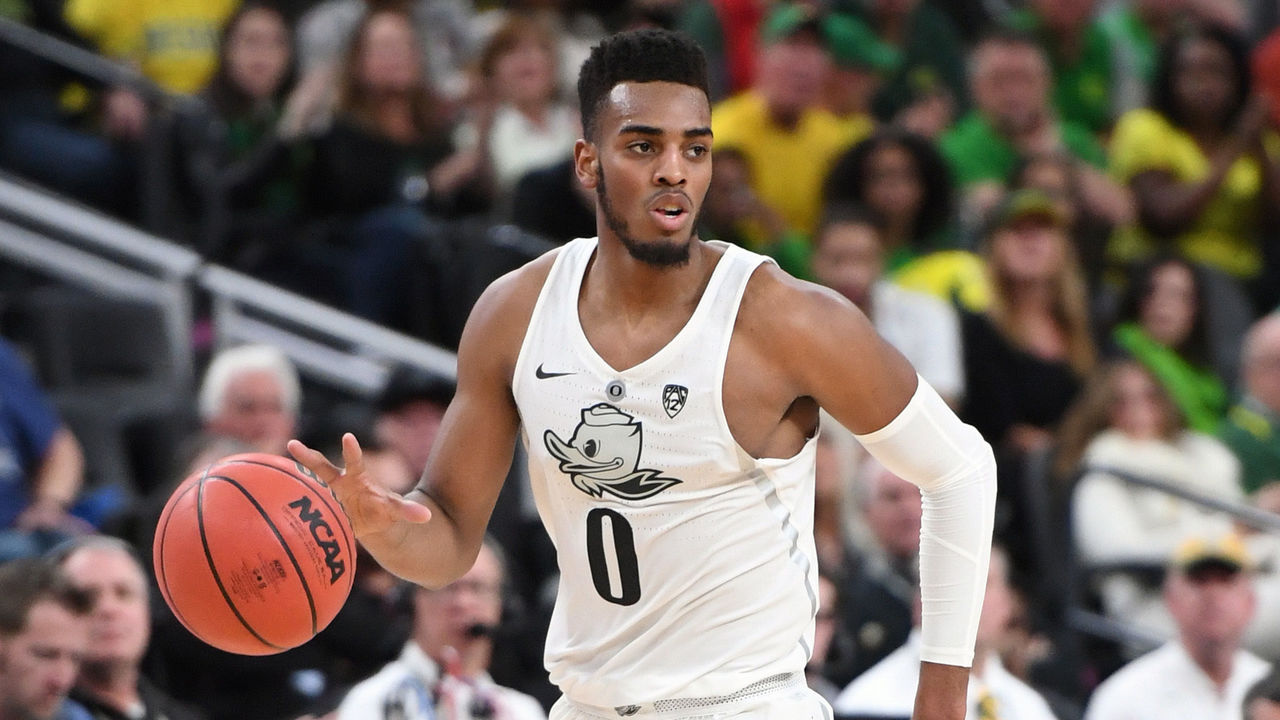 Minnesota's bench was among the worst in the league and with Jamal Crawford opting out of the last year of his deal, it somehow got worse. A Swiss army knife like 6-foot-7 swingman Brown would provide some help, as he's perfectly comfortable running an offense. The Oregon product projects as an elite defender, capable of stopping multiple positions. He's a steady jumper away from becoming a star.
21. Jazz - Khyri Thomas, G, Creighton
The Jazz could improve on their already league-best defense by adding the two-time Big East Defensive Player of the Year. Thomas, a 6-3 guard with a 6-11 wingspan, can comfortably cover multiple positions on the perimeter and was a career 40.6 percent 3-point shooter over his three seasons at Creighton. He'd make the up-and-coming Jazz even scarier.
22. Bulls (via Pelicans) - Anfernee Simons, G, N/A
Bulls receive Pelicans' top five-protected first-round pick
Far from ready to compete, Chicago could brighten its future with the high-ceiling shot creator. Simons graduated from high school last year and skipped college, so teams will likely proceed with caution; however, the combo-guard could fit in nicely next to Kris Dunn if Zach LaVine isn't the answer at shooting guard. Simons is an excellent ball-handler with a scary first step.
23. Pacers - Keita Bates-Diop, F, Ohio State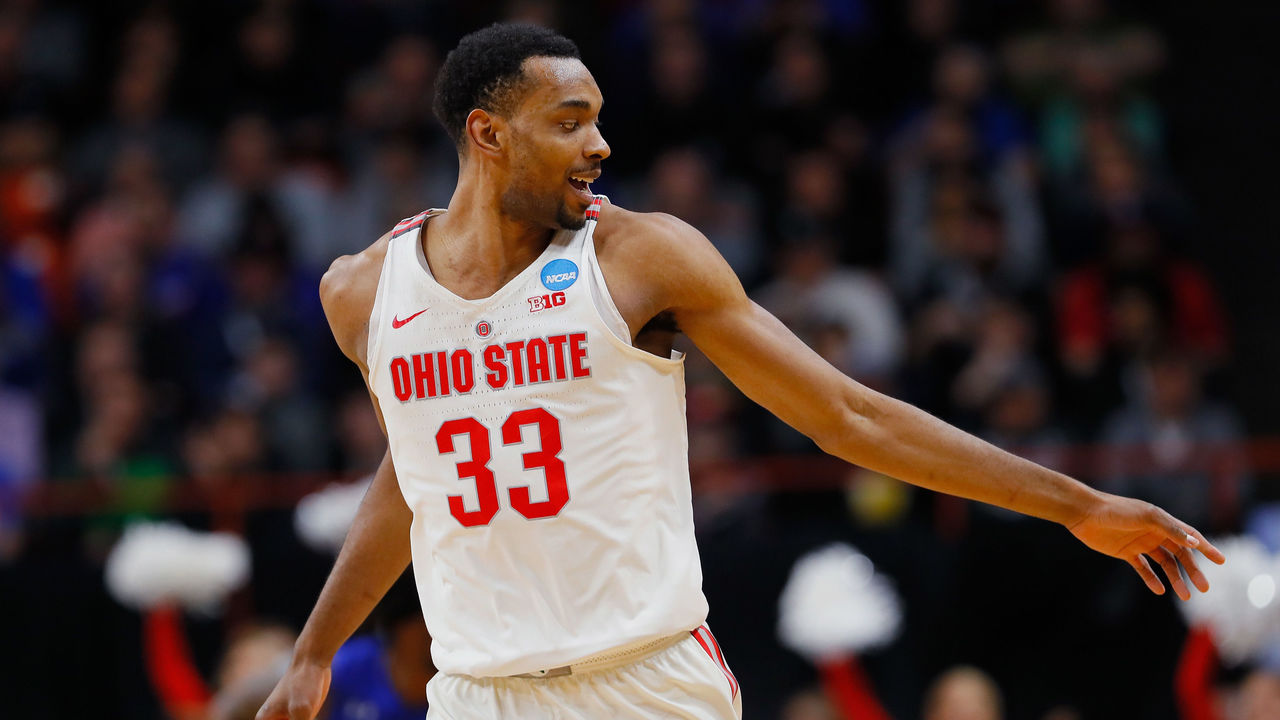 Indiana recovered after trading away Paul George thanks to the emergence of Victor Oladipo. To continue progressing, the Pacers need help on both ends of the floor, and drafting Bates-Diop would be a step in the right direction. The 6-7 forward bounced back from a stress fracture in January 2017 and averaged 19.8 points and 8.7 boards in his junior year with Ohio State. He enters the draft as one of the oldest prospects, but he's as NBA-ready as they come.
24. Trail Blazers - Jacob Evans, G/F, Cincinnati
The Blazers flamed out in the playoffs after arguably overachieving in the regular season. Perimeter defense, their fatal flaw, was exposed by Jrue Holiday and the Pelicans. Evans led the second-best defense in the nation, shot 37 percent from three, and could be the prototypical 3-and-D wing Portland sorely lacks.
25. Lakers (via Cavaliers) - Grayson Allen, G/F, Duke
Lakers receive Cavaliers' top-three protected first-round pick
The Lakers enter the offseason with the cap space to pay a couple stars, so a cheap, reliable option like Allen could find a home in L.A. Allen brings veteran savviness and underrated athleticism to the table, along with solid playmaking and consistent shooting. He should have a long career as a backup guard.
26. 76ers - Jalen Brunson, G, Villanova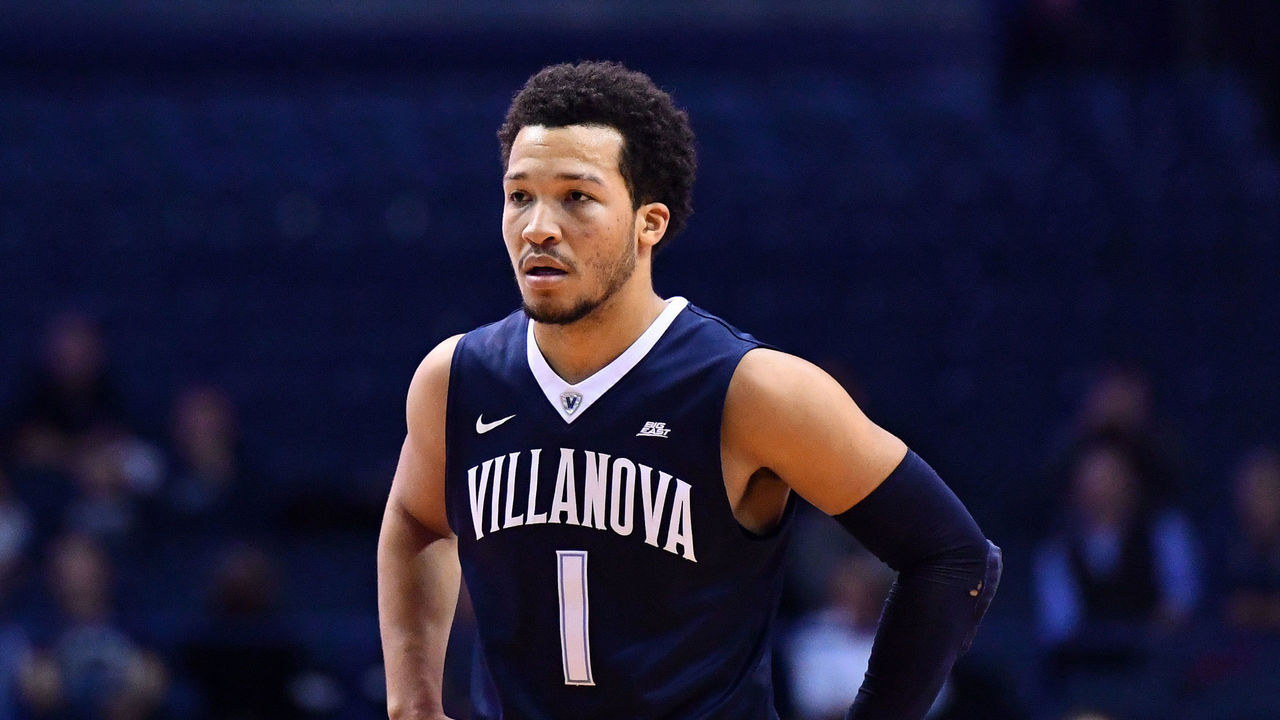 For what it's worth, Villanova is just an hour away from Wells Fargo Center. The reigning National Player of the Year averaged 18.9 points and 4.6 assists in leading the Wildcats to their second national championship in three seasons. He could fit in as either the primary backup to Ben Simmons or as an off-ball 3-point threat (he shot 40.8 percent from three this season).
27. Celtics - Bruce Brown, G, Miami
Snagging Brown in Round 1 would surely indicate the Celtics are ready to move on from Marcus Smart, who might become a tad too expensive for Boston. Brown's midseason foot injury will raise a few eyebrows, but he's an ideal fit in Brad Stevens' next-man-up system. The versatile, 6-5 guard averaged 7.1 boards and four assists in 19 games.
28. Warriors - Jontay Porter, F/C, Missouri
The juggernaut Warriors, aiming to secure their third championship in four seasons, have one obvious need. As bigs have become stretchier and more versatile, Golden State is still relying on old-school centers Zaza Pachulia and JaVale McGee to man the middle. Porter is a 6-foot-11 3-point threat, who averaged 2.7 blocks per 40 minutes.
29. Nets (via Raptors) - Chandler Hutchison, G/F, Boise State
Nets receive Raptors' lottery-protected first-round pick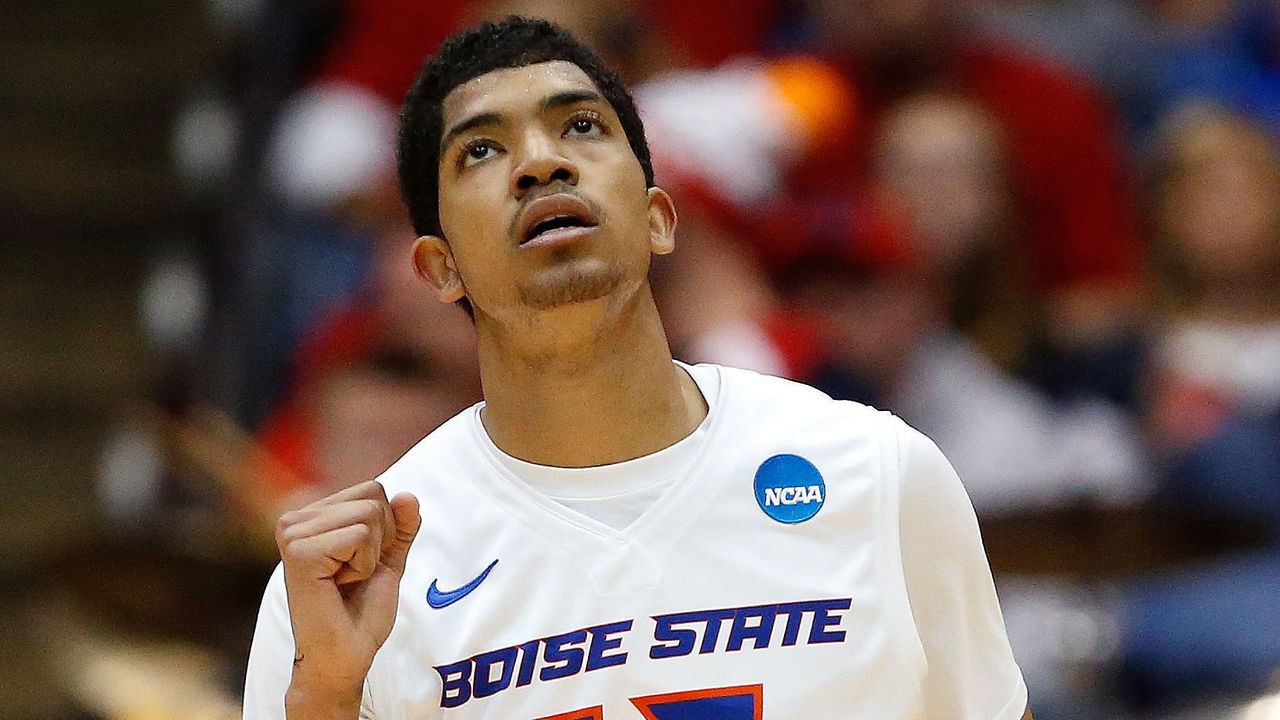 The Nets could use a higher pick, but will have to make due with the best available player here. Hutchison would give Brooklyn a solid playmaker from the perimeter. The senior averaged 20 points, 7.7 boards, and 3.5 assists while hitting 35.9 percent from three. The potential is there for Hutchison to become a solid role player under coach Kenny Atkinson.
30. Hawks (via Rockets) - Melvin Frazier, G/F, Tulane
Hawks receive Rockets' top-three protected first-round pick
Frazier was an afterthought for most of the year, and Tulane finished with a brutal 14-17 record. However, the 6-5 junior averaged 15.9 points, 5.6 boards, and an excellent 2.2 steals. He showed great progress in his perimeter shooting, hitting 38.5 percent from 3-point range on three attempts per game. Frazier would be another building block for Atlanta to pair with the promising Taurean Prince.
Comments
✕
2018 NBA Mock Draft: Doncic takes over top spot after Suns win lottery
  Got something to say? Leave a comment below!