How the Raptors can finally beat LeBron James: A 4-point plan
David Richard-USA TODAY Sports / Action Images
The Toronto Raptors will have their third straight crack at solving LeBron James and the Cleveland Cavaliers when the series tips off on Tuesday.
Cleveland won the last two meetings convincingly by outscoring Toronto by 154 points across 10 games, but the playing field has leveled out this year. Toronto upgraded its supporting cast and diversified its offense to finish as the No. 1 seed, while Cleveland lost Kyrie Irving for nobody of immediate value and was consumed by melodrama for most of the season.
Circumstances are almost entirely working against the Cavs. Tyronn Lue continues to shuffle his lineup in search of any modicum of productivity, Kevin Love is firing blanks with his jammed left thumb, and almost every Cavaliers supporting piece was underwhelming in the first round, in which the Indiana Pacers outscored Cleveland by 40 points.
But the bottom line remains the same: James is still at the peak of his powers, and the Raptors need to play a perfect game to advance.
Here's how they can do it.
Exhaust LeBron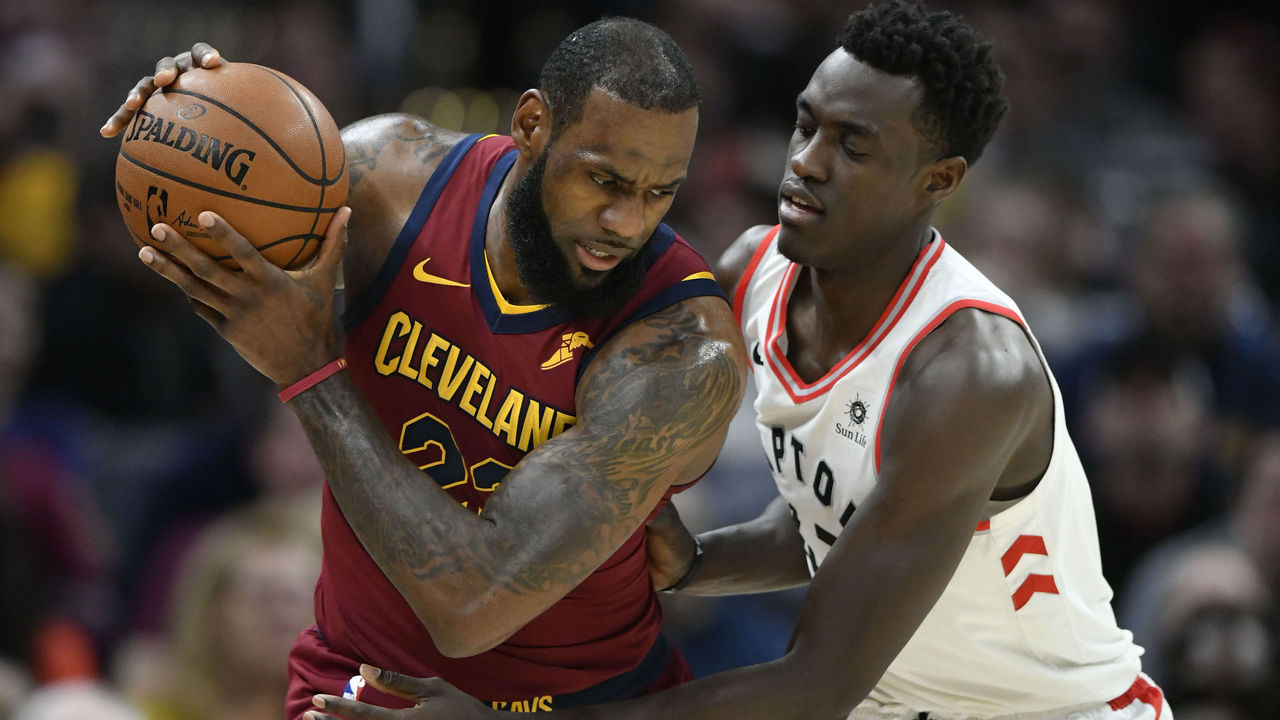 It's hard to resist the omnipotence of James, but even he admitted on Sunday he is tired, and the Raptors need to capitalize.
"I'm burnt right now. I'm not thinking about Toronto right now. I'm ready to go home," James said Sunday after suffering cramps in a tight Game 7 win.
His comment should surprise no one. The Cavaliers superstar led the league in minutes per game and played all 82 regular-season contests for the first time in his career. He's also coming off seven straight Finals appearances and he'll only have one day off after logging 41.2 minutes per game against the Pacers.
Fatigue hasn't worn on James on offense, as he still averaged 34.4 points, 10.1 rebounds, and 7.7 assists on 54 percent shooting in the first round, but he wasn't himself defensively. Shaqtin' A Fool clowned him for not even attempting to get back in transition in a two-point game in the fourth quarter of Game 3, and that one example wasn't far from the norm. Cleveland has played at the slowest pace of any playoff team, yet Lue still hid James on Thaddeus Young (who shot 60 percent in the series) while Victor Oladipo mercilessly torched J.R. Smith.
James was utterly drained from having to carry the offense, as Indiana played him straight up and forced him to be the primary scorer. He had more isolation possessions (60) than the Raptors did as a team (45) in the first round, and quite frankly, he wasn't even that effective, shooting 39.6 percent from the field during those possessions, despite mostly playing 1-on-1 against Bojan Bogdanovic and Lance Stephenson.
Toronto should replicate Indiana's strategy whenever possible. The Raptors should go under screens against James, stay at home on Cleveland's shooters, and use the young legs and long arms of OG Anunoby and Pascal Siakam to make life difficult for James. The Raptors are help-happy and switch-heavy by design, but they need to resist their instincts as much as possible. Trying to beat James with double teams and swift rotations only gives him more opportunities to find his teammates while also sparing him the energy to create his own shot.
If James gets past the Raptors by scoring 40 points a night through posting up and isolating, then you bow to greatness. But the odds of any solo act being that effective over a seven-game series are working against him.
Don't shrink from Love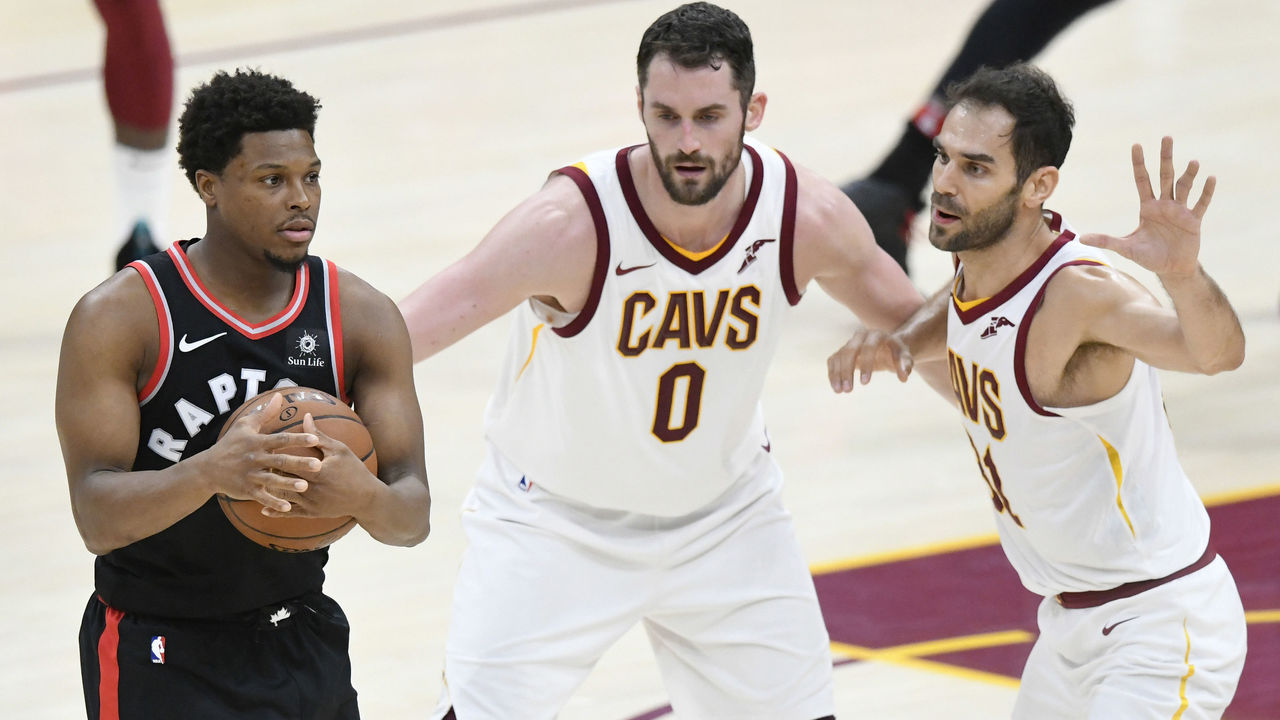 Aside from James, the biggest challenge for the Raptors in this series is Love, who is something of a matchup nightmare.
Raptors coach Dwane Casey will need to decide if downsizing on defense is worth the trade-off of interior scoring. Jonas Valanciunas has proven to be a credible pick-and-roll target who can easily score 20 against Love, but his lack of foot speed and his propensity to hang close to the rim on defense makes him easy to exploit in pick-and-pop sequences. Valanciunas has improved around the margins and is now a functional rim protector, but he has yet to convincingly win the trust of Casey come time for the fourth quarter.
If history is any indication, Cleveland will try to coerce Casey into going small with a tricky lineup of Love at center, surrounded by shooters. The cost of benching Tristan Thompson and Larry Nance is marginal, as they were a combined minus-52 during their 195 minutes on the court versus Indiana. Cleveland is deep on the wings, whereas Toronto is heavy on bigs, so a smaller game favors the Cavaliers.
Casey needs to give his starting center a chance to hang before going to Plan B. Love can score on Valanciunas but the reverse is also true. Flip the mismatch by attacking Love on offense and see if that gets Lue to back down. The issue of trading threes for twos is a legitimate concern for Casey, but Love averaged just 11 points on 33 percent shooting in the first round, and his thumb injury could even the score.
If Casey decides to downsize, he will most likely deploy Serge Ibaka at center. Ibaka is more capable of playing on the perimeter and he presents more of a shot-blocking presence on the floor, but he is hardly a silver bullet solution. The famously inconsistent big man had more turnovers (8) than field goals (7) in the final four games of the Wizards series, he's not a reliable rebounder, and he was a minus-19 while shooting 8-of-22 from the field in two games against Cleveland this year. Ibaka can be a useful scorer if get gets a steady diet of pick-and-pop looks, but he needs to be in rhythm with his feet set, otherwise he's easily neutralized.
The best-case scenario for Toronto would be to keep its bigs on the floor and capitalize on their advantage. Cleveland was helpless against Indiana, as it conceded 29 attempts per game from within the restricted area while allowing 68 percent shooting. Valanciunas is a better finisher than any of Indiana's bigs, he's coming off a dominant showing in the first round against Washington, and he will feast if he's given a longer leash on defense.
Otherwise, the Raptors can only hope to run Love off the 3-point line without fouling, then defend the rim with a timely help rotation. The Pacers were tremendously successful in that approach, but they also had a perfect in-between forward in Young to execute that scheme, as he was physical enough to challenge Love in the paint and agile enough to navigate the perimeter. Toronto doesn't have the same option unless Ibaka is playing at his full capacity.
Stay at home on shooters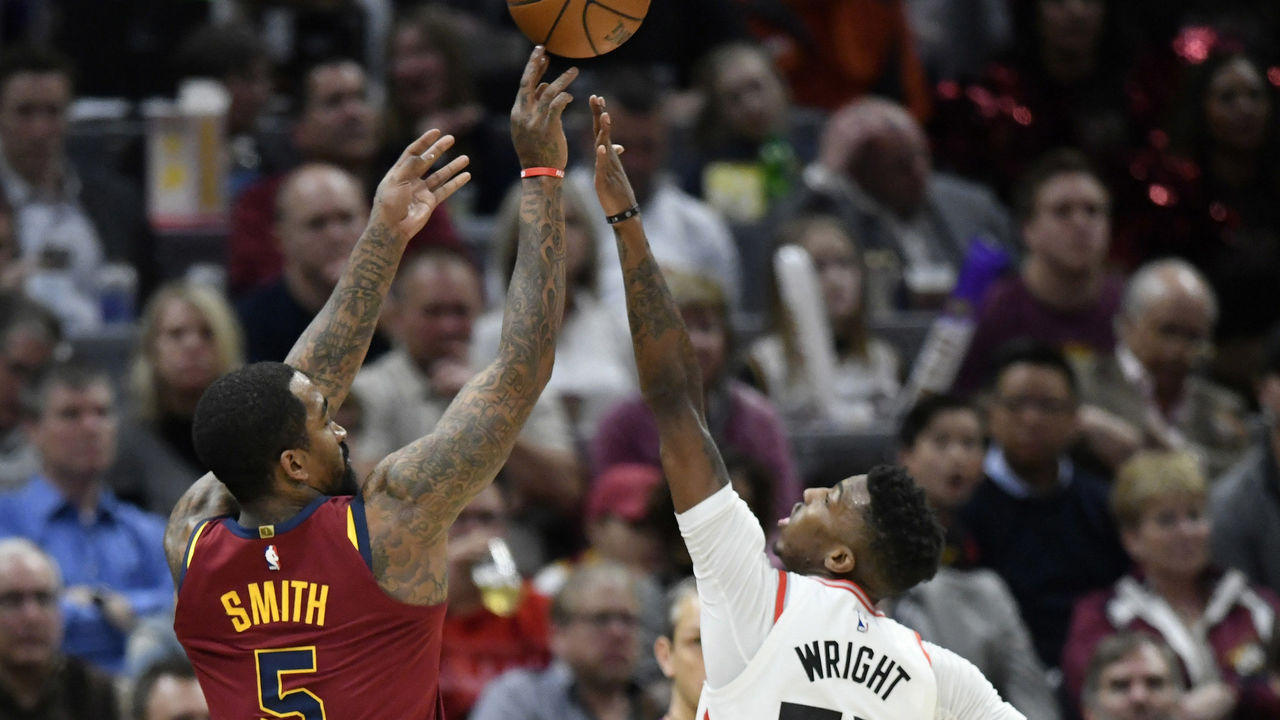 Cleveland's absurd 183-81 advantage in 3-point scoring was the biggest factor in last year's sweep of Toronto. The year before, it was 204-132.
The Raptors smartened up and reoriented both their offense and defense around the 3-point line, but Cleveland is still the deadlier team. Not only do the Cavs have more proven gunners, but James' ability to punish help rotations by finding the open shooter is second to none. Toronto allowed the fewest 3-point makes in both the regular season (8.9) and in the first round (8.0), and that needs to continue if it hopes to advance.
The Raptors' biggest challenge will be striking the impossible balance between protecting the paint when James drives and staying at home on the shooters around him. As noted earlier, their best bet is to let the King get his and hope he gets tired, instead of helping and scrambling.
Cleveland shot a miserable 32.2 percent from deep in the first round, which explains much of its struggles on offense. However, some of that came down to bad luck, as the Cavaliers' shooters curiously shot 34 percent from deep without a defender within six feet, down from the scorching 42 percent they hit on the same looks during the regular season after the All-Star break.
Odds are that Smith (31 percent), George Hill (25 percent), Rodney Hood (16.7 percent), and Jordan Clarkson (14 percent) will make more open threes moving forward, regardless of defensive schemes. But if they continue to struggle, the Raptors will have a golden opportunity to advance.
Leverage the depth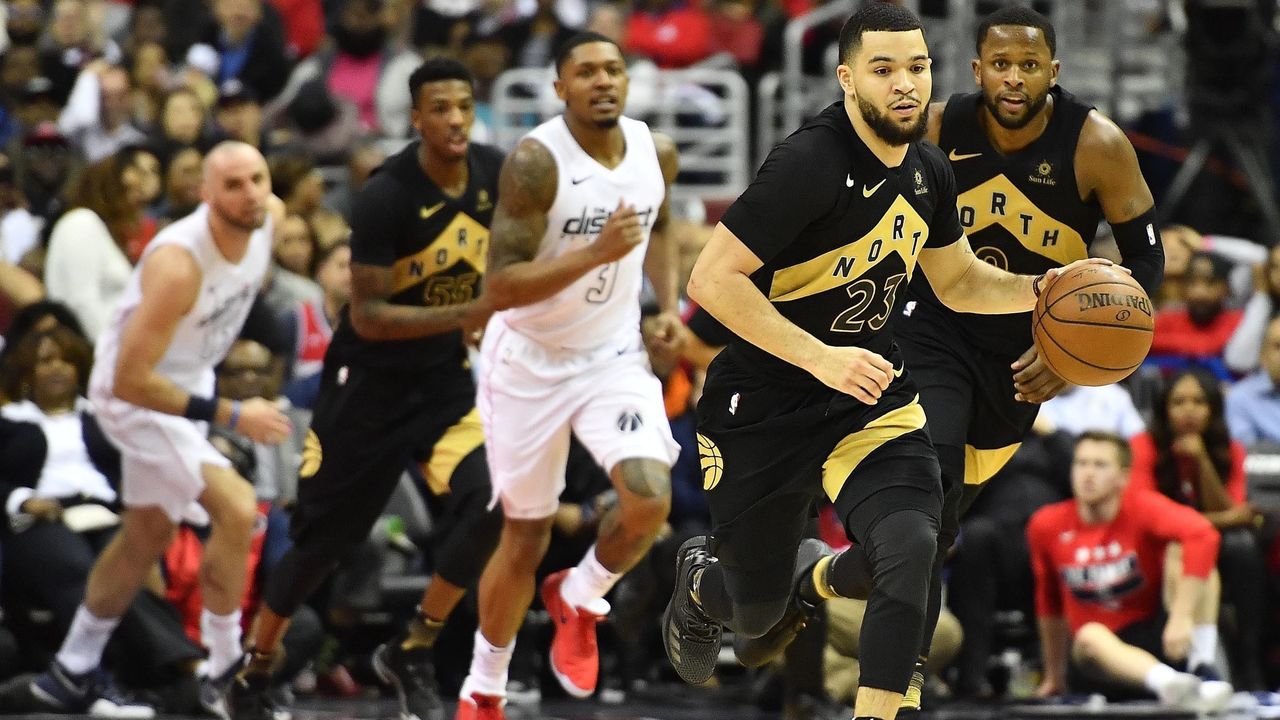 Toronto's biggest advantage over Cleveland will be its depth.
Casey's rotation features one player over the age of 29, as compared to six for Lue. The Raptors coach can reliably call upon 10 players to contribute on any given night, whereas Lue could hardly find anyone beyond Kyle Korver to consistently support James in the first round. The Raptors need to leverage their depth to their advantage, much like they did against the Wizards.
Cleveland prefers to play slow because its the oldest team in the league, so Toronto should push the pace whenever possible. Both Fred VanVleet and Kyle Lowry are excellent up-tempo lead guards, and they need to catch Cleveland napping in transition, much like how Oladipo, Darren Collison, and Cory Joseph created a 17-9 fast-break points advantage in the first round.
DeMar DeRozan also needs to continue trusting his teammates and resist taking over the offense unless the situation calls for it. DeRozan was tremendous in the first round, as he scored 27 points with five assists per game, but by his own admission, there were some moments when he took too many shots, to the detriment of his team.
Comments
✕
How the Raptors can finally beat LeBron James: A 4-point plan
  Got something to say? Leave a comment below!