A tale of 2 careers: How Vince Carter forged his own path into NBA lore
Early in the lockout-shortened 1998-99 NBA season, Raptors sophomore Alvin Williams and rookie Vince Carter took a stroll through Eaton Centre, always and forever a magnet for Toronto's youth.
"I remember just walking through the mall with Vince and no one knew who he was," Williams told theScore.
Less than two months later - after Carter single-handedly resurrected the Slam Dunk contest and became the NBA's latest golden child - those strolls through the downtown shopping center abruptly stopped.
"After that dunk contest, we couldn't go to New York, we couldn't go to Sacramento, we couldn't go anywhere," said Williams.
And yet, Carter has been everywhere - at least, from a basketball perspective. From hero to heel in basketball-rabid Canada, from high-flying megastar to slick-shooting reserve option and de facto bench coach, from Olympic gold-medal winner to playoff disappointment, it's hard to find a more diverse hoops resume in the history of the game. And with Carter confirming he'll return for at least one more season, the affable 41-year-old continues to do things his way - just as he has done for the entirety of his strange and wonderful career.
__________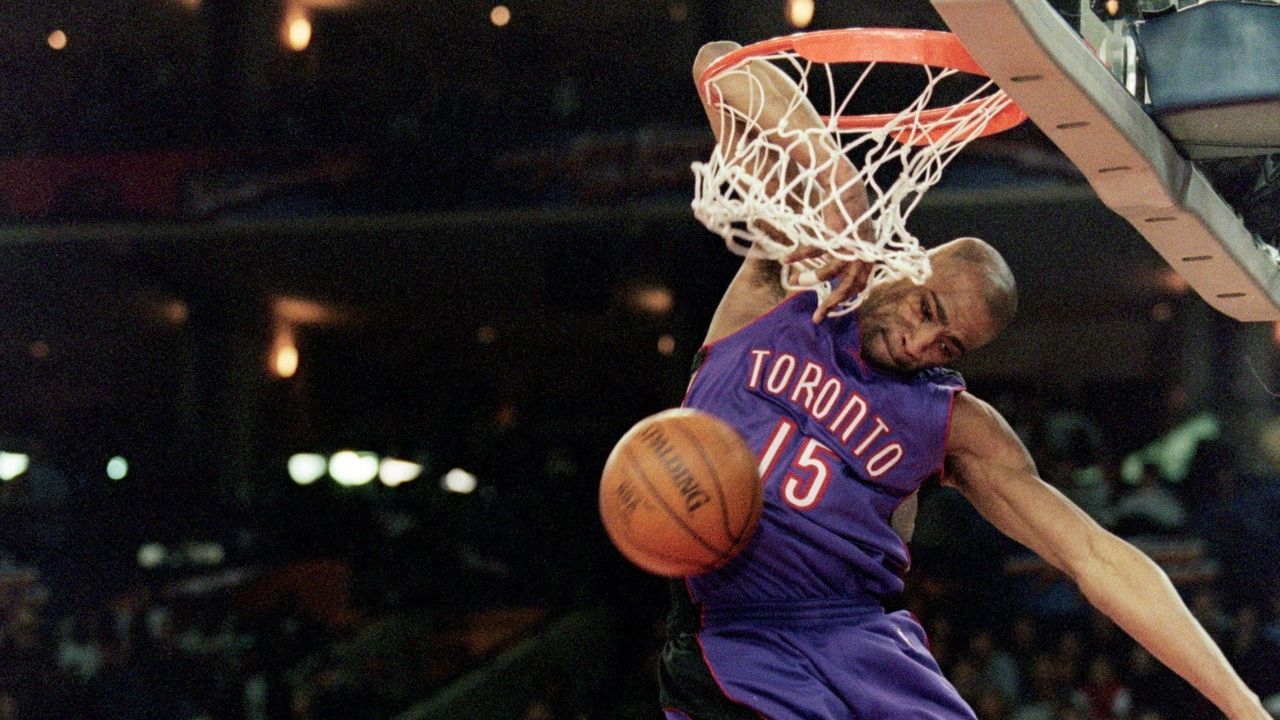 What transpired shortly after Williams and Carter's walk through the mall became known as "Vinsanity," pre-social-media viral star-making at its zenith. Seeing Carter throw down acrobatic dunks with an oversized dinosaur emblazoned on his chest became a nightly occurrence. Before long, Toronto highlights were leading U.S. TV shows like "Sportscenter" and "CNN Sports Tonight." By the following season, Carter and the Raptors were on the rise, and the air around the Floridian was thick with superlatives.
Fellow North Carolina alum Michael Jordan had retired from the Chicago Bulls in 1998, and Carter's emergence in the wake of that was not lost on a basketball hype machine that had yet to be subjected to widespread advanced stats or the cynicism of Twitter. Four days before the calendar flipped to a new millennium, with headlines focused on something called the Y2K bug, ESPN magazine declared Carter its "NEXT" athlete.
Yet Carter's friend Joe Giddens made a salient observation at the bottom of that 1999 story: "He doesn't want to be the next anybody. He wants to be the first Vince."
There's little question that Vincent Lamar Carter has had a unique - if not unprecedented - NBA career. Between his rookie year and 2009, he was an eight-time All-Star and was named All-NBA twice while averaging almost 38 minutes per contest and a 29.7 usage rate. Since 2009-10, he's averaged 23.7 minutes with a 21.1 usage rate, a willing and effective role player for contenders and rebuilders alike.
It's almost like Carter has had two careers. You have to go back to NBA names like Terry Cummings to find a player who was almost equal parts star and role player over long careers - and Cummings never came close to being christened as the next face of the league.
"If that's the case, I think the first career set me up for the second career," Carter told theScore in December. "I enjoy having a role, you know what I'm saying? It means I have a job in this league."
__________
From 1999 to 2001, Carter was a top-5 player in the NBA. In September 2000, he went viral again when he jumped clear over 7-foot-2 Frenchman Frederic Weis in the Olympics as the U.S. rolled to gold. The Raptors' jersey dropped the dinosaur and Vince's No. 15 became a top-seller, turning up in Fat Joe videos. He became the signature ambassador of Nike's Shox line, and followed in Jordan's footsteps again by becoming the NBA face of Gatorade.
The path to legend status - walked before by Jordan and later by LeBron James - was materializing.
The "Carter factor" was having a major impact on the Raptors franchise as well. As Toronto fans continue to decry their team's lack of U.S. TV appearances, it's worth noting that the Raptors played the Knicks in Madison Square Garden on Christmas Day, 2001.
"That wasn't a problem when we had Vince," Carter's friend and Raps superfan Nav Bhatia once said.
Toronto is a city where the din of Maple Leafs hockey is omnipresent. Baseball's Blue Jays challenged that supremacy in the early 90s by winning back-to-back World Series, but Carter's Raptors offered something exciting and new. That the sport of basketball spoke to the city's diversity was significant.
"With Vince Carter, you see he's not Canadian, but he looks like you," NBA player agent Mike George told Eric Koreen, then of the National Post, in 2013.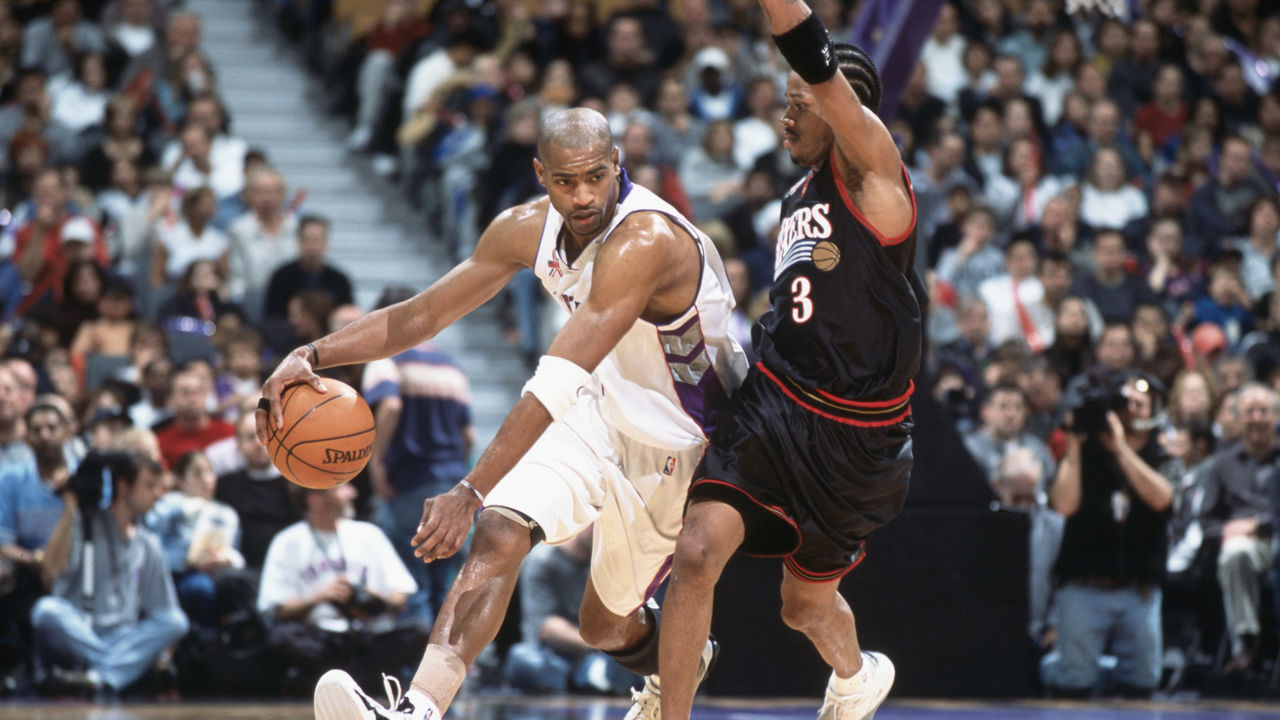 In 2000-01, Carter averaged 27.6 points while posting career highs in PER (25) and VORP (6.8). In Game 3 of the Eastern Conference semifinals against the Philadelphia 76ers, he scored 50 points, tying the NBA record for 3-pointers in a postseason game (nine) that stood until just two years ago.
On the night of May 19, 2001, Carter boarded the private jet of Maple Leaf Sports and Entertainment chairman Larry Tanenbaum. After attending his University of North Carolina graduation ceremony in Chapel Hill, N.C. the next morning, he reboarded the plane for the 80-minute flight to Philly, where his Raptors were about to face the 76ers in Game 7.
The day before, Carter had explained to his teammates why he needed to be inside UNC's Kenan Stadium for the ceremony. It was important, he said, a promise he had made to his mother. In the ensuing pregame media storm, many of those teammates offered a tepid response. Antonio Davis wouldn't comment on Carter's choice. Charles Oakley said, "I hope he thinks he's making the right decision to go."
For better or worse, that seventh game became a significant part of Carter's NBA legacy. With the Raptors down one with two seconds left in the game, Carter took an inbound pass from Dell Curry, pump-faked Tyrone Hill, and launched an off-balance jumper from just inside the arc.
"I was sitting on the left baseline when his shot went up," said Rogers Sportsnet NBA reporter Michael Grange. "And I really thought the shot was in and remember thinking, 'He did it, he's going to pull it off.'"
For an instant, Carter's shot looked online. But then it clanged off back iron as time expired, ending what was - and, until two years ago, remained - the best season in Raptors franchise history.
The verdict was instant. In a sports world consumed by narratives, did Carter's travel patterns contribute to that missed jumper? If he couldn't advance his stardom by hitting the clutch shot, should Vince have passed the ball?
Then-Raptors broadcaster Chuck Swirsky still believes Curry should have taken the last shot.
"He was in the zone, he was on fire, and I would have given him the ball," Swirsky said. "And that's not a criticism of Vince, you ride your hot hand regardless of who it is."
Fans quickly drew their own conclusions; specifically, that Carter didn't have the commitment or the killer instinct of Allen Iverson, let alone Jordan. Seventeen years later, some of his Toronto teammates from that time won't deny that his decision that day had an impact on what followed.
"No doubt," Oakley told Sportsnet recently when asked if the Raptors would have won that game if Carter hadn't attended his graduation. "It's like a band member off key. You know the difference."
While Williams knows the Chapel Hill excursion would have made for a doubly feel-good story if the shot went down, he recognizes the situation opened the door to questions.
"Sometimes you may look at Vince or look at anyone in that situation who wasn't 100 percent all in, doing everything you needed to do," he said. "Instead, he chose to do something else, right? So that's one of those things where you want to question if someone's all-in at being 'that guy' who's going to take all of the responsibility, take the shots, take the criticism."
Any discussion of Carter's early career, however, also must take injuries into account. In the following three seasons from 2001-04, he missed 100 games due to knee and quad issues, undergoing surgery in 2002.
"There was a bump in the road," Swirsky said.
The cap-handcuffed Raptors quickly sank into dysfunction on and off the court. Stories circulated about the Raptors revoking Carter's mother's ACC parking spot, and the star's alleged insistence that they hire Julius Erving as general manager.
One night in 2002, while his team was losing to the Atlanta Hawks, an injured Carter was seen onstage dancing at a Nelly concert.
"He did suffer from some real injuries, but he had some bad judgment," former Raptors general manager Glen Grunwald said of Carter in 2014.
The subsequent nasty divorce from the organization - and the eventual mending of that relationship in recent years - has been well-chronicled. Yet at the time, few Raptors fans could have envisioned that the one-time franchise savior would be shipped out of town for a collection of spare parts, an ignominious end to an incredible era.
__________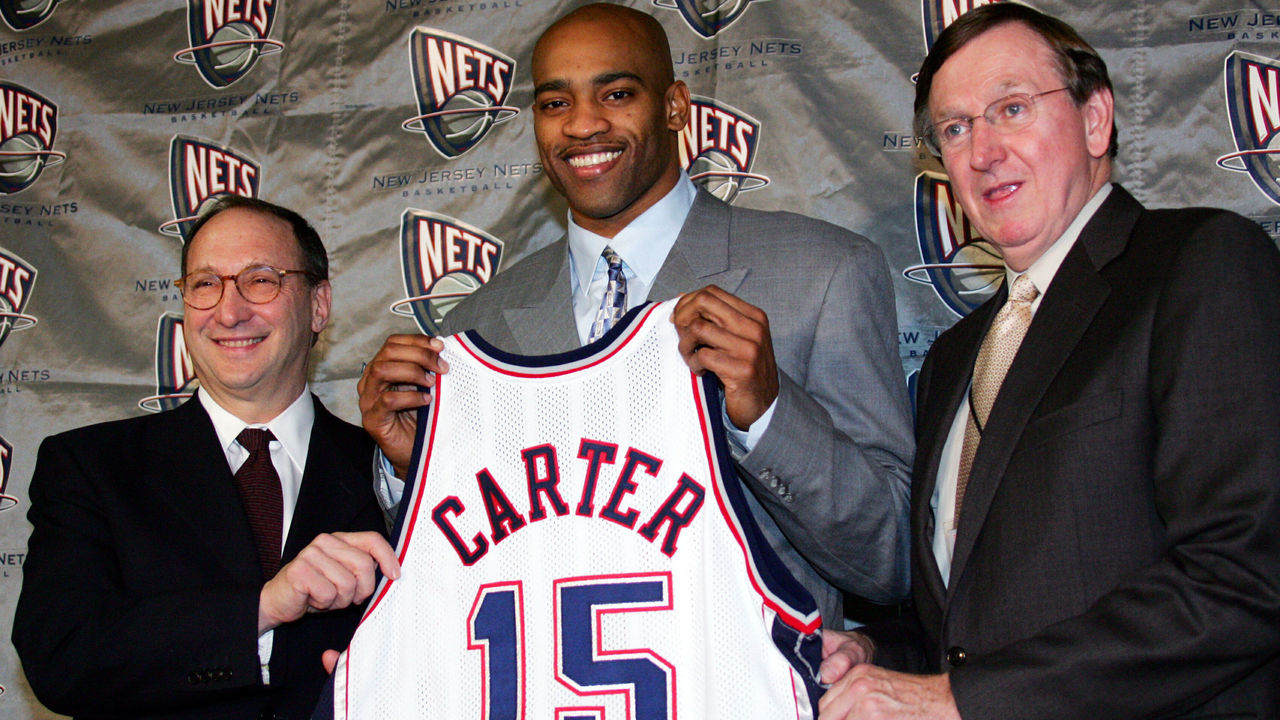 Was Carter's Dec. 17, 2004, trade to the New Jersey Nets one of the worst deals in sports history? Perhaps, considering the Raptors honcho who swung the deal, Rob Babcock, was fired a year later and never worked as a GM again.
But the trade rejuvenated Carter. He averaged 24.5 points over the next three-and-a-half seasons, rediscovered his highlight-reel hops, and stuck it to the Raptors twice during the regular season and once in the playoffs.
Playing alongside one of the greatest point guards of all time in Jason Kidd helped, and many believe that was the sort of thing Carter needed all along.
"It's not to discredit Vince ... (the game) just came so easily to him that I don't think he ever projected to be the main guy, the superstar that he became overnight," Williams said. "I think that once he got the opportunity to join forces with (Kidd) and Richard Jefferson and those guys, I think he felt much more comfortable."
Still, four-and-a-half seasons playing in the swampland of East Rutherford, N.J. - albeit just nine miles from the epicenter of global branding on Madison Avenue - didn't come close to recapturing Vinsanity at its apex. The Nets were firmly above average, but never went beyond the second round of the playoffs with Carter.
That stretch occurred during an NBA dead zone. LeBron was on the rise, but not the King yet. The Detroit Pistons dominated the East with a 106.1 offensive rating between 2003-06, a number now pedestrian by comparison. Out West, Mike D'Antoni and Steve Nash's Phoenix Suns were planting the seeds for the Golden State Warriors' revolutionary success, but couldn't beat the methodology of the San Antonio Spurs.
Sometimes, opportunities never materialize.
__________
After two more years as a secondary and tertiary scorer with the Magic and Suns, Carter reached a career crossroads at 34. At an age when many good players consider retirement, Carter reinvented himself with the Dallas Mavericks.
"Vince came to me - and he talked to Mark Cuban - about wanting to take on that role of sixth man." Mavs coach Rick Carlisle said in a recent interview. "Look, this is not the normal thing you get from a guy in his 30s that's coming to a new team. This was new territory for me."
Many stars woudn't even consider such a move. For example, Iverson - with whom Carter dueled so epically in 2001 - balked at not starting and sputtered out of the NBA at the same age.
"So often, you really have to convince a guy that coming off the bench is the right thing and the best thing," Carlisle added. "If guys can start, in most cases, they want to do that. Instantly, he took on an even greater persona of unselfish team guy. It was phenomenal."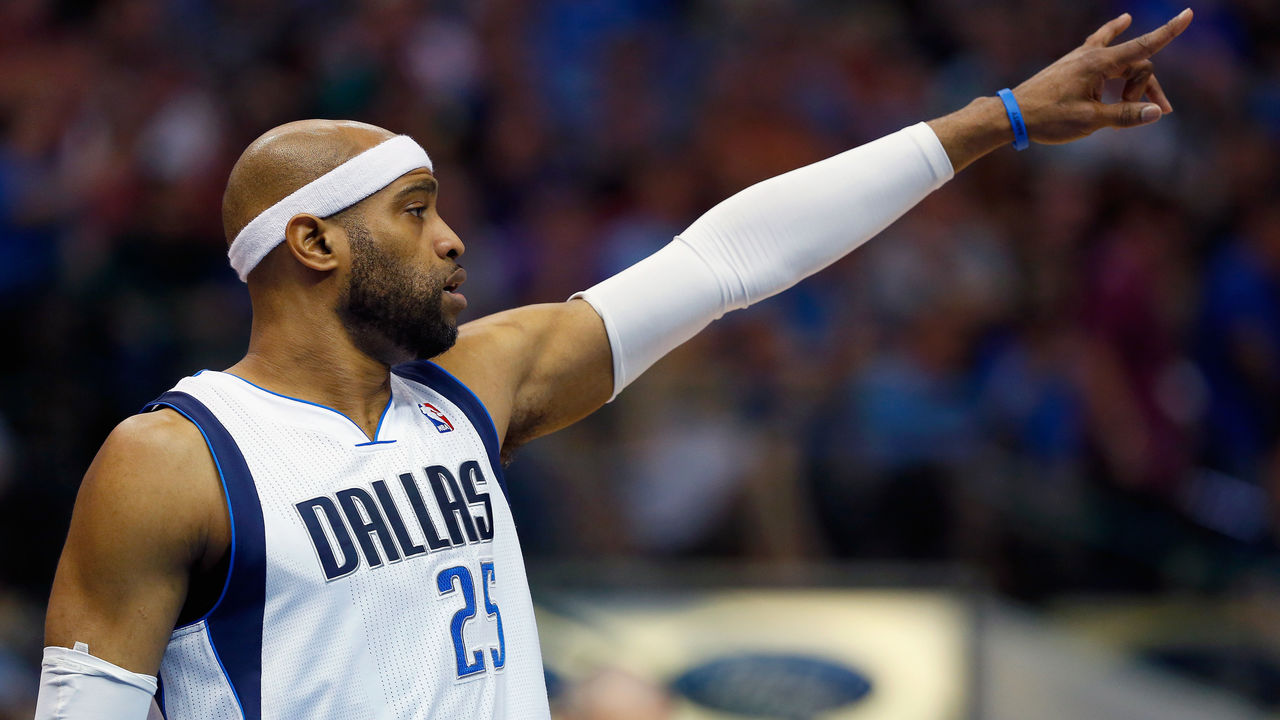 While he fought through injuries and the perception of being "soft" early in his career, Carter became a model of health late in it. Embracing a league-wide trend of cryotherapy and better nutrition, he often eschews some of the carb-laden postgame spreads familiar in NBA locker rooms.
"A guy that athletic, the things he did on the court, those kind of guys don't really play that long because once the athletic ability is gone, they're not the same player," said fellow former dunk champion Dee Brown, who played with in Toronto with Carter during his first two seasons. "But Vince reinvented himself ... and he took care of his body."
Carter's last four seasons with the Memphis Grizzlies and Sacramento Kings have demonstrated that in a unique way. Few superstars of the past would be content playing under 20 minutes a night on low-ceiling teams, but Carter has relished the role of mentor. With the Mavericks, he brought the team to his house for a practice and film session when they were in Orlando, feeding them a full buffet after. With the Grizzlies and Kings, he's assumed the role of instructor, with old flashes of brilliance spliced in.
"VC is basically another coach," said Kings rookie De'Aaron Fox, per Sactown Royalty's Blake Ellington. "Even when he's on the court, he's acting like another coach."
When asked why he hasn't ring-chased like many veterans late in their careers, Carter seemed nonplussed.
"I'm just not ready for that," he said. "When I step on the floor I just want to help my team and make those guys better. I mean it's easy to sit on the side and yell out coverages or help a young guy, but it's another thing showing them."
That's where narratives collide. Carter was considered a strong buyout candidate ahead of the league's March 1 waiver eligibility deadline, leading many to believe the Raptors would be a great fit. Imagine: In the afterglow of "The Carter Effect," Vince triumphantly returning to Toronto as a veteran reinforcement for the young bench that's helped the Raps to the best regular season in franchise history.
It didn't come to pass. But with Carter returning for at least one more season, there's still time - and he has opined that at some point, a reunion with the Raptors in one shape or form will occur. "Whether it's one day or something, it'll happen."
__________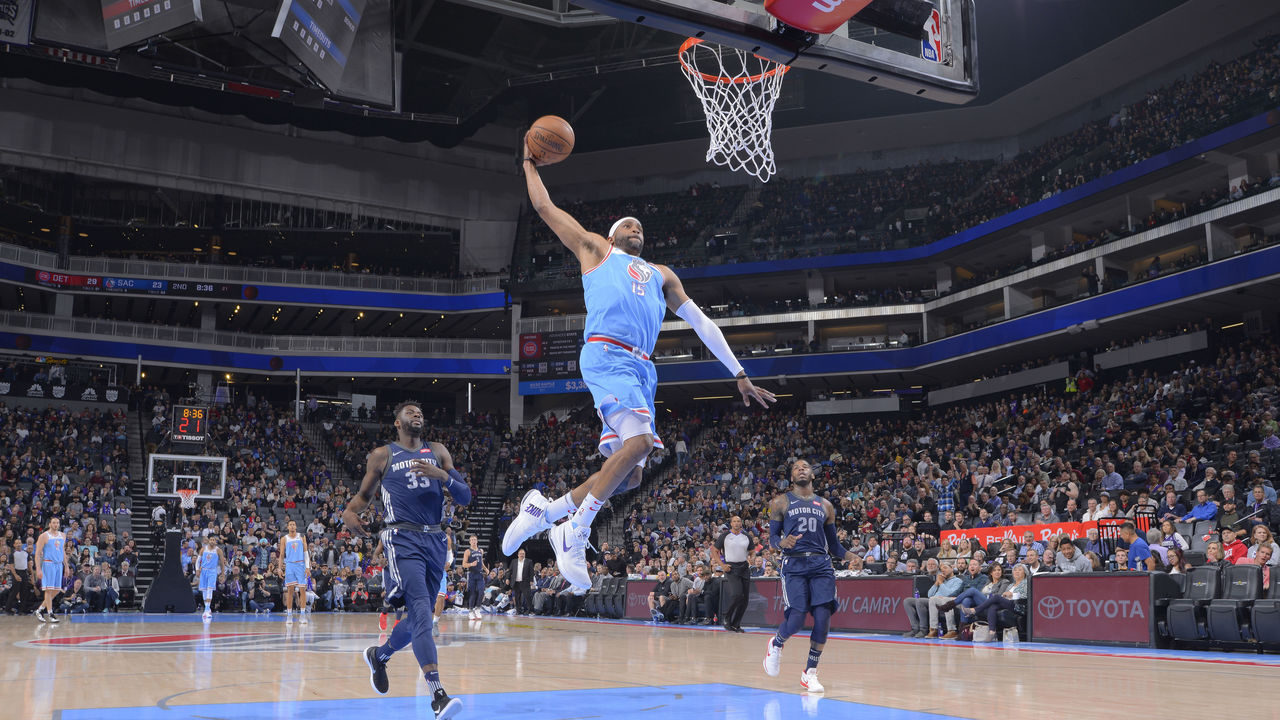 There's a desire among fans and media to view the careers of certain athletes as a tidy storyline. Too often, when that storyline deviates from fairy tales and tight bows, it's cast as underachievement or even villainy. That people's lives aren't scripted by Aaron Sorkin should be evident to any former high school valedictorian over the age of 30; success is too often viciously defined.
Yet even the Toronto fans who savaged Carter when they believed he should have been driving the lane rather than jacking 3-pointers will at least acknowledge the inspiration he had on local youngsters like Andrew Wiggins and Tristan Thompson - who watched Vince take flight from the old Sprite Zone seats at Air Canada Centre.
But Carter has always been above the noise. He's had a wildly successful two-decade Hall of Fame career, earning almost $200 million along the way. And that he's done it unlike no other is a storyline in itself.
"It's just, I still love this game to be honest with you," Carter said. "I've done it my way. This is who I am, this is how I've done it, and it's been very good to me."
(Photos courtesy: Getty Images)
Comments
✕
A tale of 2 careers: How Vince Carter forged his own path into NBA lore
  Got something to say? Leave a comment below!