25 years later, Shaquille O'Neal talks about his sensational rookie season
This year marks the 25th anniversary of Shaquille O'Neal's incredible rookie season. O'Neal, a 7-foot-1, 300-pound behemoth, was the No. 1 pick in the 1992 draft and had signed a seven-year, $40-million contract with the Orlando Magic, which was the largest in pro sports at the time.
As a two-time All-American and SEC Player of the Year at Louisiana State University who appeared on the cover of Sports Illustrated in 1991 as an 18-year-old, O'Neal entered the NBA with outsized expectations that matched his imposing frame. The Hall of Fame center and current NBA on TNT analyst recently recalled his sensational 1992-93 rookie season in an exclusive interview with theScore.
To prepare for his first game in the NBA, Shaquille O'Neal spent the day playing Sonic the Hedgehog with his 4-year-old nephew before heading to the arena.
"I wasn't nervous," O'Neal told theScore. "I was just anxious to fulfill my lifelong dream of being an NBA player."
The Magic had won just 21 games the season before, and had not made the playoff since joining the league in 1989. Outside of Dennis Scott, Nick Anderson, and Scott Skiles, Orlando had a roster resembling an expansion team. O'Neal was expected to put the franchise on his shoulders, and guide it to new heights.
"I had to do something different so people would know the name Shaquille O'Neal forever."
On opening night at home against the Miami Heat, O'Neal was simply looking to make a statement. Hakeem Olajuwon, Patrick Ewing, and David Robinson were the best centers in the league, but O'Neal knew what set himself apart from everyone else: a unique combination of size, athleticism, and skill.
In the first half against the Heat, after grabbing a defensive rebound, O'Neal started the fast break by himself, almost turning the ball over near midcourt before gathering himself, going coast to coast, and finishing the play with a thunderous one-handed slam.
It's the play O'Neal still remembers the most about his first NBA game.
"I had to let the world know that I was here," he said. "I couldn't just do regular stuff. I had to do something different so people would know the name Shaquille O'Neal forever."
O'Neal finished his debut with 12 points, 18 rebounds, and three blocks as the Magic won 110-100. It was only one game, but everyone knew the next great big man had arrived.
"There is no doubt he is going to be a monster," Heat center Rony Seikaly said after the loss. "He palms the ball like a grapefruit. He's as big as Mark Eaton, and seven times as quick. And he's only 20. Give me a break."
"I wanted everyone to know they were second and third best."
O'Neal continued his dominance throughout the first week of his NBA career. In his second game, he scored 22 points and grabbed 15 rebounds in a win over Washington. He followed that up with 35 points and 13 rebounds against Charlotte, and then put up 31 points and 21 rebounds in a rematch against Washington.
Remarkably, O'Neal opened his rookie season with at least three blocks in each of his first 23 games, but wasn't surprised by the early results. "I was a defensive player in high school and college," he said. "That was what I was known for."
O'Neal and the Magic quickly became one of the hottest tickets in the league. Tim Povtak, a beat writer who covered the team for the Orlando Sentinel, remembers how quickly things changed for the franchise after O'Neal arrived.
"They were an expansion team, and then they drafted Shaq, and all of a sudden they were a real team," Povtak told theScore. "It made them a national story. They went from Greg Kite to Shaquille O'Neal. Suddenly they became a huge draw on the road."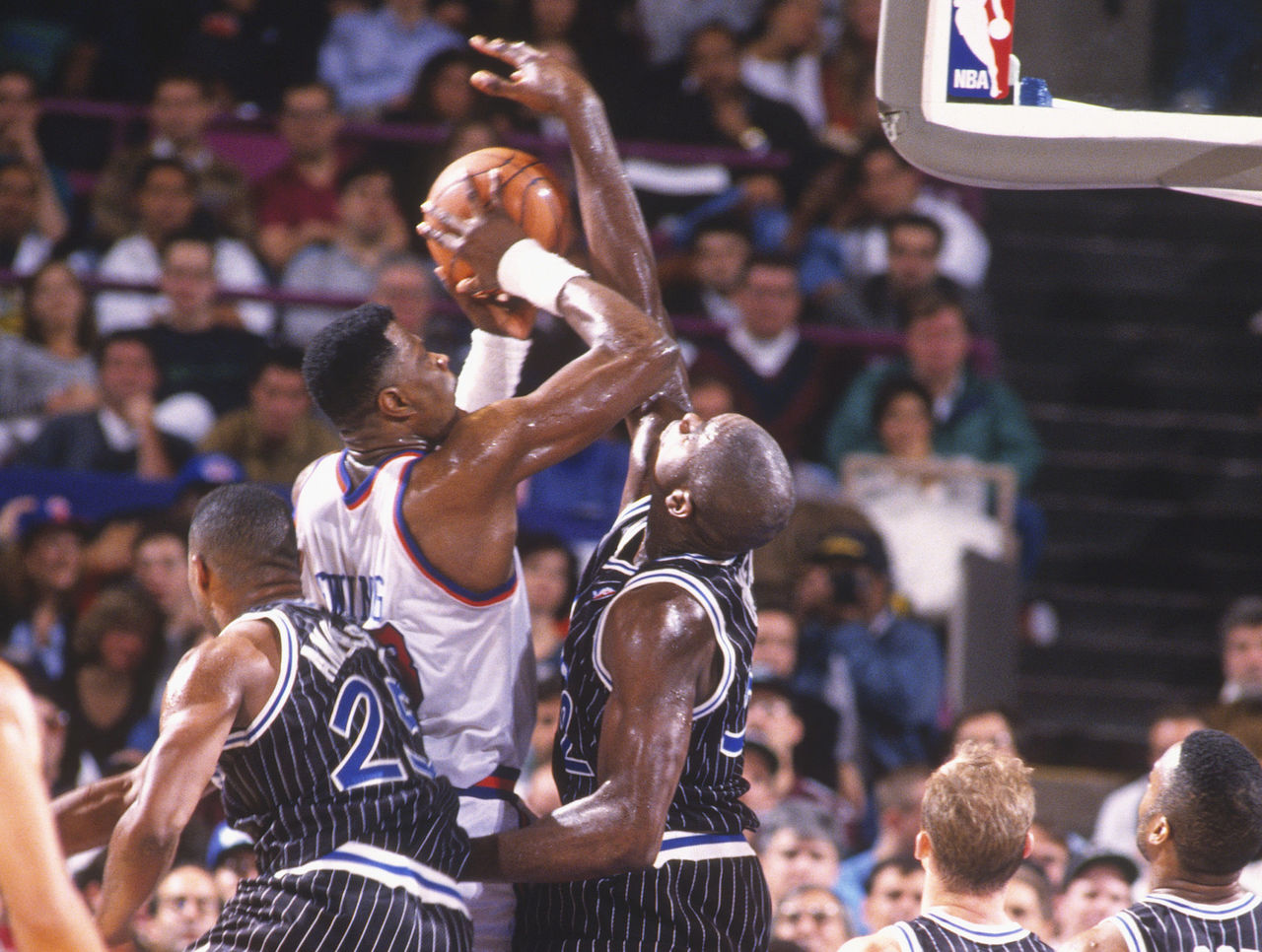 In O'Neal's first game at Madison Square Garden against Ewing and the Knicks in late November, celebrities including Spike Lee, Terry Bradshaw, Earl Monroe, Peter Falk, and John McEnroe sat courtside. But there was one person in the arena who caught O'Neal's attention: Wilt Chamberlain.
"I grew up watching Wilt," he explained. And during his rookie season, O'Neal would film a commercial for Reebok along with Chamberlain, Bill Russell, Bill Walton, and Willis Reed.
The commercial opens with O'Neal knocking on an imaginary door and Russell asking for a password to enter. "Don't fake the funk on a nasty dunk," O'Neal replies, before showing his ID for entry. "You're early," Russell says. "I'm ready," O'Neal responds, before shattering the backboard with a dunk while the all-time greats watch courtside.
The subtext of the ad was clear: O'Neal was just a 20-year-old rookie, but he wanted to be compared to the greatest centers of all-time.
"I wanted to put a little pressure on myself with that commercial," he said. "I was basically saying, 'Hey, if you want to be as good as those guys, you would have to do what those guys did - win championships.'"
The championships would come later - four of them, in fact - but in his first season, O'Neal was still focused on measuring himself against his contemporaries.
In his first matchup against Ewing, O'Neal finished with 18 points and 17 rebounds in a loss. In his first game against Olajuwon, he put up just 12 points and 13 rebounds. He fared better against Robinson, scoring 23 points and grabbing 16 rebounds in their first matchup. And despite the up-and-down numbers against the league's best centers, O'Neal wasn't discouraged.
"I was nervous before playing those guys," he said, "but every time I went up against them, it helped my confidence. I told myself, 'If these guys are so great, and I was doing well against them, well then, in no time I was going to be great too.' I would just build off every moment during my rookie season."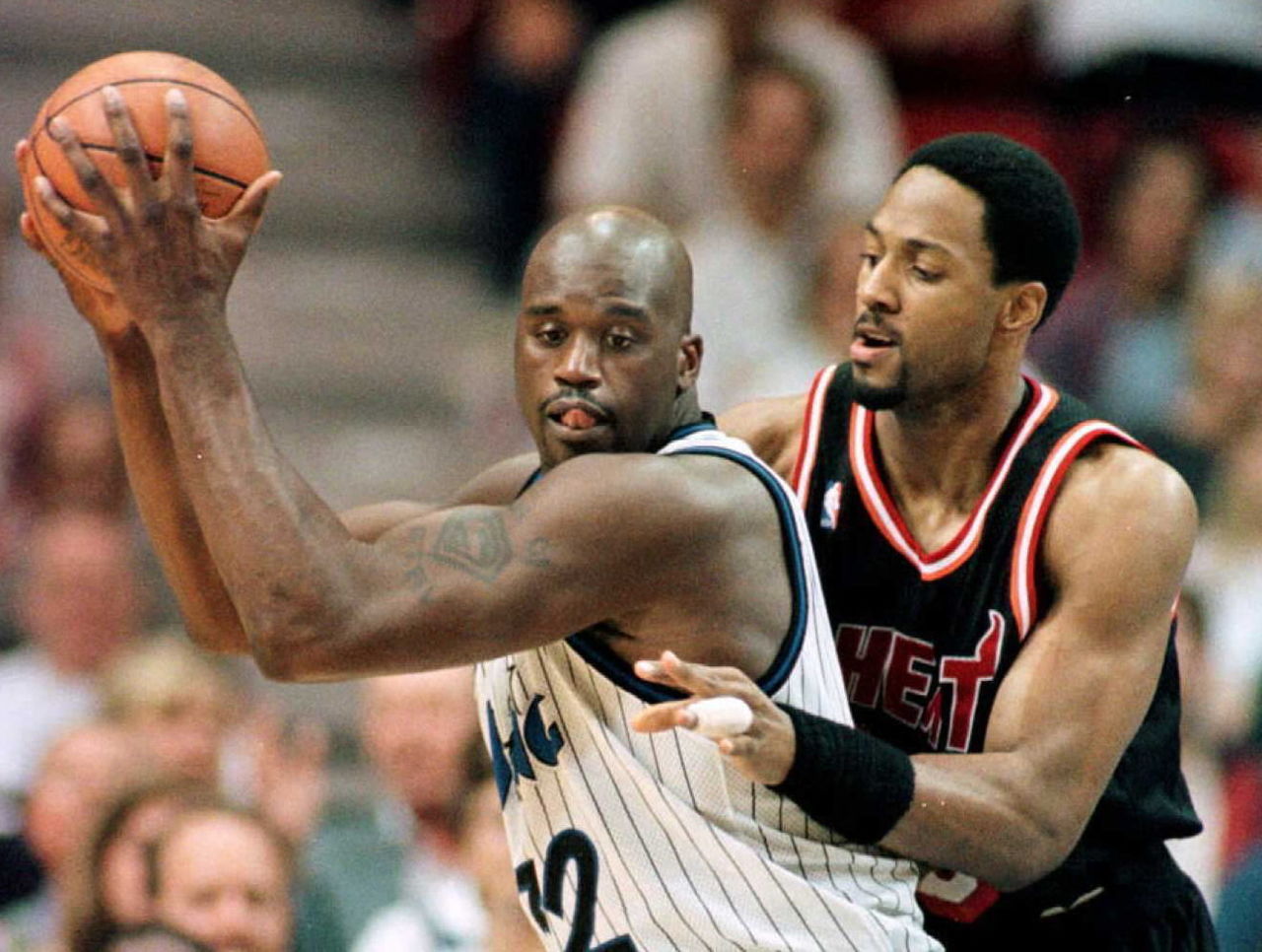 O'Neal had two other names circled on his list in his debut season: Alonzo Mourning and Christian Laettner, the two players selected immediately after him in the draft. Mourning had followed Ewing and Dikembe Mutombo as the next great center to come out of Georgetown. At Duke, Laettner was a two-time NCAA champion and the National Player of the Year, and was chosen over O'Neal for the final roster spot on the 1992 Dream Team.
"I wanted everyone to realize every time we played them that the Magic made the right choice," O'Neal said. "I wanted everyone to know they were second and third best." In his first matchup against Mourning, O'Neal recorded 29 points, 15 rebounds, and four blocks. Against Laettner, he had 25 points and 16 rebounds.
Mission accomplished.
"There was no one who could guard him one-on-one."
O'Neal was on his way to completing one of the greatest rookie seasons in league history, but he had one last piece of unfinished business when the Magic traveled to East Rutherford, New Jersey, to play the Nets on April 23, 1993.
Earlier in the season, Nets forward Derrick Coleman had dunked on O'Neal, and had followed the slam with a Mutombo-style finger wag for extra measure. "Derrick Coleman was the only guy to ever dunk on me," O'Neal said. "I was pissed off every time we played against New Jersey." When the Magic faced off against the Nets in late April, O'Neal was ready to exact a measure of revenge.
In the first quarter, O'Neal took a pass and drove past Coleman on the baseline, finishing with a two-handed slam over Nets center Dwayne Schintzius. The dunk was so powerful, it brought down the entire stanchion.
"When I went up for the dunk, I was actually trying to rip the rim down," O'Neal said.
As the basket collapsed, O'Neal quickly ran out of the way to avoid the shot clock falling on top of him, barely avoiding a serious injury. "I came away unhurt," he said. "And it looked good." The game was delayed for over 40 minutes.
O'Neal's rim-breaking dunks made for great in-game theater, but they also reflected how dominant he was in the paint. After a series of pickup games with O'Neal in the summer before the big man made his NBA debut, Knicks guard Doc Rivers made a very prescient observation. "He's going to stumble into 20 points and 10 rebounds a game just because he's so big," Rivers said at the time.
The fact that O'Neal made it look so easy was both a gift and a curse. Being such a unique player, it was difficult for referees to figure out what actually constituted a foul against the center, who would bully defenders around the basket.
"Shaq used to kill us," Kenny Anderson, a former point guard on the Nets, told theScore. "We used to just grab him and foul him. He was so huge and the refs couldn't call every foul."
"You had physical centers that would beat the living crap out of him," Povtak added. "The refs would allow it. It was because he was a rookie but also because he was so big and strong that the refs thought it was okay. But rarely did you ever see him complain. There was no one who could guard him one-on-one. He had to be double- and triple-teamed."
O'Neal knew that even if he did complain, it wasn't going to change how the game was called.
"They were not going to change the rules because one guy is complaining about the other 200 guys," he said.
The Magic finished the 1992-93 season with a 41-41 record, losing a tiebreaker to the Indiana Pacers for the eighth and final playoff spot in the East. O'Neal was named Rookie of the Year, receiving 96 out of 98 votes.
For the season, he averaged 23.4 points, 13.9 rebounds, and 3.5 blocks while shooting 56.2 percent from the field. He remains the only rookie in NBA history to average over 23 points, 13 rebounds, and three blocks, and was also the first rookie since Michael Jordan in 1985 to be voted in as an All-Star starter.
O'Neal didn't lead the Magic to the playoffs in his rookie campaign, but the team improved its win total by 20 games from the previous year, and soon made the Finals in his third season. "He changed the franchise forever," Povtak said.
O'Neal's jovial personality also made him one of the most popular players in the league to both opponents and fans. "Shaq was just a young, fun guy playing a sport that he loved," Anderson said. "He was a big kid. A lot of people loved his silliness and his fun-loving attitude. He marketed himself very well. He was a happy-go-lucky gentle giant."
Povtak can recall several occasions when O'Neal would leave the team bus to greet fans who waited at hotel entrances to catch a glimpse of him. He'd even wear a wig as a disguise, as if anyone would confuse him for another 7-foot-1, 300-pound man. "He was a joker and he loved the attention," Povtak said.
"The league has never seen anybody with his combination of size and athleticism."
On the court, O'Neal was well on his way to becoming one of the greatest centers in NBA history.
"The league has never seen anybody with his combination of size and athleticism," Povtak said. "We've seen big guys, strong guys, and athletic guys, but we've never seen anyone that was big, athletic, and strong that could play the way Shaq could."
Leonard Armato, O'Neal's agent at the time, might have summed it up best when he called his client a combination of the Terminator and Bambi.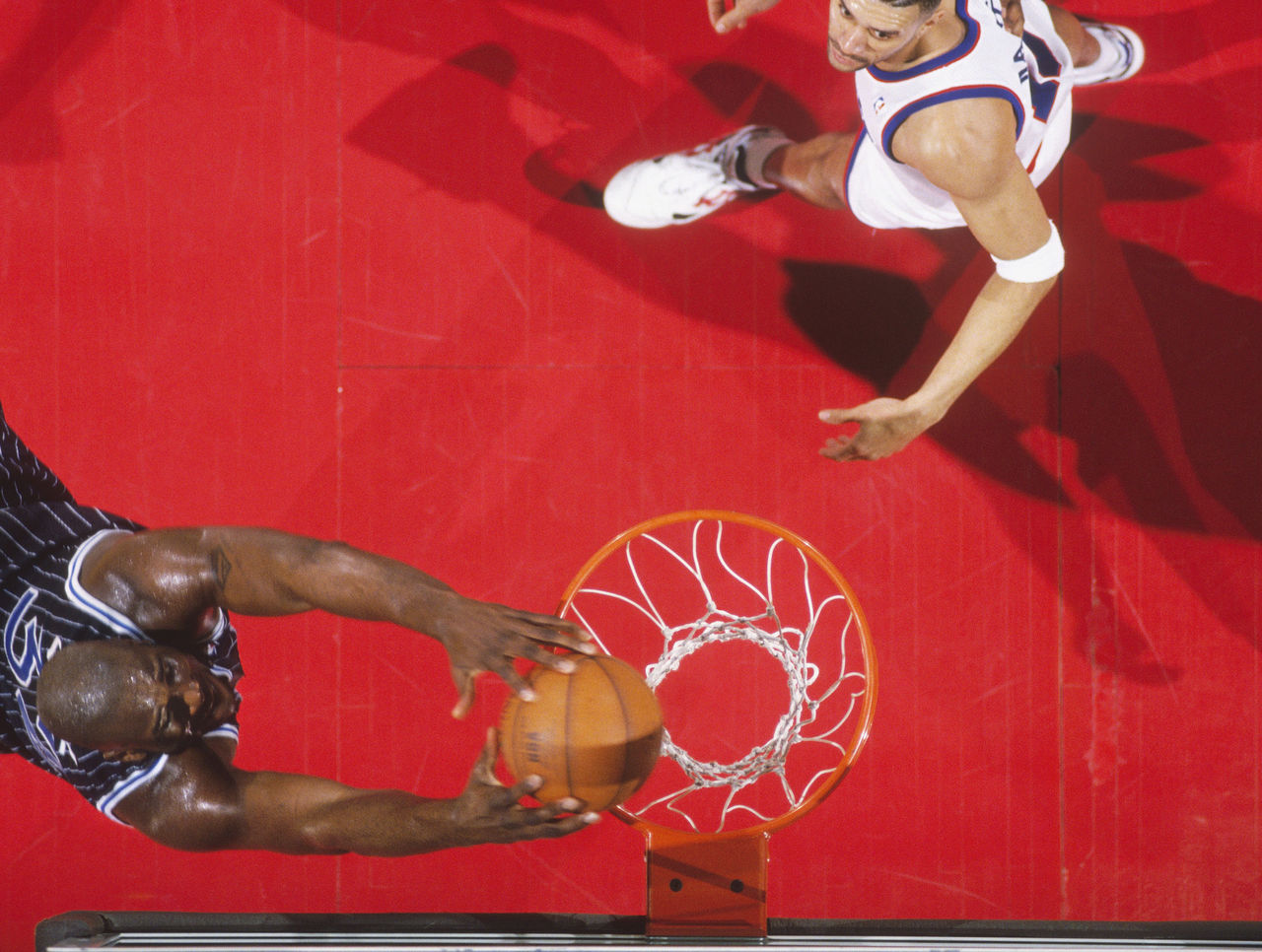 So, will we ever see another Shaquille O'Neal again?
O'Neal pondered the question for a second, said maybe, and then mentioned Giannis Antetokounmpo, the positionless wonder in Milwaukee who's garnering Most Valuable Player consideration this season. The difference, he added, is that Antetokounmpo plays more like a guard and isn't a traditional big man.
O'Neal thought it over again, and finally came to a conclusion.
"To answer your question, probably not."
Alex Wong is an NBA freelance writer whose work has appeared in GQ, The New Yorker, Sports on Earth, and Complex, among other publications.
(Photos courtesy: Getty Images)
Comments
✕
25 years later, Shaquille O'Neal talks about his sensational rookie season
  Got something to say? Leave a comment below!