Warriors modeling dynasty after Spurs with Curry as their Duncan
Rocky Widner / National Basketball Association / Getty
The Golden State Warriors are modeling their dynasty after the San Antonio Spurs with Stephen Curry as the selfless superstar in the mold of Tim Duncan.
Before Kevin Durant arrived, before there was ever a superteam, before the 73-win season, before Draymond Green became relevant, before the coaching change, before the Splash Brothers, there was only one.
Curry made everything possible. His style informed how the Warriors would play, his contract saved room for other pieces to be added, Curry's attitude set the standard for the team's culture. His ability allowed the Warriors to become champions, but it's Curry's selflessness in stepping aside that gave Golden State the chance to build a dynasty.
"It's amazing to see a superstar who sacrifices, who doesn't care about nothing but the group," Durant said of Curry after winning the title on Monday.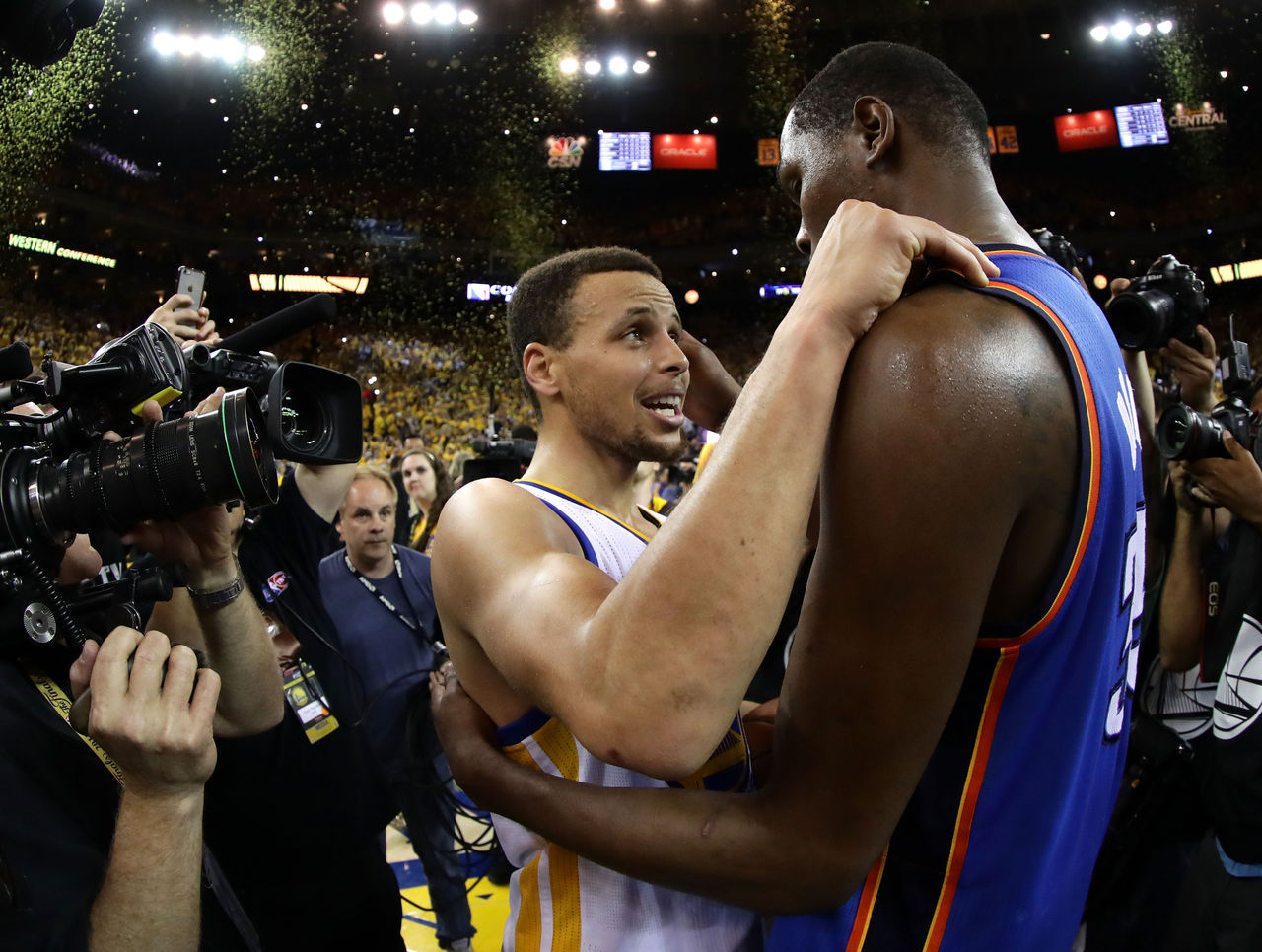 (Photo courtesy: Getty Images)
Curry was the biggest star in basketball 14 months ago and then he gave it up.
The baby-faced assassin led Sportscenter every night. Determined to prove that the 2015 title wasn't a fluke, Curry's revenge tour ranks as perhaps the greatest regular season ever by any guard. Curry demanded your attention while being annoyingly nice about it.
He led the league in scoring, he shattered his own 3-point record with over 400 makes, and he became the first unanimous MVP in league history. Curry was so undeniable that he single-handedly made Under Armour a legitimate threat to Nike and Adidas' duopoly over basketball apparel.
Holding the world in his hands, Curry decided to pass for the good of the Warriors. He traveled to the Hamptons to sit down with Durant, then texted him for good measure to ensure he would come. That pursuit doesn't happen without Curry's green light and the Warriors don't win their second title without Durant.
Curry knew he was paying a steep price. The spotlight stayed on Oakland but Curry became an afterthought. The overarching narrative of the 2015-16 season was marveling at Curry's accomplishments; this year belonged to Durant and his bitter OKC divorce. He was even given Finals MVP partly for enduring all the slings and arrows.
There was nothing that came Curry's way, even though this was his best playoff run ever. It was Curry - not Durant - that led the team in plus-minus. It was the double teams that Cleveland threw at Curry that powered most of the offense in Game 5. It was Curry that averaged 28.1 points, eight rebounds, 9.4 assists, and 2.2 steals in the NBA Finals, yet he didn't even sniff Finals MVP.
It was the same story during the regular season. Curry took it upon himself to defer to Durant, yielding shots to give the newcomer more reps. Curry's numbers plummeted, his reputation was questioned, and he went from being unanimous to anonymous in MVP discussions. Curry didn't even land on the All-NBA First Team, with those guard spots instead going to Durant's ex-teammates.
This championship is not just vindication for Durant's move, it's also vindication for Curry's sacrifice.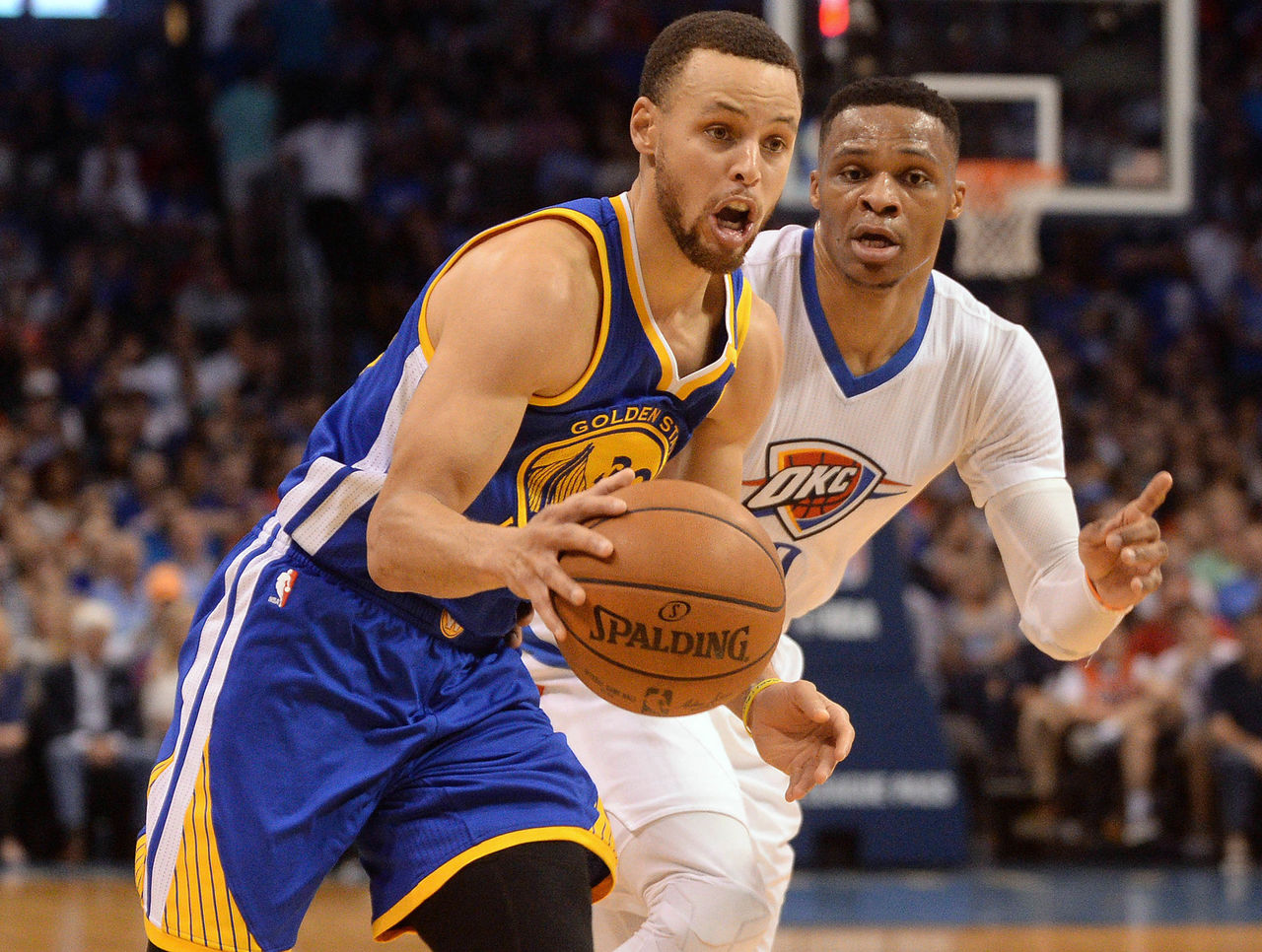 (Photo courtesy: Action Images)
There's a tendency in most team sports to reduce everything down to the individual. That's especially true in a fluid game like basketball, where one player can choose to assume or abdicate responsibility for the team.
It's the classic struggle that every superstar works through. Even LeBron James straddles this tricky balance. Just last week he was impugned for passing to Kyle Korver for an open look with Game 3 on the line, rather than taking it himself. Even the best player in the game can't please everybody.
It comes down to the fans being hypocritical. From one side of the mouth we demand selflessness, but with the other we crave selfish dominance. The only player who ever successfully navigated this catch-22 was Michael Jordan, since his results transcended any debate.
This sliding scale makes for two types of stars. In one corner there are the Jordans, the Kobe Bryants, the Allen Iversons, and the Russell Westbrooks of the world. Their teams will win or lose only on their accounts, and they will either face criticism or be praised. The Bryants and the Jordans were singularly good enough to win championships, the others weren't.
Duncan was built differently, since he demanded no conditions for winning. He was never interested in chasing numbers, becoming a celebrity outside the court, nor with being the hero that makes the last shot, and he shared the spotlight whenever possible. He was never celebrated for his style, only respected for the results.
Spurs coach Gregg Popovich built Duncan's personality into the Spurs' ethos, and it produced two decades of harmonious team basketball. Duncan was willing to be coached, he took pay cuts, he took more screaming rants from Popovich than anyone else. As Duncan aged, he yielded the Spurs to Manu Ginobili, then Tony Parker, and eventually to Kawhi Leonard.
Curry is more flashy than Duncan ever was, both on and off the court, but they're cut from the same cloth. They are the rare superstars that sacrificed, and that's the most vital ingredient in building any dynasty.
Comments
✕
Warriors modeling dynasty after Spurs with Curry as their Duncan
  Got something to say? Leave a comment below!