After a 27-point beatdown in Milwaukee that saw the Bucks jump out to a 32-12 lead after one quarter, it sounds like Toronto Raptors head coach Dwane Casey has seen enough to make some changes before Saturday's Game 4.
"You have to. We'll make changes," Casey told reporters after the Game 3 loss, which saw the sixth-seeded Bucks take a 2-1 series lead over the third-seeded Raptors. "We made changes going into the second half, but whoever goes in has to go in and make a difference."
The second-half change Casey's referring to saw guard Cory Joseph replace center Jonas Valanciunas to start the third quarter alongside the remnants of Toronto's usual starting lineup, which includes Kyle Lowry, DeMar DeRozan, DeMarre Carroll, and Serge Ibaka.
The Raptors' inferior starting units have been a topic of contention among fans for much of the last two seasons, as the team has succeeded in spite of starting lineups that often dig early holes and log more time together than Toronto's more effective lineup combinations.
Through three games of their first-round series against Milwaukee, the Raptors' starting five has logged 31 minutes together and posted a net rating per 100 possessions of minus-20.6. No other Raptors quintet has even logged 10 minutes.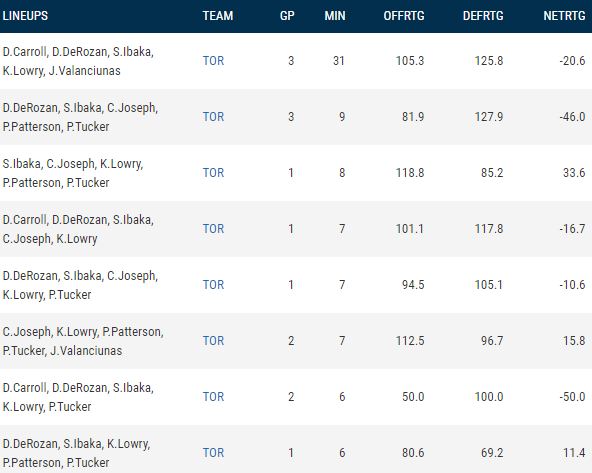 (Courtesy: NBA.com/stats)
Aside from some potential lineup tinkering, Casey also reiterated the need for Toronto's ball-handlers to do a better job of moving the basketball against the trap-happy Bucks if the Raptors are to reverse their fortunes.
"That's where it starts - moving the basketball. The ball will find the right person. That's what we've got to do. That's what myself and the staff have to sell the guys on. You have to move the basketball. You're not going to dribble around them. You're not going to outrun them or out-quick them, but the ball can beat speed and quickness. That's what we did in Game 2, and that's what we've got to get back to."
| Raptors' ball movement | Passes per possession | AST/FGM (AST%) |
| --- | --- | --- |
| Games 1+3 | 2.59 | 26/51 (51%) |
| Game 2 | 3.21 | 24/37 (64.9%) |