Should the Raptors be trying to trade Norman Powell?
Reinhold Matay / USA TODAY Sports
It's officially deadline month! To celebrate, theScore's NBA editors will be asking and answering the questions that matter leading up to Feb. 23.
For all their recent struggles, the Toronto Raptors are in a pretty good place.
Toronto still belongs to the upper crust of the Eastern Conference, and has so far managed the tricky balance of competing in the present while building a bridge to the future. The Raptors still have all their own draft picks, along with the Clippers' first-rounder in the upcoming draft. They have two All-Stars in their primes, one of whom is locked up for the next four years. They have a strong, relatively young supporting cast. And they have a development pipeline full of raw prospects who look like future rotation players.
What they don't really have at the moment, though, is a clear means of staying in that upper tier as the conference landscape begins to change over the next few years. How sturdy is their bridge to the future, really? Where will they fit into the power structure when the Celtics have improved their lot - through trades, or their litany of gift-wrapped Nets draft picks, or both - and when Joel Embiid and Ben Simmons are bringing the 76ers' process to fruition, Giannis Antetokounmpo is raining hell-fire in Milwaukee, and LeBron James is still carrying the Cavaliers because he's a freaking alien?
There are a lot of moving pieces in that equation, but the question basically boils down to: Which Raptor is picking up the slack when a mid-thirties Kyle Lowry (assuming he even re-signs this summer) can no longer carry the load he's carrying now? Maybe that comes down to a combination of things; perhaps DeMar DeRozan continues to incrementally improve, or Jonas Valanciunas hones the nuances of team defense, or Jakob Poeltl and Pascal Siakam fill out their games and their frames. But none of those possibilities figure to produce a franchise-anchoring star on Lowry's level, or keep the Raptors from sinking into the mushy middle.
Which brings us to the case of Norman Powell. If there's anyone on the roster or in the pipeline who represents the foundation of the Raptors' bridge, it's probably their sophomore wing. He's an elite athlete with a tremendous motor, and at 23, an advanced feel for the game. He's shown potential to be a lockdown defender at three positions, attack off the bounce, wreak havoc in the open floor, reliably get to the hoop, and knock down threes at an above-average rate.
Powell is, for all those same reasons, the team's most viable trade chip, and with the deadline fast approaching, that's where things get interesting.
Shall we win now, or win later?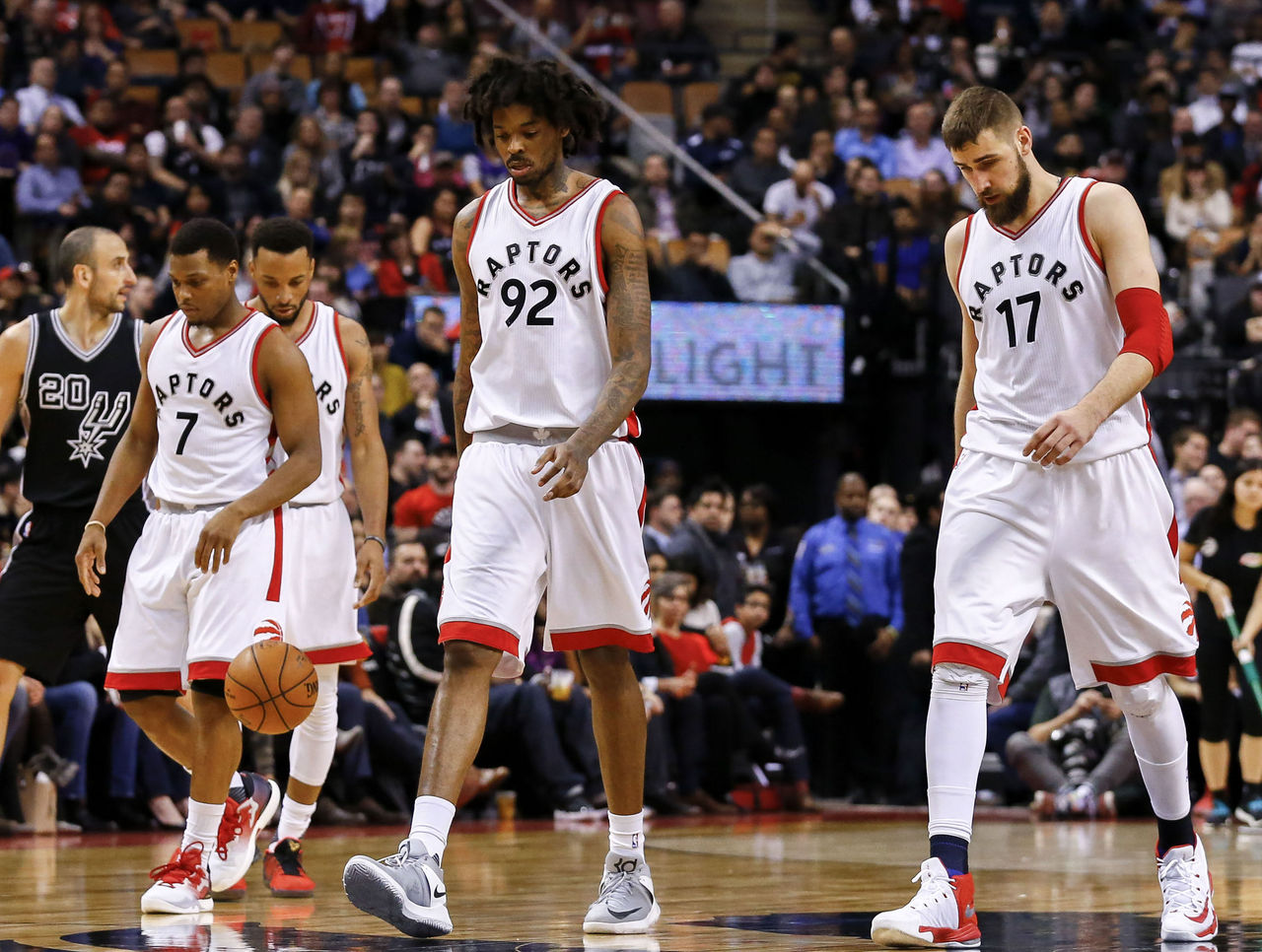 Earlier this season - when the Raptors looked like the clear No. 2 in the East and potentially one significant piece away from mounting a legitimate challenge to the Cavaliers' supremacy - talk surrounding the team was about capitalizing on its present competitive window and making a win-now trade.
There were rumblings about a potential deal with the Atlanta Hawks for power forward Paul Millsap - a two-way stud who'd fill a clear area of need and give Lowry and DeRozan a much-needed third lever to help ease their heavy workloads. The Hawks seemed prepared at the time to start a partial rebuild. A month on, however, and they're just a half-game back of the Raptors in the standings.
That doesn't necessarily mean the Raptors should abandon the idea of a win-now move. They're still a good-to-very-good team when healthy, with a net rating indicative of a fringe contender. This is still their most viable competitive window for the foreseeable future, and being capped out - with Lowry set to opt out at season's end - rules out free agency as a means of adding an impact player. The right addition could reaffirm the Raptors' place as the second-best team in the conference, and give them a decent crack at a scuffling Cavs team. And including Powell in a trade package would be the surest way to acquire the necessary piece.
Whether that's something Toronto should consider is complicated for a couple reasons. First and foremost, Powell's tiny salary means he'd need to be tethered to at least one sizeable contract (Valanciunas, DeMarre Carroll, or Terrence Ross) for matching purposes, which could ultimately leave the Raptors even thinner on the wing than they currently are at power forward.
The other complicating factor - and one the Raptors have a bit more control over - is that Powell's future as a player is still murky. That's partly because he's playing fewer than 18 minutes per game, and has been deployed primarily as a break-glass-in-case-of-emergency guy - plugged into the rotation when one of the team's other wings is injured or resting, but otherwise often relegated to deep-bench duty. In half of the Raptors' 52 games this season, he's either been DNP'd or played fewer than 12 minutes.
Normcore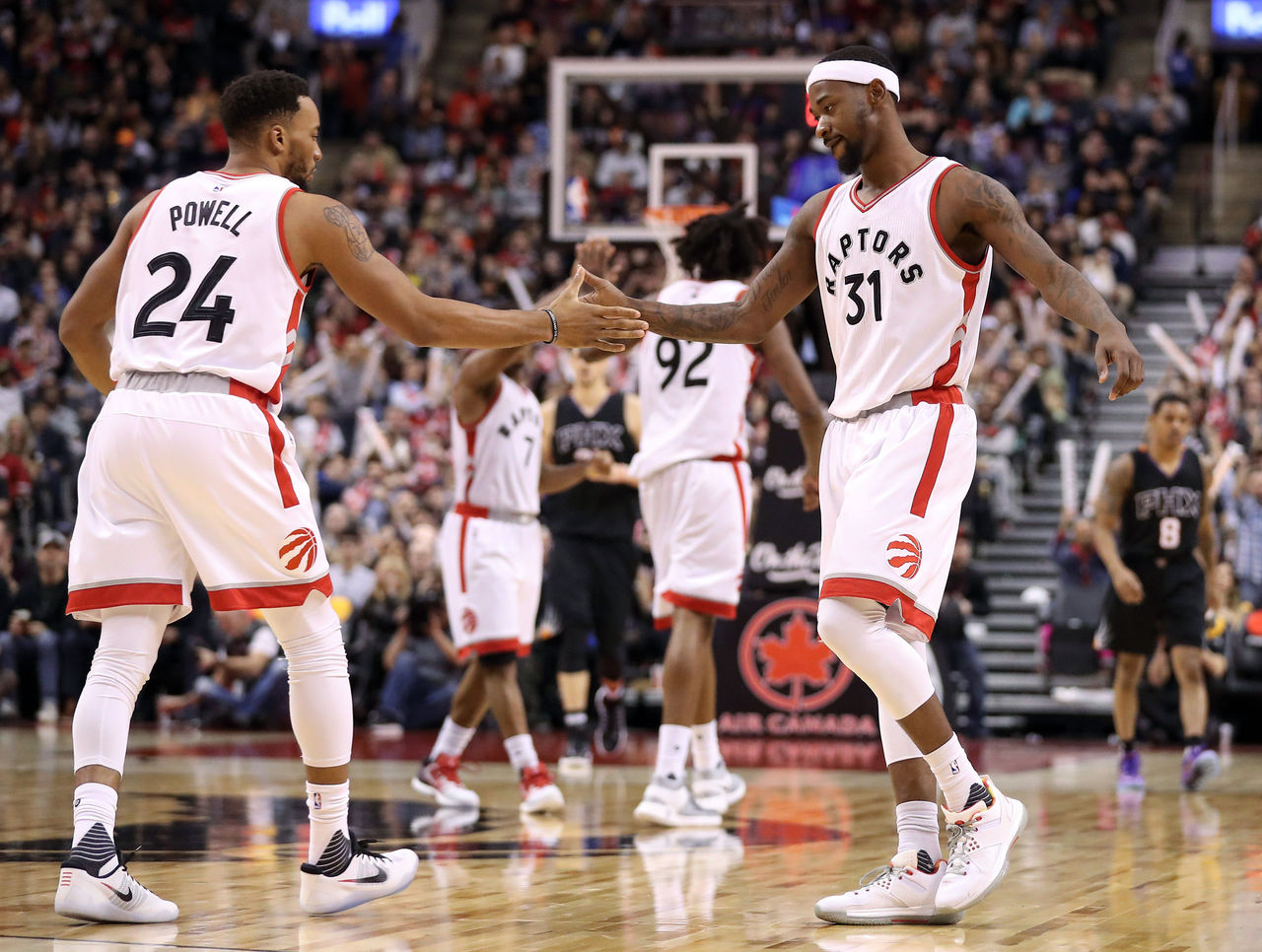 Through 97 career games, Powell has posted per-36-minute averages of 14.4 points, 4.8 rebounds, 2.2 assists, and 1.4 steals, with a .441/.378/.791 shooting line. When paired with the eye test, that's a fairly persuasive sample, small though it may be.
But his play has also been uneven. Powell's shooting, finishing, and defensive focus have been glaringly inconsistent; some games he's maniacally assertive, while others he seems to drift and disappear. It's therefore hard to extrapolate his sporadic playing patterns to project what he might be with regular starter's minutes in the future. Is he a high-end role player, like Courtney Lee or Wesley Matthews? A low-end core piece, like Avery Bradley, Victor Oladipo, or Kentavious Caldwell-Pope? Or, is he a legitimate All-Star in the making?
That picture should become clearer the more reps Powell gets, but finding minutes for him has been an ongoing struggle in Toronto. When DeRozan returns from the ankle injury that's sidelined him for seven of the past eight games, Powell will likely return to the bench. He shouldn't. The Raptors need to find a way to keep playing him 30-plus minutes a game, even if they have a bit of a logjam at the wing.
Carroll has not been the player they paid for, and Toronto may have to start thinking about his contract as a sunk cost. He doesn't appear to have any strength left in his surgically repaired right knee, and despite his significant size advantage over Powell, hasn't proven any more effective at guarding bigger wings. The Raptors still need Ross' 3-point shooting, but he's regressed badly after a terrific start to the season, and his defense remains a disappointment. Even if Powell hadn't frequently looked like the best option of the bunch, it would behoove the Raptors to keep him at the top of the depth chart, the better to see just what they have in him. He could even steal some minutes at backup point guard, where a mystifying slump has momentarily bumped Cory Joseph from the rotation.
On your Marks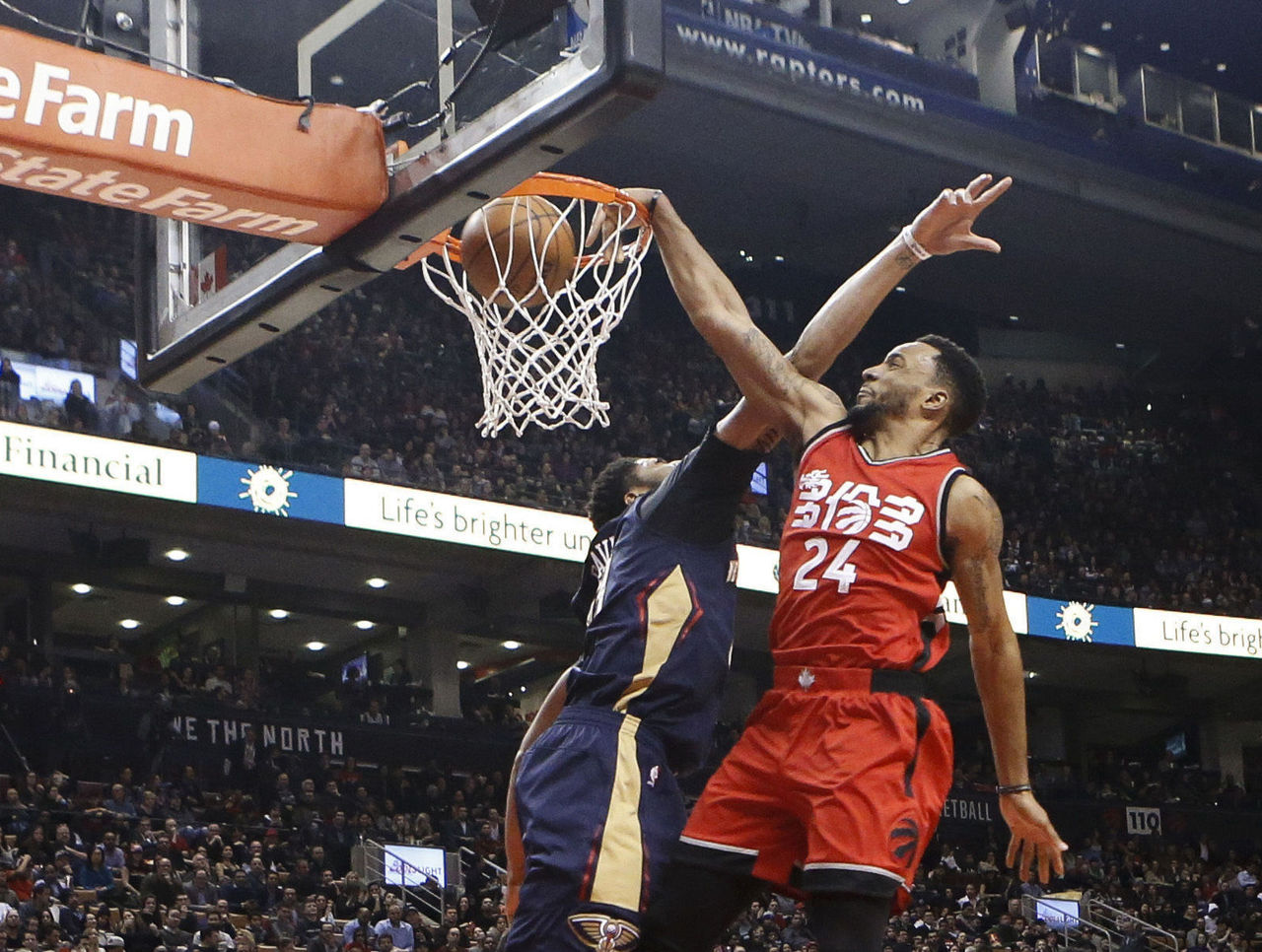 What should worry the Raptors is that after next season, Powell's going to be a restricted free agent, and some team is going to throw a whole bunch of money at him. The Nets, for one, have nothing better to do with their oceans of cap space, and their general manager, Sean Marks, is the NBA's oligarch of the offer sheet. Would you put it past the guy who's lavished Allen Crabbe, Tyler Johnson, and Donatas Motiejunas with a combined $162 million in offer sheets over the past seven months to max out at Powell?
What will the Raptors - likely capped out, and possibly approaching the tax - do in that case, if Powell's body of work still falls short the 20-minute-a-game threshold? If it's going to reach that point anyway, they may be better off trying to maximize a return for him now, when he has a year left on his rookie deal and his trade value is perhaps at its peak.
A lot of that depends on the market - moving Powell in a package for Millsap makes sense; doing so for someone like Danilo Gallinari, Serge Ibaka, or Carmelo Anthony probably doesn't - but if they're going to hold onto him, the Raptors should be giving themselves the biggest possible sample to work with before the summer of 2018.
In short: play Powell more, or try to trade him. There should be no in-between.