10 takeaways from the Cavs' Christmas thriller over the Warriors
Brian Spurlock / USA TODAY Sports
In the Christmas Day marquee, the first Finals rematch of the season delivered on every ounce of its promise, with the Cleveland Cavaliers prevailing in dramatic fashion over the Golden State Warriors.
Here are 10 takeaways from Cleveland's 109-108 come-from-behind win.
The Cavs aren't afraid of the Warriors
The Cavaliers trailed by 14 points in the fourth quarter. They spent less than a minute of game time in the lead. And they looked completely unspooked throughout. Their comeback in last season's Finals has understandably emboldened them, and it's clear they now possess a ton of belief when facing down the Warriors' whirring machine. In a familiar sight for Warriors fans, the Cavs threw a wrench in that machine Sunday with a calm, steady comeback that felt impossible before it happened, and inevitable once it did.
LeBron and Durant are just ridiculous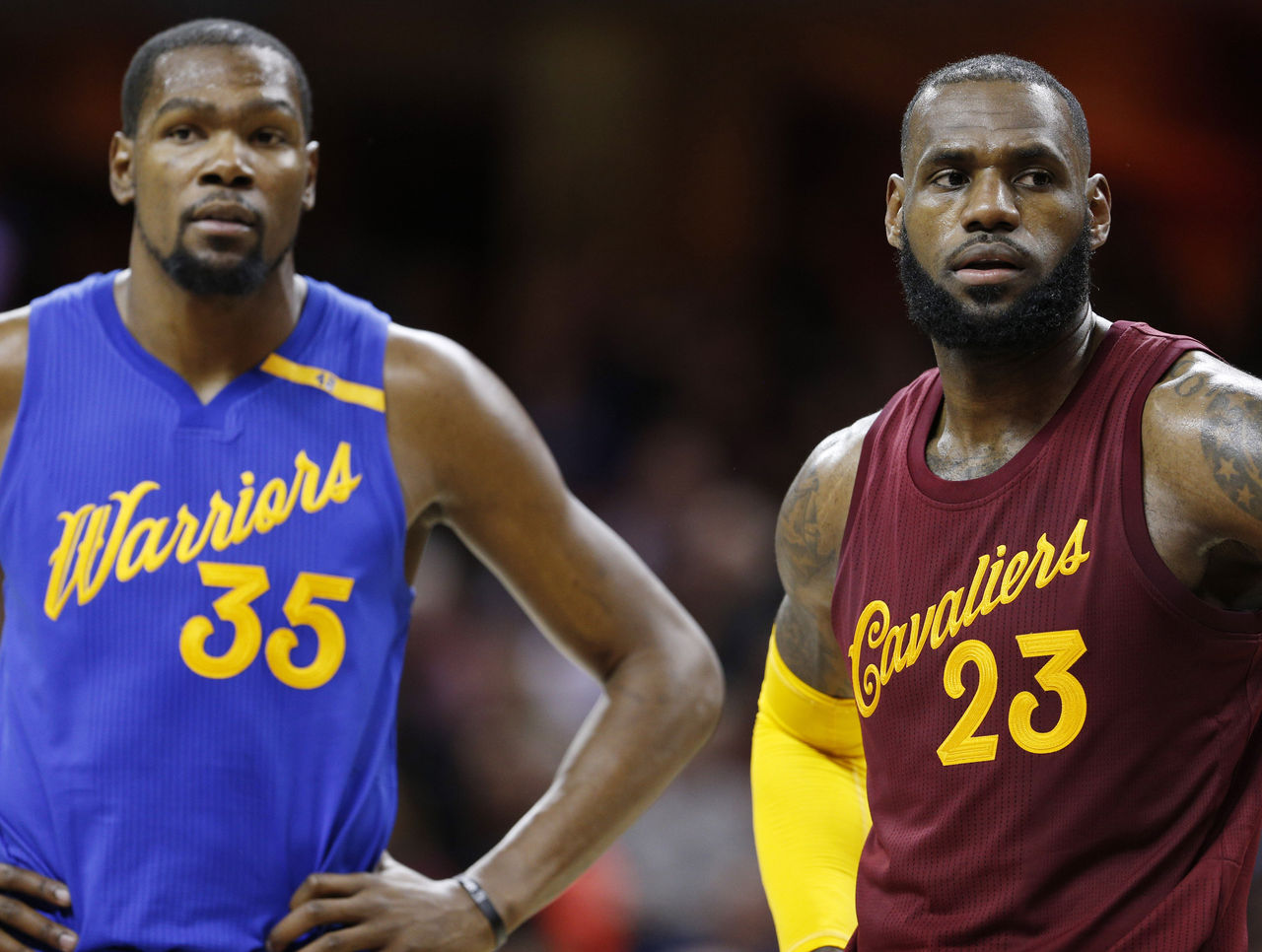 These two dudes are the two best in the business, and they both unloaded their entire arsenals in this one. James finished with 31 points, 13 rebounds, four assists, two steals, and a block. Durant went for 36-15-3-1-1 without committing a single turnover.
James was in full-on freight train mode, wreaking havoc at both ends and even feeling his shot (he nailed four threes and pulled up from 30 feet at one point). He muscled his way to contested rebounds, drew triple-teams before whipping skip passes to open shooters, and wove through multiple bodies on his way to acrobatic layups and ferocious dunks.
Durant was no less impressive. He couldn't be stopped, whether flying in for driving dunks, snaking around screens to splash pull-up jumpers, or putting defenders on his hip and drawing fouls. He was the only Warrior who managed to clean the glass, snagging 15 defensive rebounds. On a night when Steph Curry struggled badly, Durant kept the Warriors' offense humming. This is already his team.
Kevin Love is a different player
A guy who often looked unplayable in this matchup at points last season was one of its most dynamic contributors this time around. True to his improved form this season, Love dropped 20 points, hit three treys, didn't turn the ball over, and finished a game-high plus-12. Perhaps most encouragingly, he held his own at the defensive end, even when Golden State put him in the pick-and-roll. If Love can play this way through the spring, that's a game-changer for the Cavs.
Klay is a bad matchup for Kyrie
Irving got the last laugh, but Thompson burned him for the large swathes of the game in which Cleveland went with this matchup. On top of the height advantage that makes it easier to get clean looks, Thompson just moves too quickly and continually off the ball for the oft-spacey Irving to keep track of, and it resulted in a handful of Thompson catch-and-shoot corner threes.
The alternative, though - having Irving check Curry - isn't appetizing for Cleveland, and this is the problem the Warriors present; they're equipped to exploit even a single weak defensive link to death. There's not really a good place for the Cavs to hide Irving on D.
That said ...
Irving was bonkers in the fourth quarter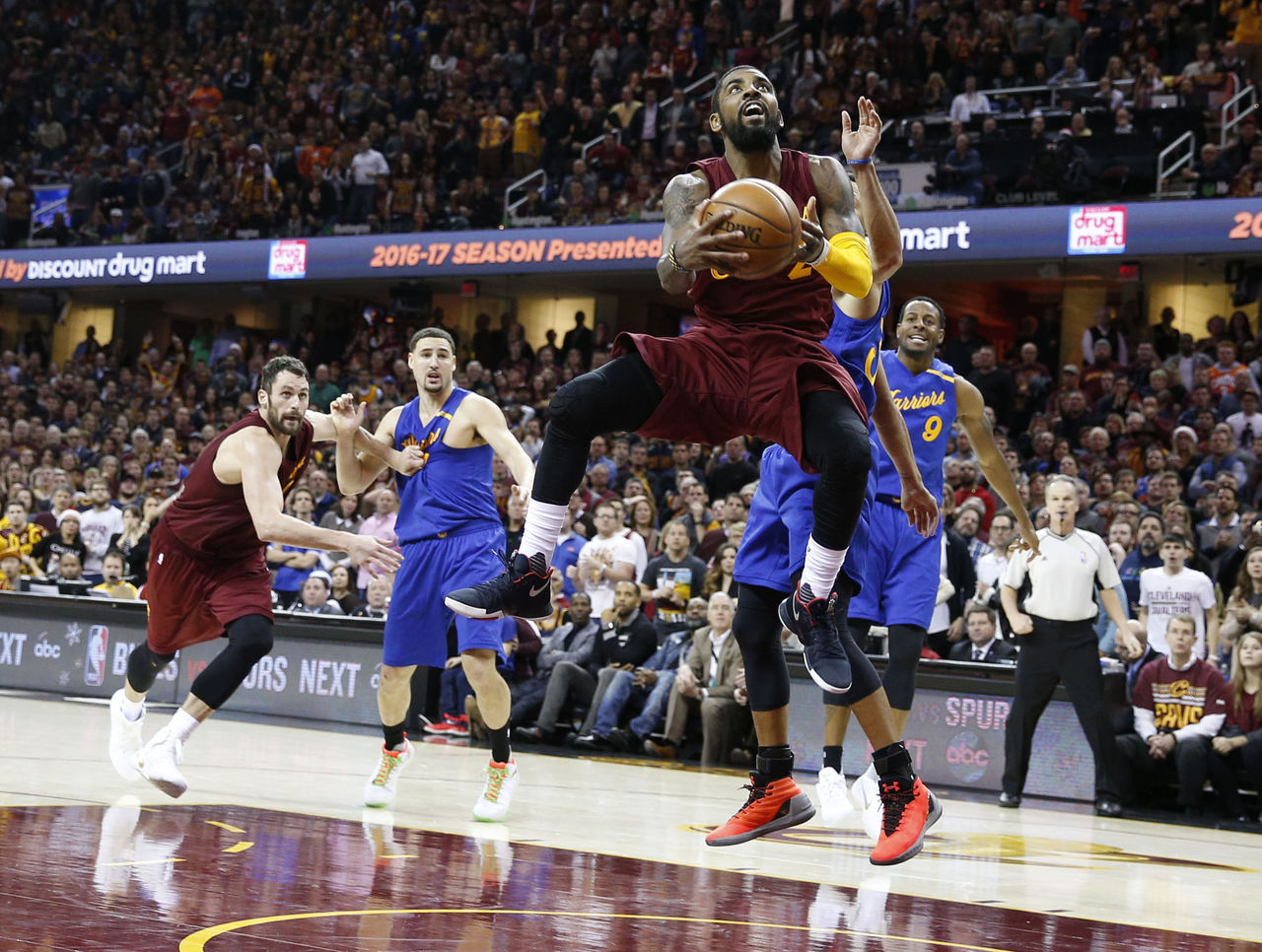 Irving was pretty quiet through three quarters, struggling to find his shooting rhythm and getting exposed defensively, but once the fourth quarter hit, it was all Irving, all the time.
He skittered to the rim through mazes of Warriors defenders with ridiculously shifty, controlled handles. He drilled threes off the dribble. He drew help and set up easy buckets with gorgeous drop-offs, and picked off the Warriors' lazy passes. He finished the fourth quarter with 14 points, two assists, and three steals, capping it all with an absurdly difficult, well-contested, game-winning fadeaway.
The Cavs leveraged their rebounding edge beautifully
Tristan Thompson, James, Love, and even Irving crashed the hell out of the offensive glass, and the strategy paid off in a big way. With 18 offensive rebounds and 17 second-chance points, the Cavs managed to do more damage than Golden State could consequently do by punishing Cleveland in transition. The Warriors finished with just 16 fast-break points, nearly five fewer than their season average.
What is Richard Jefferson?
The 36-year-old hit just two field goals (shooting 2-of-11) but they were among the most electric baskets of the game. The first was a lefty dunk over Durant that Jefferson followed with a stare-down and wink - earning him a technical foul. Minutes later, he absolutely decimated Thompson with a cocked-back, right-handed flush. Jefferson also helped ice the win with some effective (if possibly illegal) defense on Durant during the game's final play. A few months ago, a champagne-soaked Jefferson suggested he was ready to hang 'em up. He looks pretty spry for a would-be retiree.
The Warriors were too careless with the ball
On top of the offensive-rebounding disparity, the Warriors' slippery fingers contributed to them having far fewer scoring opportunities than Cleveland, which is how Golden State ended up losing a game in which it shot 48.1 percent to the Cavs' 38.9 percent.
The Warriors made reckless passes, whether trying to squeeze the ball through narrow corridors, making flashy behind-the-back dishes, or getting too jumpy in transition. They turned it over 20 times, and while no team can match their margin for error, it was a lot for even the Warriors to overcome against a team as good as Cleveland.
Steph was a no-show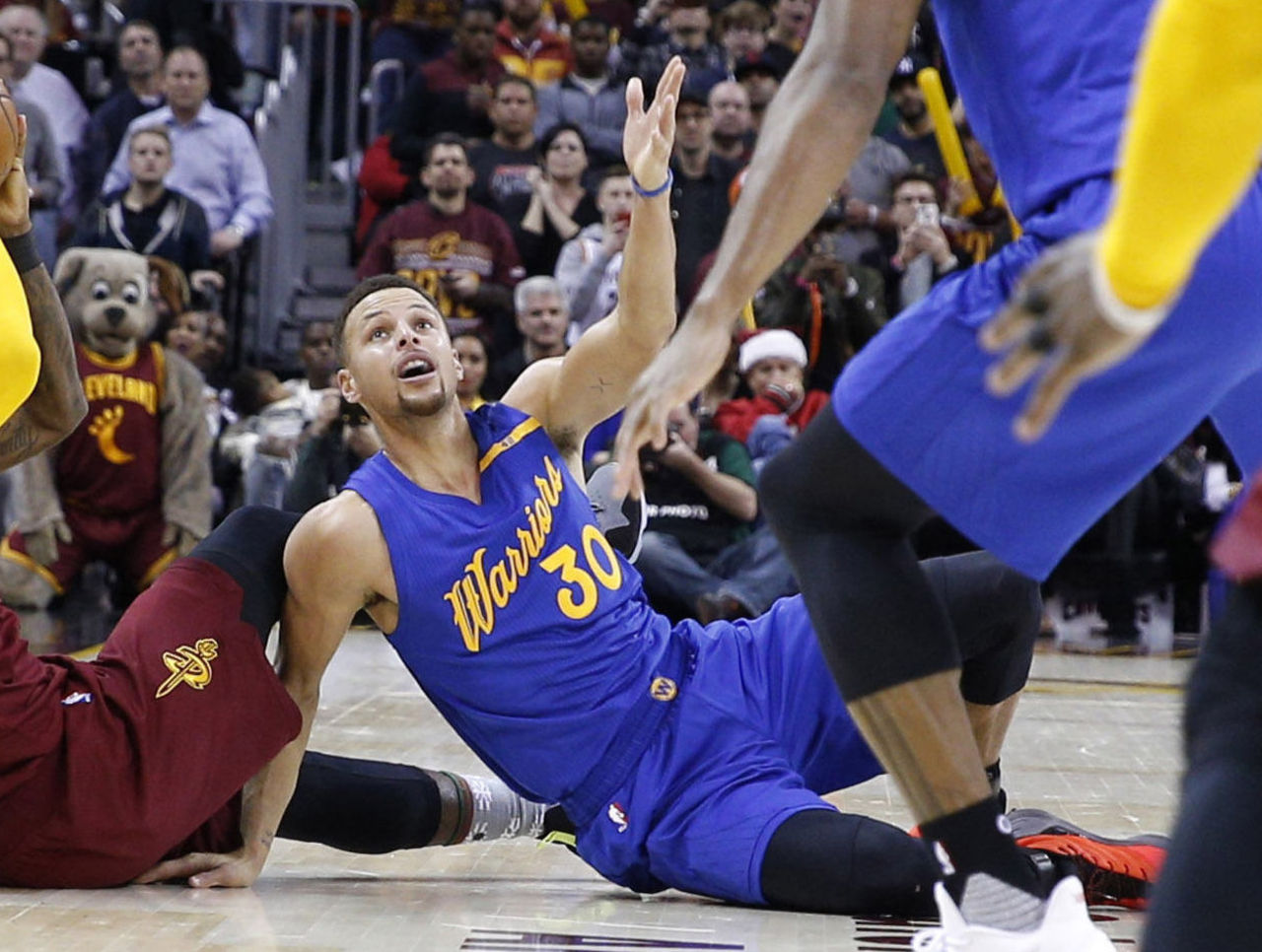 Though he hit a big triple to give the Warriors a late three-point lead, Curry had a miserable game (by his standards), not only going cold from the field but often looking strangely hesitant to even let it fly. At one point, he tried to pass the ball to Draymond Green as Green came up to set a high screen for him, a play the two have run thousands of times. Curry finished with just 15 points and as many turnovers as assists, and he's making a disconcerting habit of disappearing against the Cavs.
This is the great rivalry of our time
The Christmas showdown basically picked up where Game 7 of The Finals left off. It was giddy, delirious, thrilling, weird, beautiful basketball from start to finish. Though many were prepared to anoint the Warriors champs as soon as Durant put pen to paper this summer, Sunday's instant classic offered hope that the near-inevitable third straight Finals matchup could be every bit as entertaining as the previous two.
Comments
✕
10 takeaways from the Cavs' Christmas thriller over the Warriors
  Got something to say? Leave a comment below!