UFC 286 predictions: Will Usman take back the throne from Edwards?
Jeff Bottari / UFC / Getty
Ahead of Saturday's UFC 286 in London, theScore's Nick Baldwin makes his picks for the top bouts.
Welterweight championship
Leon Edwards (20-3, 1 NC)
vs.
Kamaru Usman (20-2)
It's no surprise that Usman is the betting favorite to regain the welterweight throne.
He was winning most of his rematch with Edwards last August before a Hail Mary head kick late in the fifth round changed everything, giving Edwards the title and an all-time highlight. Edwards might've walked away as the champion, but he wasn't the better fighter that night. He just happened to find an opening and capitalized.
Lightning can't strike twice, can it?
Usman seems like the safe pick, but my gut is telling me Edwards can do it again - this time, in a fashion that leaves no doubt he's the best welterweight in the world.
I'm expecting a competitive fight, but there are three factors that make me lean toward Edwards (as someone who picked Usman last time): A boost in confidence, the hometown crowd, and not competing at a high elevation like they did last time in Salt Lake City.
Going into the rubber match, Edwards now knows he can beat Usman. He's done it before. Not only did he defeat Usman, but he became the first to knock him out. This is not the Usman who had an aura of invincibility around him after racking up title defense after title defense - this is a new Usman, a man trying to get back on track. Edwards will fight like the champion he is. He'll also have his fellow Brits behind him, cheering for him at The O2 Arena every step of the way. That's only going to help his performance.
It's hard to say how much, if anything, we should put into the whole elevation thing, but I'll take Edwards' word at least a little bit. He's not used to training or competing at a high elevation - whereas Usman is because he trains in Colorado - and he felt the effects in their August bout. Edwards did seem to be having an off-performance up until the finish, so I expect he'll look better overall - stronger cardiovascular endurance, a bit quicker - in London.
More than anything, this fight could come down to how the August loss has impacted Usman. If he has used that result to grow and learn from his mistakes, perhaps he comes back better. If it's extra motivation, that could help him regain the title. But maybe he's dealing with self-doubt now that he has lost a UFC fight. Maybe the brutal knockout loss, at 35 years old, has put him on a downward trajectory from a physical standpoint - maybe Usman will look like a worse version of himself.
It goes without saying that this is a difficult fight to call. Ultimately, I think Edwards will do a better job of defending takedowns than he did in the rematch, and he'll be able to edge Usman on the feet just enough to keep the title.
The pick: Edwards, split decision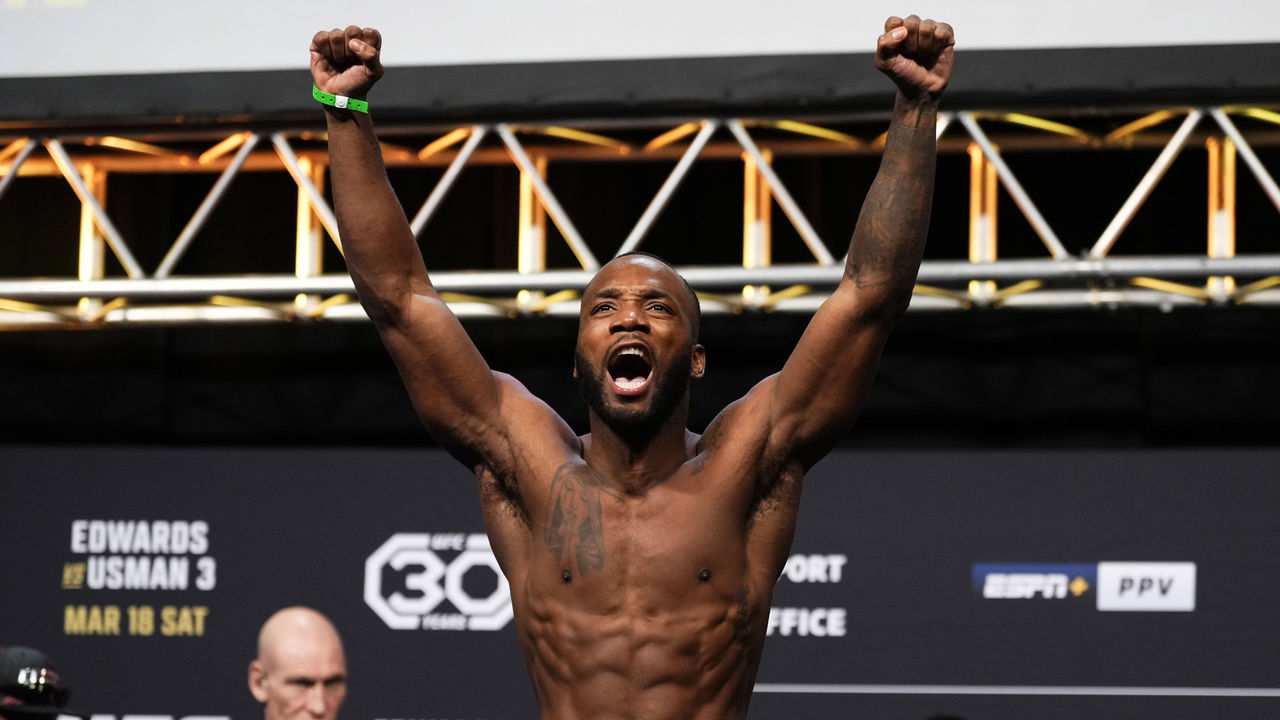 Lightweight bout
Justin Gaethje (23-4)
vs.
Rafael Fiziev (12-1)
Last month, I ranked Gaethje-Fiziev as the best fight on the UFC schedule at the time - higher than big-time title fights like Jon Jones versus Ciryl Gane and even Edwards-Usman. That's how confident I was - and still am - Saturday's co-main event is going to be a barnburner for the ages.
Gaethje has long been considered one of the most entertaining - and violent - fighters in the UFC, but Fiziev is coming for that title. Both men are wrecking balls who want to smash anything that's standing in their way, and that's going to make for a chaotic three-round affair.
It's another tough fight to call, and it's probably going to be another close one. But I'm leaning toward the more experienced fighter in Gaethje. He has 10 more professional bouts than Fiziev, but more importantly, he's faced world-class competition like Khabib Nurmagomedov, Charles Oliveira, Tony Ferguson, and Dustin Poirier. In comparison, Fiziev's best win came against a past-his-prime Rafael dos Anjos, and after that it's either Renato Moicano or Bobby Green.
Gaethje has only come up short in recent years against grapplers. Fiziev is a striker, so this is a much more winnable matchup for him compared to Nurmagomedov or Oliveira. Fiziev is going to be sharper and quicker on the feet, but I have a hard time envisioning Fiziev outslugging Gaethje over the course of three rounds. Gaethje thrives in this kind of a matchup, and he'll put forth yet another Fight of the Year effort.
The pick: Gaethje, unanimous decision
Middleweight bout
Marvin Vettori (18-5-1)
vs.
Roman Dolidze (12-1)
This fight will either serve as a reminder that Vettori is an elite middleweight or as Dolidze's coming-out party.
I strongly believe it will be the former.
Dolidze put together some impressive finishes in 2022 against the likes of Jack Hermansson, Phil Hawes, and Kyle Daukaus, but this is a significant step up in competition. Vettori only loses to the best of the best - namely Israel Adesanya and Robert Whittaker - and Dolidze isn't quite there.
Vettori has better fundamentals on the feet, and he'll be able to punish Dolidze up against the fence and on the ground. Dolidze's best chance of winning will come in the opening minutes if he's able to blitz Vettori or catch him in a bizarre submission. But Vettori has a solid chin and decent ground defense. Expect a gritty, lopsided win as "The Italian Dream" gets back on track.
The pick: Vettori, unanimous decision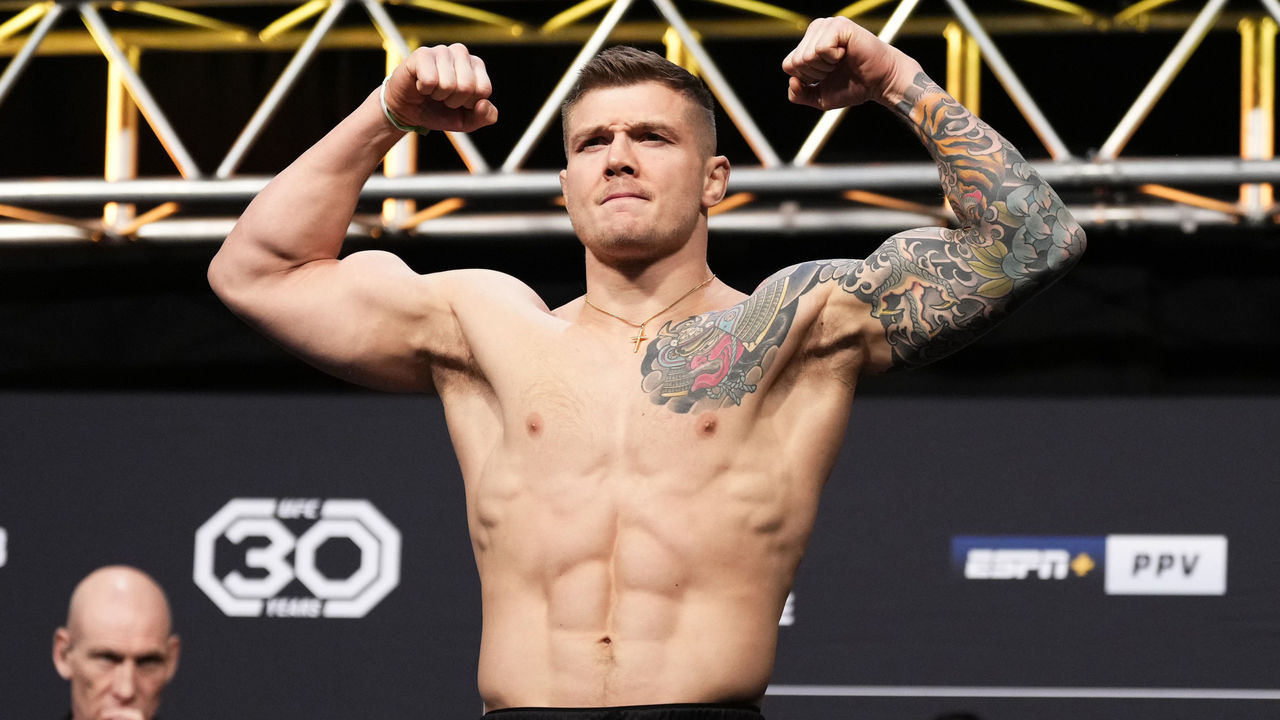 Other main-card predictions: Gunnar Nelson def. Bryan Barberena by submission, Casey O'Neill def. Jennifer Maia by decision