Where Makhachev-Volkanovski ranks among UFC's scheduled fights
For the first time in UFC history, the top two pound-for-pound fighters will face off when Islam Makhachev defends his lightweight title against featherweight champion Alexander Volkanovski at UFC 284.
Saturday's main event is a historic, monumental fight that deserves the attention of the MMA masses. Makhachev is the successor of UFC legend Khabib Nurmagomedov and seems positioned to reign terror over the 155-pound division for years to come. But Volkanovski is a dominant force at 145 pounds, desperately in need of a bigger challenge. He's looking to become the fifth fighter in promotion history to hold two championship belts simultaneously - on home soil in Australia, no less.
Of course, many other great matchups will take place in the coming months. To see where Makhachev-Volkanovski ranks among the rest of the UFC schedule - and to give you an idea of which fights are truly must-see - we've picked the 10 best.
10. Petr Yan vs. Merab Dvalishvili
Event: UFC Las Vegas, main event
Date: March 11
Division: Bantamweight
Yan, the former bantamweight champion, is coming off the worst year of his pro career. He was heavily favored against both Aljamain Sterling and Sean O'Malley, but he ended 2022 with two split-decision losses and far away from the title. This fight with Dvalishvili is his opportunity to remind everyone he's still one of the best bantamweights in the world. But it'll be no easy feat. Dvalishvili, the close friend and teammate of Sterling, is one of the strongest wrestlers and toughest fighters in the division. A win over Yan could lead him to a shot at UFC gold.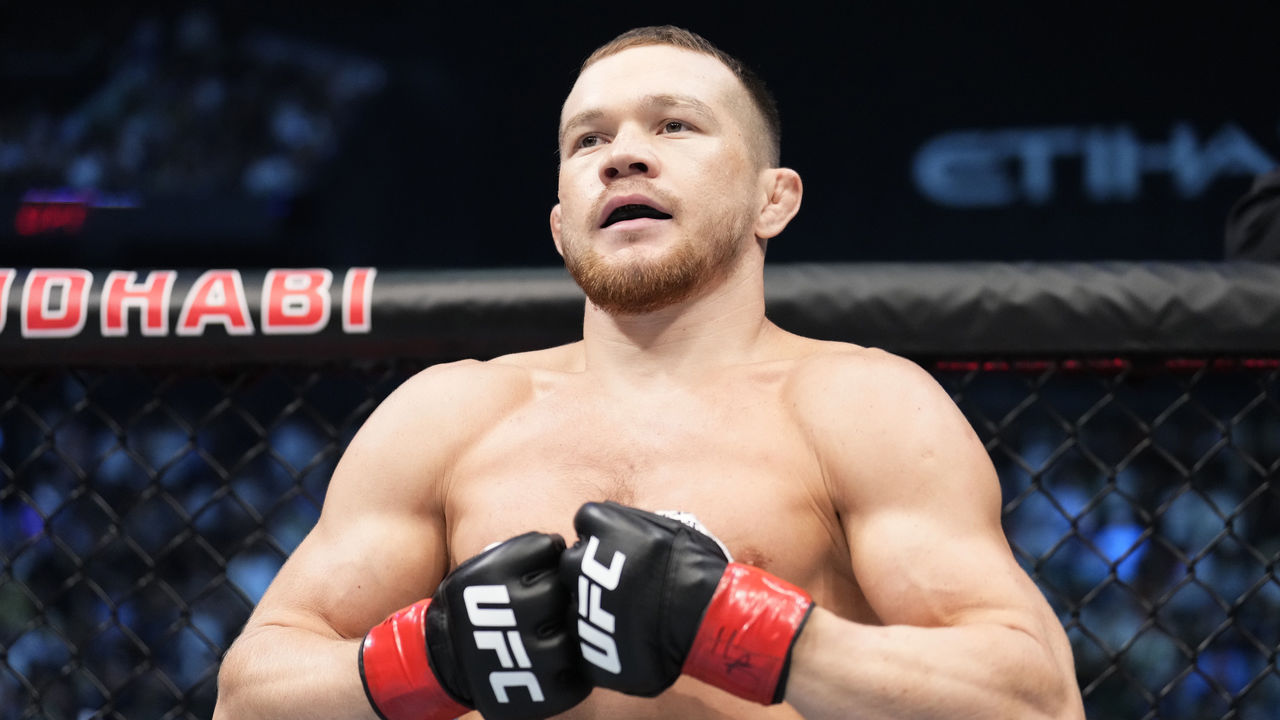 9. Rob Font vs. Adrian Yanez
Event: UFC 287, main card
Date: April 8
Division: Bantamweight
This one is a banger. Font and Yanez are two of the most exciting fighters in the weight class. So, chances are they'll slug it out for three rounds, giving the rest of the fighters on the UFC 287 card almost no chance of winning "Fight of the Night." Once on the verge of title contention, Font is looking to snap a two-fight skid, while Yanez - 5-0 in the promotion - is a hot up-and-comer with the top 10 in his sights.
8. Taila Santos vs. Erin Blanchfield
Event: UFC Fight Night, main event
Date: Feb. 18
Division: Women's flyweight
Recently elevated to main-event status, Santos-Blanchfield is the women's fight to watch in 2023 so far. There's a good chance the winner will get a title shot (as long as Alexa Grasso doesn't dethrone Valentina Shevchenko in March), so the stakes are high. Beyond that, it's such a fascinating matchup. Santos is a Muay Thai specialist with some jiu-jitsu mixed in, while Blanchfield - one of the younger fighters on the roster at 23 years old - is ridiculously talented on the ground. Santos arguably beat Shevchenko last year, while Blanchfield is one of the brightest prospects we've seen in a while.
7. Marlon Vera vs. Cory Sandhagen
Event: UFC San Antonio, main event
Date: March 25
Division: Bantamweight
Vera-Sandhagen has fireworks written all over it, and it's an important fight for the division. With the champ, Sterling, expected to next defend his title against Henry Cejudo, and with the No. 1-ranked O'Malley waiting in the wings, it's tough to say whether this is a title eliminator. But it's darn close. Vera is riding a hot streak, and Sandhagen bounced back with a win over Song Yadong last September. The fight was recently pushed back to UFC San Antonio, which was a smart move because Vera and Sandhagen deserve to fight in front of a crowd.
6. Max Holloway vs. Arnold Allen
Event: UFC Fight Night, main event
Date: April 15
Division: Featherweight
Note: This fight is reportedly in the works but hasn't been confirmed by the UFC.
Holloway is in a position no one wants to be in: He's lost to the current champ, Volkanovski, three times. He'll have to resort to simply defending his No. 1 ranking for a while because Volkanovski drubbed him in their 2022 trilogy bout, and there's no chance the UFC will want to book them against each other anytime soon. Meanwhile, this fight is a golden opportunity for Allen to finally break through. Allen has long been considered a top up-and-comer by hardcore fans, but he's struggled to gain traction among a wider audience. With a win over a former champion in Holloway, Allen would force everyone to respect him.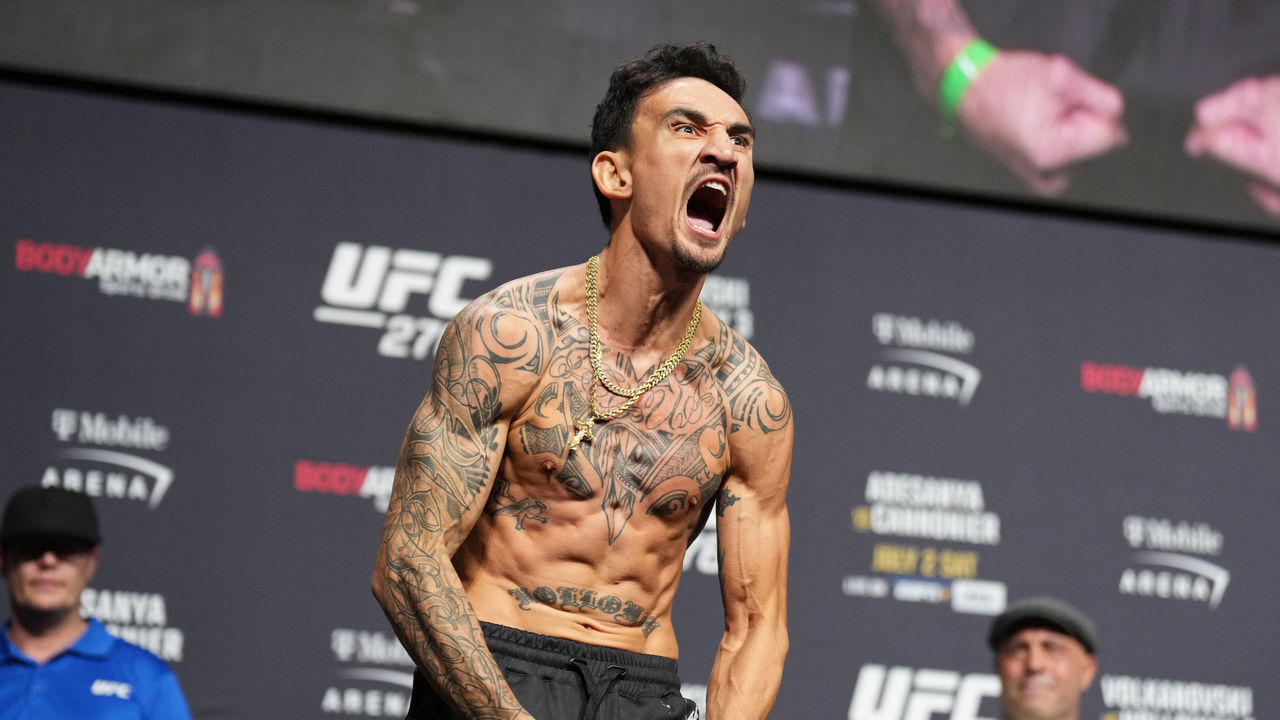 5. Leon Edwards vs. Kamaru Usman 3
Event: UFC 286, main event
Date: March 18
Division: Welterweight
After Edwards pulled off one of the most shocking come-from-behind victories in UFC history against Usman last August, an immediate rematch was warranted. Usman was the pound-for-pound king and a dominant champion - it was his sixth title defense - and for the better part of 24 minutes, he was the superior fighter. But, of course, one Hail Mary kick was all it took. Some are unsure if Usman will return to full form, as he's 35 years old and has damaged knees. If he does and recaptures the title in this trilogy fight, that would be huge for his legacy. At the same time, this is Edwards' chance to prove August was no fluke.
4. Alex Pereira vs. Israel Adesanya 2
Event: UFC 287, main event
Date: April 8
Division: Middleweight
As Adesanya's title reign grew more and more dominant, it became increasingly difficult to see how anyone could beat him at middleweight. But then his boogeyman arrived. Pereira beat Adesanya twice in kickboxing, and now he's defeated him once in MMA. No matter how good Adesanya looks in their fights, Pereira has always come out on top. In their second MMA meeting, we'll find out whether or not Pereira truly does have his number. And if he does, who knows what that means for Adesanya's future?
3. Jon Jones vs. Ciryl Gane
Event: UFC 285, main event
Date: March 4
Division: Heavyweight
Frankly, Jones against anyone would be one of the highest-rated matchups on this list. There are so many questions surrounding the former light heavyweight champion's return. Even before his three-year hiatus, it had been a while since Jones looked like an all-time great. He'll also be competing at heavyweight, finally making good on his promise to challenge for a second UFC title. To add to the intrigue, Jones is facing a supremely talented striker. Gane is one of the toughest stylistic matchups for Jones at heavyweight, and there's a real chance he'll hand Jones his first actual loss.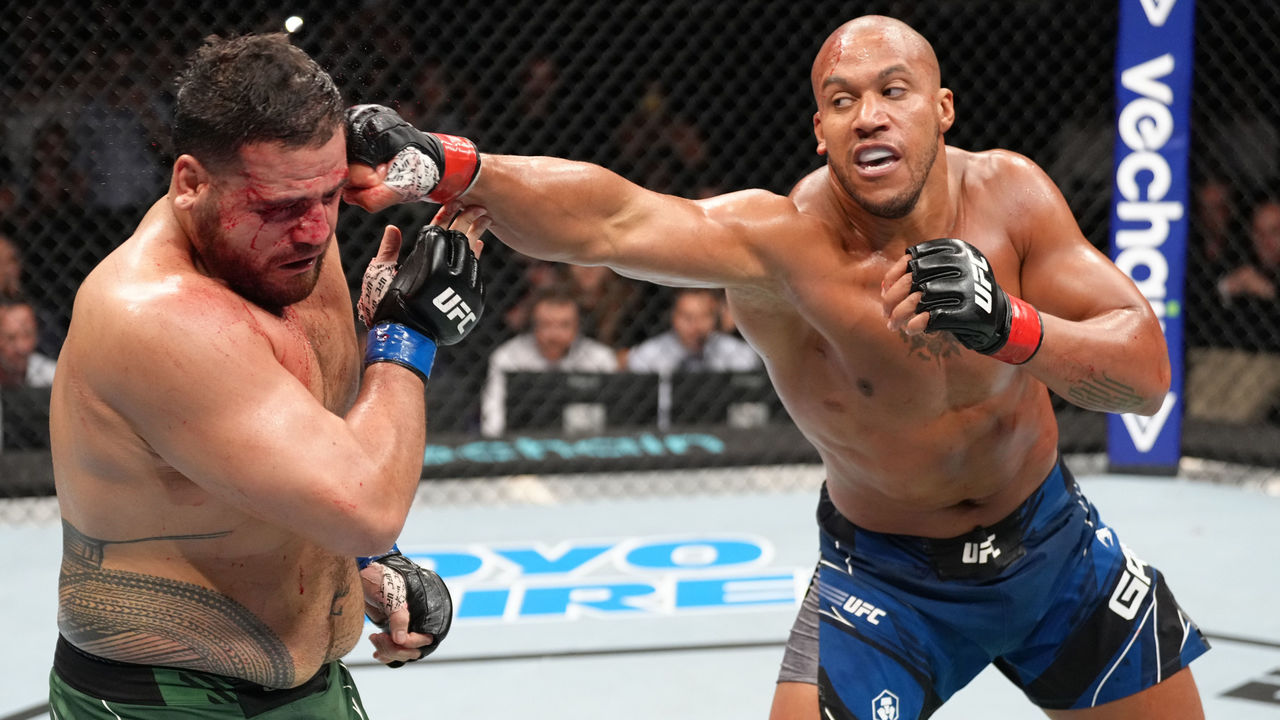 2. Islam Makhachev vs. Alexander Volkanovski
Event: UFC 284, main event
Date: Feb. 11
Division: Featherweight
Here we are. This weekend's main event comes in at No. 2, and that should be no surprise. It may not have the buzz or the pizazz of the other title fights on this list (Makhachev rightfully called out Dana White and Co. for a lack of promotion for UFC 284), but it's hard to beat this fight in terms of stakes and talent. Even though Makhachev has been sitting on the lightweight throne only since October, this is one of the better superfights in UFC history. Makhachev and Volkanovski are generational athletes. They have a combined 48 wins in 50 fights. Makhachev is unbeaten since 2015, while Volkanovski hasn't lost since 2013. It seems likely Makhachev and Volkanovski will be two of the top fighters of the 2020s. But on Saturday, only one will walk out of the cage victorious.
1. Justin Gaethje vs. Rafael Fiziev
Event: UFC 286, co-main event
Date: March 18
Division: Lightweight
Wait a second. Gaethje-Fiziev is No. 1 ahead of all those great title fights? Why, yes. Though the significance of a fight matters - and this matchup isn't nearly as important as Makhachev-Volkanovski or Jones-Gane - Gaethje and Fiziev are two buzzsaws that can't be denied. This is No. 3 versus No. 6 in the UFC's deepest division. Gaethje has a chance to redeem himself after coming up short in another championship fight, and Fiziev has an opportunity to break through as a title contender. These highly skilled, highly violent lightweights are going to slug it out for three rounds (or less), and the O2 Arena in London is going to go bananas. In that regard, there's no fight on the UFC schedule that's more must-see than Gaethje-Fiziev.
Comments
✕
Where Makhachev-Volkanovski ranks among UFC's scheduled fights
  Got something to say? Leave a comment below!