Conor McGregor shook up the MMA world Thursday afternoon, as he often does.
The former UFC two-division champion is finally set to return to the Octagon at UFC 246 on Jan. 18, when he'll meet Donald "Cowboy" Cerrone in a welterweight bout.
Here are three major takeaways, including what this means for McGregor's career and the UFC.
McGregor could be starting quest for gold at 170
The first detail that caught everyone's attention: this is a welterweight fight. The only way this makes sense is if McGregor has his sights on a UFC title in a third weight class.
McGregor's two fights against Nate Diaz were at 170 pounds - the first because it was on short notice for Diaz, and the second because McGregor wanted to avenge that loss. McGregor's victory in the August 2016 rematch probably gave him confidence that he can compete at welterweight.
The Irishman's had lofty dreams throughout his career, many of which have come true, like becoming a two-division titleholder. McGregor's always been one to break new ground in the MMA world - and winning titles in three different divisions would certainly be just that.
UFC gives McGregor perfect opponent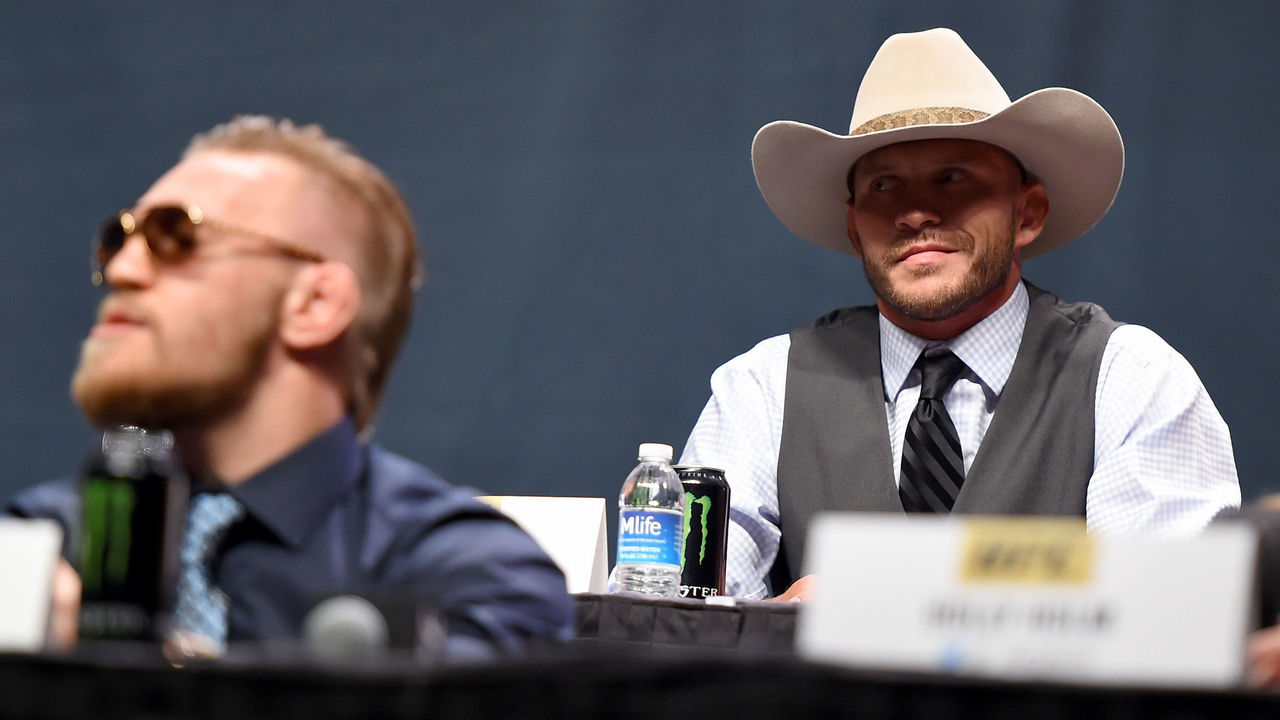 When rumors began spreading that McGregor could soon be coming back to the cage, two potential opponents were mentioned early and often: Cerrone and Justin Gaethje, who happened to fight each other in September.
Gaethje finished Cerrone in the first round, inching his way closer to a lightweight title shot. Cerrone is undoubtedly a future Hall of Famer, but Gaethje is by far the more fresh and more dangerous fighter at this point in time.
A loss in his return would further derail McGregor's career. The UFC's taking the smart approach here: The next chapter of McGregor's career will begin with what should be a competitive fight, but Cerrone's odds of coming out on top are far lower than Gaethje's.
McGregor probably shouldn't even be fighting
A lot of people are excited about McGregor's return because MMA is generally more fun when he's around. He adds a certain flavor to the sport that no one else can, but the Irishman's return comes at a peculiar time in his life.
McGregor's reportedly under investigation for two separate sexual assault allegations, both of which stem from earlier this year. While McGregor hasn't been formally charged, that he's scheduled to compete on the sport's biggest stage will not sit well with a lot of people.
The UFC's been quiet about the allegations levied against McGregor, and the promotion booking him in a fight while investigations continue will lead to further questions that Dana White will not enjoy answering.