TORONTO - Jozy Altidore scored the winner during his return to the Toronto FC fold in Sunday's 3-2 victory over the New England Revolution.
That would normally be enough of a storyline in itself but, alas, we live in the era of VAR. Confusion reigns.
In the closing moments of the opening half, Jay Chapman received a pass in an offside position and subsequently cut the ball across for Jordan Hamilton. However, on-pitch officials didn't overturn the resulting goal, nor did those reviewing the tapes.
Apparently, an innocuous nick off Antonio Mlinar Delamea made it legal, so the goal stood and TFC were ahead.
The gradual implementation of VAR in professional leagues across the world has helped expose the gray areas in the offside law and handball rule. Now those issues need to be clarified fast.
The advantage that Chapman gained in this scenario following an ineffectual deflection made the offside clear. That is, at least, to everyone except the referee, his assistants, and the sport's perplexing rulebook.
"Let's say he was 15 yards offside and it deflected off the defender - are they going to allow the goal? That's a player standing in an offside position gaining an advantage, so I don't think that that should be allowed," Revs head coach Brad Friedel said to theScore post-match.
He continued: "I understand if it's not played to him, perhaps, and it deflects over in his way. But the actual ball was played to him and he's standing two-to-three yards offside. I don't care if it deflects off anyone, I don't understand how he's not deemed offside."
Toronto FC captain Michael Bradley said the goal was right to stand, but he ultimately agreed with the former Blackburn Rovers goalkeeper's assessment.
"I don't think anybody likes the way the law is interpreted right now," Bradley said. "For me, that should be offside."
Other teams would've let anger become a distraction. But the aggression the Revs were lacking in their previous outing against the Columbus Crew was suddenly coaxed out of them via the VAR injustice, with New England impressively channeling its frustration.
"It stirred us all and it pumped us up even more," New England skipper Michael Mancienne said of the halftime team talk. "We knew we could smell blood and get a goal."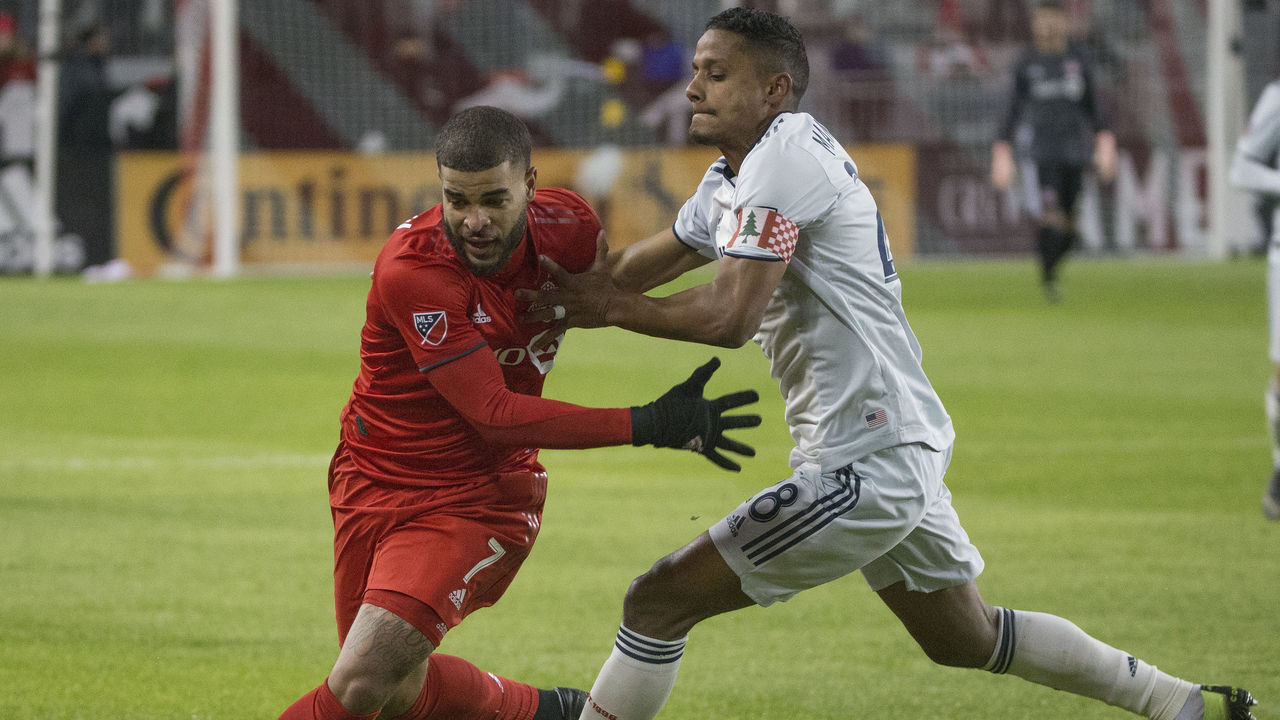 Friedel agreed his players managed to pick themselves up and remain positive about their chances of plucking a result from the 2017 MLS champions. Carles Gil restored parity seven minutes after the restart, but following an inspired swap when TFC boss Greg Vanney withdrew Chapman for veteran defender Laurent Ciman, Toronto FC regained control.
When Altidore met Justin Morrow's squared ball and pocketed a goal 10 minutes from time, New England's thoughts returned to what could have been. Hamilton's tap-in to make it 2-1 was decisive.
"I don't know - if it works in our favor of course I'm a fan of it," Mancienne joked when asked if he was a fan of video review. "I've got nothing to really say about it, to be honest. It's coming into most leagues now and will play a major part in football."
Not only is the usefulness of VAR becoming a divisive subject and sadly dominating post-match discussion, the crowd is also being fed a dearth of information. The BMO Field faithful didn't know whether the goal had been allowed, and the fans' puzzlement was mirrored on the pitch.
"Yeah we were, to be honest," Mancienne replied when asked if Revs players were confused. "We all thought it was offside at the time. When they gave the goal, yeah, we just had to pick ourselves up and go again."
Some may cite VAR as a work in progress and that, in the end, it will improve the game. That remains to be seen, but before we can make a definitive assessment of video referees' influence in soccer, a simple problem needs to be sorted out.
Clean up the offside rule and, while you're at it, how a handball is judged. The debate is getting tiresome.