Columbus and Austin can coexist if MLS stands by its supposed values
It was a night Anthony Precourt had dreamt of since he purchased the Columbus Crew for well over market value in July 2013. An MLS franchise in Austin, Texas taking the place of the Crew - one of the founding members of the league - looked a grim possibility after Wednesday evening's unveiling of a badge and club colors. Austin FC are now tangible, with their logo available on baseball caps and T-shirts.
Unbeknownst to supporters and prospective franchise owners at the time, the premium paid by Precourt Sports Ventures (PSV) was likely due to the paperwork's small print allowing the investor to move the club over 1,000 miles, and therefore jump the expansion queue. San Antonio, San Diego, and Minneapolis-Saint Paul pumped money into building infrastructure and schmoozing MLS brass after Precourt's agreement with league commissioner Don Garber - and it was a huge waste of time, resources, and expense. Those cities may not have bothered if there was transparency over what the handshake entailed from the start, rather than secrecy until Precourt outlined his plan to shift the Crew to Austin on Oct. 16, 2017.
But the biggest loss obviously wouldn't be in city budgets; it would be felt by the fans. If the relocation goes ahead, the tailgaters outside Mapfre Stadium would be robbed of a family, and the emerging generation of supporters would lose their first love in the Crew. The passionate and welcoming collective Save the Crew - a grassroots initiative that supports charities and is among the closest things MLS has to the community-serving foundations of club football - will have been ignored.
Related: MLS could lose more than Columbus fans if owners complete Austin relocation
There is an appetite for soccer in the Ohio capital that suggests both Columbus and Austin, the largest settlement without a major-league professional sports team, can carry MLS franchises.
Columbus is 'what it's all about'
One of the most puzzling aspects of the touted Crew move isn't the audacity of the backroom deals, but how MLS would blatantly shun one of its key values if the upheaval is rubber-stamped. There is a star on the MLS logo that is supposed to represent community spirit.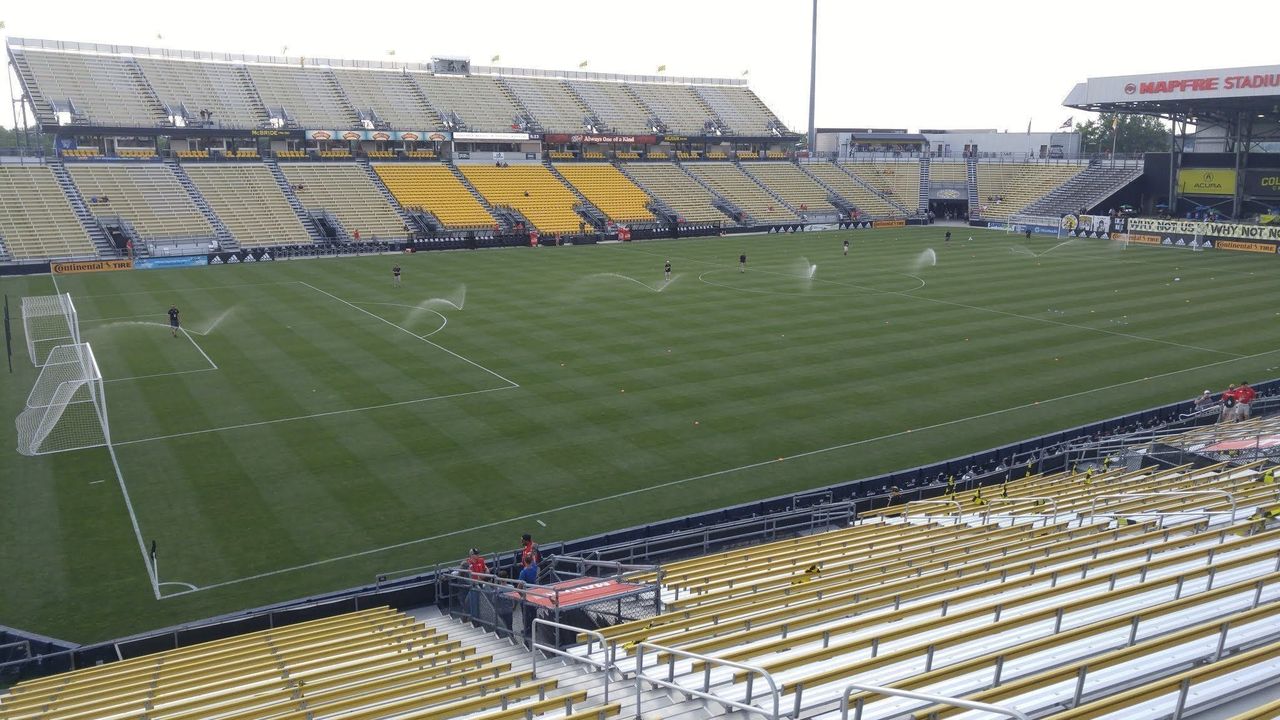 (Photo courtesy: Daniel Rouse)
"It's part of their marketing. It's part of their league pillars," Morgan Hughes, the head of Save the Crew, told theScore. "You have an opportunity in the existing market with your first team, with the first soccer-specific stadium, to shine a light on it and go, 'See, we weren't wrong. This is what it's all about.'
"They're at this impasse where there's a split in the rope: one way, you destroy the best example of one of your core pillars; the other way, you shine a light on it and you use it to further and grow the game."
If the league is truly dedicated to community values and also, in the midst of Rivalry Week, marketing animosity between teams, there is an opportunity that must be seized: Austin FC vs. Columbus Crew.
Rivalry takes root
Following the event at The North Door in east Austin, a spat between the Crew and a club that doesn't technically exist is simmering. For Precourt, it was another grand step after the council last week approved a term sheet between PSV and the city regarding a stadium lease at the 24-acre site of McKalla Place. For Columbus residents and more sympathetic MLS followers, the badge reveal showed a distinct lack of class.
Those in attendance were shown an image eerily similar to one unfurled by Save the Crew in November, with an oak tree's roots reaching deep into the earth. "Respect your roots" was the tagline for the tifo stretched out in a playoff tussle against Toronto FC. "Grow the legend," the slogan adopted by Austin FC, feels like a retort.
John Zidar, who created the original tifo, imagines Precourt and his associates are "so out of touch that the parallels didn't even cross their minds," but is irked nevertheless. "I'm not sure what makes me more mad, the idea of it being a deliberate dig or it not even occurring to them."
An organic rivalry steeped in politics
Sometimes, the rivalries in MLS are manufactured. Flashy videos featuring fans' battle cries accompanied promotion for the second edition of El Trafico last month - but geographical convenience doesn't immediately trigger a seasoned rivalry between the LA Galaxy and Los Angeles FC that, at the time, had just one match worth of history. The league should let the hostility fester.
There is still bad blood between Chelsea and Leeds United despite the clubs being separated by a considerable distance (in English terms) and, for the past 14 years, residing in different divisions. It was a relationship that soured through competing for trophies in fiercely competitive fixtures. Simply put, it happened organically.
The rivalry between Columbus and Austin - a distance that is the equivalent of Glasgow to Milan - could be more bitter, with a truly unique backstory of a well-documented fight for an MLS berth. The Crew welcoming Precourt's Austin darlings to Columbus would create an atmosphere that cannot be replicated in any hype clips for L.A. meetings. It would certainly trump what Columbus was dealt during Rivalry Week: Thursday's 6 p.m. kickoff at the Chicago Fire that had an embarrassingly low attendance.
"That's how they sell their product now," Hughes noted. "They have those pillars and then they're pumping up this tribalism aspect. What better story - you've not just got the Cincinnati rivalry, but Austin as well. You couldn't write a better script. Now, take advantage of it."
Comments
✕
Columbus and Austin can coexist if MLS stands by its supposed values
  Got something to say? Leave a comment below!