True colors: Crew's Josh Williams does 'not want the team to go anywhere'
COLUMBUS - There isn't much to do in Akron, Ohio. At least that's what the Columbus Crew's Josh Williams says about the state's fifth-largest city, where he was born and raised.
The truth is, Akron has developed some illustrious names in North American sports and is the birthplace of arguably the most recognizable of all in LeBron James. The Zips have ushered numerous defensive players into American football, including six-time all-star Jason Taylor, and those who emerged from the university's soccer setup include DeAndre Yedlin, Darlington Nagbe, Darren Mattocks, and Williams' Crew colleague Wil Trapp. Not bad for a population of under 200,000.
And for a proud Ohian and soccer enthusiast like Williams, there was only one nearby professional side he was interested in.
"This is why it's a dream being here, man," Williams told theScore of representing the Crew after Friday's training session. "It's a dream showing up every day and wearing the badge. That was my team.
"I wasn't really introduced to European soccer until later on so the first team I ever loved was Columbus Crew. I remember my family going to all of those games as a youngster so I take a lot of pride in wearing this jersey."
In mid-October, Crew owner Anthony Precourt's bombshell that he intends to move the franchise over 1000 miles away to Austin, Texas shook Columbus and threatens to have severe repercussions on the organization of Major League Soccer if his plan enters fruition. Unlike other sports, MLS has traditionally distanced itself from relocating teams.
It puts Williams in a tough spot. He was named in the MLS Team of the Week for last weekend's uncompromising display alongside Lalas Abubakar against Sporting Kansas City and is continuing to play a key part in the Crew's league-best defense. Things are going well for the 30-year-old, but he struggles to comprehend the notion of the club he grew up supporting and plays for being picked up and dropped elsewhere. It's a contentious issue that many of William's teammates shy away from.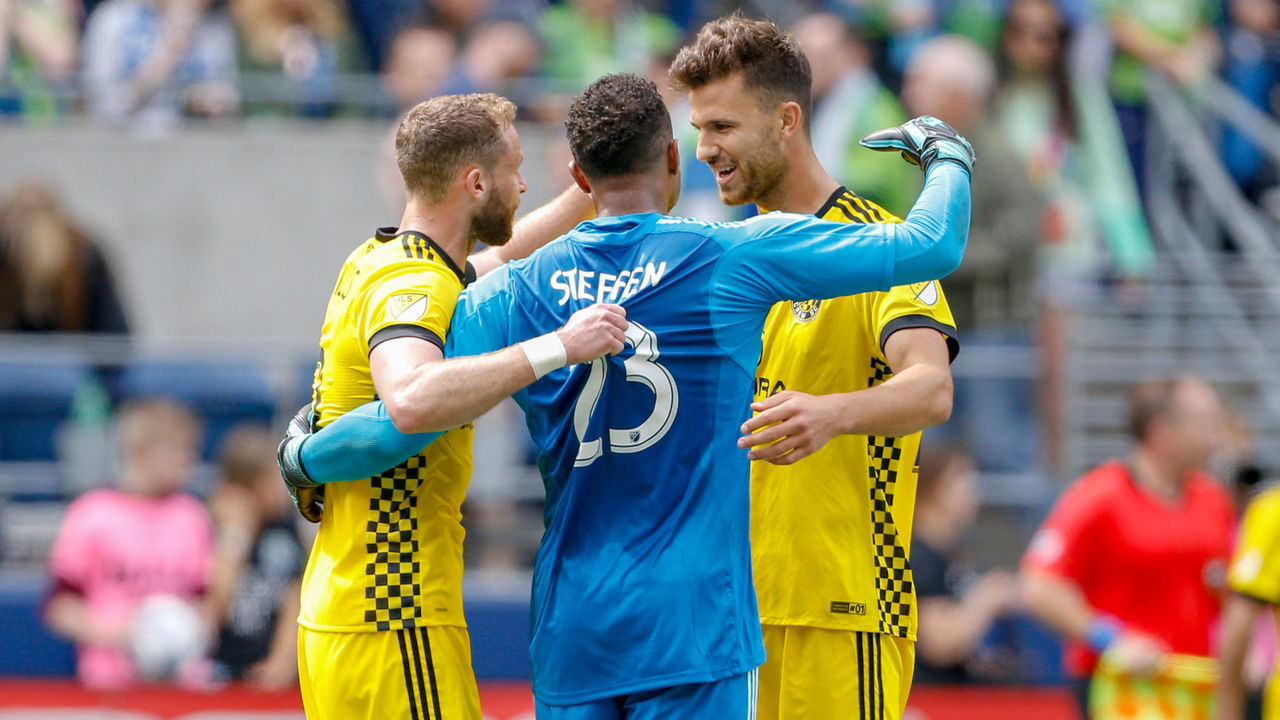 (Photo courtesy: Action Images)
"I was a fan first. I don't want the team to go anywhere, I think I've made that clear before," he said. "But at the end of the day, that's so far out of my control. The only thing we can do is show up and put three points on the board every game we play. Whatever happens outside the pitch can't be our concern.
"Obviously I'm an Ohio kid and I love to be close to my family."
He added: "It would be very, very unfortunate for not only me but for my family. Everyone has loved the Crew for such a long time. It would be a very sad day."
Not only would the Crew being shifted see MLS lose a passionate hub that has a strong claim to be the United States' soccer capital - the club was MLS' first franchise, and the city was a trailblazer in the country's building of soccer-specific stadiums - but it would also rob the league's followers of what could be its most organic rivalry.
Columbus-housed Ohio State and the Cincinnati already have a serious spat in college football, and now there is genuine excitement that Columbus and Cincinnati could regularly stage intense derbies in Major League Soccer following the latter's recent awarding of an expansion franchise for 2019. There is already a name for this soccer tug-of-war borrowed from a sinister sign on the drive between the two cities that reads: "HELL IS REAL."
Related: MLS awards Cincinnati expansion franchise for 2019 season
"I've passed it a number of times in my life in my time down in Cincinnati. I remember seeing it all the time thinking, 'Man, that's an aggressive sign.' So for them to call it that I thought that was cool," Williams opined.
"It's a rivalry I hope will be around for a long time."
Comments
✕
True colors: Crew's Josh Williams does 'not want the team to go anywhere'
  Got something to say? Leave a comment below!