Freeman chases history, Rays' real estate choice, and 7 more observations
Starting Lineup is a bi-weekly collection of reporting, observations, and insights from the Major League Baseball beat.
Leading off …
Freddie Freeman picked the wrong year to produce perhaps the best season of his career, at the remarkable age of 33.
The MVP competition in the National League is tough. Ronald Acuña Jr. is closing in on a potential 40-HR, 70-steal season, and he already owns the only 30-60 season in history. Freeman's teammate Mookie Betts leads the NL in WAR (8.1 on FanGraphs and 7.9 on Baseball Reference) and is having one of the best seasons of his illustrious career.
Freeman won MVP in the COVID-shortened 2020 season, but this is arguably his best season, and historically rare in its own right.
Entering play Friday, Freeman is four doubles away from reaching 60 for the season, a number not met since 1936 when Joe Medwick and Charlie Gehringer hit 64 and 60, respectively. A handful of players approached 60 this century but no one's been closer than Todd Helton's 59 in 2000.
Freeman also reached 20 steals for the first time in his career this week, and has been caught only once this season. He told reporters after the game that he returned to his locker to find a text from his dad that read, "Fast enough."
He's the 19th player in MLB history to post a 50-double, 20-steal season.
Freeman's excellence and consistency this deep into his career is remarkable.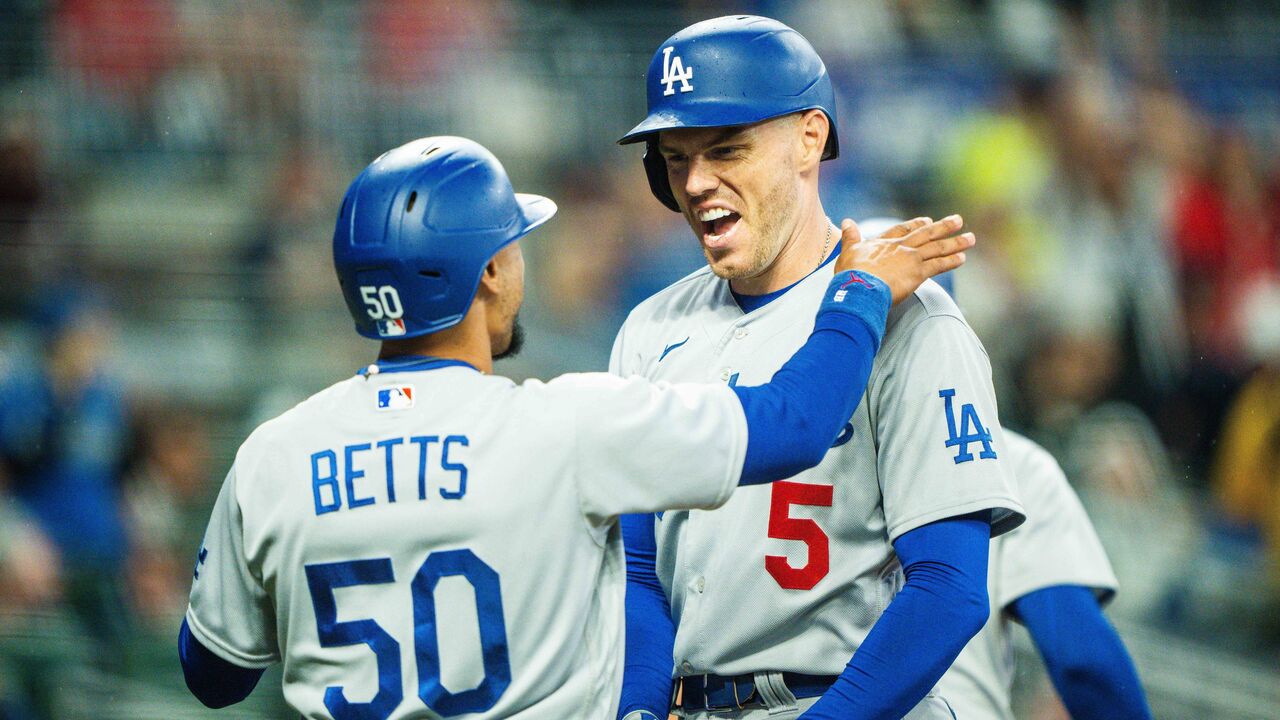 And that he's one of the rare players to brush with 60 doubles is the product of arguably his greatest superpower. Freeman is better at the one thing all hitters strive to do since they began playing: He hits line drives more often than anyone.
Over the last decade, only one qualified hitter owns a line-drive rate of 28% or better. It's Freeman (28.3%), and once again he's hitting more line drives than just about anyone (28.2%, trailing only the Marlins' Luis Arraez this season). The MLB average is 20.1%.
And in an era of changing hitting approaches to produce more fly balls - by using data and biomechanical feedback to make swing changes, as Betts did this season - Freeman has never changed his swing.
"Same swing since I was five," Freeman told theScore.
He never finishes his swing with one hand, either; always two.
"In flips (drills) in batting practice, I can finish with one hand. For some reason, in a game, I cannot do it," Freeman said. "I played a lot of golf as a kid, I'm from a big golfing family. So I don't know if that's what caused a two-hand finish. My dad always taught me to finish high. It's a high finish."
It works.
He takes batting practice the same way, too, focused on generally wearing out the opposite field with line drives, much to the dismay of souvenir seekers waiting in outfield seats. But why change when you're one of the most consistent players of your generation?
Since his first full season in 2011, Freeman's always produced an OPS+ of 113 or better - meaning he's been at least 13% better than the average major-league hitter every season of his career. He's tied with Paul Goldschmidt for 13 such seasons in that span. Only Mike Trout (12), Giancarlo Stanton (12), Bryce Harper (11), Justin Turner (10), and Nelson Cruz (10) have reached double digits in such seasons since 2011.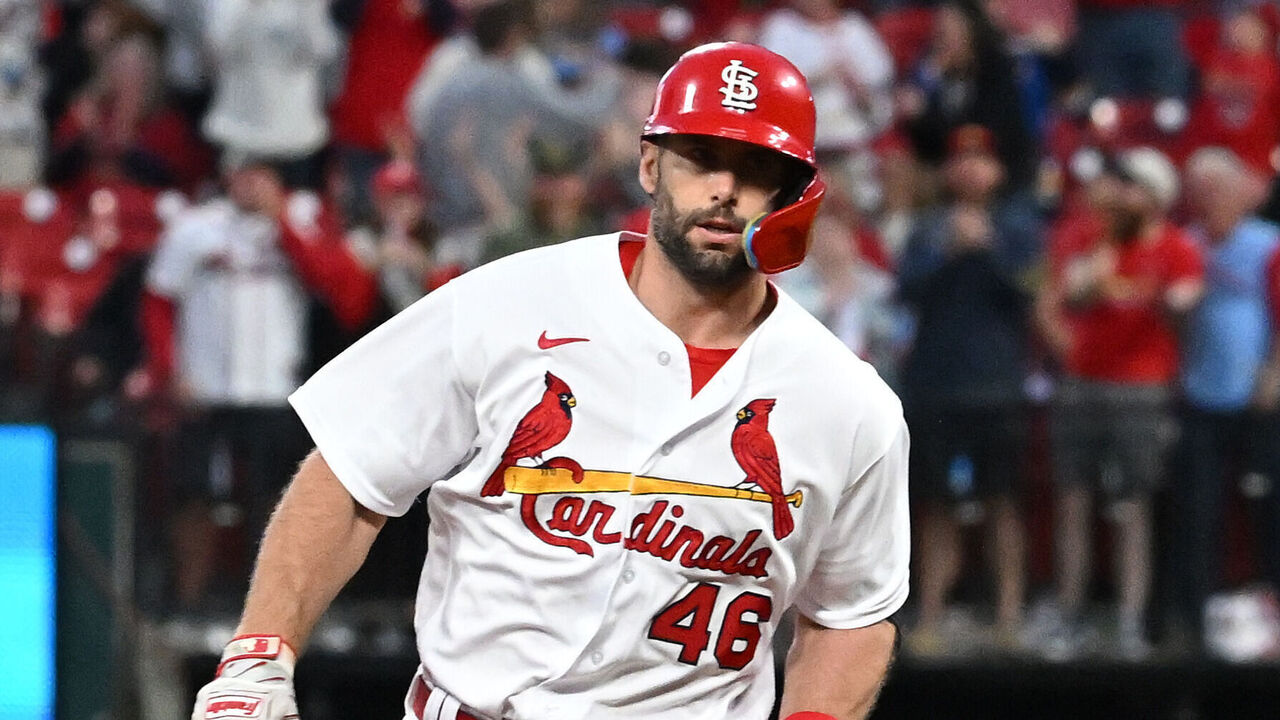 He's a career .301 hitter at a time when almost no one hits .300 anymore. Only nine qualified hitters own a combined batting average of .300 or better since 2011. Even great players like Harper have had down years. Not Freeman.
Who knows how long he'll keep playing. He's 898 hits from 3,000, but may already have done enough to reach Cooperstown. Freeman might rarely be the absolute best player in a season, but he's never not great.
No. 2: Location problems
The Rays and the city of St. Petersburg finally agreed to a new stadium deal, as first reported by Marc Topkin of the Tampa Bay Times. Assuming shovels eventually hit the ground, it'll keep the club in the Tampa Bay area and perhaps allow MLB to pursue expansion.
The reported $1.2-billion, 30,000-seat, fixed-dome stadium would be part of an 86-acre redevelopment project. It's part of the new stadium model sports club owners desire, with the stadium the centerpiece of a mixed-use development campus that can generate year-round revenues.
While almost any facility would be an upgrade over dim and dingy Tropicana Field, the actual location of the venue remains a problem - because it's the same.
The Rays have had long-term attendance issues in part because of their park and in part because the community has a seasonal element to it. But location is a problem.
The proposed park will be built on the same site as Tropicana Field, which is 22 miles from the center of Tampa - the larger, neighboring city. The location is also situated on a peninsula, with most of the metro-area population only able to access it via a couple of congested highways that transverse Tampa Bay. Public transport is sparse. Even with a shiny new stadium, getting there will be a problem.
No. 3: Ohtani pushes another envelope
The Shohei Ohtani era with the Angels could be at an end now that Ohtani cleared out his locker and moved forward with elbow surgery.
It'll go down as one of the great talent wastes in MLB history if the era ends without the Angels reaching the postseason while rostering Ohtani and Trout.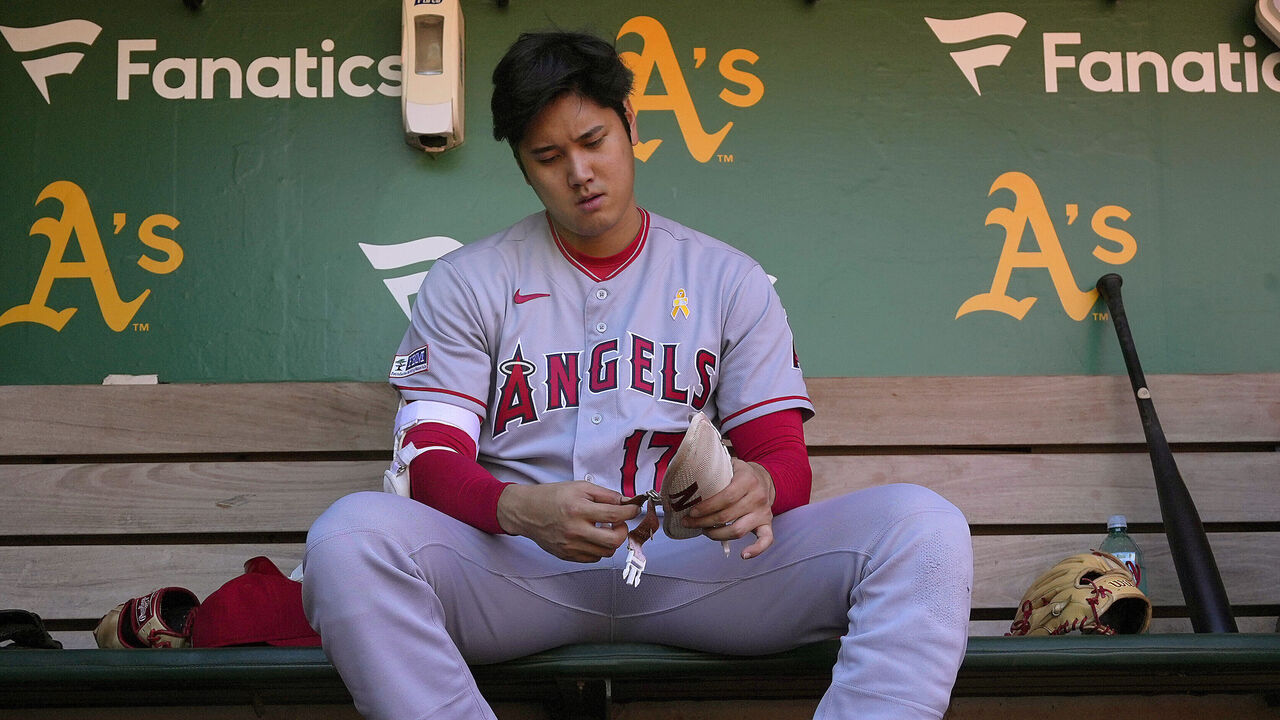 Ohtani pushed the envelope like no player since Babe Ruth - and he went even further than Ruth. Ruth became the first major leaguer to amass more than 500 plate appearances and 130 innings pitched in a season for Boston in 1919. Ohtani became the second player in 2021, and was the first to do it in consecutive seasons in 2022. And he did it again this season.
Of course, there was a physical toll: he's now had two elbow surgeries in a five-year span.
But rather than have a second Tommy John surgery with a reconstructed ligament taken from elsewhere in his body added to his right elbow, he had his partially torn ligament repaired with an InternalBrace. San Francisco 49ers quarterback Brock Purdy and Red Sox infielder Trevor Story are among those to have the surgery in recent years. Sports injury expert Will Carroll explained in his newsletter that a collagen-coated tape is used to add structural support to the mostly intact ligament.
"The ultimate plan after deliberation with Shohei, was to repair the issue at hand and to reinforce the healthy ligament in place while adding viable tissue for the longevity of the elbow," team surgeon Dr. Neal ElAttrache said in a statement. "I expect full recovery and he'll be ready to hit without any restrictions come opening day of 2024 and do both come 2025."
The procedure means Ohtani should be able to open the 2025 season on the mound, and not halfway through the season had he had Tommy John. Where Ohtani will pitch (and hit) will likely be one of the great free-agency courtships of all time. I don't believe the surgery will stop any large-market club from making aggressive, historic offers. Even if he never repeats his 2023, he's still going to be a great player - and the greatest draw at the box office.
No. 4: Top free-agent arm?
With Ohtani unavailable to pitch in 2024, the top free-agent arm might be the Padres' Blake Snell.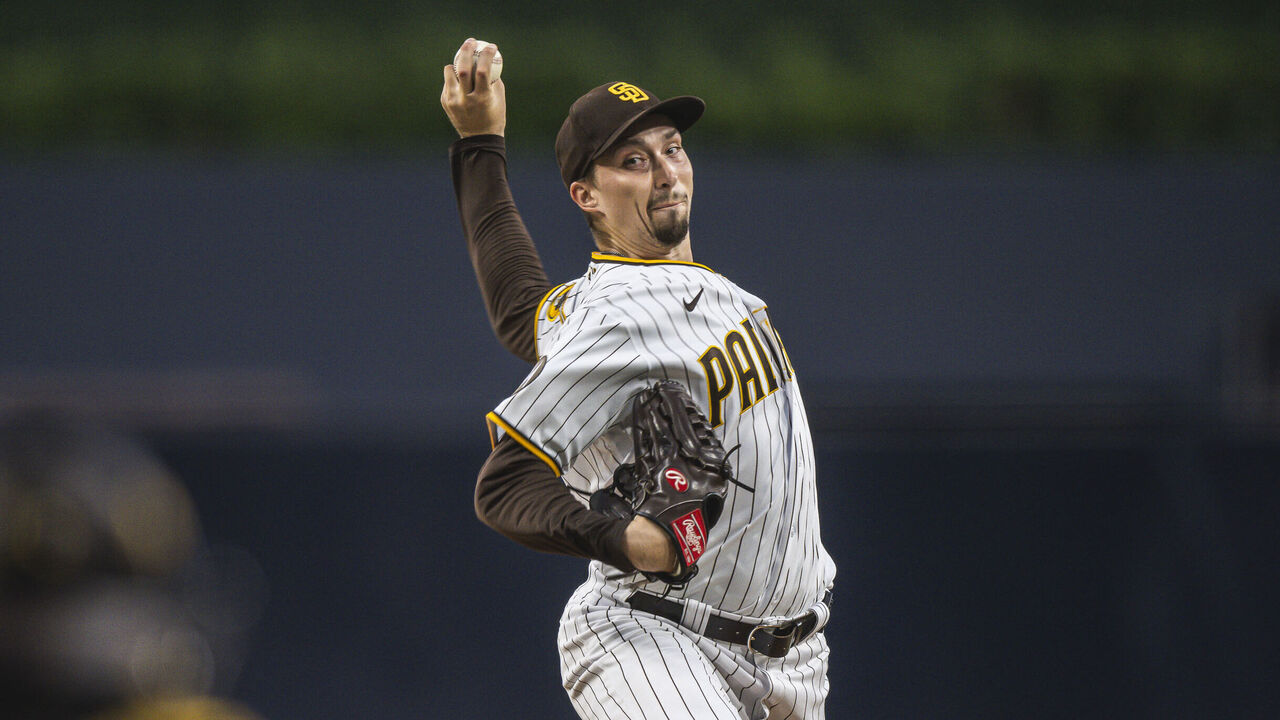 On Tuesday, Snell pitched seven no-hit innings - his 22nd consecutive start in which he allowed three or fewer runs. After a rough April, he's been dominant, posting sub-1.00 ERAs in June, July, and September.
Snell could be a riskier investment over, say, the more consistent Aaron Nola. Snell's hit great heights in his career (winning the AL Cy Young in 2018), and he's always been a strikeout pitcher, but he's also dealt with plenty of inconsistency and volume issues. This is only the second season in which he's surpassed 129 innings. But Snell might be finding another level.
There are underlying elements that suggest he's getting better. His velocity increased through the year, which typically correlates with performance. Throughout the season, he's thrown his fastball less often and his changeup and curveball more frequently, joining the trend of MLB pitchers increasingly leaning on their breaking and off-speed stuff.
Snell's well suited to follow this path since his arsenal is among the deepest in the game. His fastball, slider, changeup, and curveball all rate as above average for his career, according to FanGraphs' run values for pitches. If he's able to use his arsenal more efficiently, 2023 may not be a blip: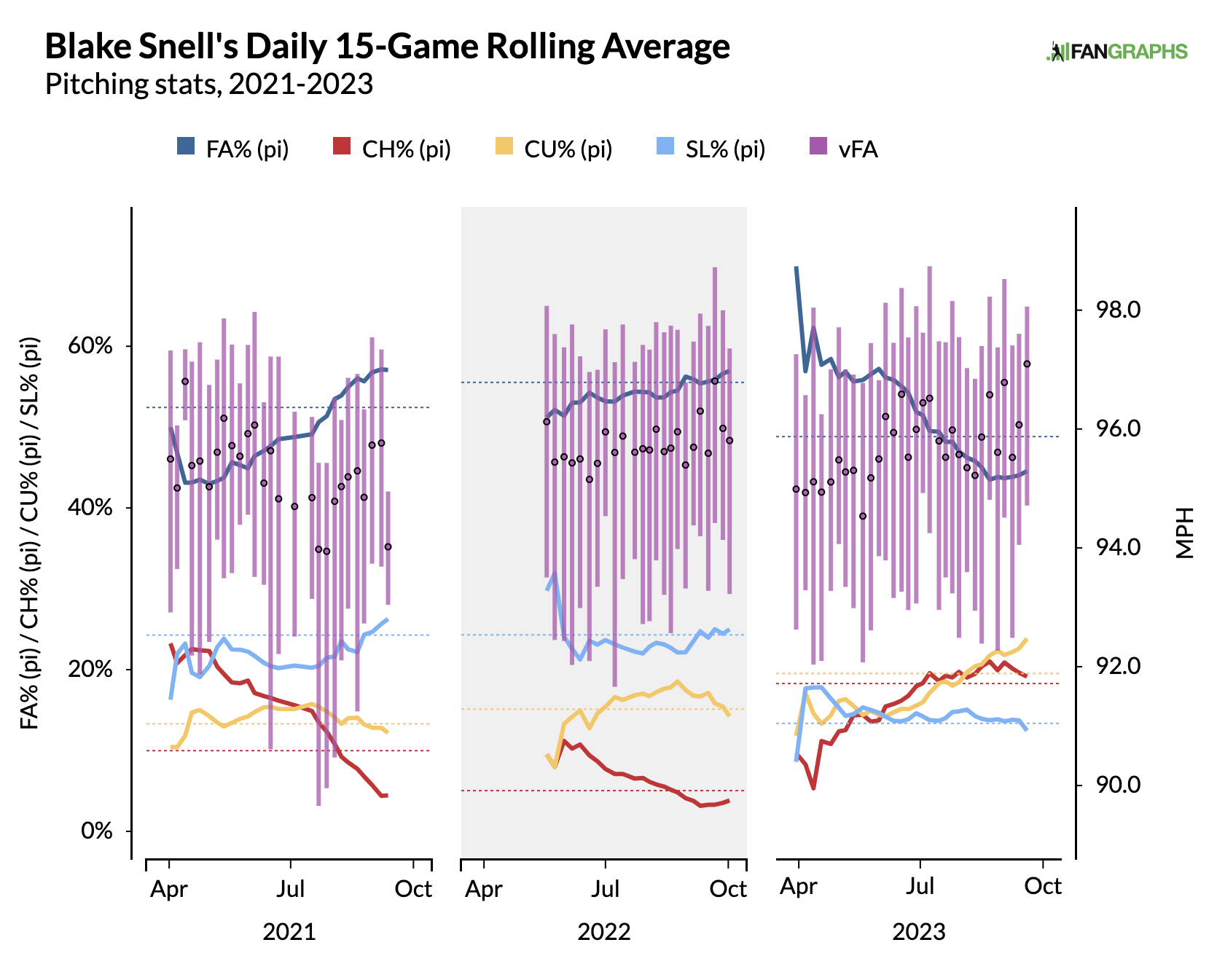 No. 5: The Stanton problem
The New York Yankees have had a tough season and Stanton is among those contributing to it.
At 33, Stanton isn't aging like Freeman. His batting average sits at a career-worst .188, down from .211 a season ago and .273 in 2021. He grounded into a double play to end Tuesday's loss to Toronto. He's hearing boos.
He hasn't reached 600 plate appearances since 2018. He's still owed $118 million through 2027 with a club option for 2028. His contract is one of the greatest albatrosses in the sport.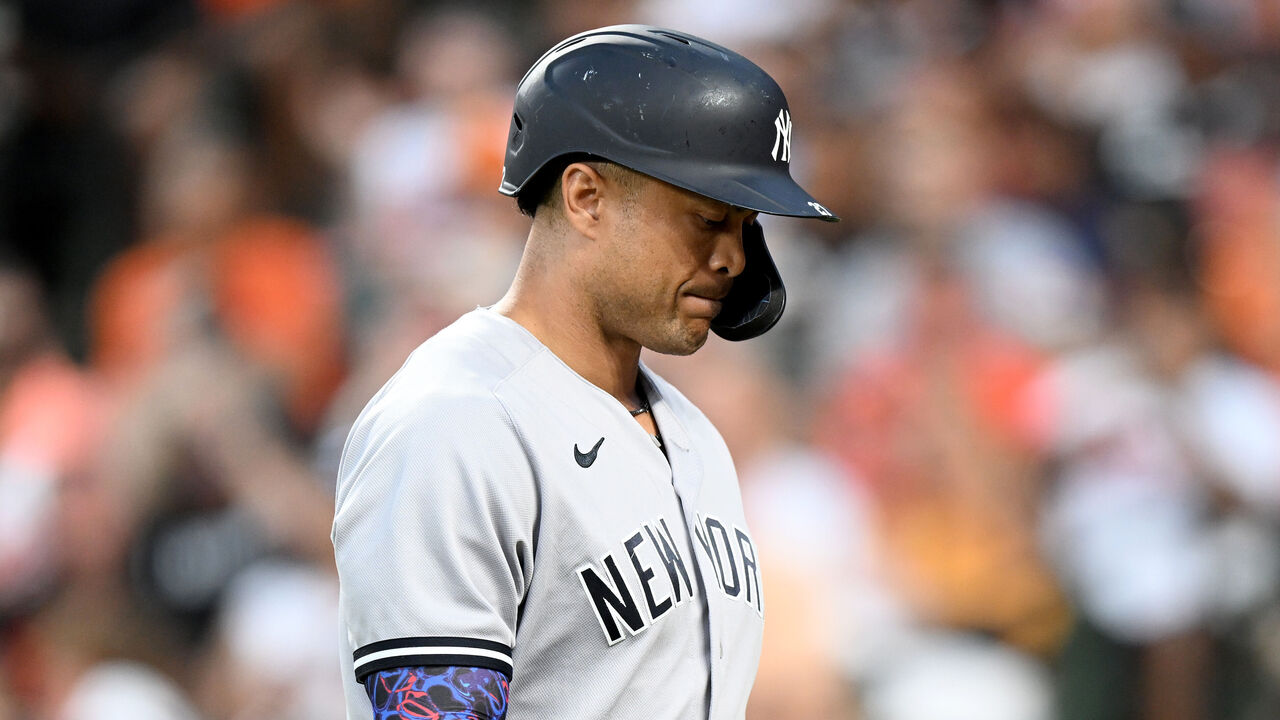 In six seasons with New York, he's produced 8.0 fWAR and been paid $167 million. Stanton again underscores the risk of long-term deals - he signed this 13-year, $325-million deal with the Marlins as a 25-year-old. Even though Miami will pay $10 million of his salary in the final three years, the Yankees will be hard-pressed to move the contract without including prospects or their own cash. But they might be compelled to do that in order to open up playing time for younger players.
No. 6: Winning the West
There are only two remaining division races of interest: the AL East, where the Rays are 1.5 games behind the Orioles, and the AL West, where three teams - Houston, Seattle, and Texas - are within a half-game of each other.
The Astros haven't missed the playoffs since 2016, while the Rangers haven't made the playoffs since then.
Entering play Friday, none of the three have been particularly hot. The Mariners and Astros are 14-13 over the last month, while Texas is 12-15.
So, who enjoys the edge? The Astros have the easiest remaining schedule, including three games with Kansas City, but the Rangers and Mariners play each other seven times, games that'll essentially feel like playoff meetings.
The Astros have the best chance to win the division (52.5% entering Friday), according to FanGraphs. But the Mariners and Rangers can truly create separation if one goes hot or cold. The Mariners have the better starting pitching depth, and Julio Rodríguez and Teoscar Hernández have warmed up in the second half; if they can win the majority of seven games against the Rangers, they'll be in great shape.
No. 7: The merits of balance
Is balance better than bludgeoning opponents? Toronto's about to find out. The Blue Jays took something of the anti-Phillies approach last offseason, as they traded run production for run prevention. And it's largely worked out as intended: Toronto's in playoff position, and is arguably baseball's best defensive team, easily owning the top Defensive Runs Saved mark (plus-88).
Most teams that reach the postseason are above-average defensive clubs. The Phillies, who went all the way to the World Series, were the only below-average team by DRS in last year's postseason. They might be again unless the Marlins are able to join them.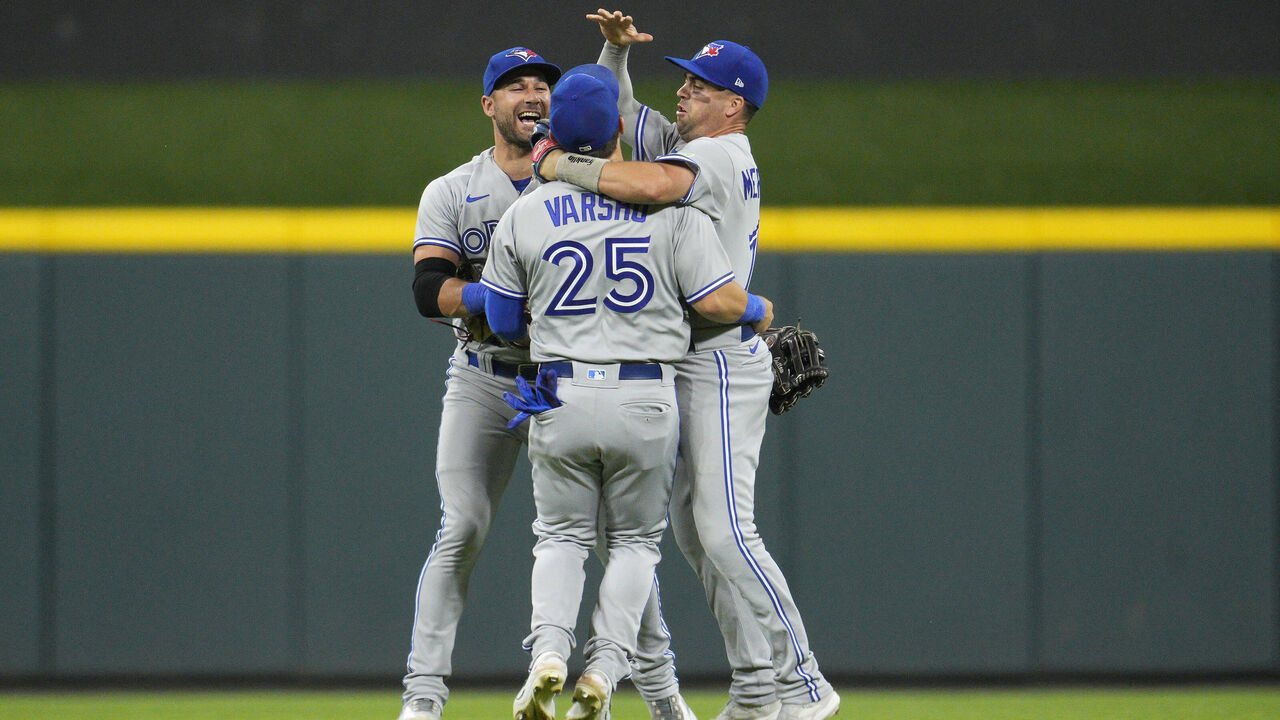 However, it's been seven years since the team that led the majors in DRS won the World Series (2016 Cubs). So, while rostering an above-average defense is a feature of most playoff teams, fielding the best defense is not a prerequisite.
It'll be interesting to see how the Blue Jays fare in October if they lock up a postseason berth. While they're a more balanced team with fewer glaring flaws, their run differential is trending down for a second consecutive season: plus-183 (fifth in MLB in 2021), plus-91 (seventh in 2022), plus-69 (13th in 2023).
No. 8: The O's roaring factory
Fresh off clinching their first playoff berth since 2016 on Sunday, it's fitting the Orioles went to Houston and beat the Astros in a series. Many of Baltimore's front-office leaders previously worked in Houston, and the club is following a similar development blueprint.
The O's are using many of the same developmental processes. They get the most out of players. They've successfully turned the high picks they acquired by tanking into stars, and their development pipeline is showing no signs of slowing. Heston Kjerstad, their most recent call-up, homered twice in his first six games. And there are more behind him, like Jackson Holliday, already in Triple-A at age 19.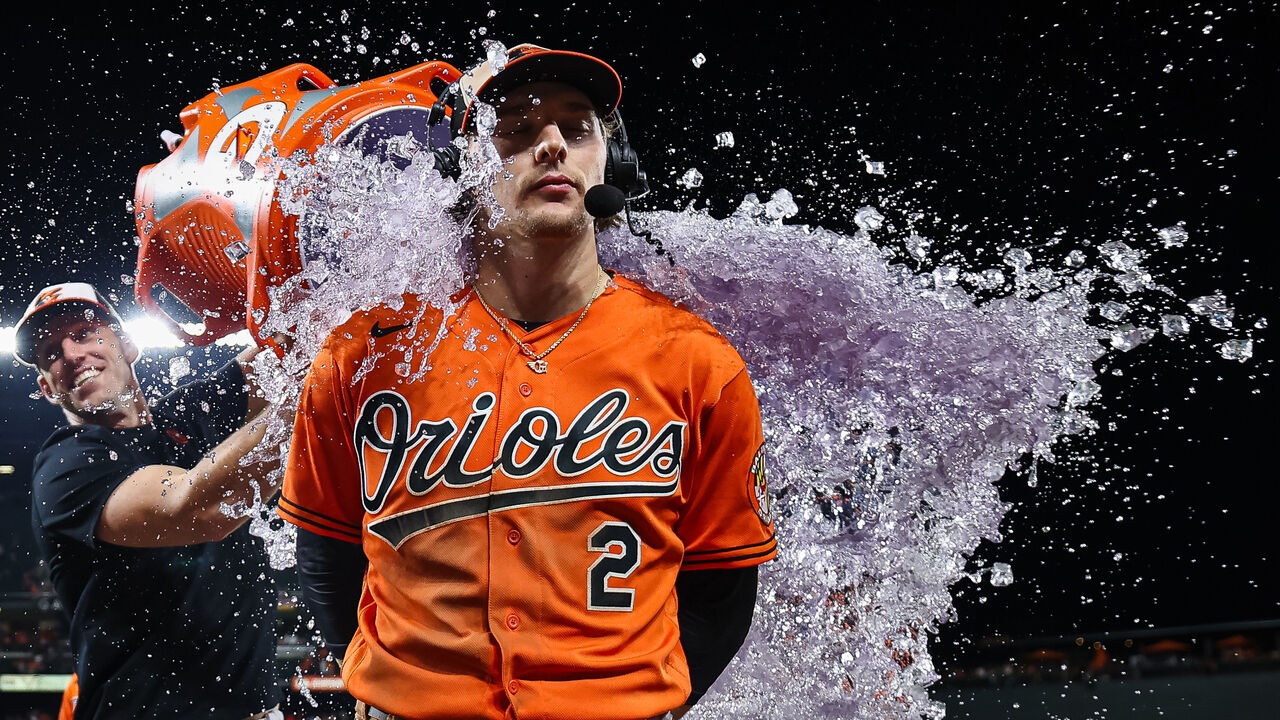 Earlier this year, for a piece about the Orioles' player-development machinery, we caught up with their player-development director Matt Blood, who recounted a story about Holliday.
When Jackson showed up (last summer), the first meeting we had, we were going through some of our process, and they had Gunnar (Henderson) on the screen. He asked a question: "What did you do with him? Whatever you did with him is what I want to do."
It appears it worked. The machine, the culture, and the processes are firing on all cylinders.
No. 9: Unlikely resurgence
A few years ago, Cavan Biggio looked like a potential regular for the Blue Jays with rare plate discipline, defensive versatility, and an extreme fly-ball profile that allowed him to extract enough home-run power from modest physical skills to be a useful player. But 2019 was a season with a juiced ball. In recent years, his lack of raw power was exposed and his offensive production cratered.
But Biggio's enjoying a second-half resurgence in 2023, posting a 126 wRC+ after recording a mark of 77 in the first half. His elite batting eye is back but with a new offensive profile: He's no longer hitting as many weak fly balls. He hasn't hit an infield popup in the second half. His hard-hit rate (32.8%) is the highest it's been since 2019. Biggio's hitting .272 in the second half after batting .197 in the first half.
Biggio transformed himself into a useful player again at the most important time. Who could have foreseen him pinch-hitting for Matt Chapman in meaningful games back in April?
Stat of the week
200 | On Monday, Adam Wainwright became the 122nd pitcher in MLB history to collect 200 wins. It's been a difficult final season in St. Louis for Wainwright, who possesses a 7.40 ERA, but he pitched seven shutout innings against the Brewers to reach the milestone.
"I'm living prayer to prayer out there. Not even pitch to pitch, just prayer to prayer," he told reporters after the game.
He said it
Colorado football coach Deion Sanders was asked what the hardest thing to do in sports is. His response: "Hitting that baseball."
He's more qualified than just about anyone in history, as one of the very few athletes to play in the NFL and MLB. He even did so once on the same day.
You don't see that every day
If one's inclined to bring a mitt to a ballpark, it might as well be supersized:
Travis Sawchik is theScore's senior baseball writer.