How the knee-down revolution changed catching - without downgrading defense
Ben Rodriguez came to his team's catching coordinator with a problem: "My body is too damn big."
The solution would transform how the position is played.
Rodriguez was catching for the Low-A affiliate of the Minnesota Twins, the Cedar Rapids Kernels. It was 2018, his second year as a pro, and the Twins weren't quite sure what to do with him. A 38th-round pick out of Pepperdine University, he'd shown promise with his bat, hitting .290 with four home runs in 50 games in rookie ball. At 6-foot-6 and 240 pounds, he tried various positions in college, mostly settling at first base as a senior. The Twins, however, believed he was too plodding for a corner position.
In instructional ball, they stuck him behind the plate. It was a serendipitous time to do so - the club had just hired a new catching coordinator, Tanner Swanson. But Rodriguez didn't think things were going well. In a recent game, with a runner on third base and the Kernels leading by a run in the ninth inning, a slider had skipped between his legs, allowing the tying run to score.
"I didn't get down in time. It was awful," Rodriguez said. He said his body felt slow.
In the late afternoon before a July 20 game against the Great Lake Loons, the Los Angeles Dodgers' Midwest League affiliate, the catcher approached Swanson in the bullpen.
"I just can't do it, man," Rodriguez recalled saying about trying to block balls from a catcher's traditional squatting setup. "My body is too damn big."
Swanson was only months into his professional coaching career. He'd been hired to employ unconventional methods, and he was already having Twins minor-league catchers receive pitches with one knee down when no runners were on base. But they didn't use that setup when they might need to block or throw.
"Tanner was like, 'Well, can you block with one knee down? Do you think you could pop and throw from there?'" Rodriguez recalled.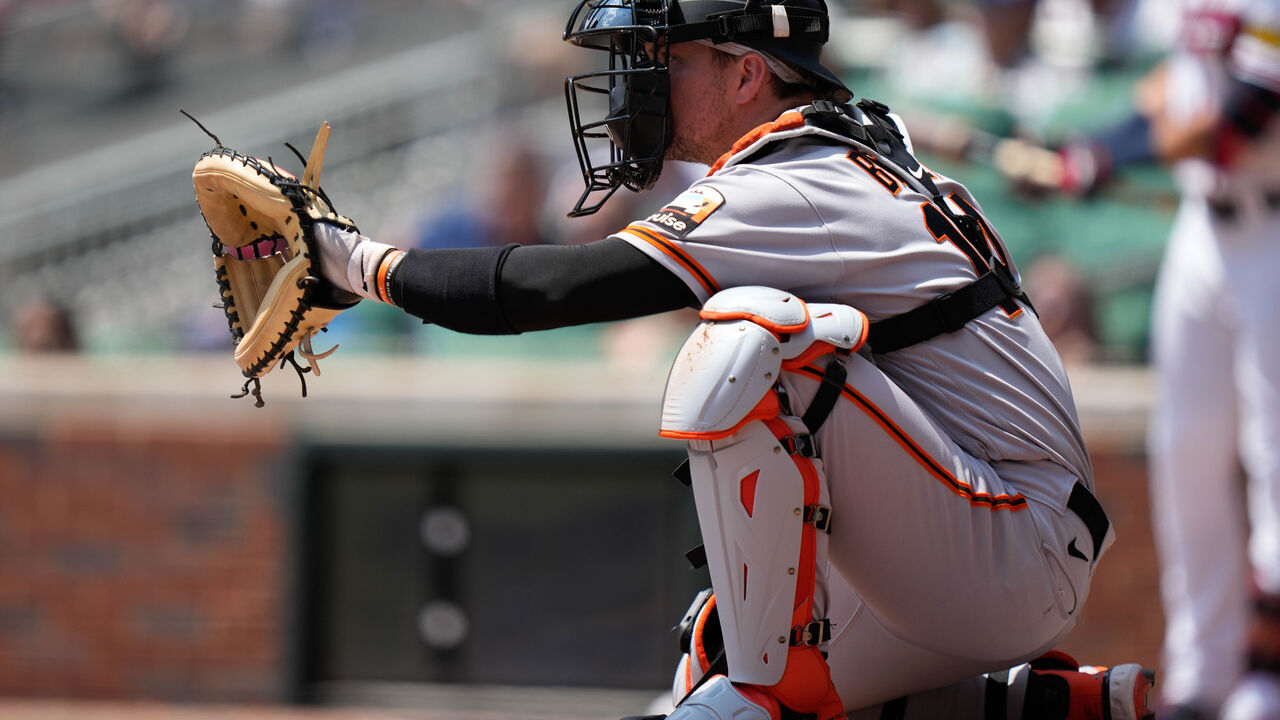 For a few minutes, Swanson had Rodriguez experiment with getting in throwing and blocking positions from one knee. Rodriguez tried a few reps from a few different positions from each knee, stretching out the opposite leg in a half-split, while Swanson fired a handful of balls from a pitching machine.
Rodriguez said it actually felt easier to throw and block compared to squatting.
"We should just do this," Swanson said.
The conventional thinking on catching at that time, which still dominates in some circles, insisted there's a trade-off: While putting a knee down can improve a catcher's receiving numbers, it also results in weaker throws and worse blocking.
But what if that wasn't true?
Swanson and the Twins didn't invent the one-knee stance.
Catchers have occasionally used it throughout baseball history, like Tony Peña, who caught for 18 seasons with six MLB teams in the '80s and '90s. A four-time Gold Glover, he used a variety of knee-down, low-to-the-ground stances.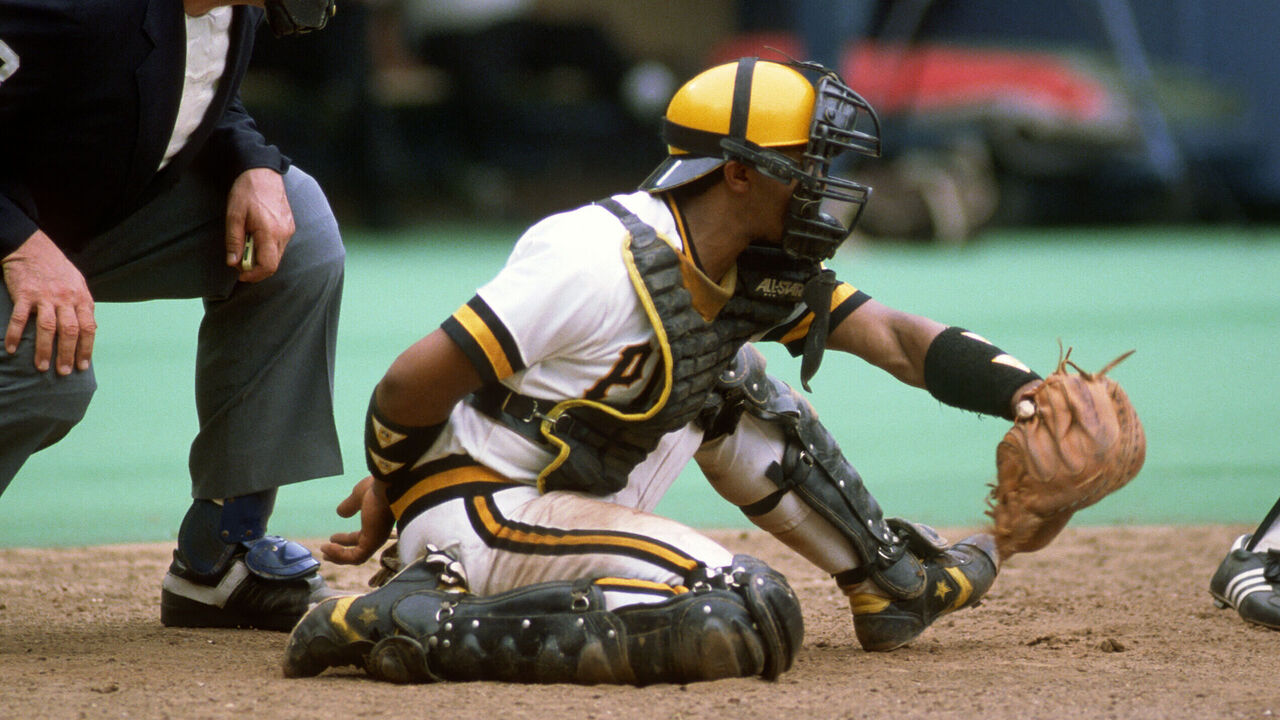 Swanson and the Twins' minor-league catchers were at the forefront of the current revolution, however, and Rodriguez would become the first to use the stance in a full game in all situations.
The Twins hired Swanson after a front-office official saw him give a presentation at a college coaching clinic about the practices he used to develop catchers at the University of Washington. During his time with the Huskies (2011-17), four catchers from the program were drafted.
Oddly enough, Swanson never played catcher. He was an infielder in college, and after teaching for a few years afterward, he decided to follow his passion for coaching. He moved around at small schools, starting with a job that paid $8,000, and arrived at Washington in 2011 as a graduate assistant. When a staff spot opened the next season - one to coach catchers - he took it despite no experience with the position.
"Which I think, looking back, was probably my greatest advantage," Swanson said. "I didn't carry the biases about, 'This is how catching is supposed to be done. This is how I used to do it. This is how my coaches used to talk about these things.' I really got to analyze the position objectively."
He was curious about player development - how the body learned to acquire skills, and how to best shape them. But it wasn't until he took the job with the Twins in late 2017 that he dug into the data around the catching position.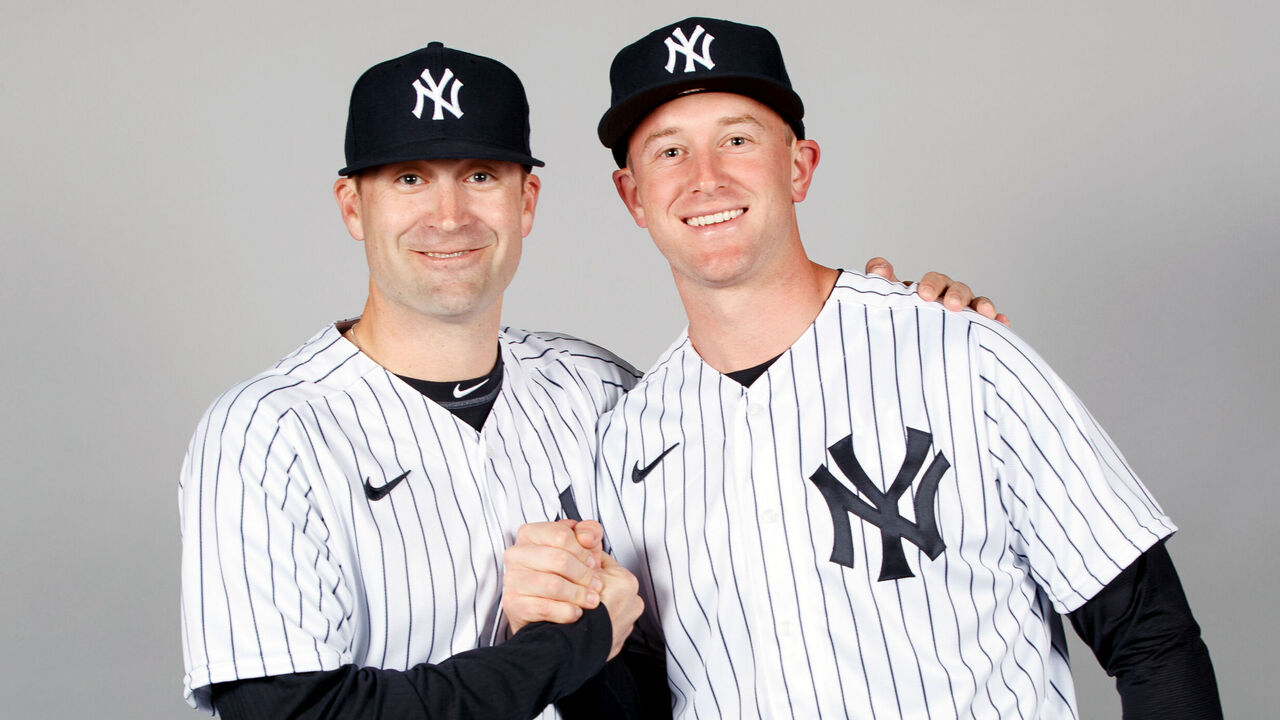 Swanson's research into catchers' defensive value emphasized that pitch-framing was more important than any other skill behind the plate - and it wasn't close. If a catcher could flip a handful of counts to the pitcher's advantage in a game, that was worth more than anything else he could do.
The difference between a 1-2 and a 2-1 count is dramatic: nearly 200 points in opponents' batting average. A catcher receives about 150 pitches a game versus a few balls in the dirt or steal attempts.
Swanson noticed teams had begun to value framing and were paying to acquire the skill, but few seemed to be trying to do much to develop it.
"We have to figure out how to optimize that first and re-engineer everything else around it," he said.
When the Twins reported for spring training in 2018, Swanson had catchers receiving weighted balls, employing rubberized bands to restrict them and train what he believed were ideal receiving movements. Rodriguez had never experienced that kind of training.
"I would venture to guess that nobody had at that point," he said. "Catcher instructors before then were kind of like, 'Here's how you get in a stance. We'll throw balls at you in the dirt, and you can block them.' … The shit that Tanner had us do, I had never done that."
The new methods included catching in knee-down positions in the bullpens and backfields at the Twins camp in Fort Myers, Florida.
Swanson studied public analyses that showed how the strike zone evolved from being more east-west during the 1990s and early 2000s, when pitchers such as Greg Maddux and Tom Glavine enjoyed called strikes multiple inches off the plate, to more of a north-south zone as pitch tracking and grading influenced umpire behavior.
Swanson initially thought that having a knee down might affect how umpires perceived pitches: Since umpires typically position themselves between the batter and the catcher's inside shoulder, Swanson experimented with dropping the right knee for a left-handed batter and the left knee for a right-handed batter.
"I thought there was a chance umpires were using the catcher's body, specifically their knees, to gauge the height of pitches," he said. "I thought if we remove the knee from their visual field, maybe they'll lose perception. … I was never able to validate the hypothesis."
However, he found there were other benefits to catchers being closer to the ground: The best framers got most of their borderline strike calls in the lower portions of the zone. Moving the glove up to catch a ball at the bottom of the zone made it seem like the glove finished in the zone.
In 2017, among pitches taken by hitters in borderline areas - the "shadow zone," as Baseball Savant defines it - 48.4% were called strikes with no runners on base, but the strike rate dropped to 45.1% with runners on, when catchers used higher, wider stances.
That data made a compelling enough argument to adopt a lower stance on all pitches, regardless of whether there were baserunners.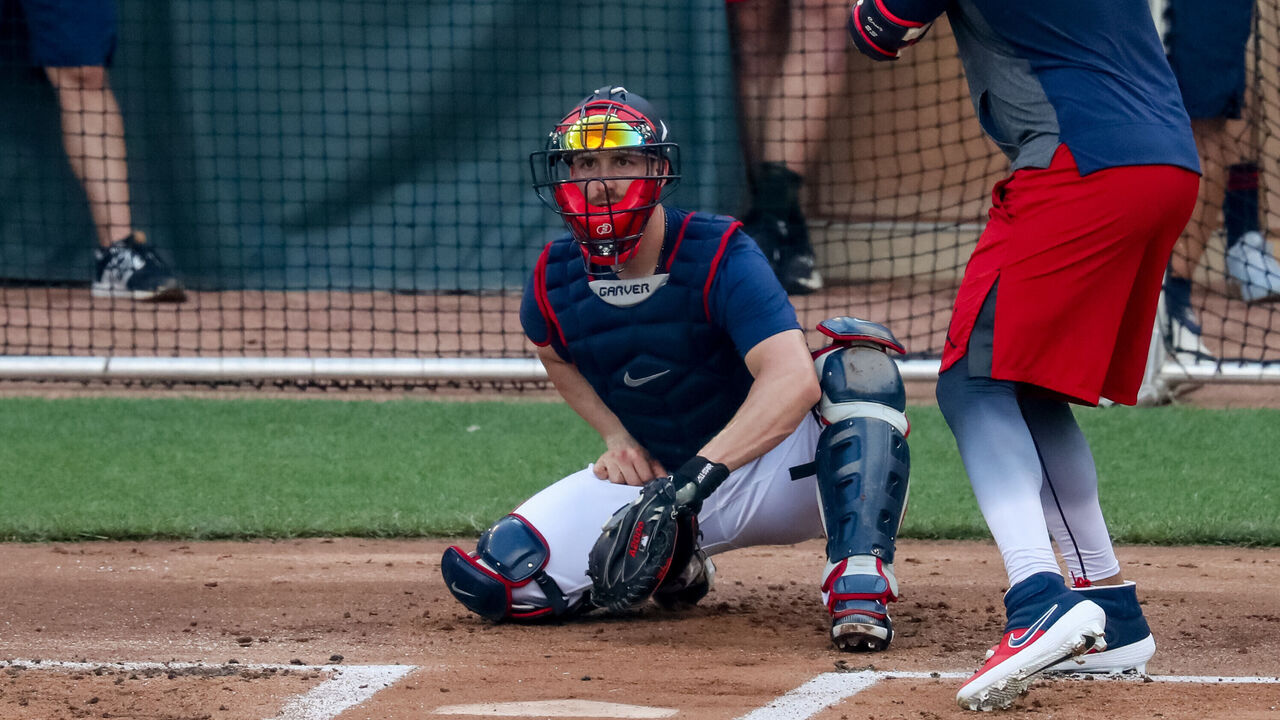 "The other thing is it's a more stable position," Swanson said. "To be able to sit really low in a (traditional) crouch, you have to have a narrow base of support. The stuff guys are catching today is designed to move away from the strike zone, not back toward the catcher. These guys are throwing 100 mph two-seamers that are running like crazy. If you don't have stability behind the plate, if you are super narrow … that power sinker moving away from you, it's going to be hard to leverage with strength because of the imbalance you have."
In 2017 and 2018, before the knee-down approach arrived in the majors, the Twins had 35.2% and 35.5% pitches in the lower third of the shadow zone called strikes. In 2019, that jumped to 43.6%. In 2020 it was 45.2%.
In 2015 and 2016, the first two seasons of the Statcast era, an average of 36% of borderline pitches at the bottom of the zone were called strikes. In the last seven years, an average of 40% of those pitches were called strikes. This year, it's regressed to 38.5%, but that might be partly because of a recent exodus of veteran umpires - younger umpires are better at calling balls and strikes.
The knee-down position was initially adopted to steal strikes. It worked, but wouldn't it negatively affect catching defense?
In the bottom of the first inning of that 2018 game in Midland, Michigan, Josh McLain singled into center field to lead off against Bailey Ober.
With McLain at first, Rodriguez did something that had rarely, if ever, been done in professional baseball history: He remained on one knee behind the plate and received the next pitch.
Standing next to Swanson on the railing of the visiting dugout was Rick Eckstein, the Twins' hitting coordinator.
Eckstein recalled, "The manager at third base is, like, standing there in shock. Like, 'How can this kid be on his knee?' Tanner literally hit me and he goes, 'Look at this, look at the third-base coach.' In his mind, he's thinking we're giving him second base. And Tanner goes, 'Watch this, watch. He's going to try and steal.'"
Unaware of the plan, the Kernels' own manager, Toby Gardenhire, was perplexed too.
"(Gardenhire) was like, 'Hey, Ben, you're on a knee! There's someone on!' Then I remember Tanner was like, 'No, chill. Let him do it,'" Rodriguez recounted.
It took a while for the Loons to test Rodriguez in this stance, but with two strikes and two outs, McLain took off for second base.
Rodriguez caught the pitch and sprung from his knee-down position - his back foot already planted in the ground, ready to transfer energy into the throw - and tossed an accurate ball to second for the out.
"And it's not even close," Eckstein said. "The third-base coach was literally dumbfounded. ... He couldn't understand how a guy on his knee just threw out his baserunner. … When that moment happened it was like, 'Wow. That is significant.'"
Rodriguez couldn't quite believe it either.
"It was like that scene in 'Semi-Pro' where they do the first alley-oop dunk and everyone's like, 'That's a foul. You cannot do that!' And they're like 'Why?'" Rodriguez said. "'Oh, I guess you can do that?' That was kind of the vibe everyone had. … You're not supposed to do that. But that I could still pop up and throw, people were like, 'Oh, shit, maybe you can do that.'"
The Kernels won 1-0. There were no successful steals, wild pitches, or passed balls.
"I never got off a knee the whole game," Rodriguez said. "That was the first one. (Swanson) and I talked about it afterward. He's like, 'I think that's the first time anyone's done that.'"
The approach has spread beyond the Twins.
One of the game's best catchers, San Francisco Giants rookie Patrick Bailey, throws from a knee-down position. He's in the top three among National League catchers who have faced at least 30 stolen-base attempts with a 31% caught-stealing percentage.
Swanson cited Texas Rangers catcher Jonah Heim as excellent at throwing from a knee-down stance. Heim's caught-stealing percentage is 29%, fifth in the AL.
Rodriguez threw out nine against 15 steals (38%) in 2018 in Low-A and caught 11 against 26 steals (30%) the next season in High-A. They're small samples, but they were better marks than his work in rookie league in 2017, when base-stealers stole seven of eight against him.
It's difficult to assess how one-knee catching has affected stolen-base rates this season; new rules limiting how many times pitchers can throw to bases have caused an explosion in steal attempts.
As for blocking, Rodriguez said he had maybe three passed balls or wild pitches with the knee-down stance the rest of the season.
Swanson tracked all his experiments. He analyzed ball-strike data for framing but also passed balls, and pop times and tag times on throws. He'd record everything on video and examine it after games.
Not only were his catchers like Rodriguez framing better than ever, but they weren't losing much, or anything, in the blocking or throwing games. In some cases, they improved.
"I think my catching metrics raised Swanny's eyebrows," Rodriguez said.
As Swanson watched Rodriguez and other catchers find success in 2018, he decided to scale it to the rest of the organization.
Many folks inside the game - and color analysts on TV today - believe that catching with one knee down trades better strike framing for more wild pitches.
While there's no public database that sorts catchers by stance, overall league rates of passed balls and wild pitches haven't increased as the approach becomes more popular, according to recent research by Baseball America's J.J. Cooper.
As for balls in the dirt, there's actually been an improvement.
In 2018, 13.1% of pitches in the dirt went as passed balls or wild pitches, according to theScore's analysis of Statcast data. That's in line with the average of the first three years of the Statcast era. But since 2018, the rate is in general decline.
The Twins posted their lowest rate of combined passed balls and wild pitches on balls in the dirt (9%) in 2021, and three of their four lowest rates of the Statcast era occurred in the last three seasons.
Swanson says PitchCom likely plays some role in reducing passed balls and wild pitches because there are fewer pitch-call mixups. On the other hand, catching itself has become more difficult with pitchers increasing their velocity and throwing more designer breaking balls. Regardless, balls in the dirt this season are at a Statcast-era low of 2.2% (tied with 2015).
Twins catcher Ryan Jeffers, a 2018 draft pick, began working on one knee late in his first pro season.
"It kind of surprises baseball purists who think a knee down is going to lead to more passed balls, more wild pitches," Jeffers said. "For me, it's a lot easier to block that way. You can make your blocking decisions a lot later, whether you need to block, or not, because you are already near the ground."
Said Swanson: "If we are trying to control balls in the dirt better, why are we taking our center of mass further from the ground? That was me, the non-catcher, trying to make sense of this."
Since Rodriguez was so big, he'd likely block pitches around the plate simply by being near the plate and turning his glove over.
"All I had to do was lean forward and flip my glove over and the ball would hit me in the stomach every time," Rodriguez said. "My butt was literally two inches off the ground."
Throughout that 2018 season and into the fall instructional league, the minor-league catchers and Swanson worked together and shared ideas. The only mandate was that one knee must be down. But they collaborated, shared ideas, and individualized player setups.
"He did a really good job of not putting us in one box. Kinda let us be individuals, which way works best for us," Jeffers said. "There are multiple ways to do it. You can see how different everybody is, but everyone kind of accomplishes the same goal."
"I didn't have this mapped out ... (like), 'With a runner on base, we're going to have our right (foot) down with our toe anchored and transition,'" Swanson said. "It was putting guys in these positions and asking questions: 'How would you get up to throw from here?' Kinda self-organize and find solutions. And solutions came pretty quickly."
After analyzing the minor-league performances, the Twins had Swanson introduce the concept to Mitch Garver, their major-league catcher, at his Albuquerque, New Mexico, home that offseason.
"They were all-in on it," Swanson said of the Twins.
Garver in 2018:
Garver in 2019:
Garver, who'd been graded as eight runs below the major-league average for a catcher in 2018, improved to just over three runs above average in 2019, and the Twins' success compelled the New York Yankees to hire Swanson away following that season.
Rodriguez's career ended after the 2019 season the way that most careers do in the minors: He accepted that the big leagues were too big of a dream. Today, he's a resident at Mount Sinai Hospital in New York City with an eye on being a neurosurgeon. But sometimes when he's watching a game with family or friends, he'll note, "Hey, I think I was the first guy to do that."
"Let's be real. The real people are Garver and Jeffers … Caleb Hamilton," he said, crediting other catchers in the Twins' system. "Those were the guys that were there with Tanner … that really built it when you talk about scaling. With me, it was more just, 'I need to be able to be better right now.' It just happened to work. That idea stemmed and grew to other people."
Travis Sawchik is theScore's senior baseball writer.
Comments
✕
How the knee-down revolution changed catching - without downgrading defense
  Got something to say? Leave a comment below!